Lightly fried corn tortillas topped with creamy beans, salsa, and a runny egg for an easy yet filling breakfast.
Huevos Rancheros look like a sophisticated breakfast or brunch, but they can be made in a few minutes with some store bought shortcuts.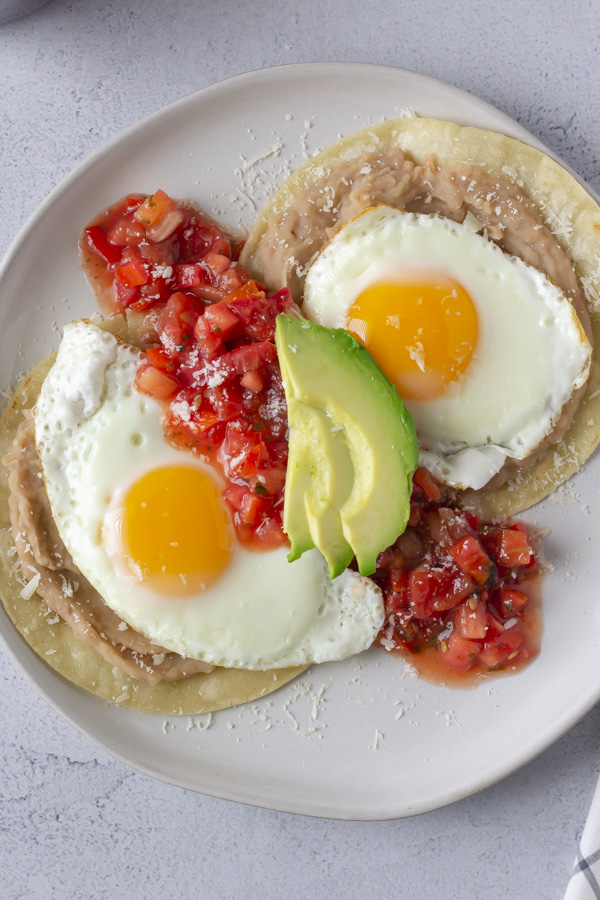 I'm going to show you my easy version of huevos rancheros, which is perfect for when you want a hearty breakfast, but don't want to spend a lot of time in the kitchen.
Ingredients for Easy Huevos Rancheros
There are 4 main ingredients for Huevos Rancheros:
Corn Tortillas, Refried Beans, Salsa, and Eggs.
Pretty simple, right? You could easily make a delicious breakfast taco with these ingredients, but the presentation of layering the ingredients just looks visually appetizing.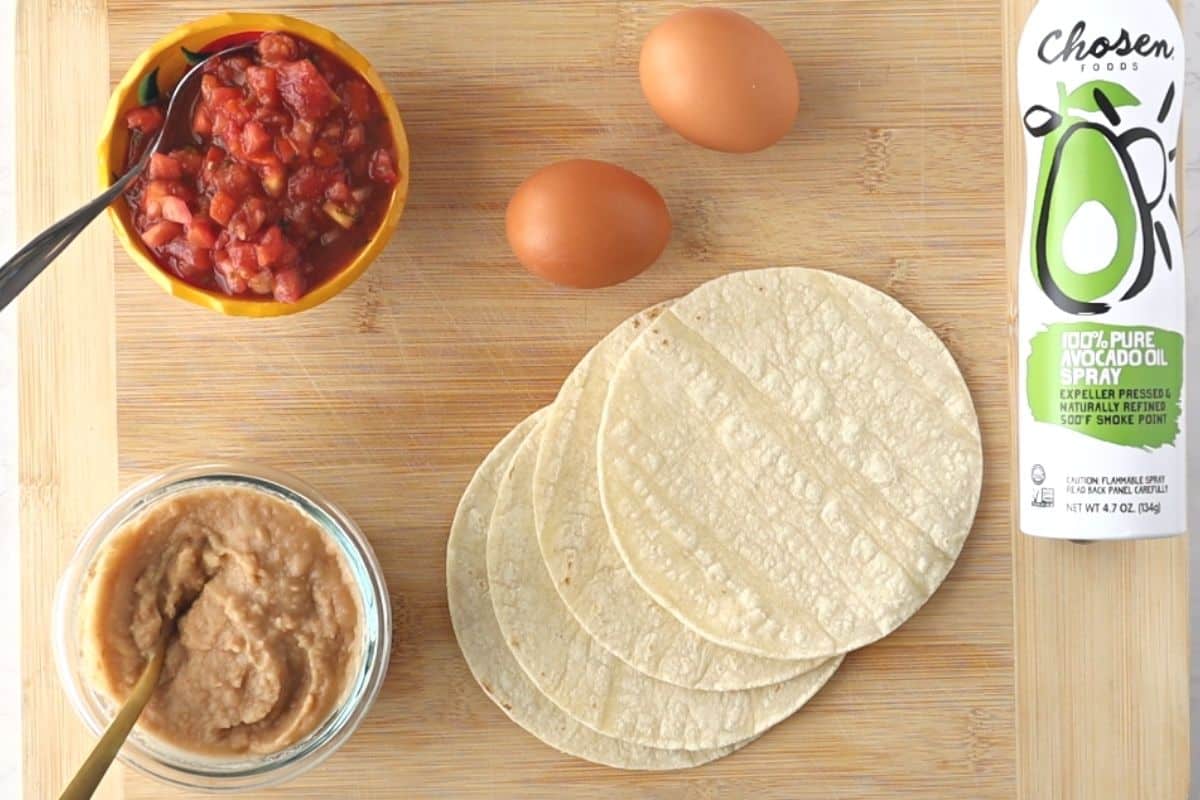 Here's the breakdown of each component and how you can customize it.
Corn Tortillas- I'm using a store bought corn tortilla and lightly frying them in a skillet to get some color and crunch. They just need a slight crisp to them.
You could use homemade corn tortillas and lightly fry them, or bake store bought tortillas if you want to reduce the oil amount.
If all you have are flour tortillas then go ahead and bake those in the oven till they get slightly crispy.
Refried Beans- For the beans I always prefer to use homemade, specifically my refried Peruvian beans. The recipe for beans is so easy and I keep leftover beans in the freezer in small portions so it's easy to defrost for when I need them in a recipe. But if you need to save time, then canned refried beans will work.
Salsa- This is where you'll find some variation on what type of salsa to use for Huevos Rancheros. I've seen a tomato based salsa, pico de gallo, and even a salsa verde. My preference, use what you like! And in this case I used a store bought pico de gallo.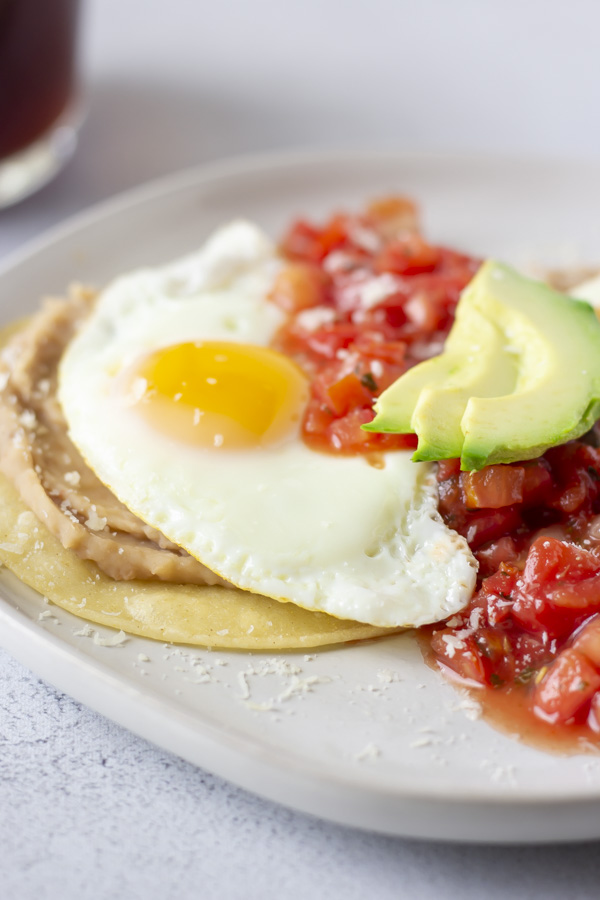 I have a recipe for homemade tomato salsa, which is pretty easy to make, but It's fine to use some store bought shortcuts to get a great meal in a short amount of time. The salsa that I got was a fresh salsa and actually really good, so check out some of the options you may have.
Eggs- Cook the eggs to your preference. I personally like my egg over medium with a slightly runny yolk, but in the photograph I cooked the eggs sunny side up since they photograph better.
If scrambled eggs are your thing, then by all means use those. That's the beauty of this recipe, you can customize to your liking and still end up with a delicious meal.
Toppings
You can elevate this dish even more by adding some extra toppings. Some options include, sliced avocado, cotija cheese, or chopped cilantro.
If you want it even more filling, add some meat too. I've had huevos rancheros with green chili pork, crumbled bacon, or Carne Asada would be great options too.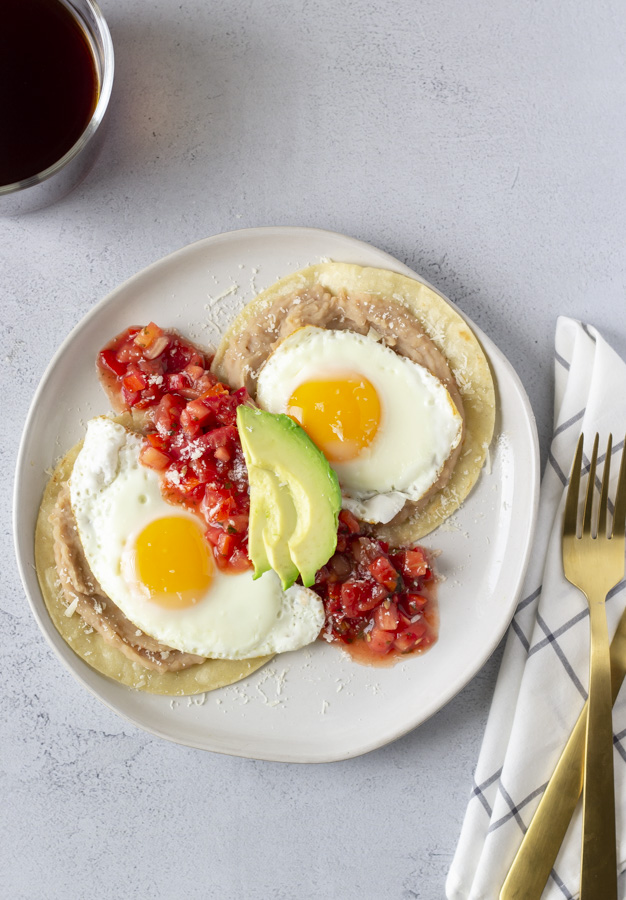 Check out these other delicious Breakfast or Brunch Recipes:
Chorizo Potato and Egg Burritos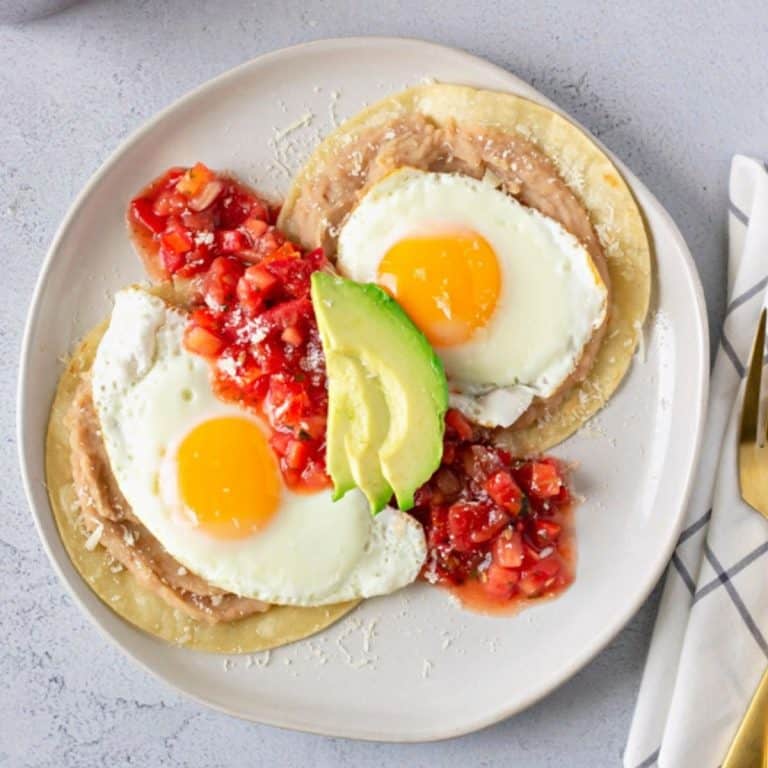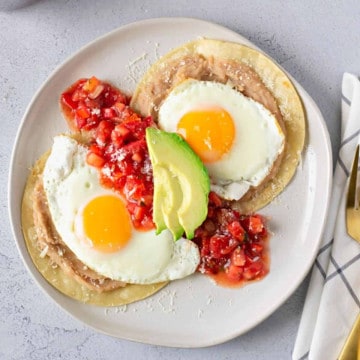 Huevos Rancheros
Lightly fried corn tortillas topped with creamy beans, salsa, and a runny egg.
Ingredients
Oil for frying

I used a Spray Oil

2

tablespoon

Re-fried Beans

Pinto or Black, Use canned or homemade recipe in notes.

2

Eggs

cooked to your preference

2

tablespoon

Tomato Salsa or Pico de Gallo

Use store bought or homemade recipe in notes.

Optional Toppings: Sliced Avocado, Cotija Cheese, Crumbled Bacon, or Chopped Cilantro.
Instructions
In a small frying pan, spray a little oil in pan and heat over medium high heat. Once hot, place tortilla, then spray top of tortilla with oil. Lightly fry about 30 seconds on each side. The tortilla should be slightly crispy, but still pliable.

Cook eggs to your liking: sunny side up, over easy, or scrambled.

Assemble Huevos Rancheros: Spread re-fried beans over fried tortillas, top with cooked eggs, and salsa. Add extra toppings if desired.
Nutrition
Calories:
269
kcal
Carbohydrates:
29
g
Protein:
16
g
Fat:
10
g
Saturated Fat:
3
g
Polyunsaturated Fat:
2
g
Monounsaturated Fat:
4
g
Trans Fat:
1
g
Cholesterol:
327
mg
Sodium:
546
mg
Potassium:
309
mg
Fiber:
5
g
Sugar:
3
g
Vitamin A:
655
IU
Vitamin C:
1
mg
Calcium:
111
mg
Iron:
3
mg
Nutritional information is provided as an estimate only and depends on ingredients and amounts used. Thai Caliente makes no guarantees to the accuracy of this information.