Kai Jeow is a Thai omelet with just 2 ingredients: eggs and fish sauce. However, the cooking method is what makes this simple Thai dish so good and comforting.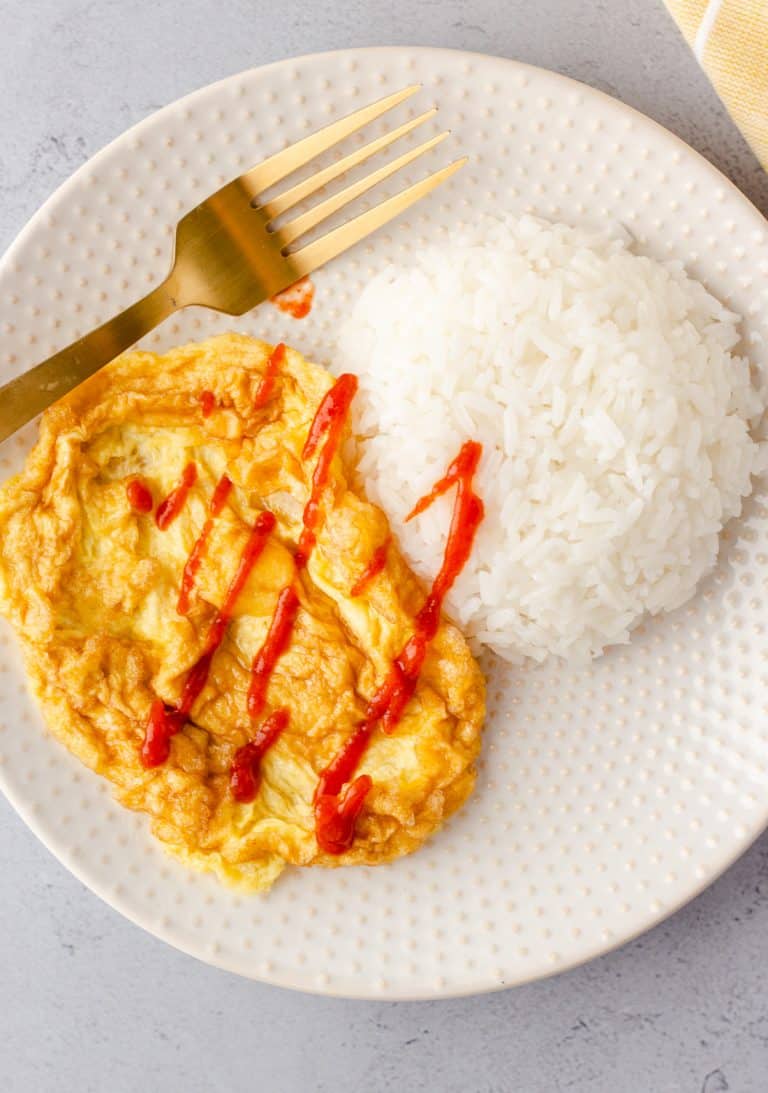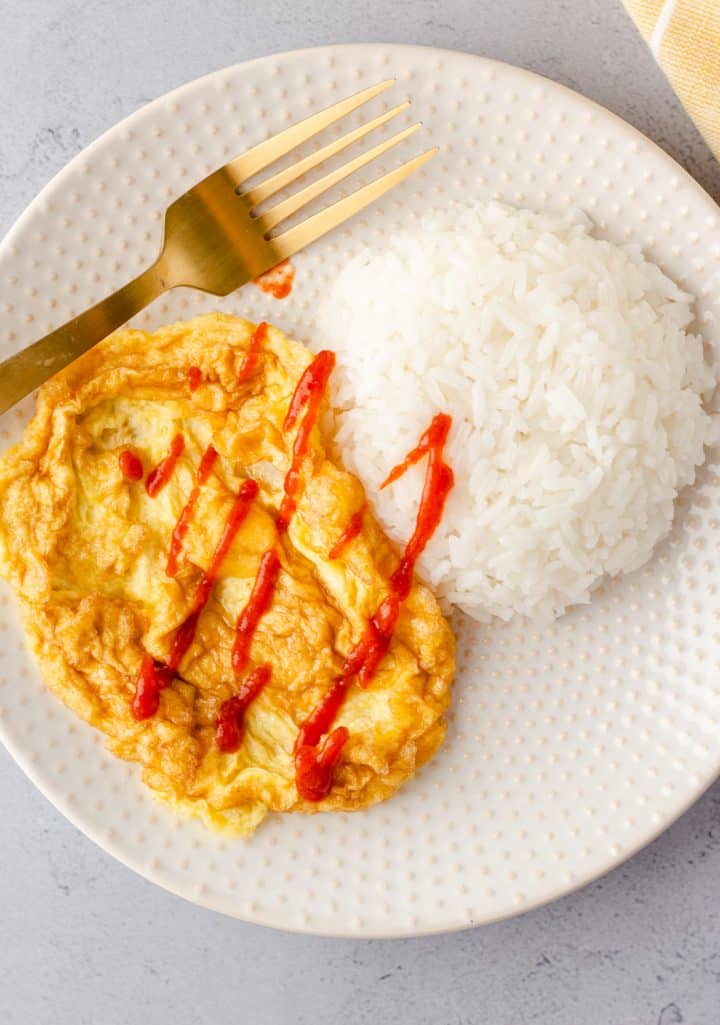 Kai jeow is something I ate often as a kid growing up with my Thai mom. Now I can see why, it's a cheap and easy meal with only 2 main ingredients.
While most countries consider omelets a breakfast item, in Thailand eggs are more of a lunch or dinner food, commonly served to cool down whatever spicy meal you are eating.
I hadn't made this in years, but after visiting with my mom and having kai jeow, I was instantly transported back to my childhood. Isn't it crazy how food can trigger these kinds of memories?
It's definitely on my list of Thai comfort food recipes along with Pad See Ew and Pad Kra Pao.
Jump to:
Ingredients for a Thai Omelet
The two main ingredients are beaten eggs and fish sauce, but you'll also need a high heat cooking oil like canola and a small pot or wok to cook it in. This is probably one of the easiest Thai dishes you can make.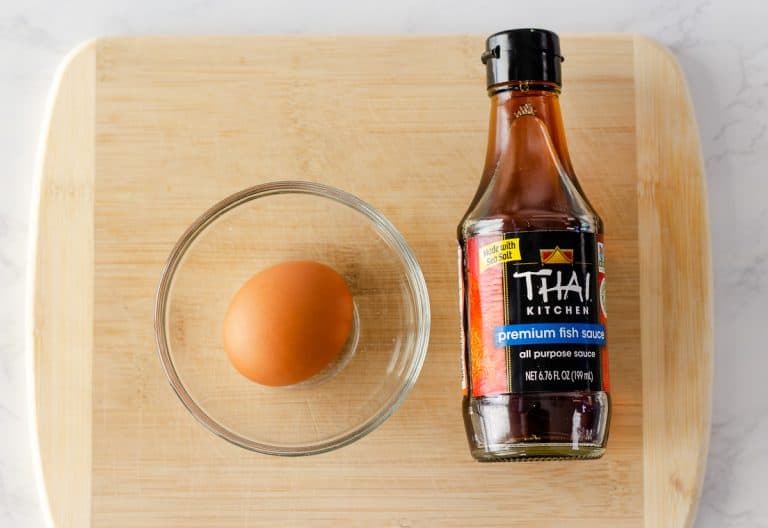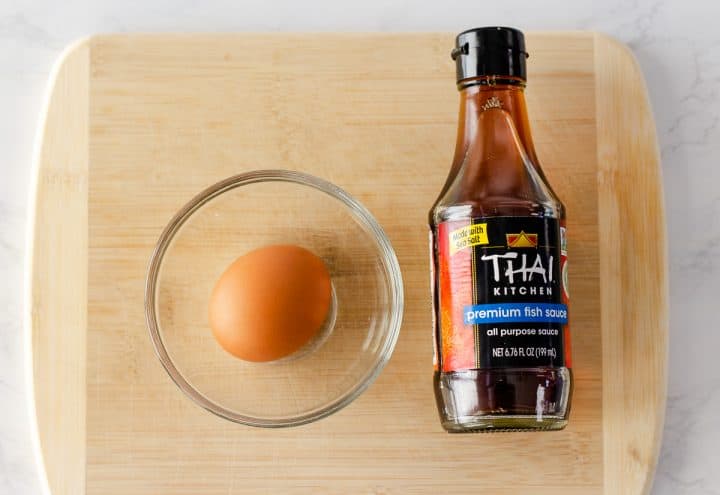 While this base recipe is delicious, you can get creative and make a Thai omelet different ways by adding a protein or herbs for flavor.
Here are few popular add-ins for kai jeow-
Ground pork
Minced Shrimp
Lump Crab Meat
Scallions or green onions
Mushrooms
Tomatoes
Fish sauce is the seasoning used for kai jeow, and it really gives the egg that wonderful umami flavor you don't get from salt. However if you are allergic or vegan, then you can substitute soy sauce or seasoning sauce like Magi or Golden Mountain.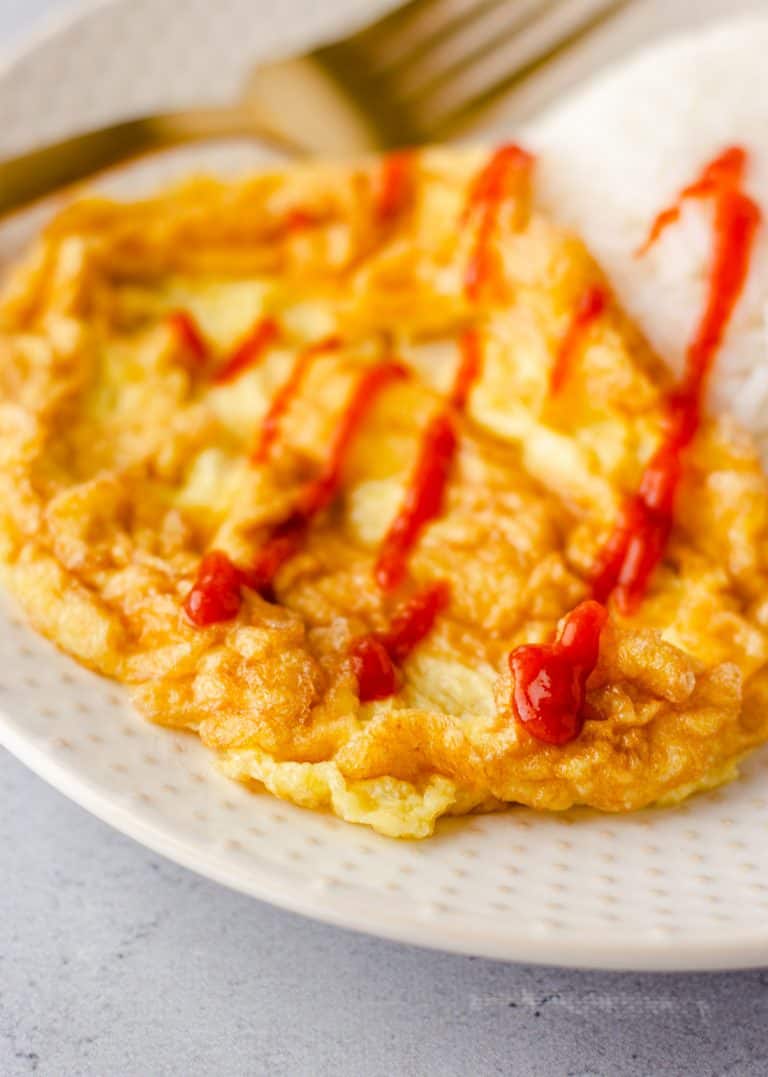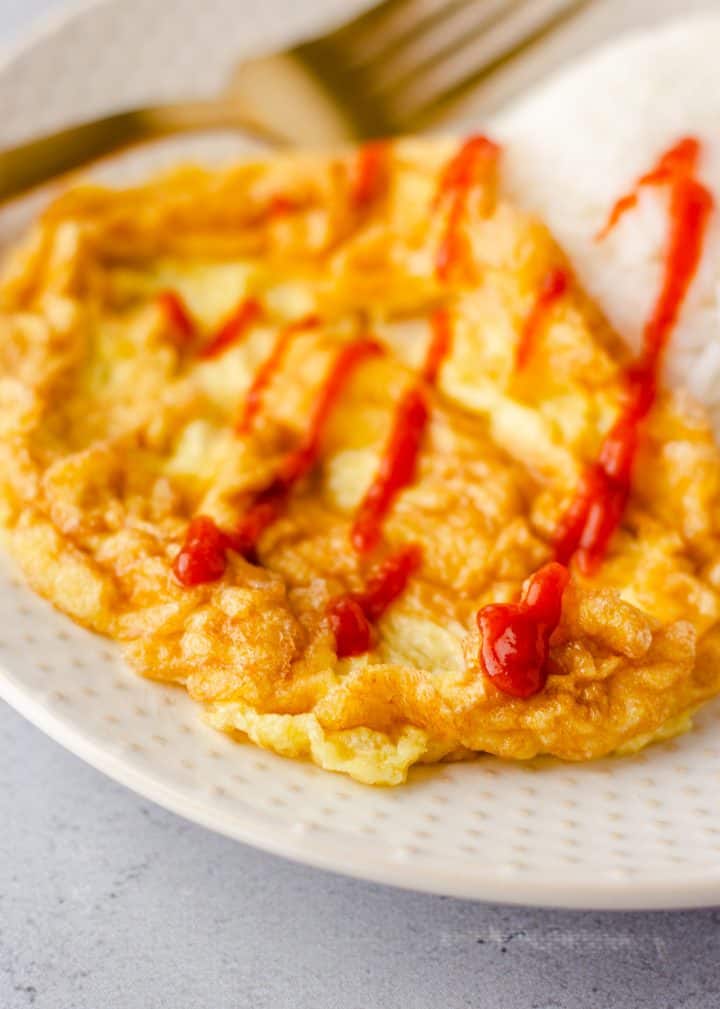 How to Cook Kai Jeow
While most omelet techniques require you to cook it low and slow, this type of omelet is made quickly. Instead we're using high heat and a good amount of oil to deep fry the omelet. I'm using canola oil, but any high smoking point oil will work.
Instead of a wok, I'm using a small saucepan to cook the kai jeow. You want the pot to be the size of your omelet. Fill your pot or wok with enough oil to reach about a ¼ inch on the bottom and heat it under medium high heat.
While the oil is heating, crack an egg into a small bowl and add a half teaspoon of fish sauce, whisk vigorously until smooth. Whisking the eggs also adds more air thus making the omelet fluffy and light.
Test the oil by adding a drop of the egg into it. If it bubbles up right away, then it's ready. Pour the egg mixture into the hot oil and it should begin cooking immediately.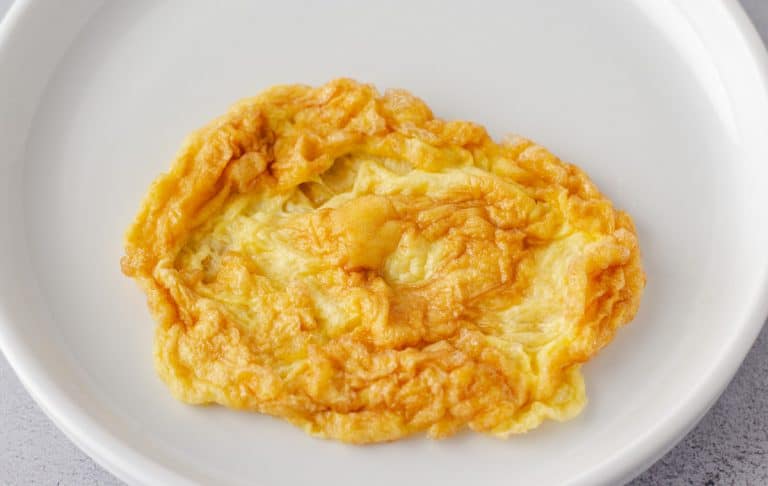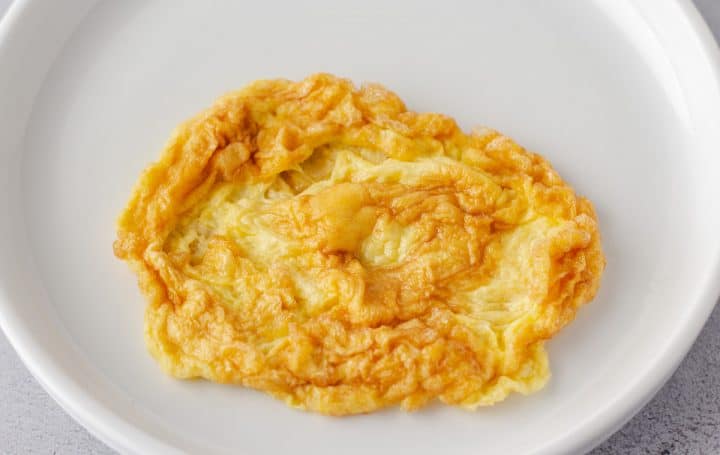 After a few seconds use a spatula to carefully flip the omelet over to the other side. Cook for about 15 more seconds then remove to a paper towel lined plate. The omelet will be nice and puffy, but quickly deflate as it cools. I also like to blot with a paper towel to remove any excess oil.
Kai jeow should have a nice golden color with slightly crispy edges. Even though we cooked it on high heat the inner layers should still be nice and soft.
How to Serve a Thai Omelet
Thai Omelets can be served as a meal on its own with a side of Jasmine Rice. Thai's also like to eat it with sriracha sauce or prik nam pla, which is fish sauce, lime juice, and diced Thai Chili.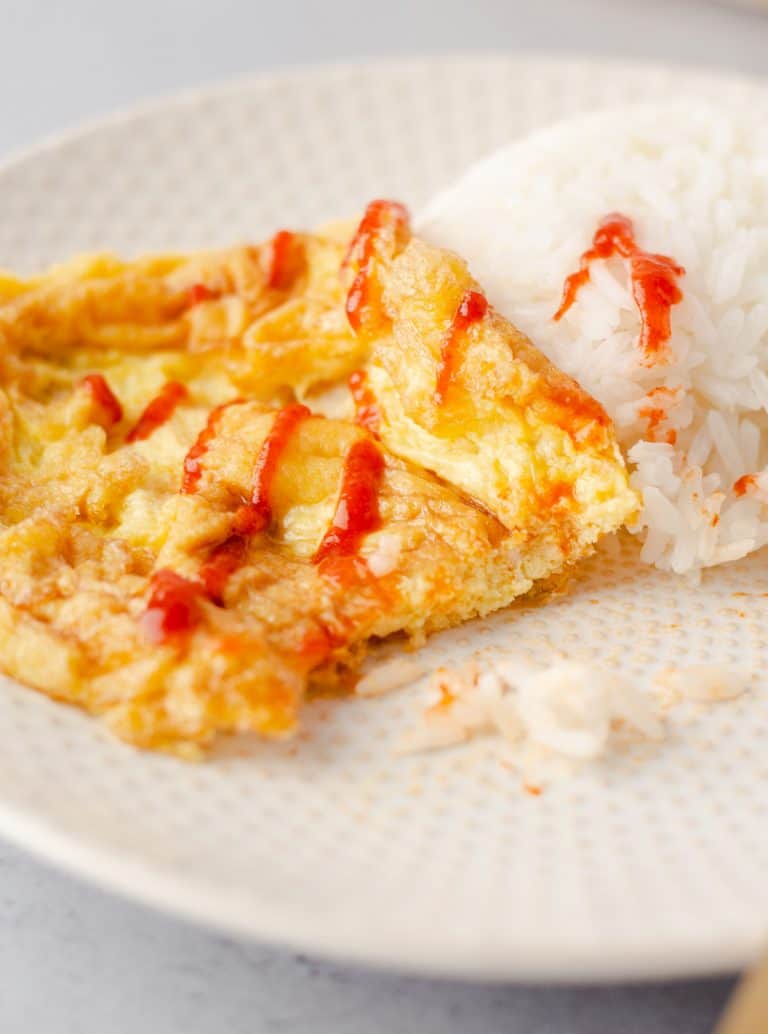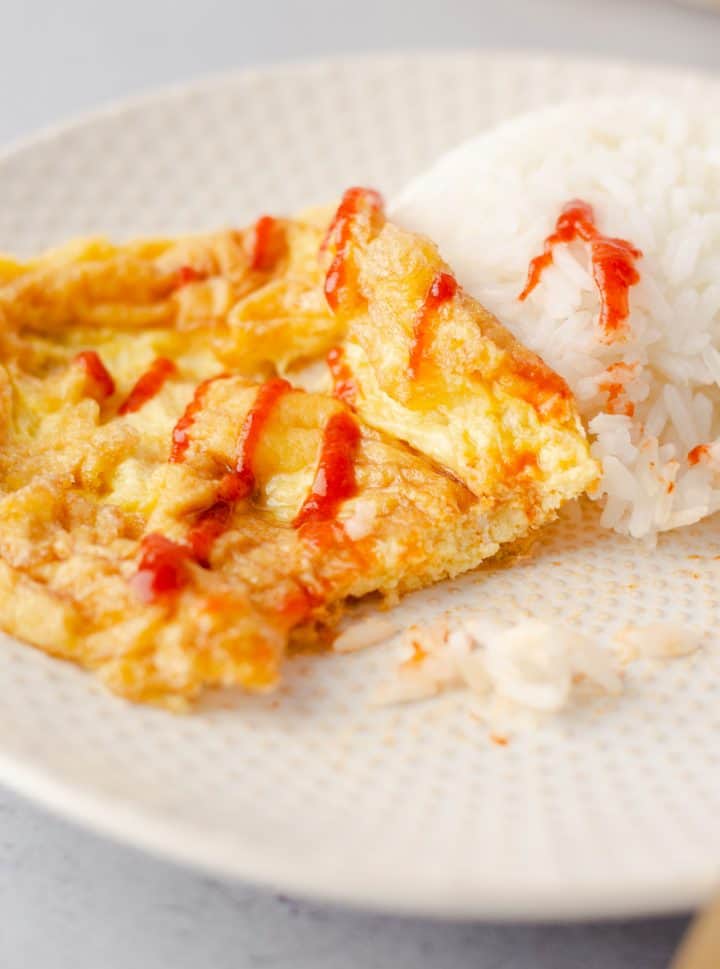 It's also common to serve kai jeow as an accompaniment to a spicy meal like pad kra pao. It tastes best served hot right after making it, so cook this last if you are serving with another dish.
When I went to Thailand, I saw it was a popular street food item too. Either way you enjoy it it will be delicious!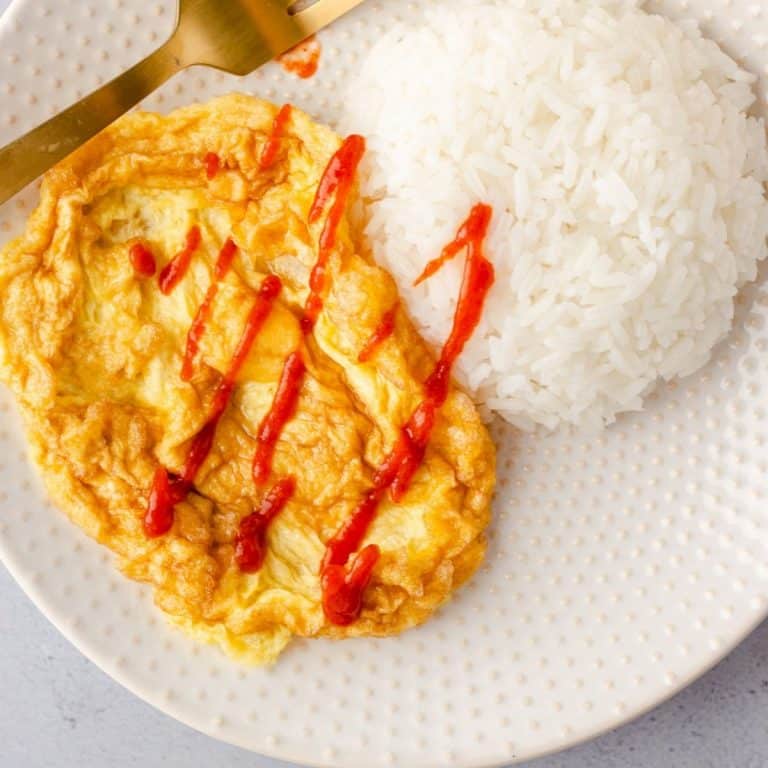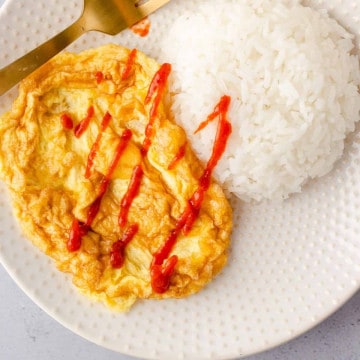 Thai Omelet Recipe
Kai Jeow is a Thai Omelet with just 2 ingredients: eggs and fish sauce. But the high heat cooking method makes it light and fluffy.
Equipment
Wok or Small Pot for frying
Ingredients
High Heat Cooking Oil

Canola or Vegetable and enough to cover the bottom of your pot ¼ inch high.

1

Egg

Beaten

½

teaspoon

Fish Sauce

or substitute soy sauce
Instructions
Add oil to a small saucepan or wok, enough to cover the bottom of your pot ¼ inch high. Heat over medium high heat.

Crack and egg into a small bowl, add fish sauce, and whisk vigorously until smooth.

Test the heat of the oil by adding a drop of egg into it. If it bubbles right away the oil is hot enough. Add the remaining egg into the hot oil. It should bubble and begin cooking right away.

Once most of the egg is cooked (this should only take about 30 seconds), carefully flip it over using a spatula. Cook the other side for about 15 more seconds.

Remove egg from the pot onto a paper towel lined plate. Omelet should be nice and golden with some crispy edge. Blot excess oil on top and serve immediately with steamed Jasmine Rice and Siracha sauce.
Notes
This is a base recipe for a Thai Omelet, but can be customized with protein like ground pork, shrimp, or add onions/scallions to the egg mixture before cooking.
Serve with a spicy dish like Pad Kra Pao.
Nutrition
Serving:
1
g
Calories:
188
kcal
Carbohydrates:
1
g
Protein:
6
g
Fat:
18
g
Saturated Fat:
2
g
Polyunsaturated Fat:
5
g
Monounsaturated Fat:
10
g
Trans Fat:
1
g
Cholesterol:
164
mg
Sodium:
298
mg
Potassium:
69
mg
Sugar:
1
g
Vitamin A:
238
IU
Vitamin C:
1
mg
Calcium:
26
mg
Iron:
1
mg
Nutritional information is provided as an estimate only and depends on ingredients and amounts used. Thai Caliente makes no guarantees to the accuracy of this information.