Breakfast Burritos with Chorizo, Potato, and Egg. With the option to use soy chorizo and how to store them for a quick grab and go breakfast.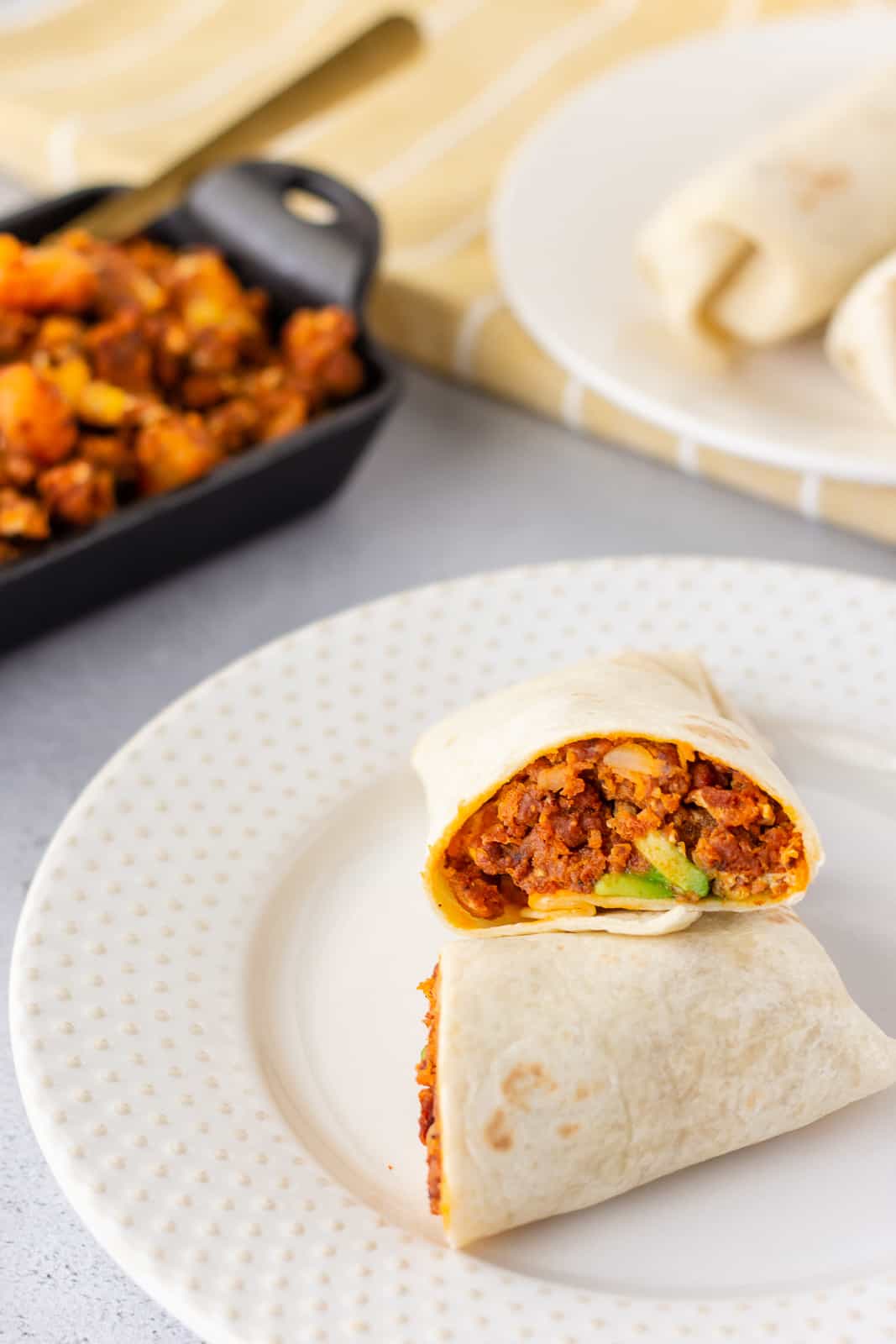 What is Mexican Chorizo?
Traditionally Mexican chorizo is made with ground pork and lots of seasoning for a very flavorful and greasy protein. You can find Mexican chorizo at most grocery stores along with different brands and varieties.
When I'm cooking with pork chorizo I prefer to drain the grease once the pork is cooked, but I know some people prefer to leave it. It's up to you!
There's also a beef chorizo which is just as flavorful and less greasy than the pork version. Check out this recipe from Muy Delish for Homemade Beef Chorizo.
What is Soy Chorizo?
In the video I'm using Soy Chorizo, which is a plant based protein. It's not greasy at all which I prefer. In fact, if you are using soy chorizo, you will need to add some additional oil when adding the potatoes and eggs for the burritos.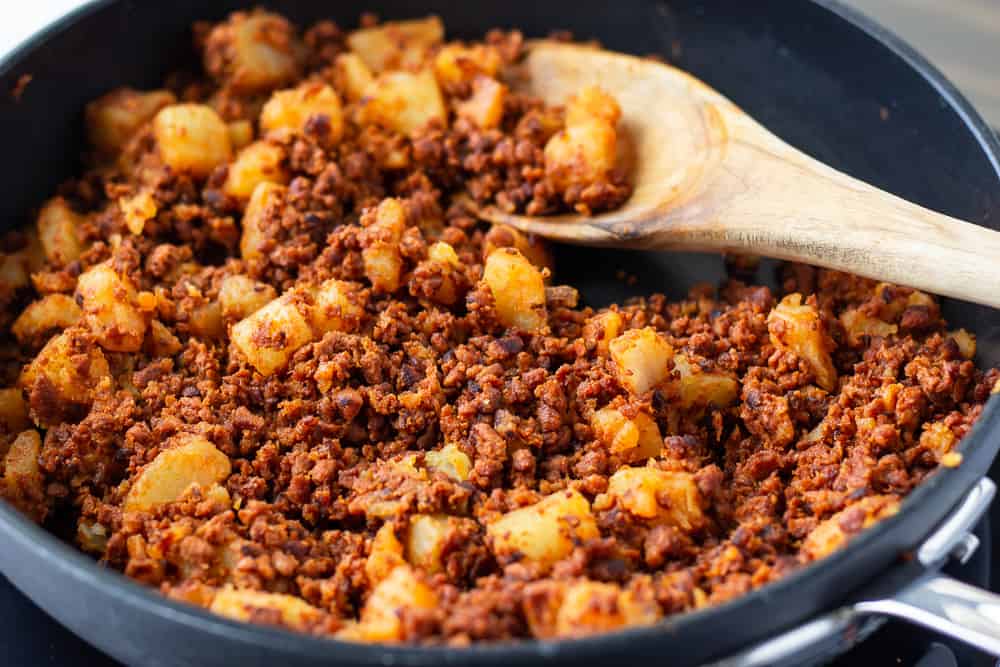 The soy chorizo cooks and crisps up so nice and still has a similar flavors of regular chorizo. It is prepared the same as regular chorizo by removing it from the casing and breaking it up in a skillet. Cook the soy chorizo until you see some browning.
How to make Chorizo, Potato, and Eggs
These Chorizo, Potato, and Egg Burritos are made in one skillet and using cooked potatoes makes this dish come together quickly.
Start by washing 1 large russet potato and piece it with a fork around the potato. Microwave it for 2 min on each side until soft. Allow the potato to cool slightly then cut into small pieces. The potato skin comes off easily if you wanted to remove it.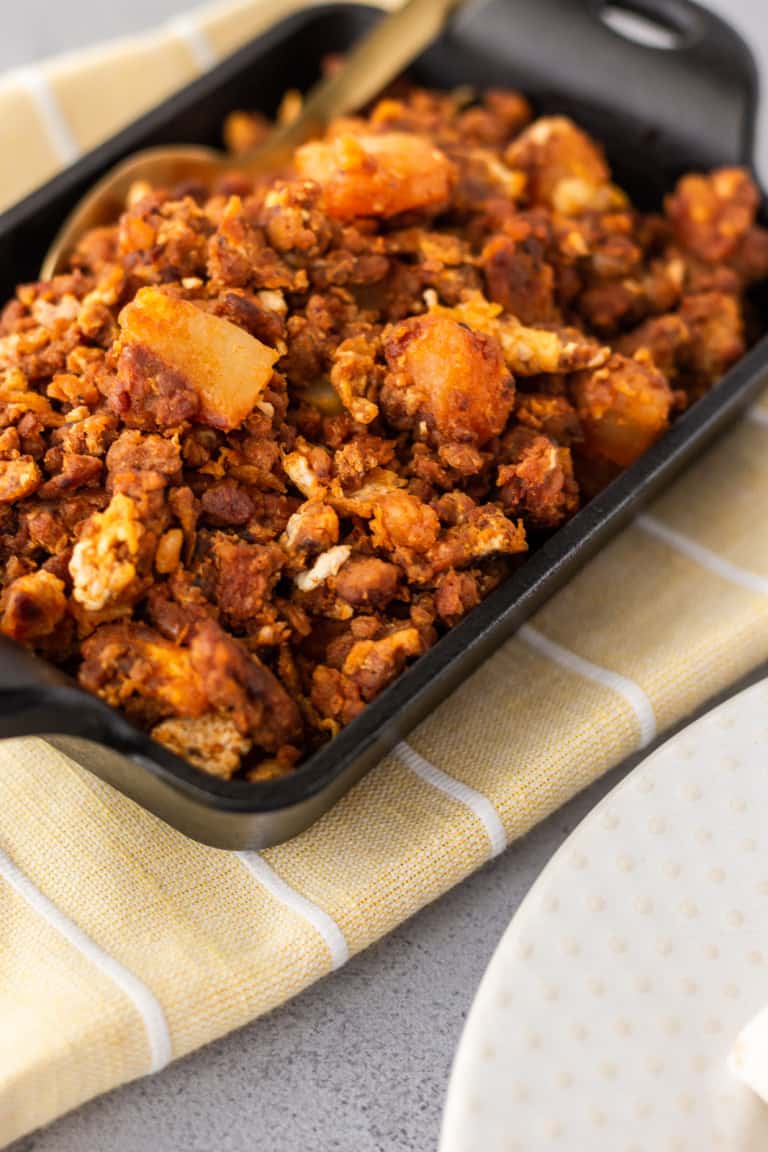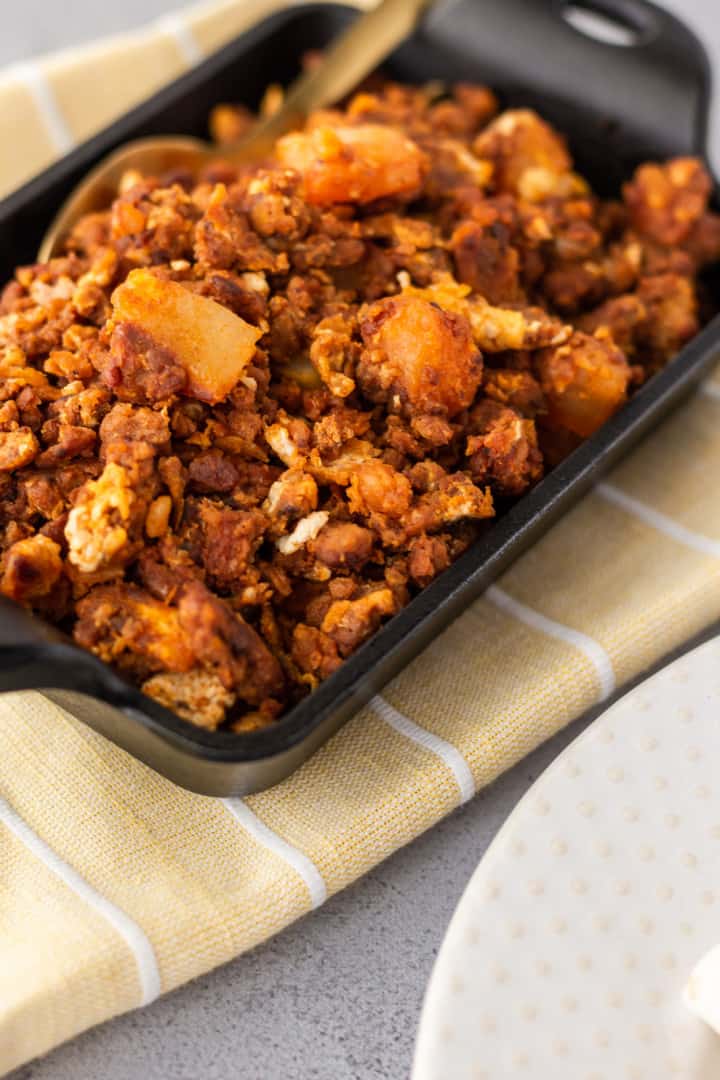 The other options is to peel and dice the potato and boil until soft in a pot of water.
Once the chorizo is browned, add the cooked potatoes and eggs into the skillet. Scramble them slightly in the skillet and then combine everything until the eggs are cooked.
Heat flour tortillas in the microwave for about 20 seconds or until soft and pliable. Then add a few spoons of the filling to the tortilla and roll tightly.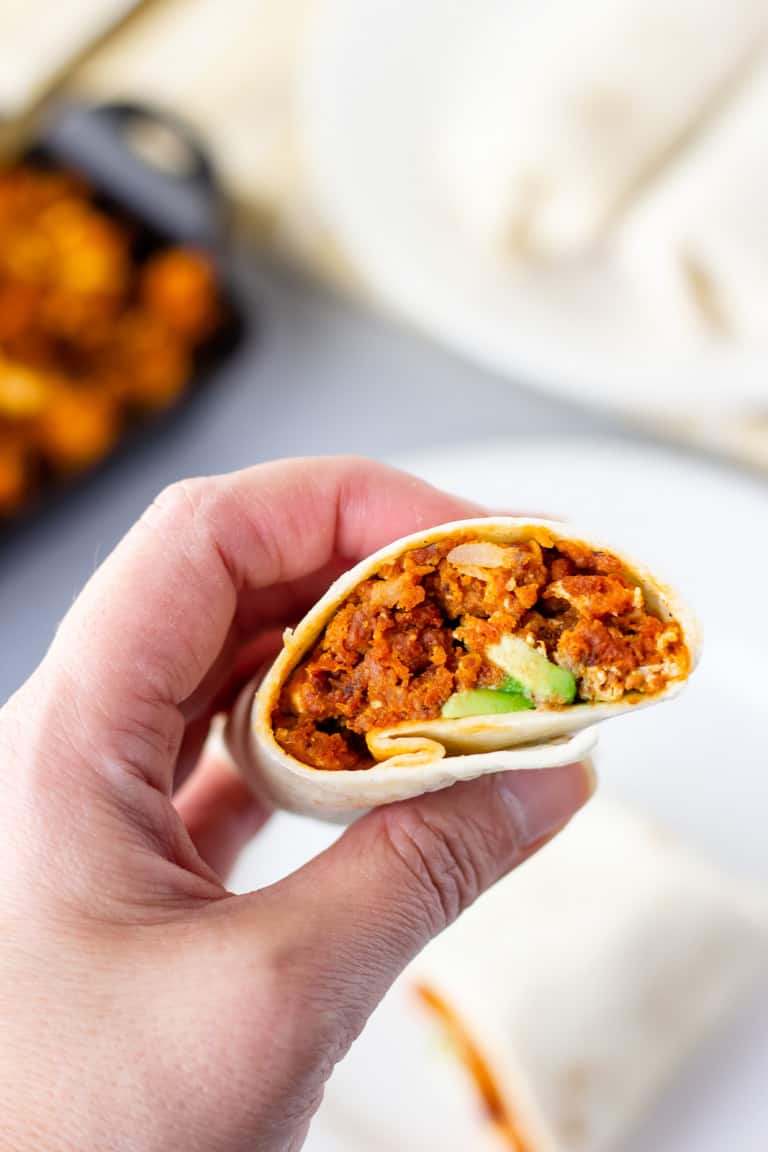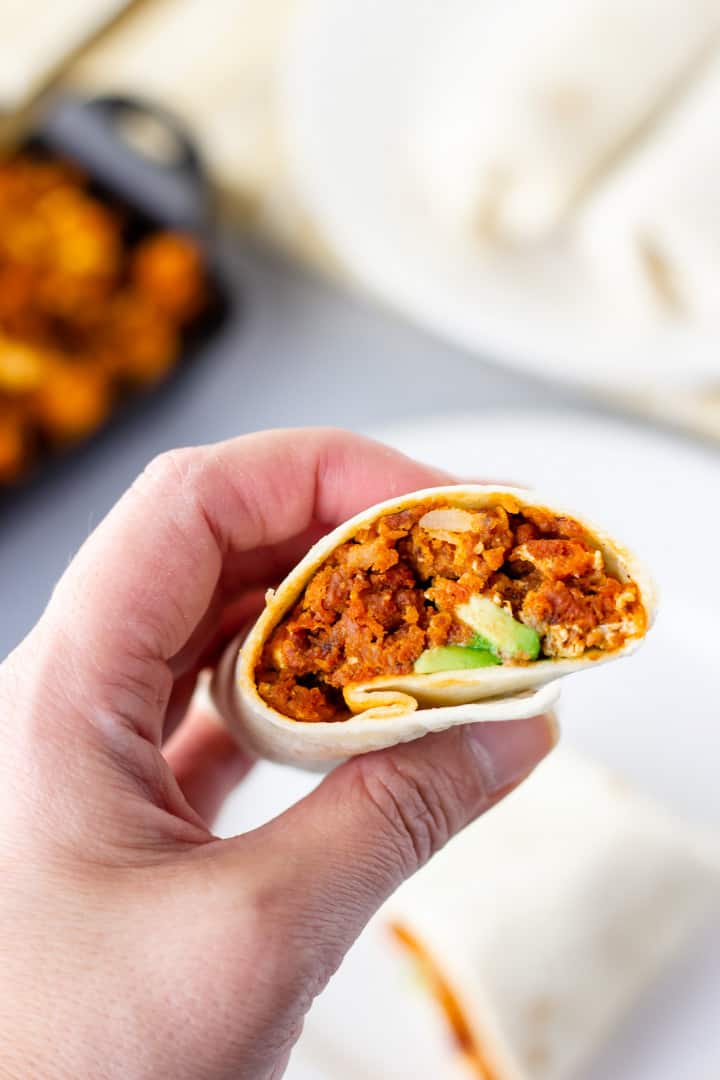 If eating these chorizo, potato, and egg burritos right away then feel free to add additional toppings like sliced avocado, shredded cheese, salsa, crema, or even refried beans!
How to Store and Re-Heat the Chorizo Burritos
When making these burritos for storing, don't add any fresh toppings. These can be added after the burrito is re-heated.
You can add shredded cheese or refried beans to the chorizo, potato, and egg filling, since these will re-heat well.
Assemble the burritos and wrap them in parchment paper. If making different ones, (i.e. ones with cheese), you can write with a pen on the parchment paper which kind of burrito it is.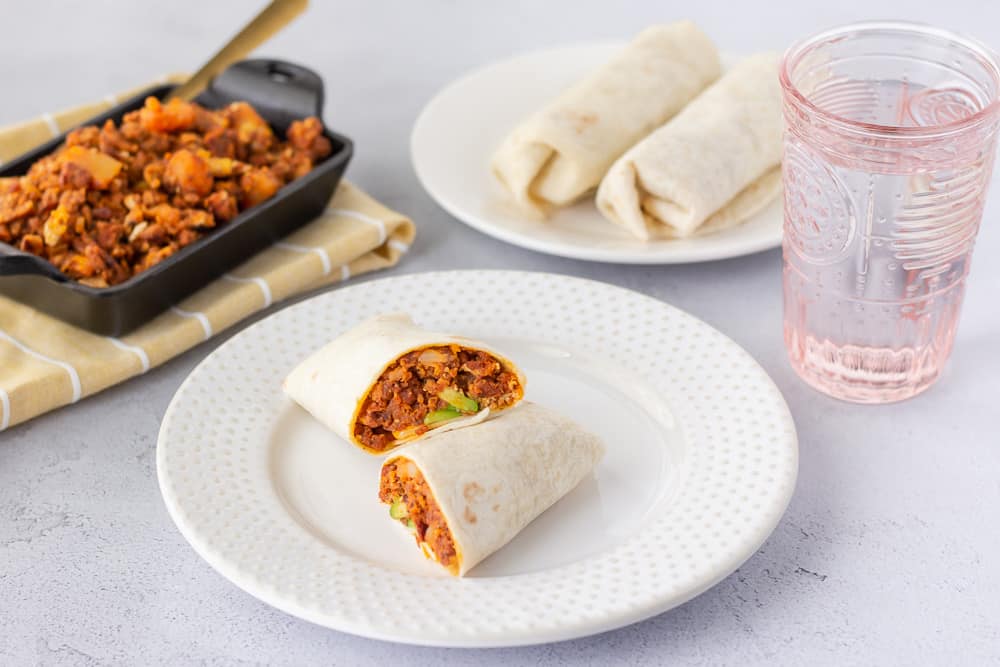 Place the parchment wrapped burritos in a zip top bag and press out any air before sealing. I can fit 4 small burritos in a quart size bag.
Store in the fridge up to 5 days, or in the freezer for a couple of months.
To reheat, keep burrito wrapped in parchment paper and microwave for 1 min, or longer if they are frozen. Unwrap, add any toppings you like, and enjoy!
Want more Chorizo Recipes? Check these out:
Watch the Full YouTube video Here: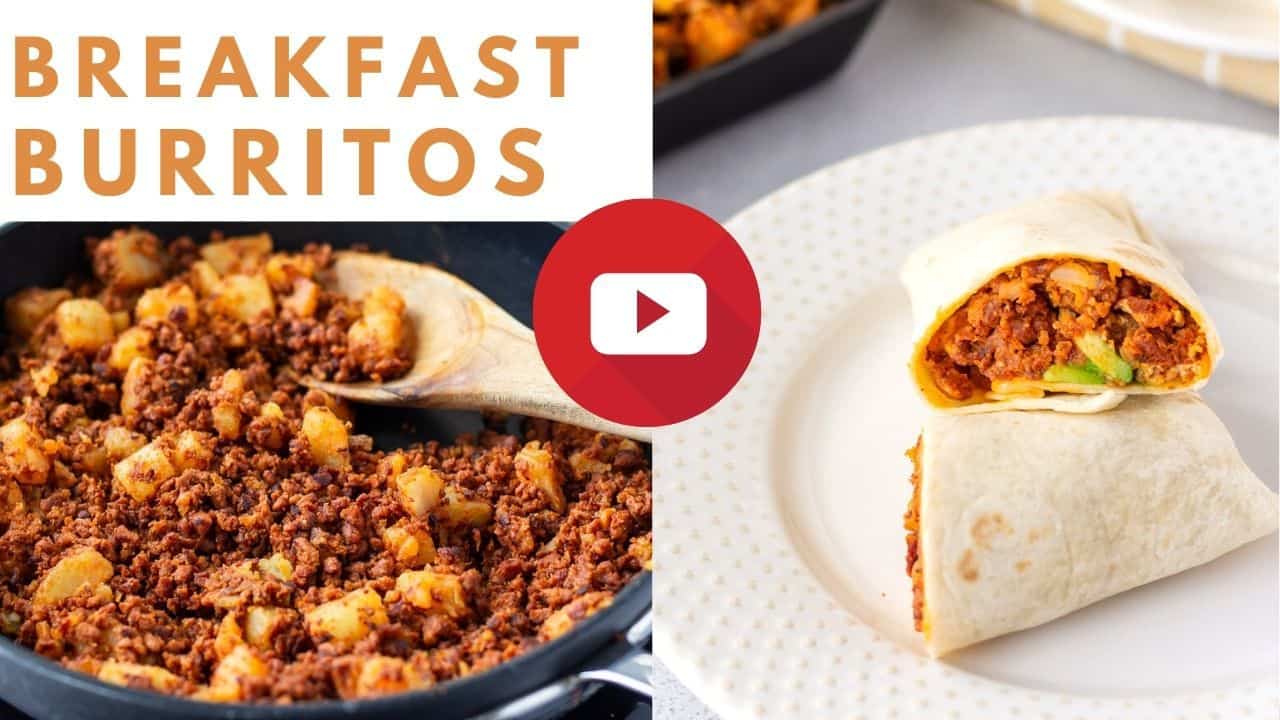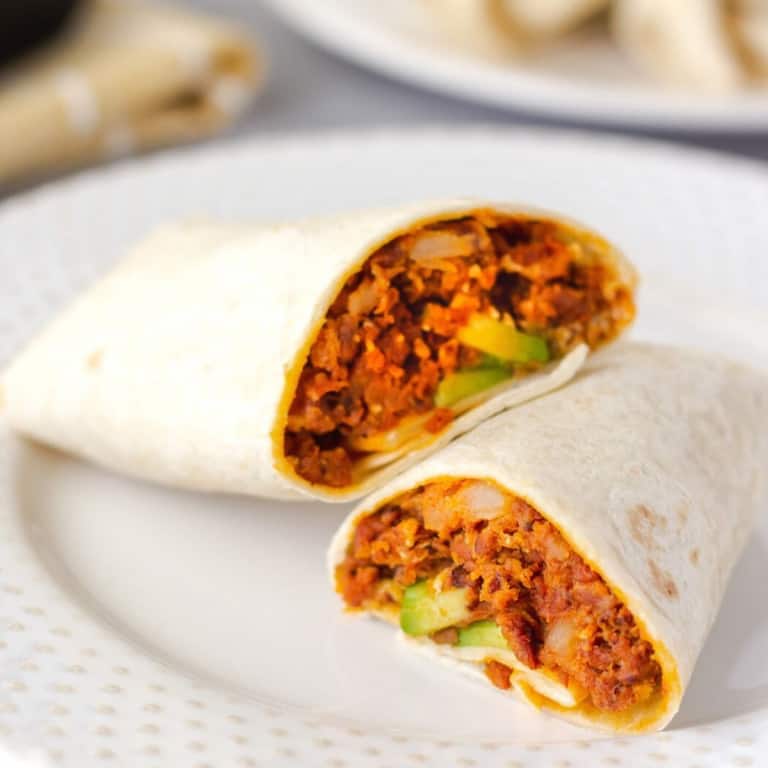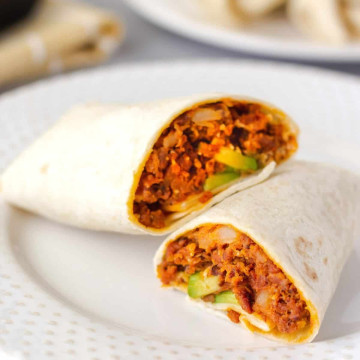 Chorizo, Potato, and Egg, Breakfast Burritos
Breakfast Burritos with Chorizo Potato and Egg. With the option to use soy chorizo and how to make them to store in the fridge or freezer for a grab and go breakfast.
Ingredients
10

oz

Mexican Pork, Beef, or Soy Chorizo

1

Large Russet Potato

5

Large Eggs

4

Large burrito size flour tortillas or 8 smaller ones.
Optional add-ins:
Shredded Cheese, Sour Cream, Refried Beans, Avocado, or Salsa.
Instructions
Pierce a large russet potato with a fork all over and microwave for 2 minutes on each side. Then cut into even pieces, the skin should come off easily if you want it remove. Or cut a russet potato and place in a pot of water and boil until soft.

Remove chorizo from casing and cook in a large skillet. The pork and beef chorizo will look more greasy than the soy chorizo. Continue cooking for about 10 minutes.

I personally like to drain the grease from the pork chorizo once it's done, but some people like to keep in it. Whichever you prefer. However the soy chorizo will need some extra oil before adding the potatoes and eggs.

Once the chorizo is cooked, add the cooked potatoes to the skillet, then add the eggs, and combine them with the chorizo and potatoes. Continue cooking until the eggs are done.

Warm flour tortillas in the microwave until soft and place a few spoons of the filling into the center and wrap tightly. If eating immediately, add any extra toppings before wrapping the burrito.

To store the burritos, wrap each burrito with parchment paper then place them in a zip top bag and store in the refrigerator up to 5 days or freeze for a couple of months.

To reheat, place in the microwave with the parchment paper and warm for 1 minute or until hot.
Want to Save this Recipe? Click on the Pinterest button below to Pin It!