Peruvian beans will quickly become your favorite type of bean. They are soft, buttery, and have a more mild taste than pinto beans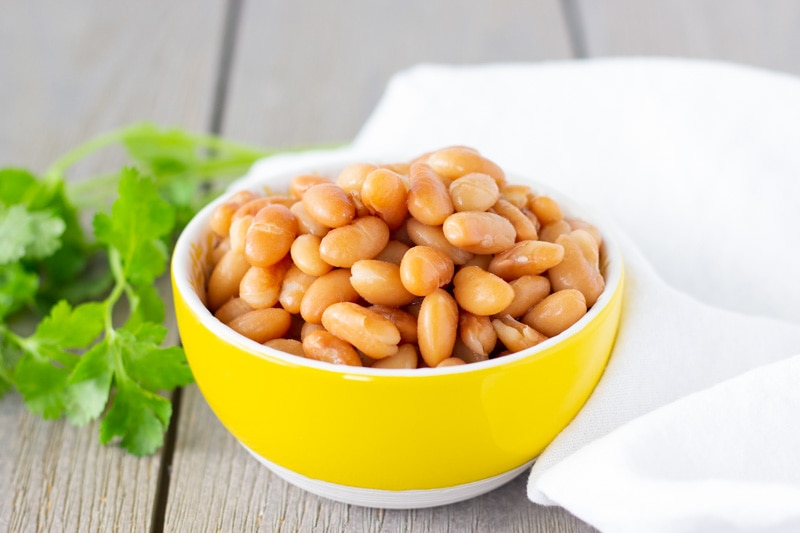 Peruvians beans are also known as Peruano, Canary, or Mayocoba beans depending on the region. When dried they are a yellowish color and once cooked they turn a light tan and have a soft buttery texture and taste to them. I now much prefer Peruvian beans over Pinto beans since they can be cooked with just water and salt and still be flavorful. Pinto beans need seasoning and other ingredients to spruce them up and if not cooked correctly can be a bit tough.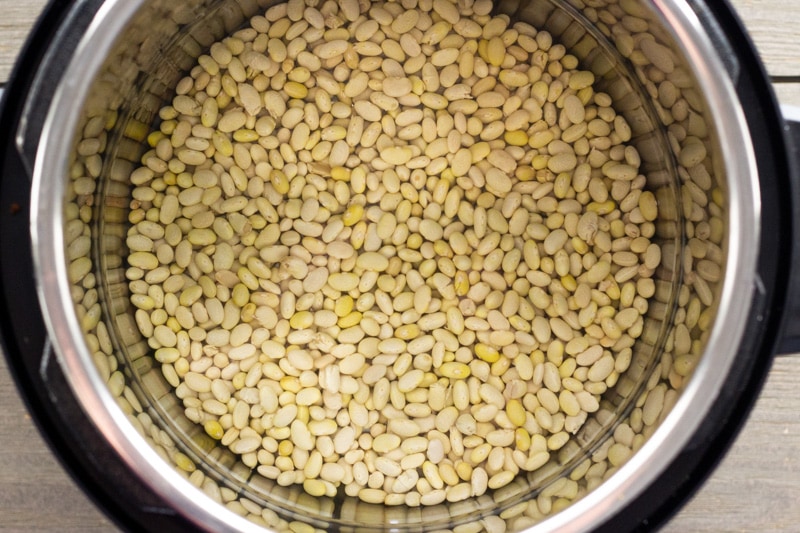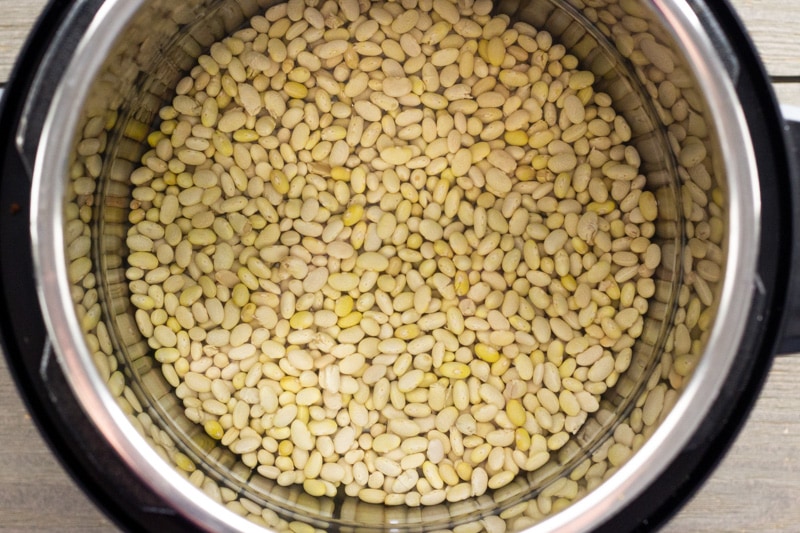 It's taken me almost 3 years to post a bean recipe, which is crazy since beans are such a big part of Mexican food. I've made beans plenty of times, but I couldn't get the recipe to be perfect. My in-laws always make beans on the stove and that's how I started making them, but I've been testing recipes in the Instant Pot, and it's so much easier! They also don't soak the beans, so this is a no-soak recipe.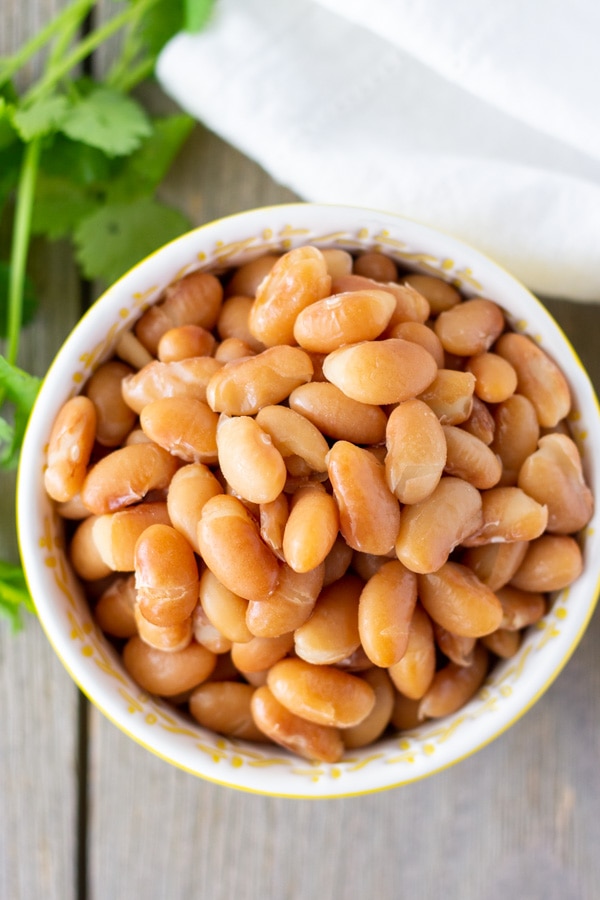 I do keep canned beans in my pantry for certain recipes, but the taste of fresh cooked beans is unmatched! The recipe makes a lot of beans, therefore I recommend freezing them in small portions, with the juice, and you can thaw a portion when needed. The best part of cooking dried beans is the juice makes the perfect base for creamy refried beans.
I love creamy refried beans, but the majority of time they are made with lots of oil and sometimes lard.
What if I told you can you make creamy refried Peruvian Beans right in the Instant Pot and with a fraction of the oil normally used?
Well, You definitely Can!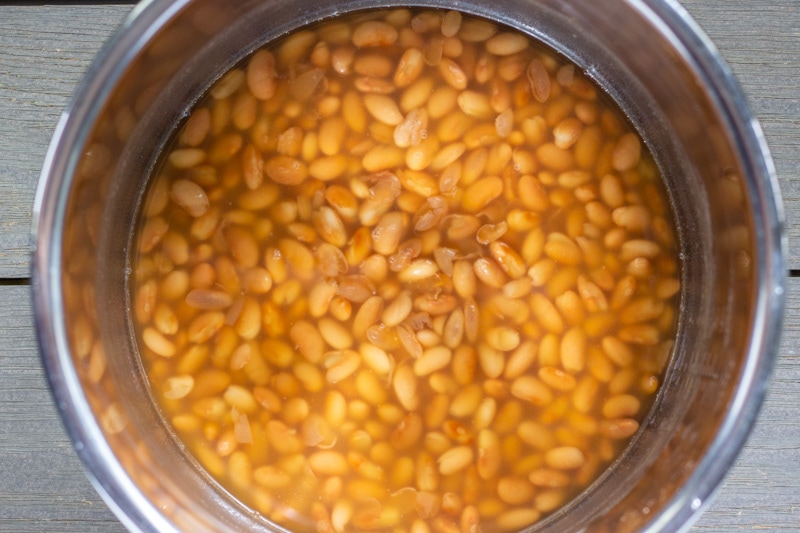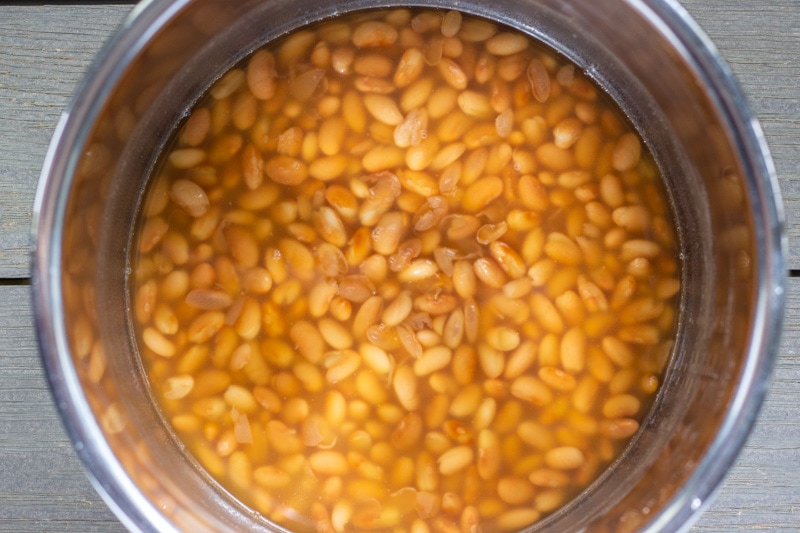 The secret to creamy refried beans is in the cooking liquid. You can see how I left a good amount of liquid in the pot with the beans. Then just turn the Instant Pot to 'Saute', add a tablespoon of oil, and allow the beans to reach a low boil. Continue to have the beans simmering until they get really soft, about 5 minutes, stirring occasionally so they don't burn on the bottom of the pot.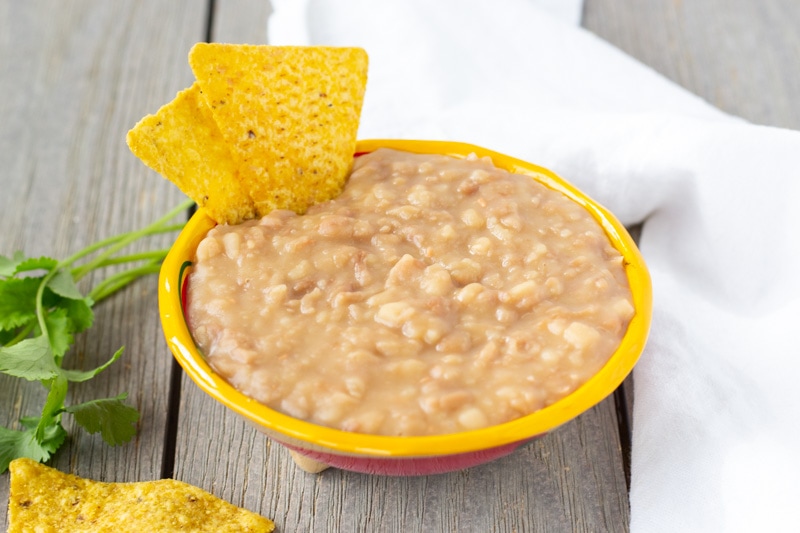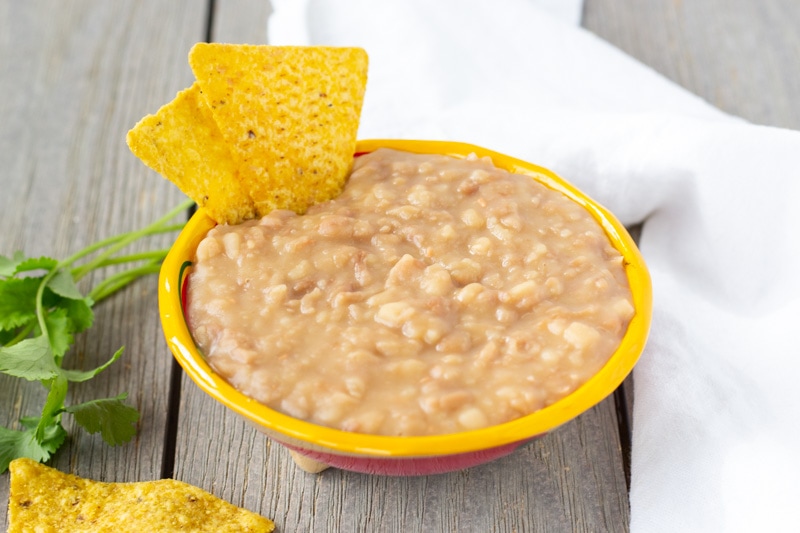 Once the beans are soft, you can start mashing them with a masher or even the back of a cooking spoon. Keep mashing until you reach your desired consistency. If you like them extra creamy you can run them through a blender.
This is just a simple seasoning of salt, but feel free to add other spices you like. My in laws add a jalapeno to the refried beans to give it some spice.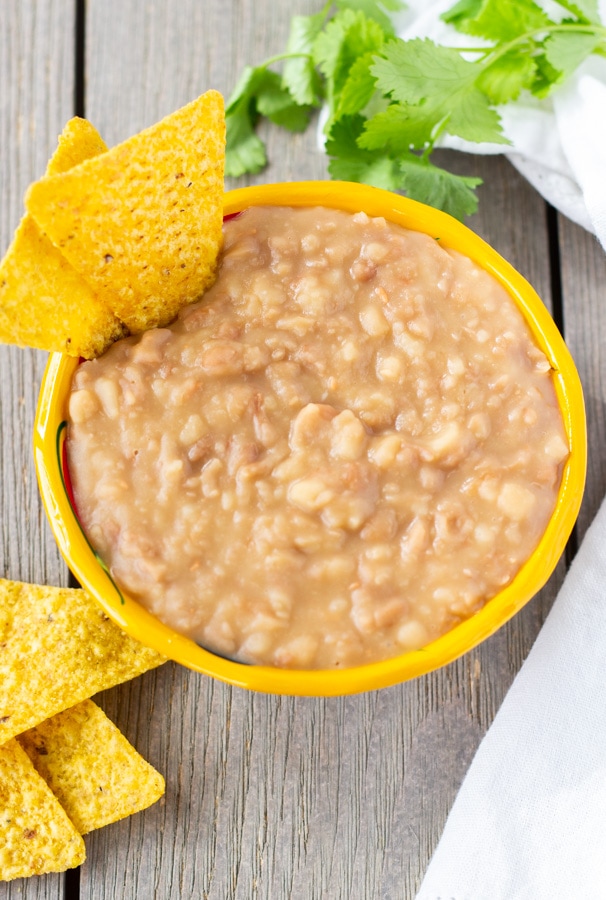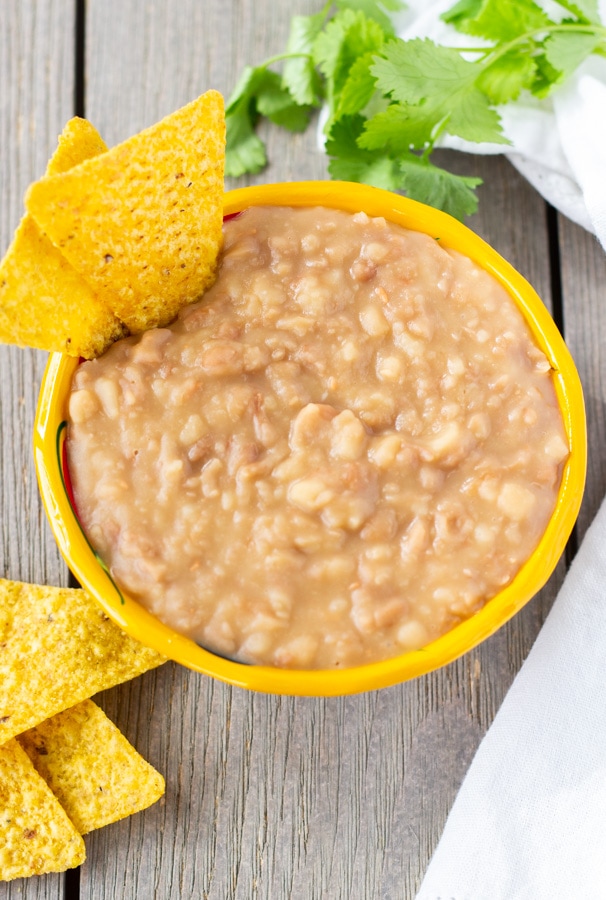 Be sure to tag me on IG @ThaiCaliente if you make any of my recipes and follow me on Pinterest to save them to your boards.
Video on How to Make Beans in the Instant Pot: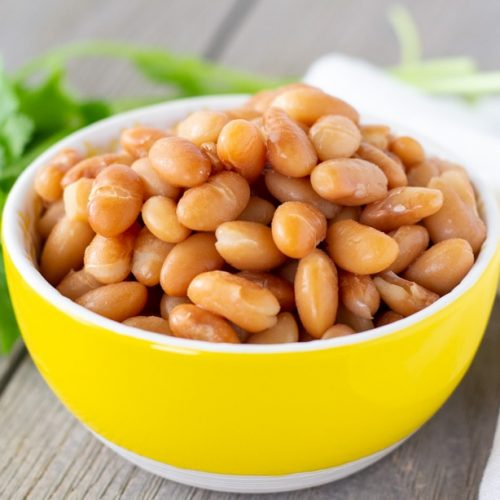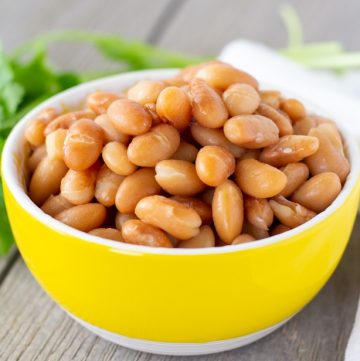 Instant Pot Peruvian Beans- Whole and Re-Fried Version
Peruvian beans will quickly become your favorite type of bean. They are soft, buttery, and have a more mild taste than pinto beans. Easily turn whole cooked beans into refried beans right in the Instant Pot.
Ingredients
16

oz

Dried Peruvian Beans (Not Soaked)

Also known as Peruano, Canary, or Mayocaba

5

Cups

Water

I'm using an 8qt Instant Pot. If using a smaller size, fill to max line or reduce amount of beans. Beans will double in size when cooked.

2

Tbsp

Oil

I used Avocado, but any oil will work.

Salt

After beans have been cooked
Instructions
Rinse beans in a colander and check for any debris. This was the first time I actually found a little rock in the beans, so double check!

Place rinsed beans in the Instant Pot and add oil and water. Lock lid on, have Valve on sealing, and Cook on High Pressure for 30 minutes. Once timer goes off, allow pressure to release naturally for an additional 20 minutes. Open lid add salt, start with 1 tsp, taste and add more as needed.

To Freeze beans, allow to cool completely then place in desired portions in a freezer bag with cooking liquid. To thaw place in fridge overnight and heat on stove.
Re-fried Peruvian Beans
Remove desired amount of beans from the pot and leave however much you want for re-fried beans. I left about 1/4 of the beans and made sure they were still covered with the cooking liquid. Add a Tablespoon of oil to the beans.

Press the saute function on the Instant Pot and allow beans to come to a boil. Stir occasionally to prevent burning, but allow beans to simmer for about 5 minutes until they become really soft. Turn off Instant Pot and smash beans with a masher or back of a large spoon. Taste and see if additional salt is needed. For an even creamier texture, you can use a blender instead.
Notes
The cooking time for dried beans can vary depending on how 'old' the beans are. If they are older, than they will need more time. 30 minutes is a good starting point, and if they are still tough add on 5 more minutes of cooking time afterwards.
This is also a good amount of time if you want to cook dried Pinto or Black beans. Follow the same steps and season them after the cooking is completed.
269