Roasted Chili Corn Salsa is a savory salsa that combines the sweet flavors of roasted corn with the smokiness of roasted poblanos. This salsa can be served with chips, on tacos, or with grilled meat.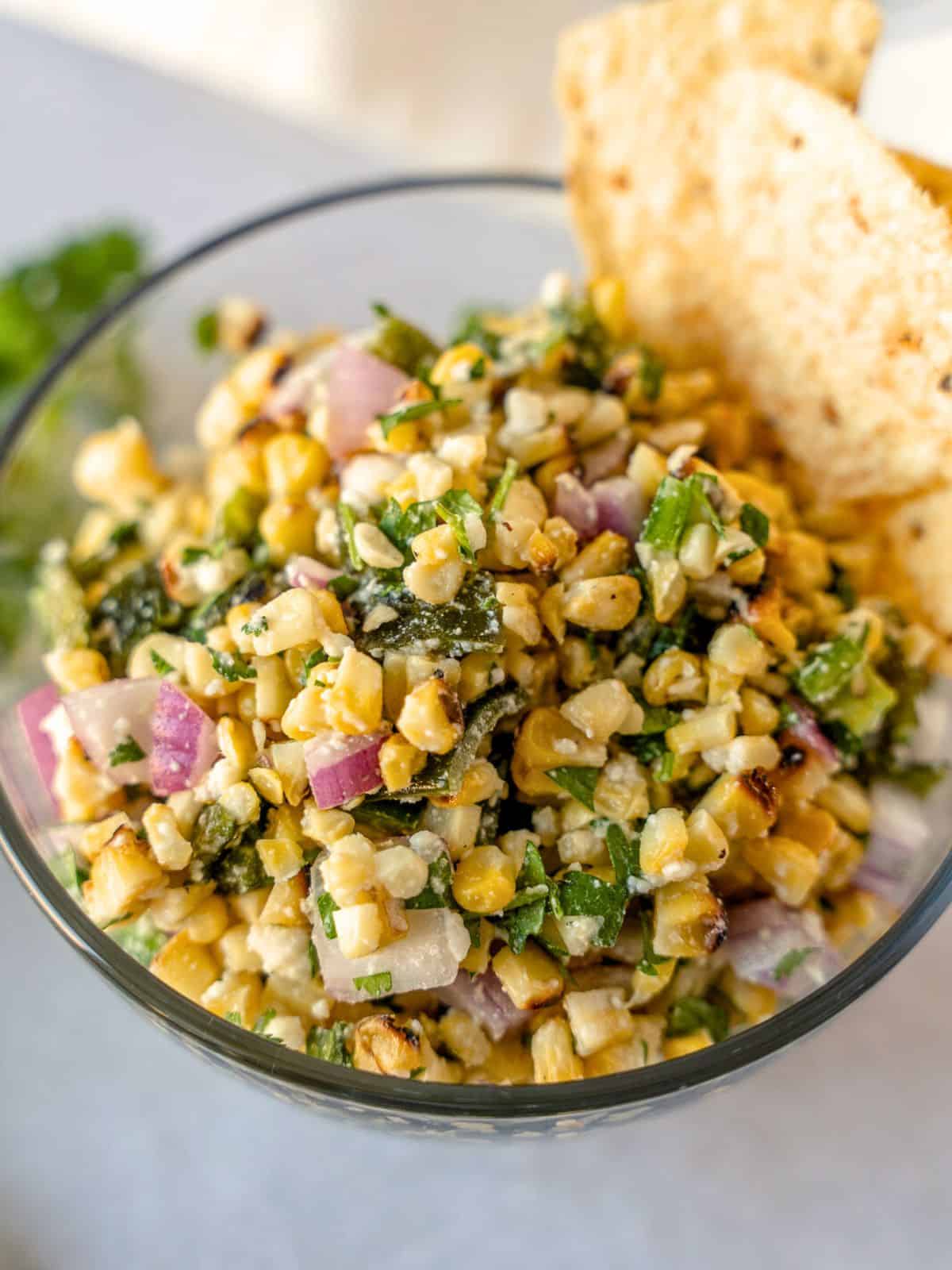 Fresh corn is so good during the summer and I also love eating it Mexican Street Corn Style. But taking an extra step and adding a roasted poblano pepper really bumps up the flavor!
If you love poblanos, try these Carne Asada Stuffed Poblanos.
Jump to:
Ingredients
The ingredients for this Roasted Chili Corn Salsa are simple and flavorful.
Grilled Corn - Fresh corn that has been grilled to give it a slightly charred, smoky flavor and then removed from the cob. Adds a sweet and crunchy texture to the salsa.
Roasted Poblano - Mild chili pepper that has been roasted to remove the skin and seeds, giving it a slightly smoky and earthy flavor. Adds depth of flavor and a slight kick to the salsa.
Jalapeno - A spicy chili pepper with a bright, fresh flavor. Adds heat and a zesty kick to the salsa.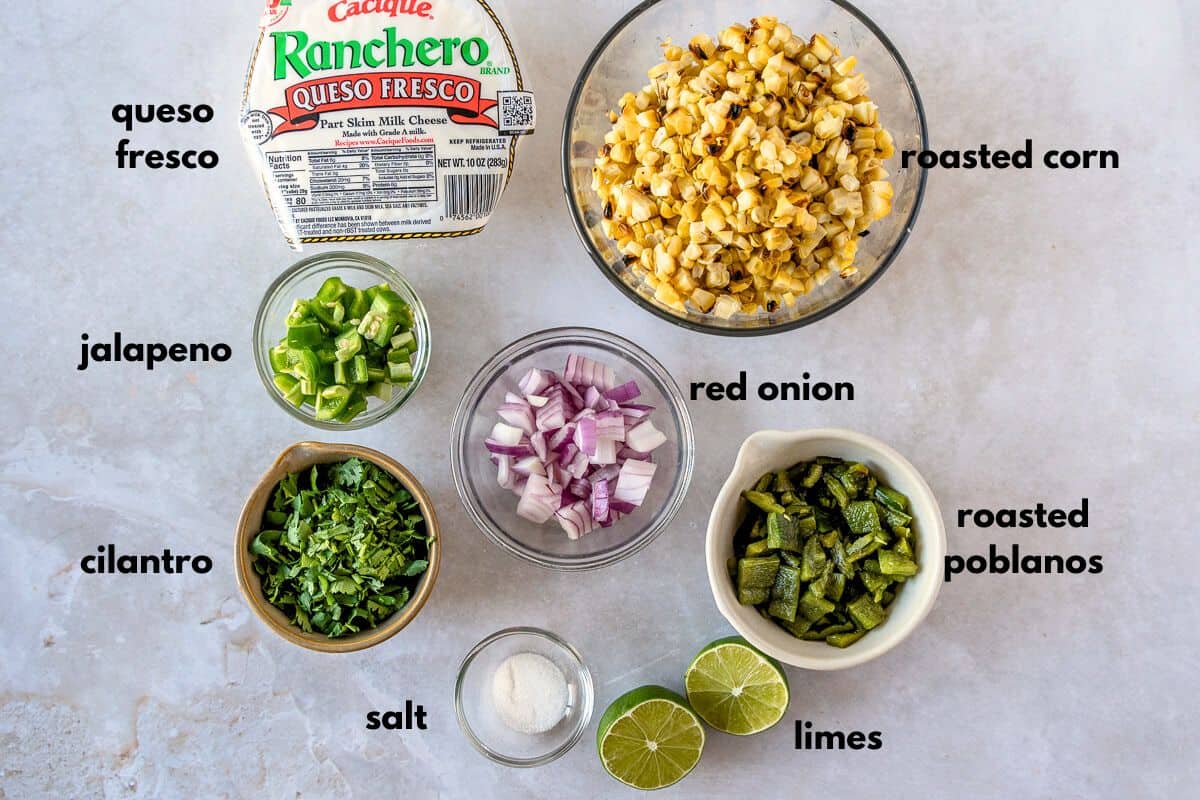 Red Onion - Pungent and slightly sweet onion that provides a sharp and tangy flavor to the salsa. You can also use pickled red onions for even more flavor.
Cilantro - An aromatic herb with a fresh, citrusy flavor that adds brightness and freshness to the salsa.
Lime - Provides a tart and acidic flavor that balances the sweetness of the corn and the heat of the peppers.
Salt - Enhances the flavors and brings out the natural sweetness of the ingredients.
Queso Fresco - Crumbly Mexican cheese with a mild and slightly tangy flavor. Adds a creamy and slightly salty contrast to the salsa.
Top Tips for Making Roasted Chili Corn Salsa
Removing the seeds from jalapeno pepper will reduce the heat level and make the salsa easier to digest.
After mixing all the ingredients together, let the salsa chill in the refrigerator for 30 minutes to allow the flavors to meld together.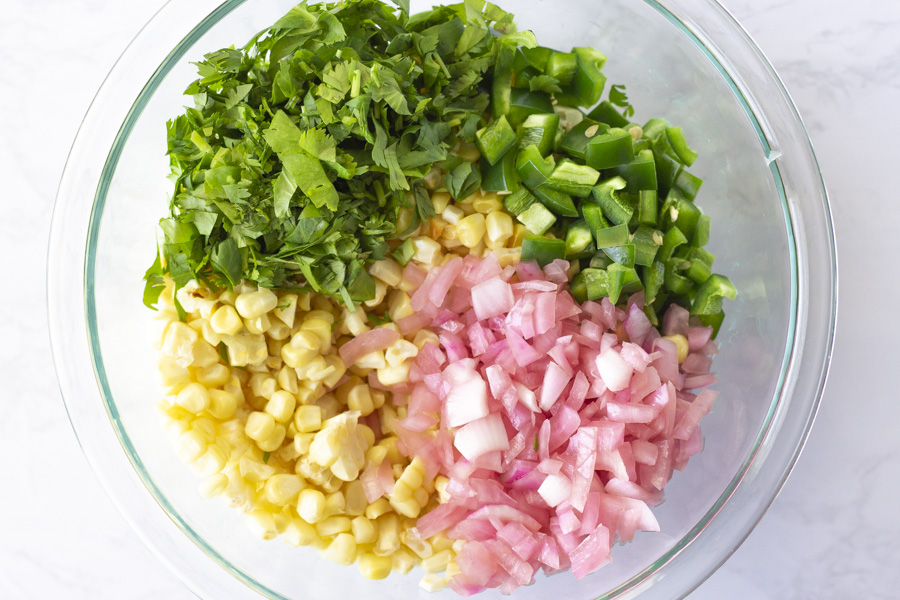 The queso fresco should be crumbled on top of the salsa just before serving to ensure it stays fresh and doesn't get soggy.
Feel free to experiment with different variations of the recipe, such as adding black beans or avocado for extra texture and flavor.
How to Serve Chili Roasted Corn
I love how versatile this salsa is, and leftovers can be stored for up to 3 days in the refrigerator.
Use the salsa as a topping for grilled chicken, steak, or fish to add a burst of flavor and freshness.
Serve the salsa alongside grilled vegetables or a summer salad for a healthy and flavorful side dish.
Mix the salsa with rice or lettuce and other toppings like beans, avocado, and cheese for a delicious meat-free meal.
More Corn Recipes: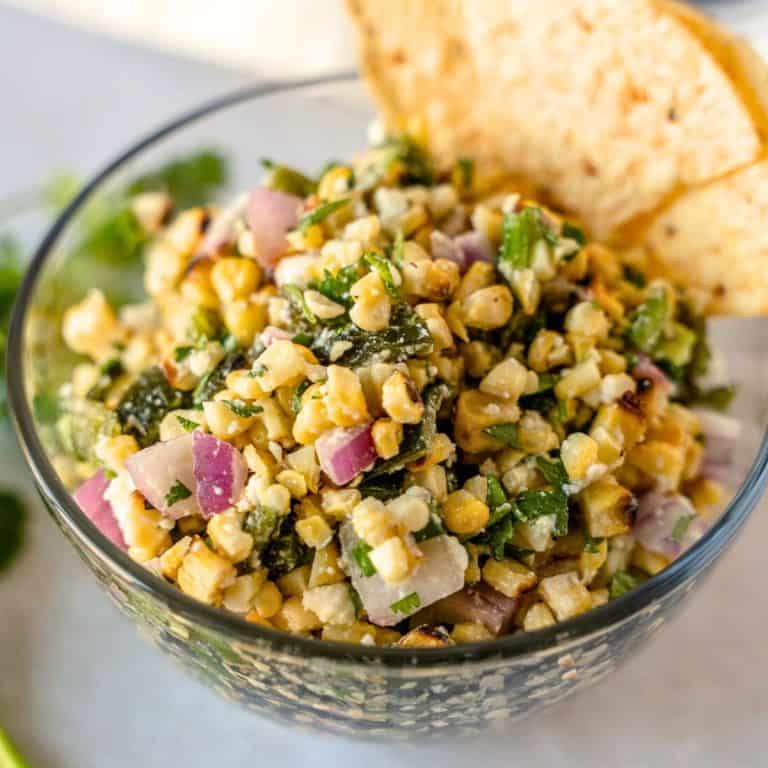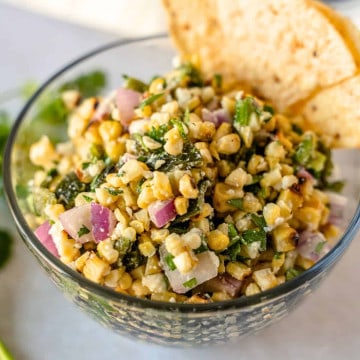 Roasted Chili Corn Salsa Recipe
Roasted Chili Corn Salsa is a savory salsa that combines the sweet flavors of roasted corn with the smokiness of roasted poblanos.
Ingredients
3

Ears of Corn

(husk and silk removed)

1

Poblano

1

Jalapeño

Diced and seeds removed for less spice

½

cup

Red Onion

Diced

¼

cup

chopped cilantro

1

Lime

¼

teaspoon

Salt

¼

cup

Queso Fresco

Crumbled
Instructions
Preheat grill to 400ºF. Grill corn over indirect heat for 20 minutes or until slightly charred. Heat the poblano pepper over a direct flame for a minute on each side or until the skin is blistered.

Place the roasted poblano pepper in a bowl and cover with plastic wrap to steam for 5 minutes.

Dice the jalapeno, red onion, and cilantro into small even pieces.

Remove the plastic wrap and start peeling the outer skin off the poblano pepper. Then remove the seeds and slice the pepper into small pieces

Once the corn is done, allow it to cool slightly, then shave the kernels off the cob.

In a medium bowl combine the corn kernels, poblano, jalapeno, red onion, cilantro, salt, and crumbled queso fresco. Squeeze the lime and combine everything well. Taste to see if more lime or salt is needed. Serve immediately or store in the refrigerator for up to 3 days.
Notes
If you are not eating the salsa right away, then store in the refrigerator. I also prefer to add the crumbled queso fresco last so it doesn't get too mushy.
Nutrition
Calories:
101
kcal
Carbohydrates:
18
g
Protein:
4
g
Fat:
3
g
Saturated Fat:
1
g
Polyunsaturated Fat:
0.4
g
Monounsaturated Fat:
1
g
Trans Fat:
0.1
g
Cholesterol:
5
mg
Sodium:
215
mg
Potassium:
304
mg
Fiber:
3
g
Sugar:
6
g
Vitamin A:
412
IU
Vitamin C:
39
mg
Calcium:
59
mg
Iron:
1
mg
Nutritional information is provided as an estimate only and depends on ingredients and amounts used. Thai Caliente makes no guarantees to the accuracy of this information.