Roasted Veggies seasoned with Mexican Spices piled on top Salsa Verde Rice and topped with Cashew Queso.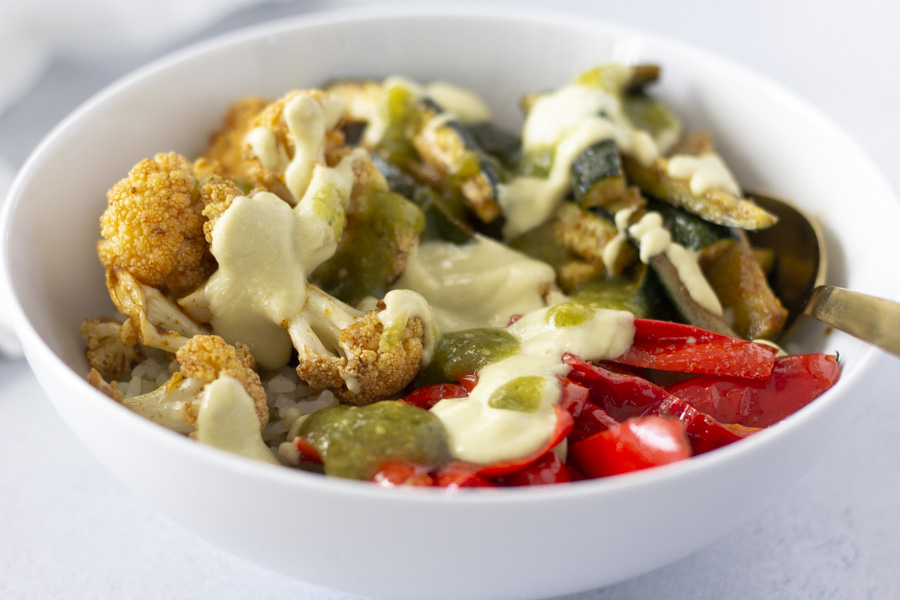 I love roasting a big sheet pan of veggies in the oven. It's minimal clean up and the roasting imparts so much more flavor. My inspiration for this Vegan Fajita Bowl was a dish packed with veggies, but not a salad because sometimes you just need to switch it up.
I had just made Salsa Verde and Cashew Queso, so I threw it all together and Magic happened!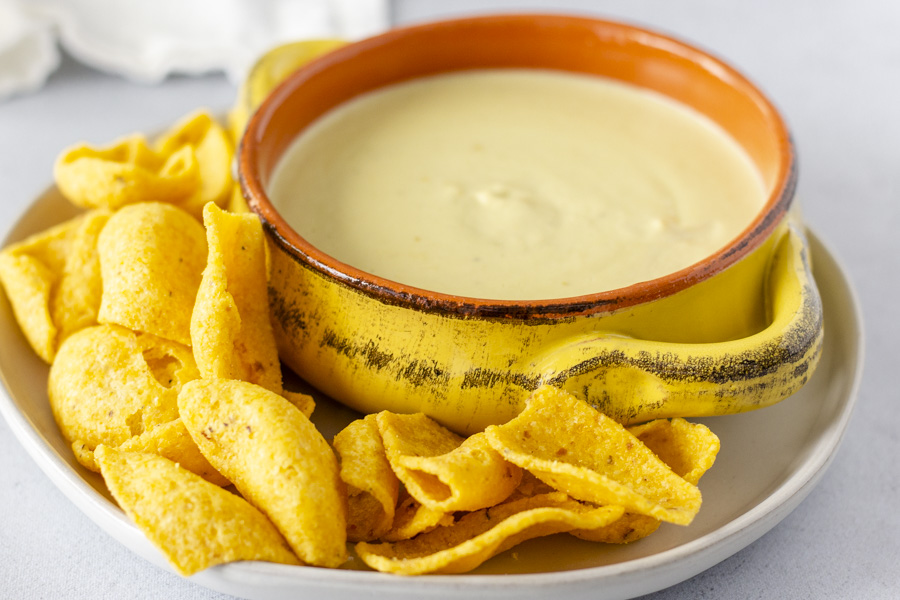 I know I wasn't the first to create this, but I had never thought to mix rice with salsa.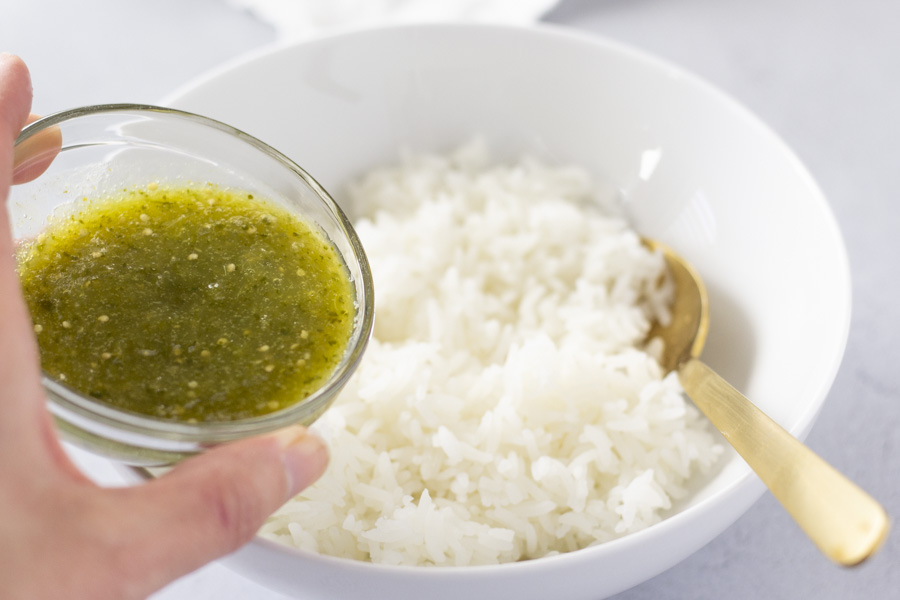 You guys, It's DELICIOUS!! It taste just like Cilantro Lime Rice but you don't even need a skillet to make it!
This Vegan fajita bowl comes together fast and easy if you already have the salsa verde and cashew queso, but if you don't, both are easy to make and can be stored in the fridge for 5 days.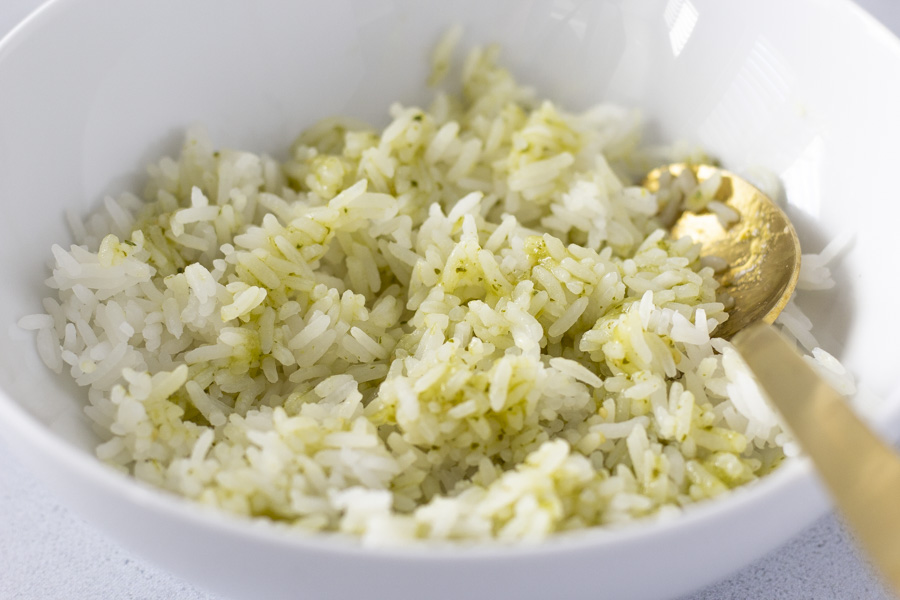 I also packaged the leftovers for lunch the next day and reheated everything together and it was so good!
Roasting the Veggies
I opted for just veggies, but you can totally add a protein in here too. The next day I mixed in some ground beef, and it was just like a burrito bowl.
Start by dicing up your veggies, I used bell pepper, zucchini, and cauliflower.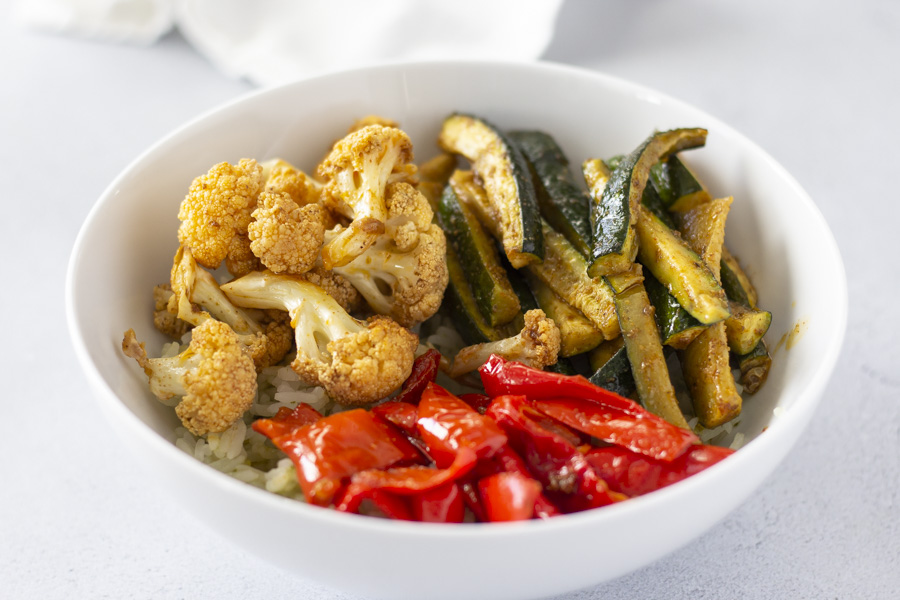 Then on a large sheet pan, drizzle some oil, and season with chili powder, paprika, cumin, onion powder, garlic powder, salt and pepper. Mix well and roast in a 400 degree oven for 15-20 minutes until they are tender.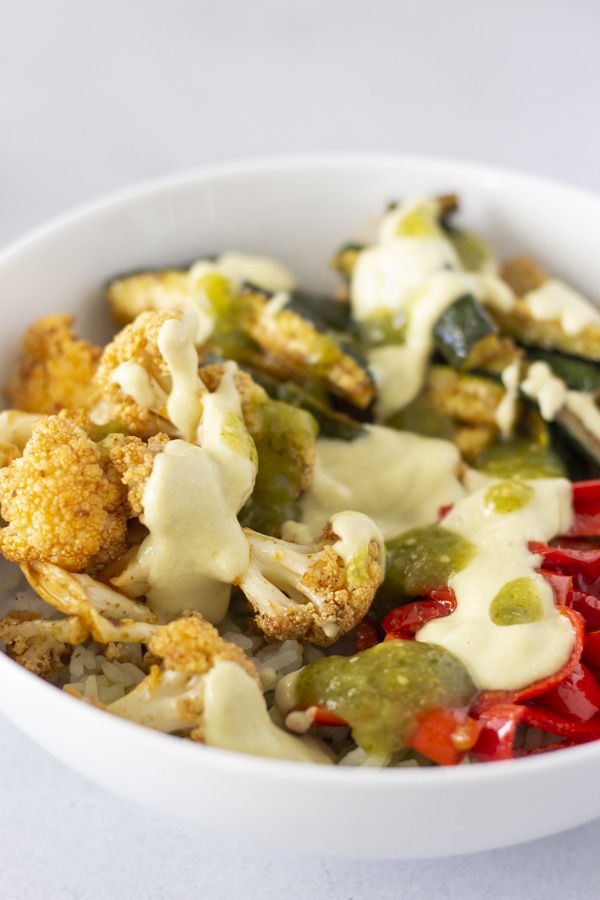 Building Your Vegan Fajita Bowl
You can choose any grain for you base, quinoa, farro, brown rice, or cauliflower rice for a low carb version.
Place a good amount of your roasted fajita veggies. Beans and avocado would also be good too!
Then top with cashew queso, extra salsa verde, and Enjoy!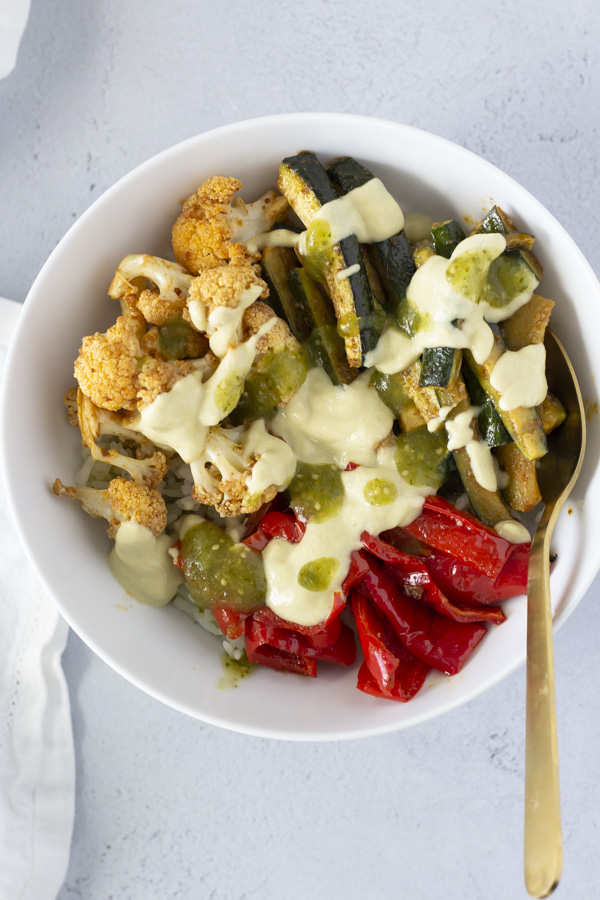 Here's my YouTube Video on how to make this Vegan Fajita Bowl:
Did you make this recipe? Leave a comment and start rating below! Thank you!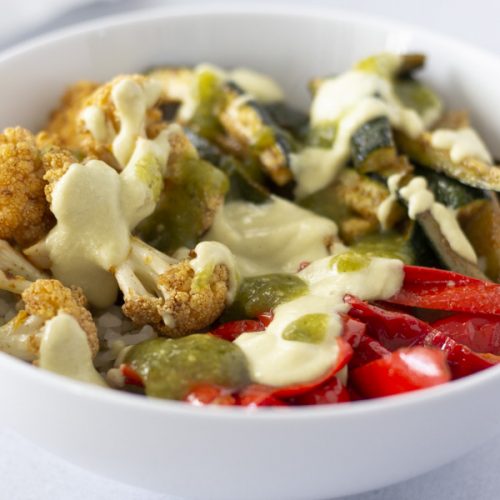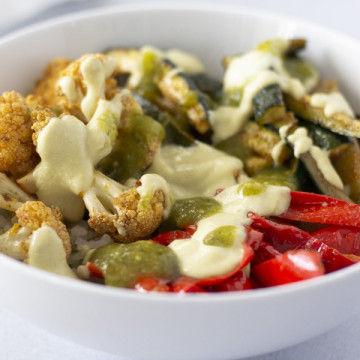 Vegan Fajita Bowl
Roasted Veggies seasoned with Mexican Spices piled on top Salsa Verde Rice and topped with Cashew Queso.
Ingredients
1

Cauliflower Head

cut into florets

1

Red Bell Pepper

cut in into strips

2

Zucchini

cut into thick strips

2

tablespoon

Olive Oil

for roasting the veggies

2

cups

White Rice

or grain of your choice

1

cup

Salsa Verde

recipe in notes

½

cup

Cashew Queso

recipe in notes
Instructions
Preheat oven to 400 degrees. On a large sheet pan, place sliced veggies and drizzle with oil and seasoning, toss to combine. Roast for 15- 20 minutes until tender.

Place rice in a bowl and mix with salsa verde, top with roasted veggies, and dollop cashew queso and extra salsa verde.
Notes
Leftovers can be stored assembled with rice, salsa, veggies, and cashew queso and reheated in the microwave.
Salsa Verde
Cashew Queso
Nutritional information is provided as an estimate only and depends on ingredients and amounts used. Thai Caliente makes no guarantees to the accuracy of this information.