Dairy Free Elote Dip has flavors of Mexican street corn and combined with a cashew queso for a dip that's creamy and dairy free.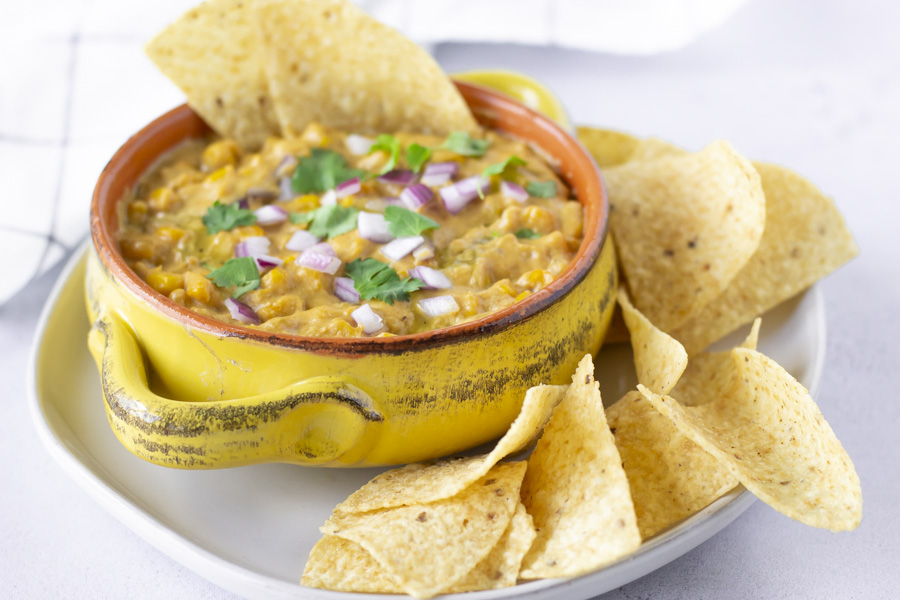 This Elote dip is so creamy and 'cheesy', even cheese lovers will enjoy it.
I used my Vegan Cashew Queso as the base of this dip and added some roasted corn. If you have fire roasted corn, it will add even more flavor!
What is Elote?
Elote is a popular Mexican preparation of corn on the cob and commonly sold on street carts, hence the name Mexican Street Corn.
I have a recipe for Elotes Here. This version uses Mexican Crema, Mayo, and Cotija cheese for a more authentic taste.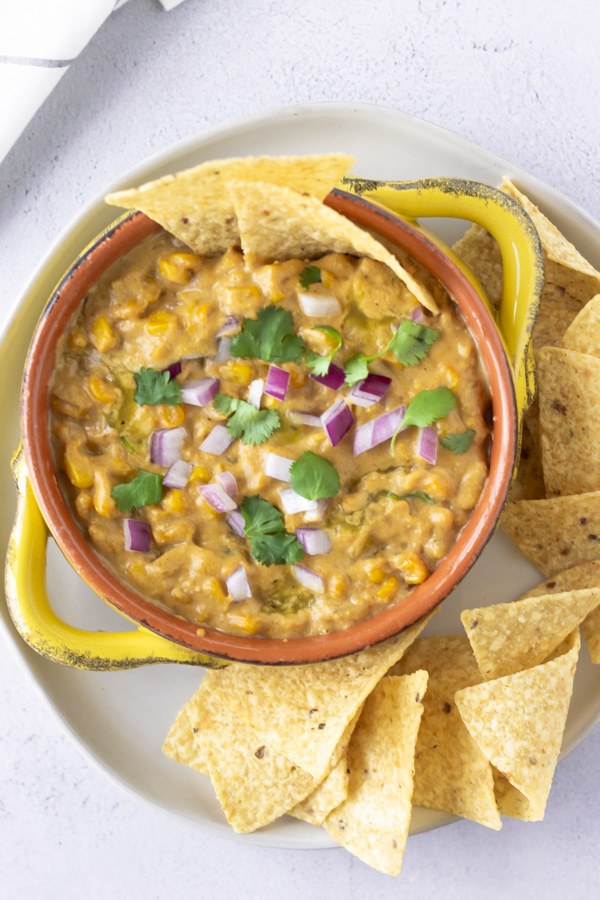 Elotes are a great Summer side dish, but can get a little messy when eating, so this elote dip is a mess-free variation that goes perfect with chips.
How To Make Dairy Free Elote Dip
Start by making the cashew queso. Recipe and Instructions can be found Here.
In a large skillet, I used a cast iron one, saute some diced onion in some oil until translucent.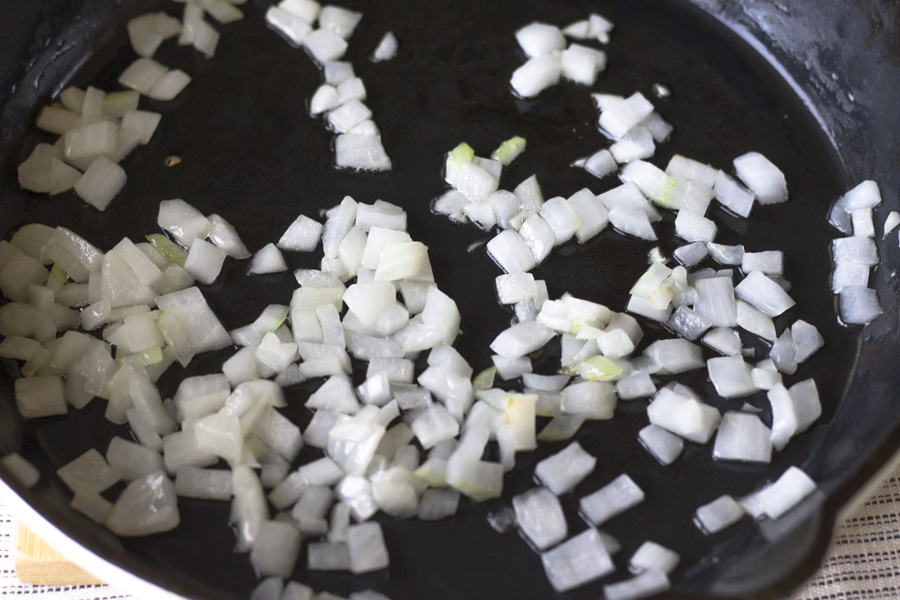 Then add 1 can of drained corn. If using frozen, add it in frozen. Saute till the corn develops some color.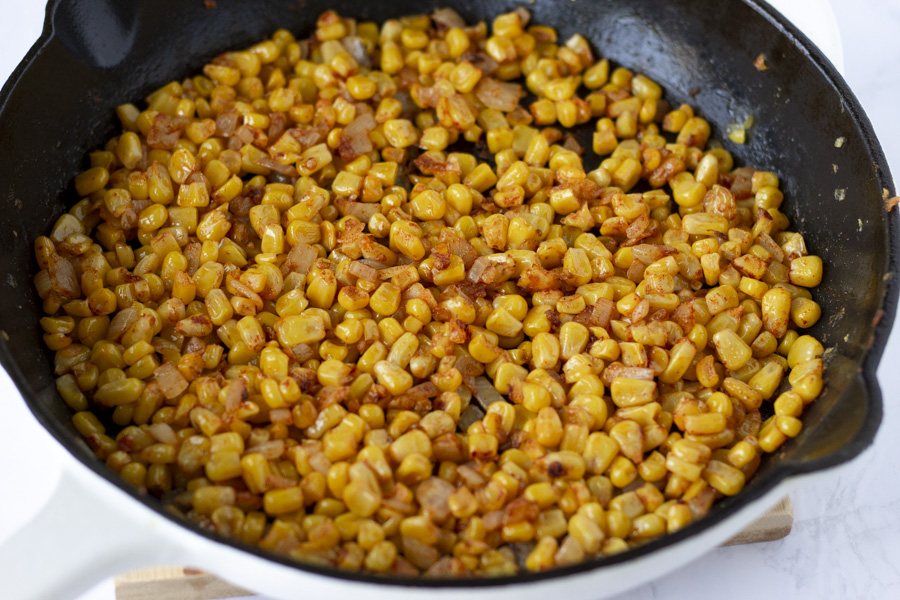 Pour in blended cashew mixture, stir constantly under low heat until it thickens. Season with some paprika, and salt.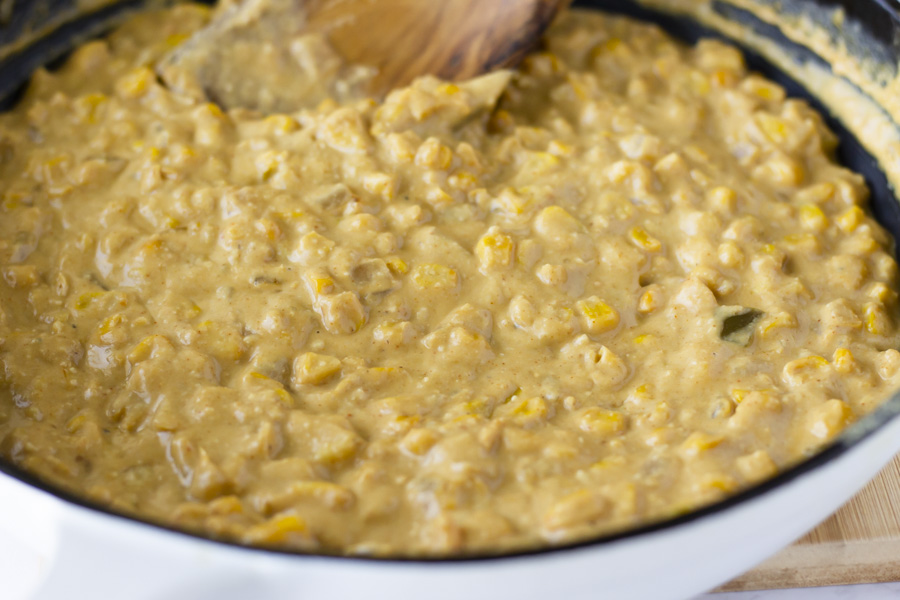 Garnish with some cilantro and red onions.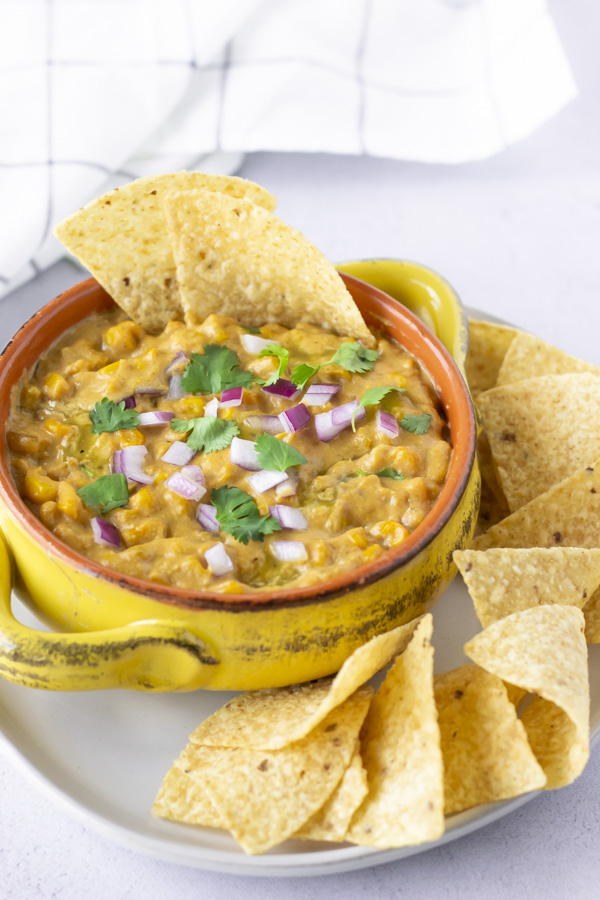 Can the Elote Dip be stored and re-heated?
It's best eaten right away, but I did save leftovers and re-heated it on the stove the next day. It still tasted good, and also tried the microwave. You'll have to do bursts of 20 seconds and stir each time.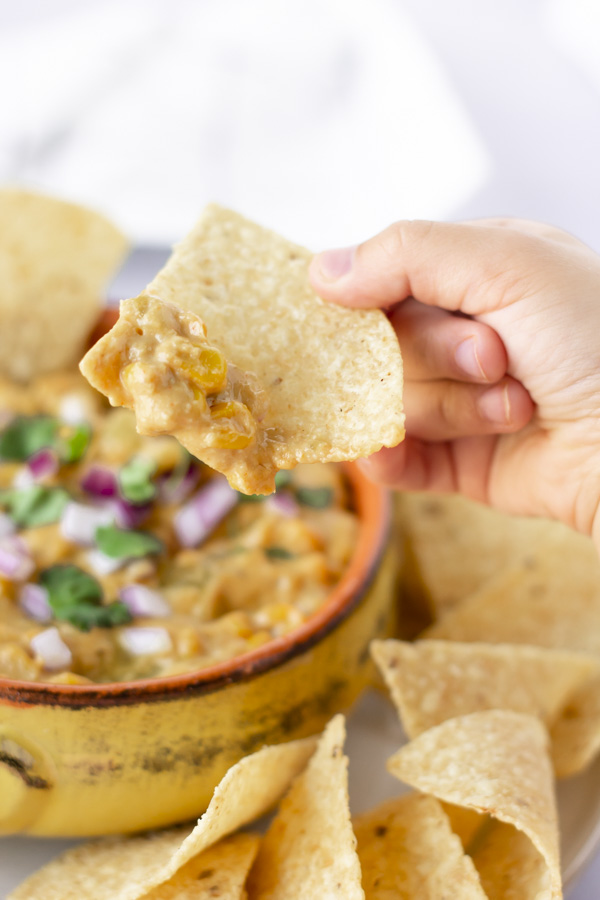 Another option is to serve as a Mexican style cream corn. It would go great with Cilantro lime grilled chicken or a simple grilled steak.
If you want a sweeter version of creamed corn, I have a Thai inspired recipe using coconut milk. Thai Coconut Corn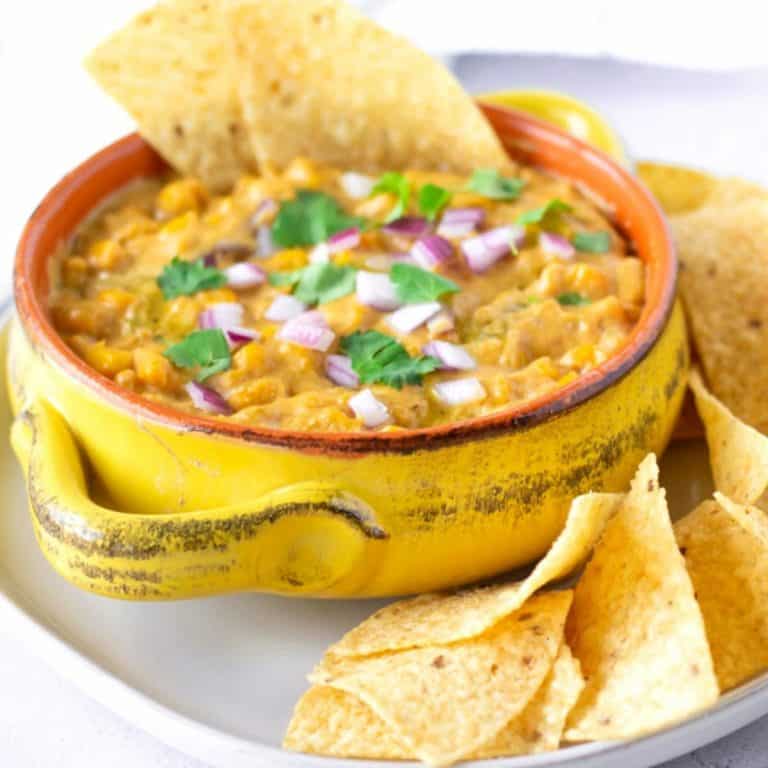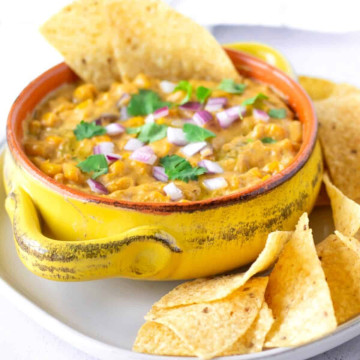 Dairy Free Elote Dip
This dip has flavors of Mexican street corn and combined with a cashew queso for a creamy, but dairy free option.
Instructions
Place all ingredients for Cashew Queso into a high speed blender and blend until a smooth sauce is formed. It will look thin and watery.

In a skillet add oil and sauté onions over medium heat until they become translucent.

Add drained corn to skillet. If you using frozen then add from frozen. Saute until some color develops on the corn. If you are using fire roasted corn, you can just cook until corn is warmed through.

Add blended cashew mixture and lower heat to medium low. Keep stirring until sauce thickens then turn off heat. Add paprika, mix, and serve hot with chips or as a side dish.
Notes
The Elote dip will thicken as it cools. You can keep it warm in a dip warmer, or reheat leftovers on a skillet in the stove over low heat. Add a little water if needed to thin it out.
Leftovers will keep in the fridge 5 days max.
Recipe for Plain Cashew Queso
Serve with Cilantro Lime Chicken or Carne Asada Tacos
Nutrition
Serving:
1
g
Calories:
159
kcal
Carbohydrates:
20
g
Protein:
5
g
Fat:
8
g
Saturated Fat:
1
g
Polyunsaturated Fat:
2
g
Monounsaturated Fat:
4
g
Trans Fat:
1
g
Sodium:
164
mg
Potassium:
258
mg
Fiber:
3
g
Sugar:
5
g
Vitamin A:
262
IU
Vitamin C:
7
mg
Calcium:
9
mg
Iron:
1
mg