Crying Tiger is a dish of grilled steak and a spicy Thai dipping sauce.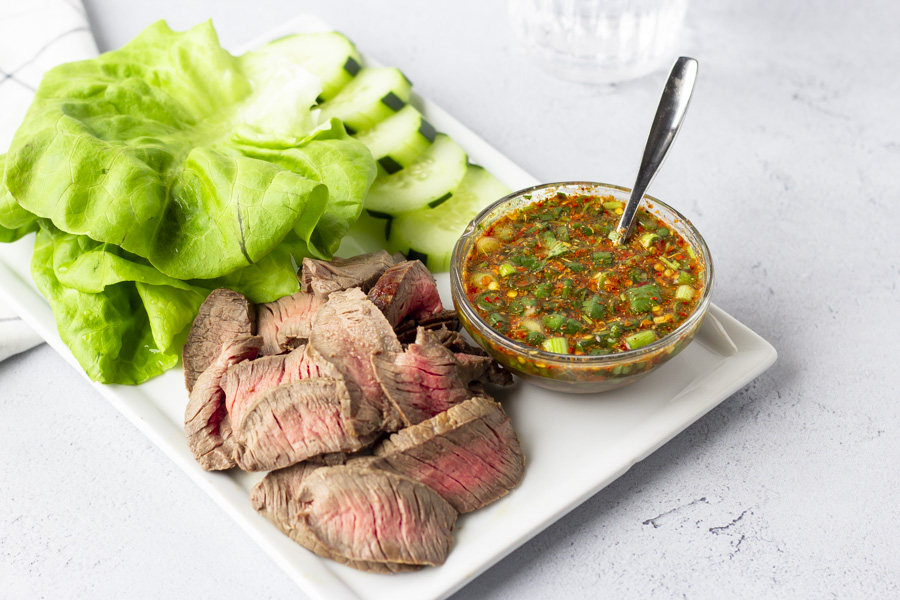 No, you're not eating a tiger, but this dish definitely has a catchy name! The Thai name translates to 'Crying Tiger', and it got this name because the dipping sauce is suppose to be so spicy that it'll make a tiger cry.
Whenever we have family dinners at our house, this dish is highly requested. It's a simple dish consisting of grilled steak and dipping sauce, but the sauce puts it over the top!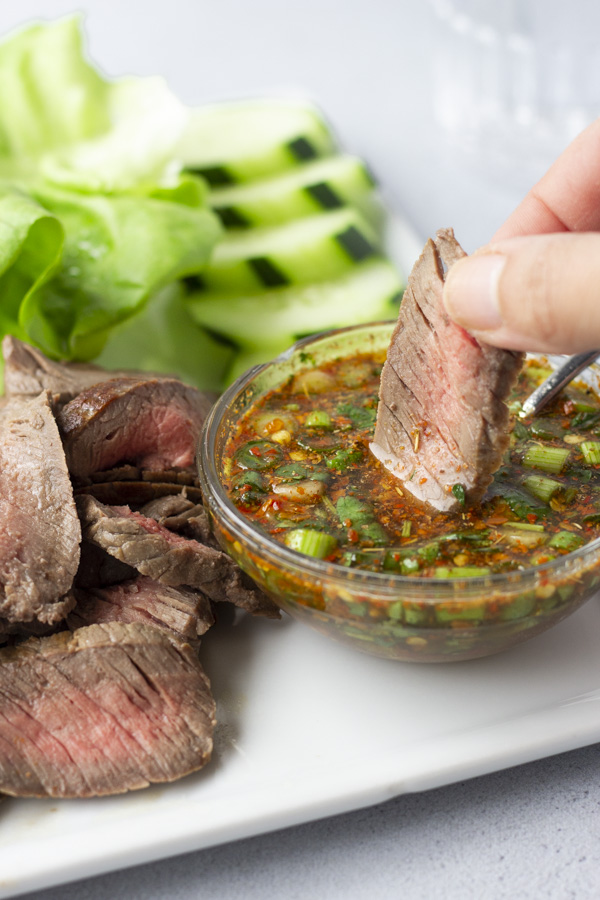 The Steak
In order to make this dish truly mouthwatering, the steak needs some extra attention.
Start by salting both sides of the steak and allow to come to room temperature on your counter, usually an hour to two is good.
Then pat the steaks dry to ensure a nice crust on the outside.
You can either grill the steaks or cook on a cast iron skillet like I did in the video below.
I prefer the steak to be medium to medium well for this dish. And always let your steaks rest for 10 minutes before slicing.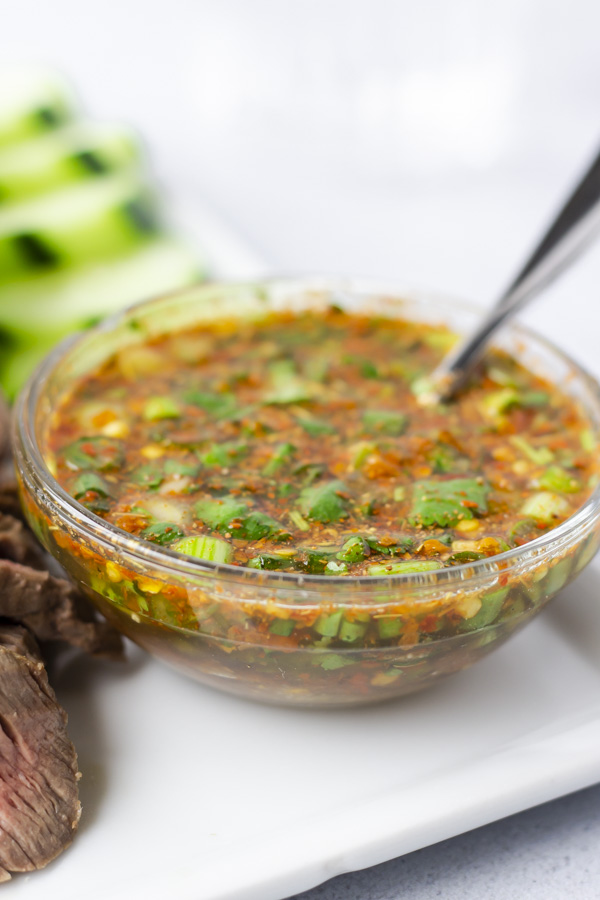 The Dipping Sauce
This is the key component for Crying Tiger and can be adjusted to your liking. The sauce can be described as a spicy, sour, and salty, a trifecta of flavors.
These are the key ingredients:
Ground Thai Chilis- Unlike regular red pepper flakes, ground thai chilies have a finer consistency and are very spicy. I've linked where you can find them on Amazon below.
Substitutions can be regular red pepper flakes or sliced fresh Thai Chilies.
Toasted Rice Powder- Similar to Larb and Nam Tok, the sauce for Crying Tiger requires a Thai condiment of toasted rice powder. They sell this in Asian grocery stores or I've linked it below on Amazon.
You can also make your own by toasting uncooked sweet rice grains with some Thai lime leaves for a few minutes until lightly browned, then grind in a spice grinder. Once the rice is grounded, sift through a fine mesh strainer to ensure only the powder comes through.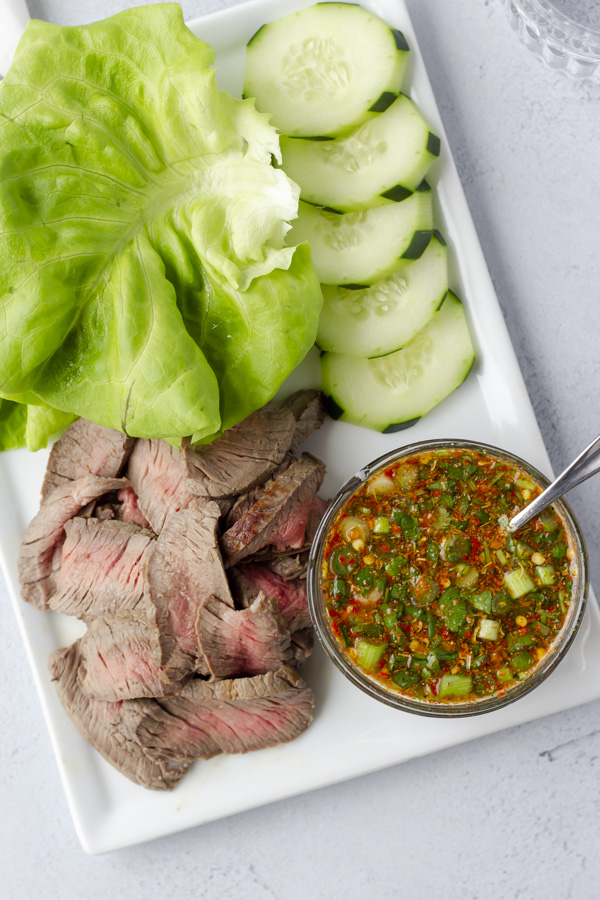 Fish Sauce- You can adjust the amount of fish sauce to your liking, but if you need a substitute, then use soy sauce. You won't get the same umami flavor that fish sauce delivers.
Sugar- Traditionally in Thailand palm sugar is used, but I substituted with coconut sugar. You can also use brown sugar or regular sugar to balance out the dipping sauce.
Lime Juice- Always use fresh lime juice, I used 2 whole limes.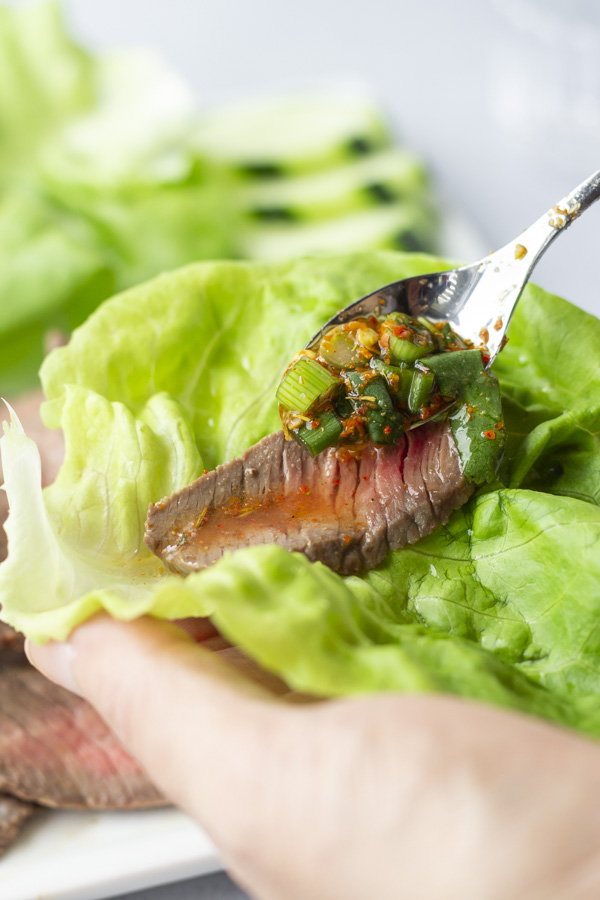 Crying tiger can be served with lettuce leaves, cabbage leaves, cucumbers, and cilantro for a low carb meal. Or serve it with some Thai sticky rice or regular rice to help tone down the spice.
Watch how to make Crying Tiger: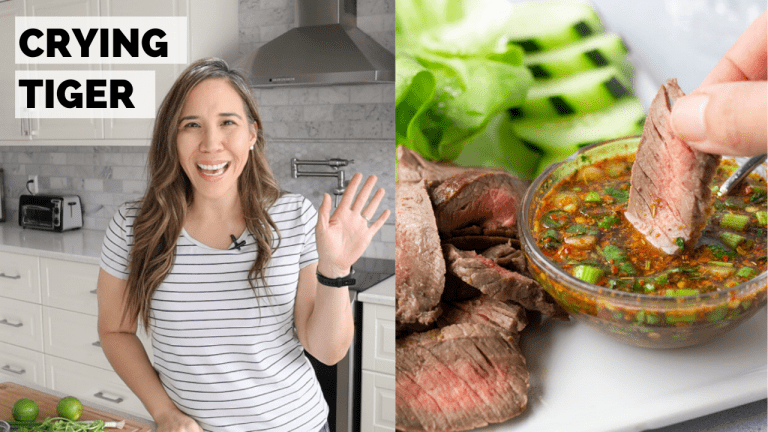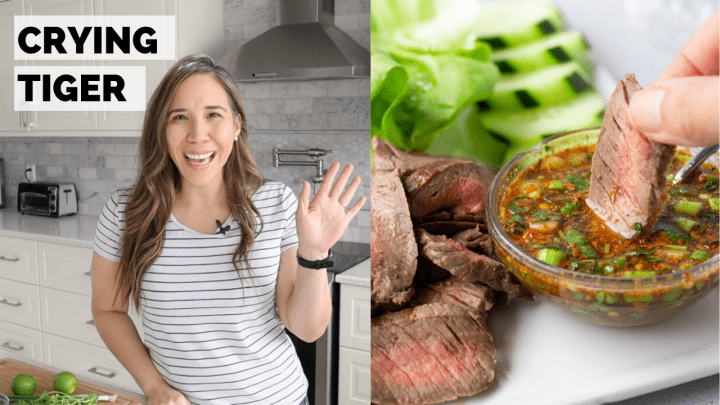 Here are some other spicy Thai dishes:
Did you make this recipe? Be sure to leave a star rating a comment below, Thank You!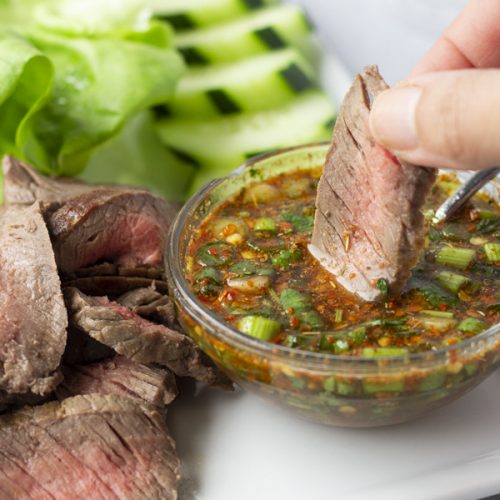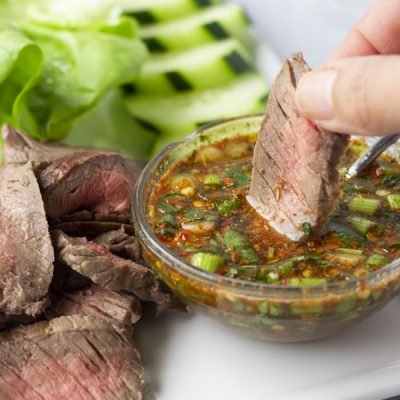 Crying Tiger
Simple grilled steaks get a Thai spin with a spicy dipping sauce
Ingredients
2

lbs

Sirloin Steak

Seasoned with Salt both sides, and rest at room temperature for at least an hour.
Dipping Sauce:
2

Tbsp

Thai Fish Sauce

⅓

cup

Lime Juice

about 2 limes

1

tsp

Ground Toasted Rice

(If making your own, toast 2 Tbsp for Sweet Glutinous Rice with Lime Leaves and grind to a fine powder).

2

tsp

Ground Thai Chili Pepper

Use more or less depending on spice level. Can sub red pepper flakes or fresh Thai chilis.

1

tsp

Coconut Sugar

or sub brown sugar or regular sugar

2

Tbsp

Chopped Cilantro

2

Tbsp

Chopped Green Onion

1

Tbsp

Water

Taste the sauce first, I like to add a little bit of water.
Serving Suggestions:
Lettuce leaves, Cabbage leaves, Cucumber Slices, Thai Sticky Rice or regular rice.
Instructions
Dipping sauce: combine all sauce ingredients, mix well, and taste for seasoning.

Heat a grill or cast Iron skillet over the stove to hot. Pat steaks dry and place seasoned steaks on grill or skillet and cook for a couple minutes on each side to desired temperature.

Allow steaks to rest 10 minutes before slicing and serving with dipping sauce.

Serve with Lettuce leaves, Cabbage leaves, Cucumber Slices, Thai Sticky Rice or regular rice.
Notes
Taste the dipping sauce and add additional water if it tastes too salty. You can also add more lime juice, sugar, or chili powder.
As an Amazon Associate I earn from qualifying purchases.