Crying Tiger is a dish of grilled steak and a spicy Thai dipping sauce.
No, you're not eating a tiger, but this dish definitely has a catchy name! The Thai name translates to 'Crying Tiger', and it got this name because the dipping sauce is suppose to be so spicy that it'll make a tiger cry.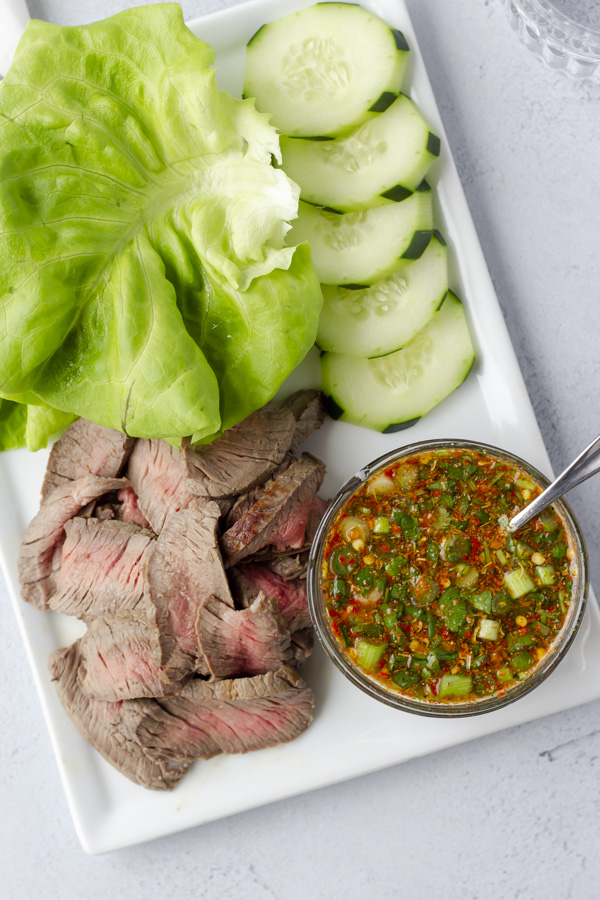 Whenever we have family dinners at our house, this dish is highly requested. It's a simple dish consisting of grilled steak and dipping sauce, but the sauce puts it over the top!
What Kind of Meat to Use in Crying Tiger?
Unlike the name, we are definitely not eating Tiger! Instead use your favorite cut of steak for this dish.
Start by salting both sides of the steak and allow to come to room temperature on your counter, usually an hour is good.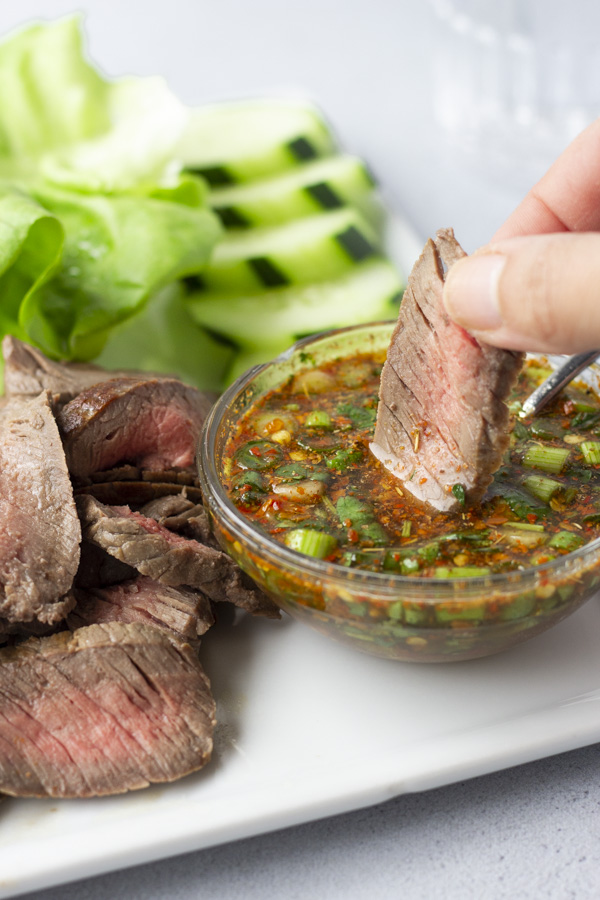 Then pat the steaks dry to ensure a nice crust on the outside.
You can either grill the steaks or cook on a cast iron skillet like I did in the video below.
I prefer the steak to be medium to medium well for this dish. And always let your steak rest for 10 minutes before slicing.
Crying Tiger Dipping Sauce
This is the key component for Crying Tiger and can be adjusted to your liking. The sauce can be described as a spicy, sour, and salty. A trifecta of flavors.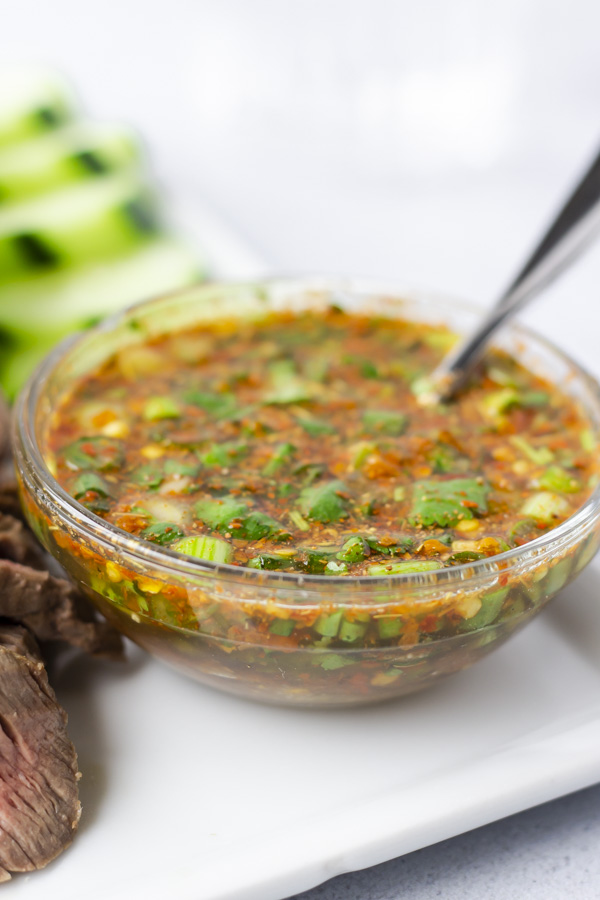 Sauce Ingredients and Substitutions:
Ground Thai Chilis- Unlike regular red pepper flakes, ground thai chilies have a finer consistency and are very spicy. I've linked where you can find them on Amazon below.
Substitutions can be regular red pepper flakes or sliced fresh Thai Chilies.
Toasted Rice Powder- Similar to Larb and Nam Tok, the sauce for Crying Tiger requires a Thai condiment of toasted rice powder. They sell this in Asian grocery stores or I've linked it below on Amazon.
You can also make your own by toasting uncooked sweet rice grains with some Thai lime leaves for a few minutes until lightly browned, then grind in a spice grinder. Once the rice is grounded, sift through a fine mesh strainer to ensure only the powder comes through.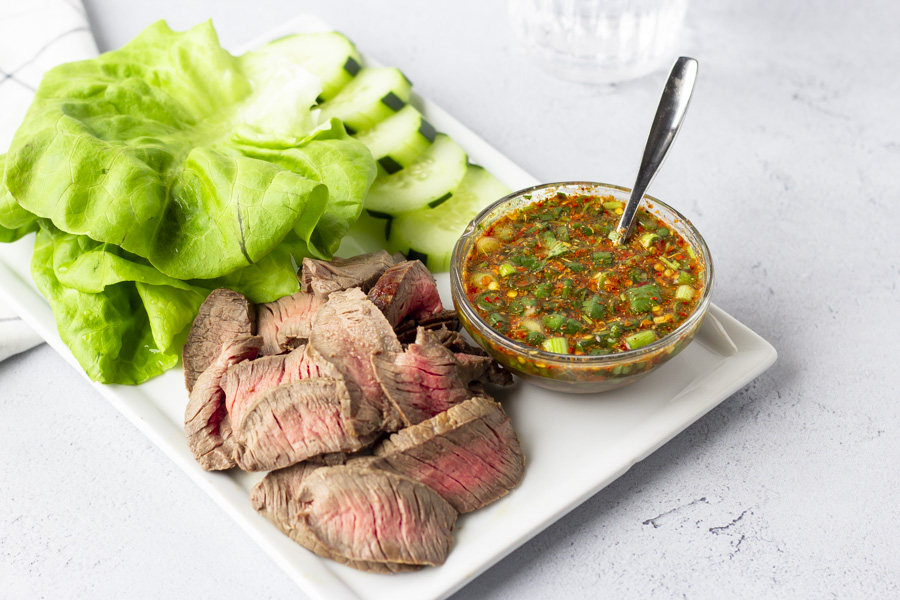 Fish Sauce- You can adjust the amount of fish sauce to your liking, but if you need a substitute, then use soy sauce. You won't get the same umami flavor that fish sauce delivers.
Sugar- Traditionally in Thailand palm sugar is used, but I substituted with coconut sugar. You can also use brown sugar or regular sugar to balance out the dipping sauce.
Lime Juice- Always use fresh lime juice, I used 2 whole limes. Start with one and add more if needed.
I also like to add a few teaspoons of water to thin out the sauce, otherwise it will be too concentrated.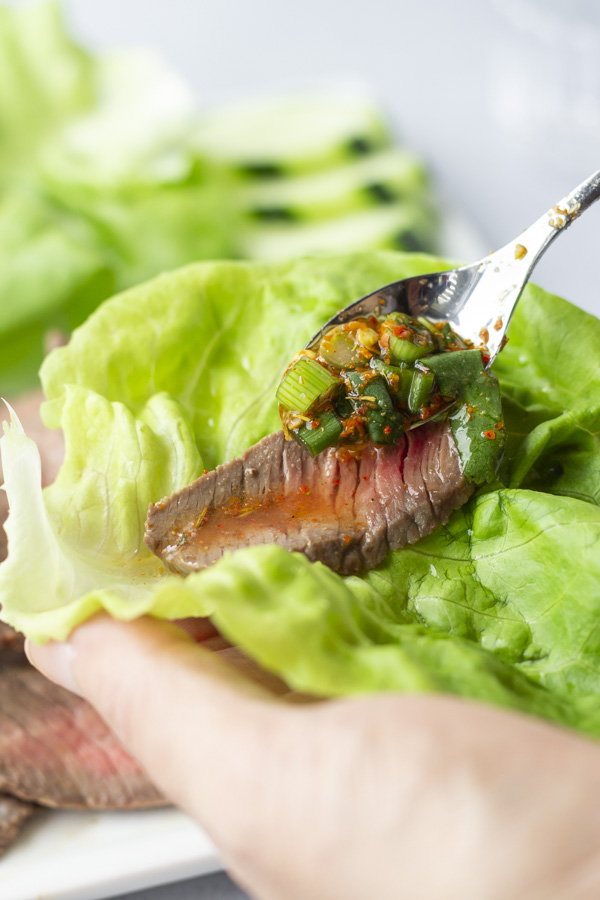 Can the dipping sauce be made ahead of time?
Since the toasted rice powder expands when it sits in the liquid, I don't recommend making it too far in advance. You can have all your herbs prepped along with the items you will be serving the crying tiger with.
Then assemble the sauce while the steak is cooking.
Watch the Full YouTube Video Here: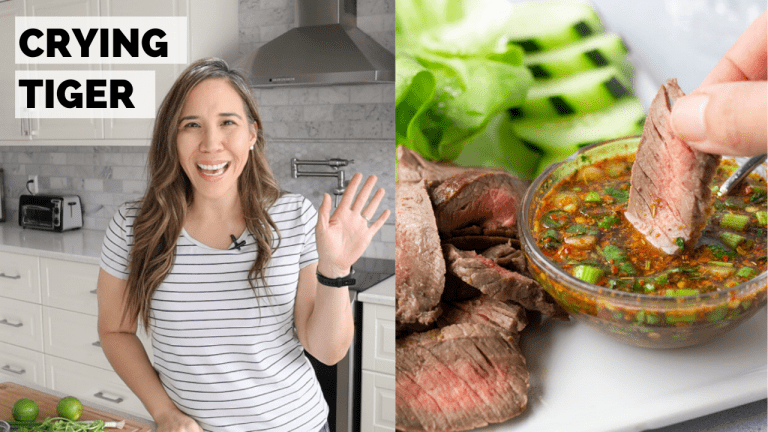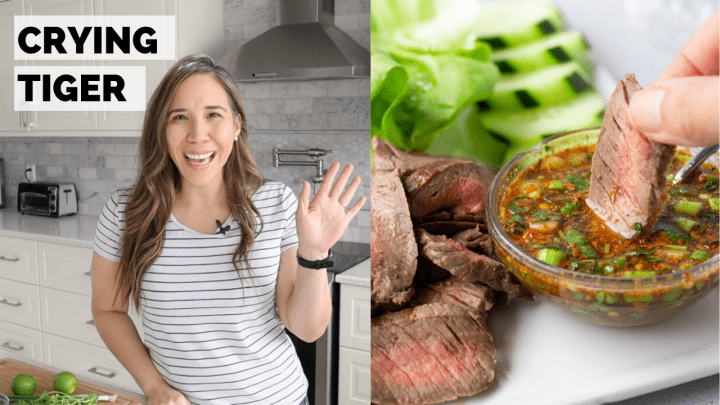 Here are some other spicy Thai dishes:
Larb- Thai Ground Chicken Salad
Nue Nam Tok- Sliced Steak Salad
Som Tum- Thai Papaya Salad
These Thai dishes have bold spicy flavors and can be served with Thai Sticky Rice or a low carb version of lettuce or cabbage leaves.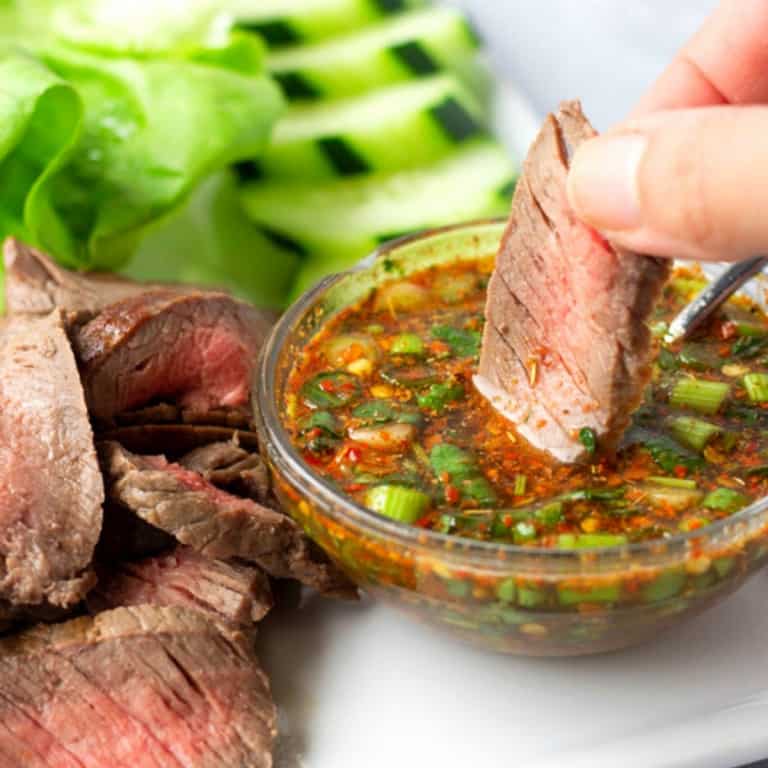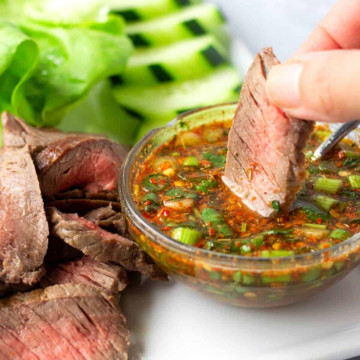 Crying Tiger Recipe
Simple grilled steaks get a Thai spin with a spicy dipping sauce.
Ingredients
2

pounds

Sirloin Steak

Season both sides with salt and leave at room temperature for an hour.
Dipping Sauce:
2

tablespoon

Thai Fish Sauce

⅓

cup

Lime Juice

about 2 limes

1

teaspoon

Tamarind Concentrate

(optional)

1

teaspoon

Ground Toasted Rice

(If making your own, toast 2 Tablesppons of Sweet Glutinous Rice with Lime Leaves and grind to a fine powder).

2

teaspoon

Ground Thai Chili Pepper

Use more or less depending on your spice level. Can sub red pepper flakes or fresh Thai chilis.

1

teaspoon

Coconut Sugar

or sub brown sugar or regular sugar

2

tablespoon

Cilantro

Chopped

2

tablespoon

Green Onion

Chopped

1

tablespoon

Water

*Taste the sauce first and add water as needed to make it less concentrated.
Serving Suggestions:
Lettuce leaves, Cabbage leaves, Cucumber Slices, Thai Sticky Rice or regular rice.
Instructions
Dipping sauce: Combine fish sauce, lime juice, tamarind (if using), toasted rice powder, Thai pepper, coconut sugar, cilantro, green onion, and water. Mix well and taste for seasoning. Adjust to your liking by either adding water to dilute it, or more lime juice, sugar, or fish sauce. (The taste is personal preference).

Heat a grill or cast Iron skillet over the stove to hot. Pat steaks dry and place seasoned steaks on grill or skillet and cook for a couple minutes on each side until desired temperature is reached.

Allow steaks to rest 10 minutes before slicing and serving with dipping sauce.

Serve with Lettuce leaves, Cabbage leaves, Cucumber Slices, Thai Sticky Rice or regular rice.
Notes
The one ingredient that could be difficult to find is the toasted rice powder. Most Asian markets will have it. You can make your own by using glutinous rice (see post), or I've linked it on Amazon.
This dish pairs well with Thai Sticky Rice and Papaya Salad.
Nutrition
Serving:
1
g
Calories:
321
kcal
Carbohydrates:
4
g
Protein:
50
g
Fat:
11
g
Saturated Fat:
4
g
Polyunsaturated Fat:
1
g
Monounsaturated Fat:
4
g
Cholesterol:
138
mg
Sodium:
855
mg
Potassium:
854
mg
Fiber:
1
g
Sugar:
1
g
Vitamin A:
351
IU
Vitamin C:
7
mg
Calcium:
76
mg
Iron:
4
mg
Nutritional information is provided as an estimate only and depends on ingredients and amounts used. Thai Caliente makes no guarantees to the accuracy of this information.