A hearty Thai salad with grilled beef and fresh herbs in a spicy, salty, and sour dressing.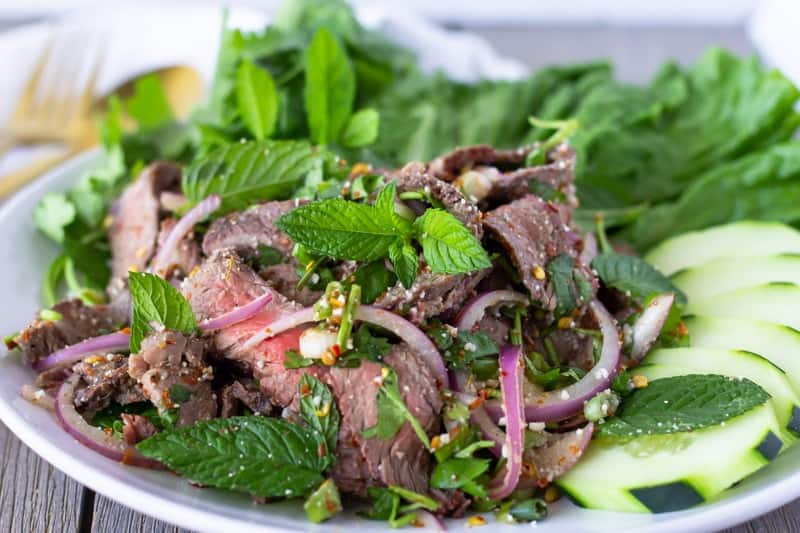 Growing up I loved eat Neu Nam Tok, which translates to 'Waterfall' in Thai. Neu, means Beef. I asked my mom why the salad is called waterfall, but she wasn't sure either.
This beef waterfall salad is very hearty, yet light and fresh thanks to all the fresh herbs.
What's in Neu Nam Tok?
Steak, Toasted Rice Powder, Ground Thai Chili's, Fish Sauce, Lime Juice, Red Onions, Mint, Cilantro, and Green Onions.
Neu Nam Tok is very similar to Larb, but instead of minced meat the steak or pork is grilled and then sliced. The dish is also similar to Crying Tiger, which is the steak with the dressing as a dipping sauce.
Grilled Steak or Pork- We are making neu (Beef), but you can also make this dish with moo (Pork).
Toasted Rice Powder- This is an important ingredient for authentic nam tok. It can either be purchased as an asian market, online, or make it at home.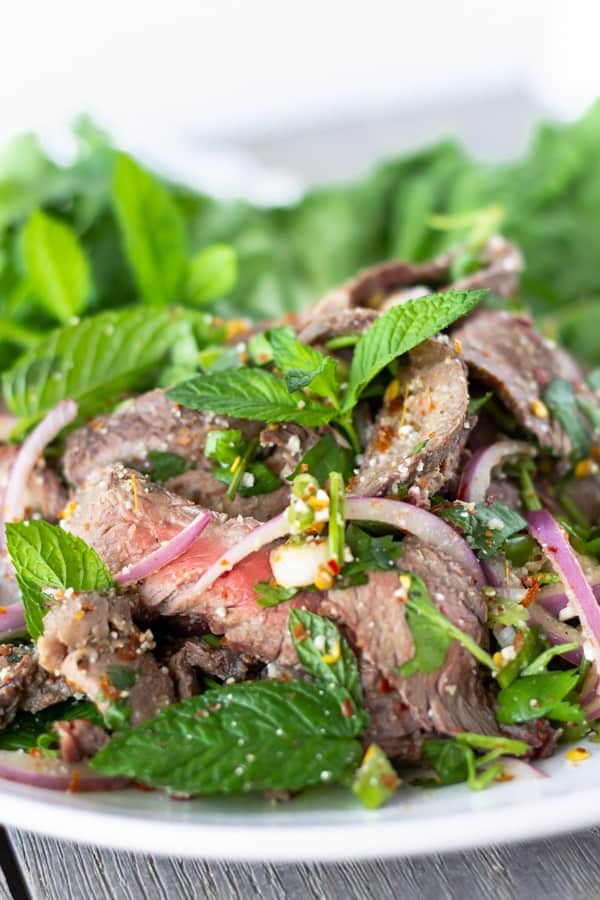 If you plan to serve the salad with Thai Sticky Rice, then you'll have what you need to make the toasted rice powder.
It's just toasted grains of sweet or glutinous rice, and you can add makrut lime leaves for more flavor. Once they are toasted, grind the grains using a spice grinder or mortar and pestle. Store any leftover rice powder in an airtight container in the fridge.
Ground Thai Chilis- Thai's like their Nam Tok spicy! Using ground thai chili's provide intense spice and a hint of color. You can find Ground Thai chilis at an Asian Market or online.
If you can't get ground Thai chilis, you can substitute fresh Thai chilis, serranos, or red pepper flakes. Just keep in mind it won't be the heat intensity as the ground chilis.
Fish Sauce- This is essential for the salty component of waterfall salad. If you can't eat fish sauce or need a substitute, you can use a light or thin soy sauce, but the flavor will be different.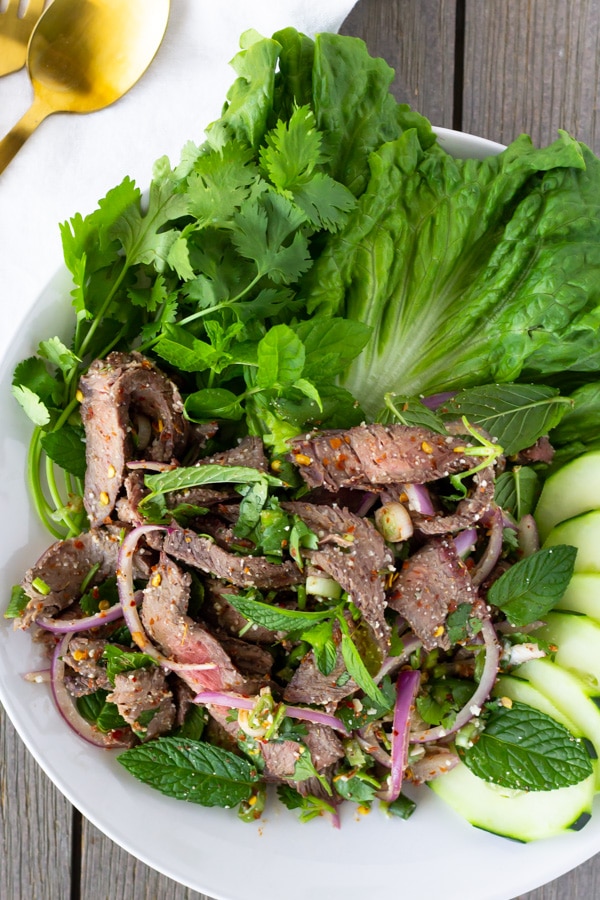 How to Grill The Steak
For any type of steak, I recommend removing it from the fridge an hour before you plan on cooking it. I also like to pat my steaks dry then salt them on both sides for seasoning.
Some recipes for Neu Nam Tok call for a marinade. But we're keeping it simple and just salting the outside of the steak.
I prefer to use a quality sirloin steak, however you can use a flank steak. Just be sure to slice it thin and against the grain.
The beef waterfall salad turns out best with the steak is cooked to medium. Once the beef is mixed with the lime juice it will cook more.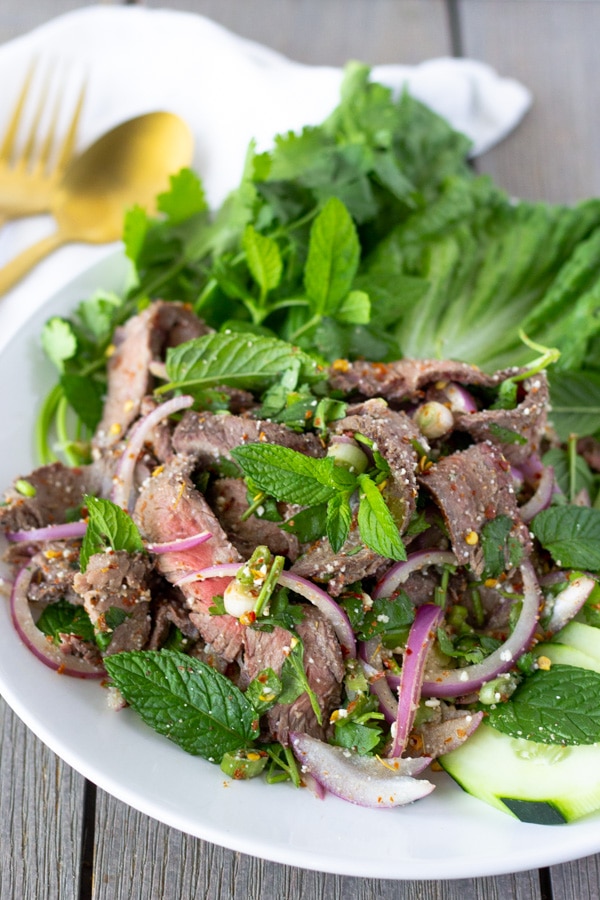 How to Serve Neu Nam Tok
After the steak is grilled, allow to rest for at least 10 minutes before slicing it. Neu Nam Tok is best served right away, so I don't recommend assembling it to far in advance.
While the steak is cooking and resting you can mix the dressing and chop up the herbs. Then slice the steak thin and against the grain.
Add the dressing and fresh herbs and mix well. Always taste it and see if you prefer more fish sauce, lime juice, or even sugar for some sweetness. Thai dishes like to have a trifecta of flavor, (salty, sour, and sweet).
Serve the Neu Nam Tok on a bed of lettuce leaves, extra herbs, sliced cucumbers, and my favorite Thai Sticky Rice.
Check out these other tasty Thai Salads:
Watch the YouTube Video Here: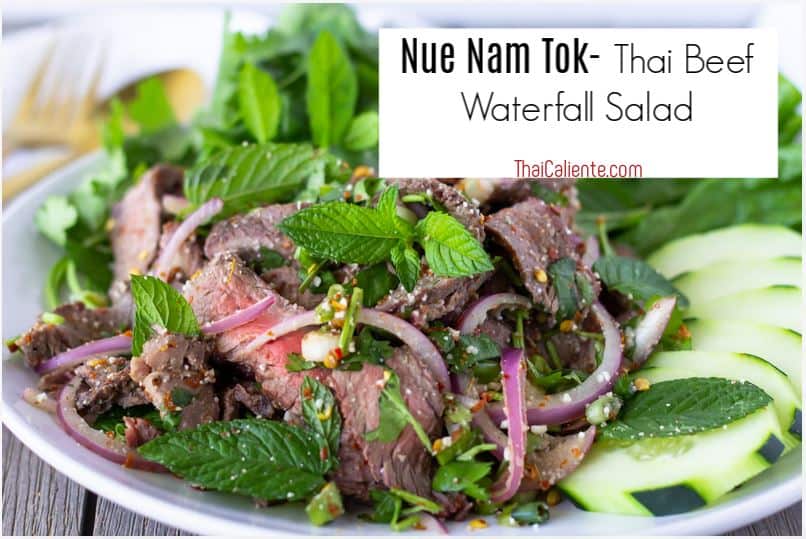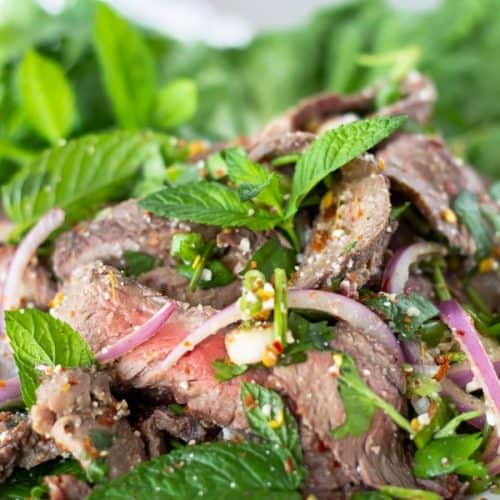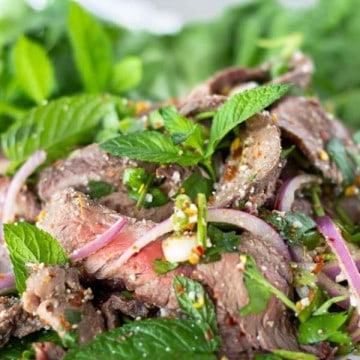 Neu Nam Tok- Thai Beef Waterfall Salad Recipe
A hearty Thai salad with grilled beef and fresh herbs in a spicy, salty, and sour dressing.
Ingredients
12

ounce

Steak

Sirloin or substitute Flank Steak

¼

Red Onion

Sliced thin

1

Stalk Green Onion

Chopped

2

tablespoon

Cilantro

Chopped fine, leaves and stems

2

tablespoon

Mint Leaves

Left whole
Dressing:
1

tablespoon

Toasted Rice Powder

See instructions on how to make your own

1

tablespoon

Fish Sauce

Have more on hand if needed

1

Lime

Have more on hand if needed

1

tablespoon

Ground Thai Chili's

Can sub red pepper flakes, and use more or less depending on your spice tolerance.

½

teaspoon

Sugar

Optional (if you prefer to have some sweetness in your dressing) I don't add any.
Instructions
Remove Steak from the refrigerator at least an hour before cooking. Pat the steak dry and salt on both sides. Rest on the countertop on a plate.

Toast (glutinous) rice grains in a skillet, optional with lime leaves. Once they grains are golden brown, place them in a spice grinder or blender till a fine powder forms.

Grill steak or cook on a cast iron skillet on the stove. Depending on the steak thickness, I recommend 4 minutes on each side for Medium. Use an instant thermometer for accurate results. The lime juice will cook the steak more, so medium is preferred.

Once the steak is cooked, allow to rest for 10 minutes on a cutting board then slice thin against the grain.

In a bowl mix fish sauce, lime juice, chili powder, and toasted rice powder.

Add sliced steak, red onion, green onion, cilantro, and mint leaves to a large bowl. Pour dressing in and mix well. Taste and add additional fish sauce or lime juice if needed.

Serve with lettuce leaves, extra herbs, sliced cucumbers, and Thai Sticky rice.
Notes
Toasted rice powder can also be purchased instead of homemade. Linked below
Recipe for Sticky Rice
Nutrition
Calories:
385
kcal
Carbohydrates:
8
g
Protein:
36
g
Fat:
24
g
Saturated Fat:
11
g
Polyunsaturated Fat:
1
g
Monounsaturated Fat:
12
g
Cholesterol:
104
mg
Sodium:
799
mg
Potassium:
608
mg
Fiber:
2
g
Sugar:
3
g
Vitamin A:
430
IU
Vitamin C:
32
mg
Calcium:
48
mg
Iron:
4
mg
Nutritional information is provided as an estimate only and depends on ingredients and amounts used. Thai Caliente makes no guarantees to the accuracy of this information.