Yum Woon Sen is a Thai Glass noodle salad mixed with fresh herbs, ground pork, shrimp, and tossed in a spicy Thai dressing.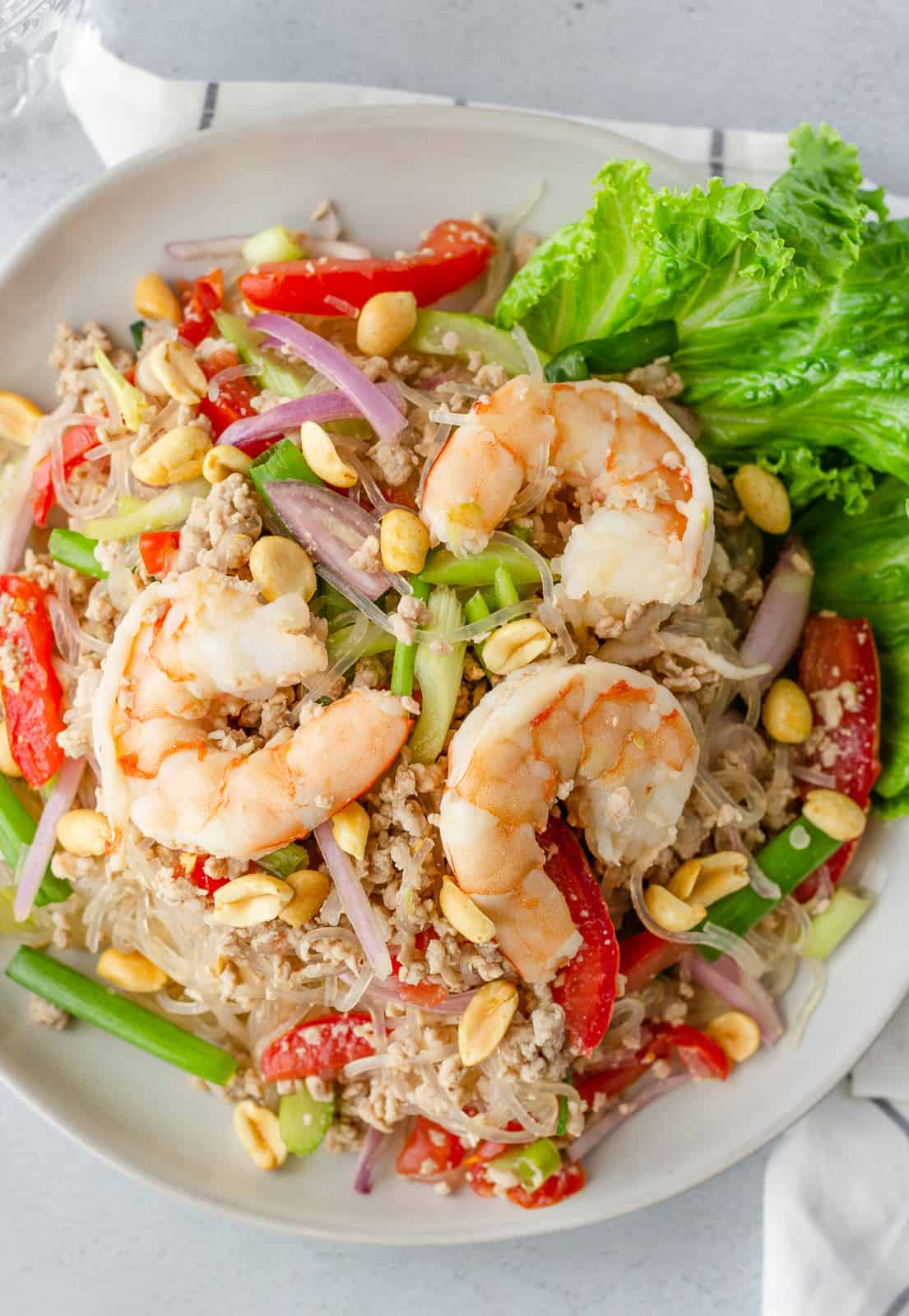 I've made a couple recipes with bean thread noodles, or glass noodles and both Yum Woon Sen and Pad Woon Sen (Stir fry noodles), are some of my favorite Thai dishes.
The flavors in this dish are very similar to Laab, however there is a dish called Laap Woon Sen, which is a combination of yum woon sen and laap.
Jump to:
Ingredients and Substitutions
Most of the ingredients for Yum Woon Sen can be found at a local grocery store, even the bean thread noodles. If you have an Asian Market near by, then you can find everything there. Otherwise you can also get some ingredients online.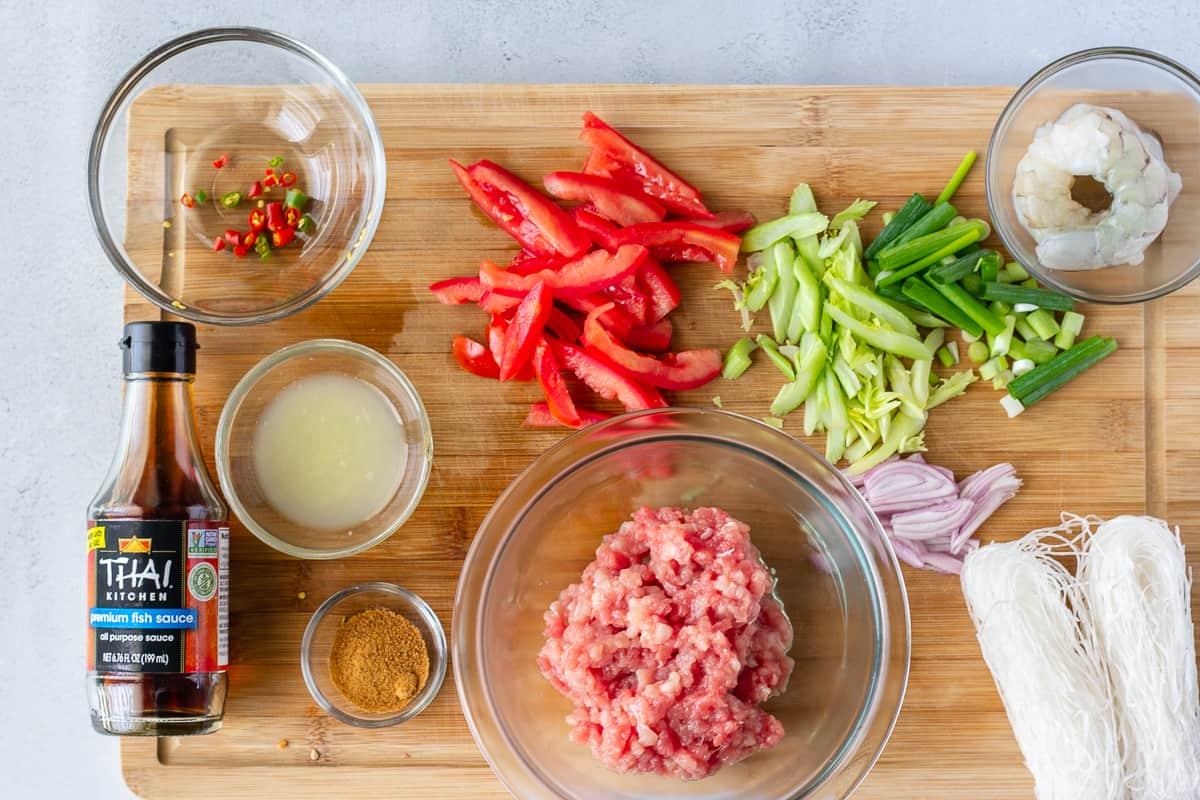 Bean Thread Noodles or Vermicelli Noodles- These are called 'Woon Sen' in Thai and often referred to glass noodles since they turn clear when cooked. A low carb substitution for these would be shirataki noodles.
Ground Pork- For a leaner option, use Ground Turkey, Chicken, or omit for Vegetarian. Also add 1 Tablespoon of soy sauce to the ground meat for flavor.
Shrimp- This is mostly for another source of protein. You can also add more seafood like calamari, baby scallops, or muscles. This is called Yum Woon Sen Talay (seafood).
Shallots, Celery, and Green Onions. Feel free to substitute thinly sliced red or white onion for shallots. Traditionally, Chinese celery is used, but I'm using regular celery. And chives can be substituted for green onion.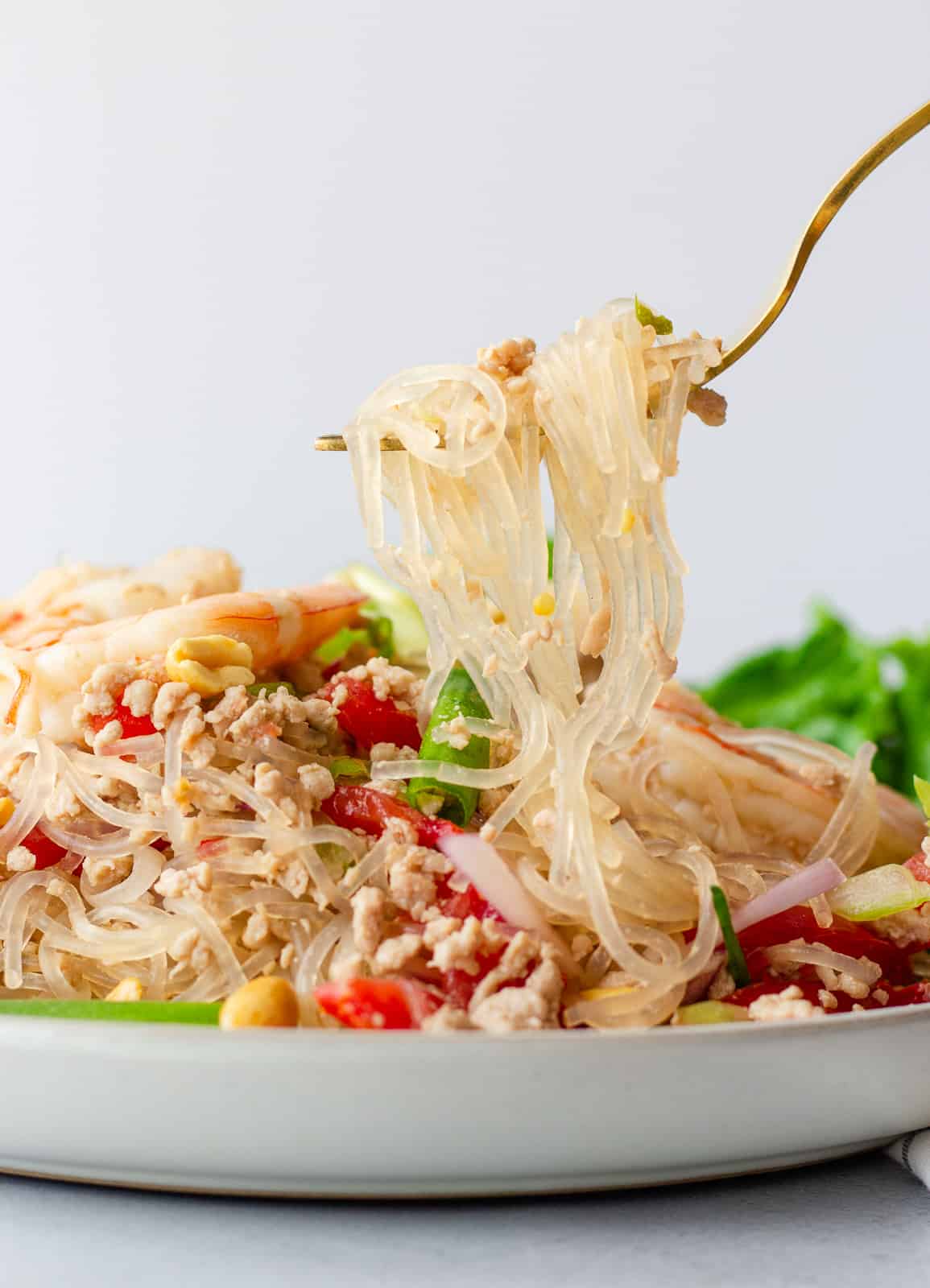 The Dressing
The dressing in Yum Woon Sen, is a common combination of Fish Sauce, Lime Juice, Sugar, and Thai Peppers. Use the measurements as a guide, but always adjust to your personal taste preference.
Thai Peppers- Also known as Thai Bird's Eye Chilis. You can find fresh ones at an Asian Market. Otherwise use ground dried Thai Chilis or Red Pepper flakes.
Fish Sauce- There isn't a good substitution for fish sauce, but the closest ones would be light soy sauce, tamari, or liquid aminos.
Coconut Sugar- This mostly resembles the palm sugar you find in Thailand, however white or light brown sugar can be used too.
Lime Juice- Always use fresh lime juice, not the concentrate. I used about 2 limes, but have more on hand in case you need to add more.
Mix all the ingredients together and add a splash of water to dilute it a little. Set aside and begin cooking the proteins.
How to Cook The Proteins
While it may seem like several steps, we're only using 1 pot for the noodles, shrimp, and pork.
First cook the softened noodles in boiling water for 30 seconds. Remove the noodles and lower the heat to a gentle simmer. Add the shrimp and cook for a minute or until they are pink. Don't over cook the shrimp!
Then drain the water, no need to wash the pot, and add new water just until the bottom of the pot is covered.
Turn the heat to medium and add the ground pork mixed with soy sauce. Break it up and stir until the pork is fully cooked.
Assembling the Salad
In the bowl with the noodles and cooked shrimp, add the cooked ground pork with some of the cooking liquid. This will help prevent the salad from drying out.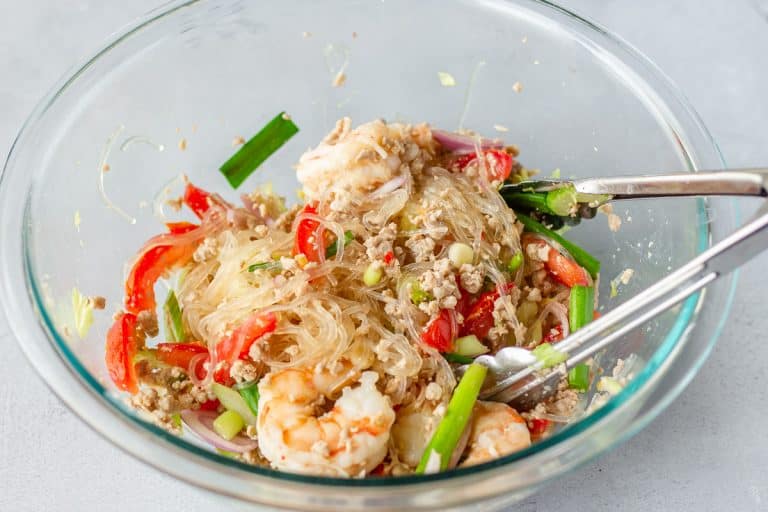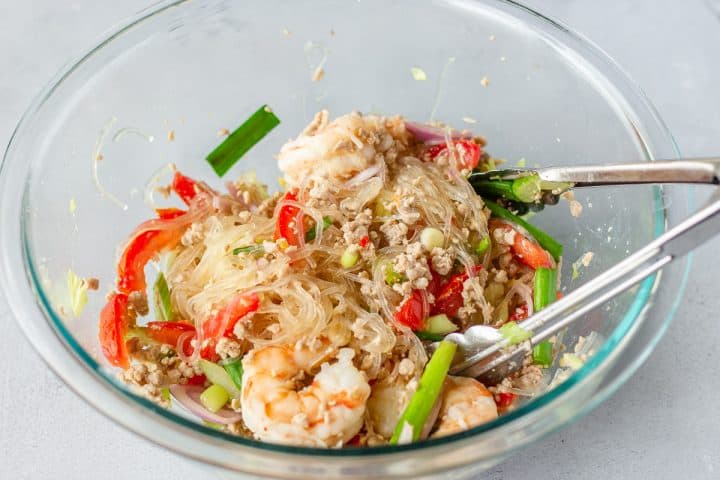 Then add the dressing and all of the sliced herbs. Toss to incorporate everything and now taste it. Here you can adjust to your preference and add more lime juice, fish sauce, or sugar if needed.
Top the Salad with Roasted Peanuts and serve with lettuce leaves or jasmine rice.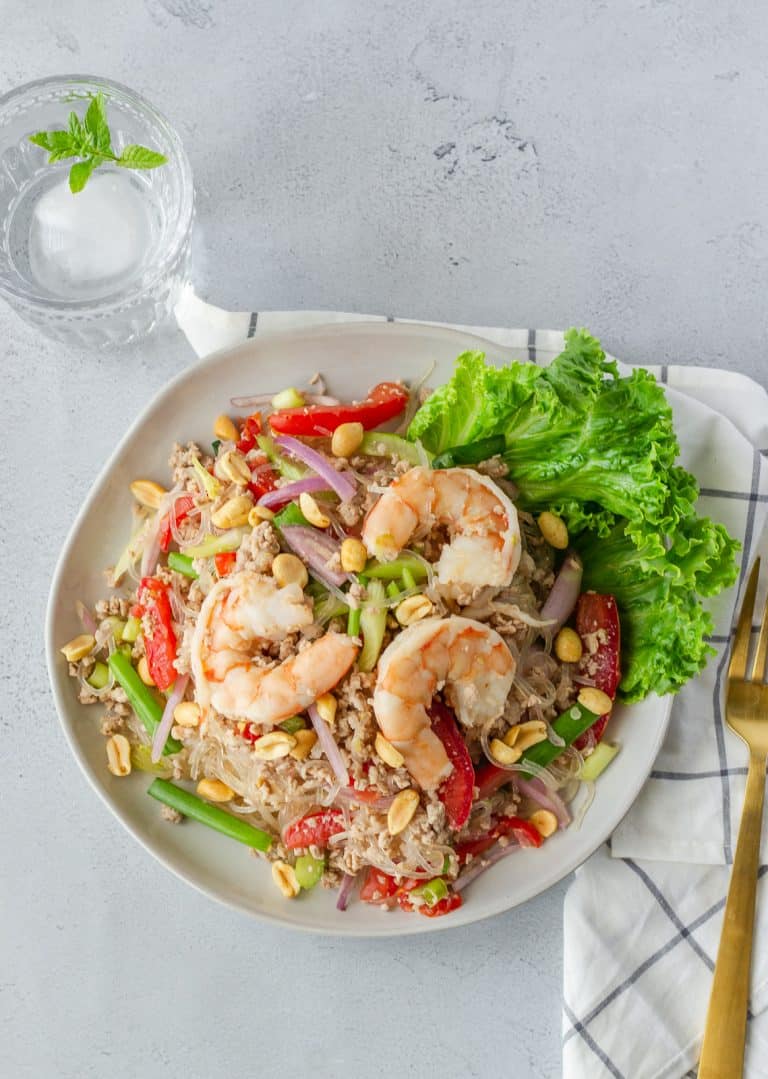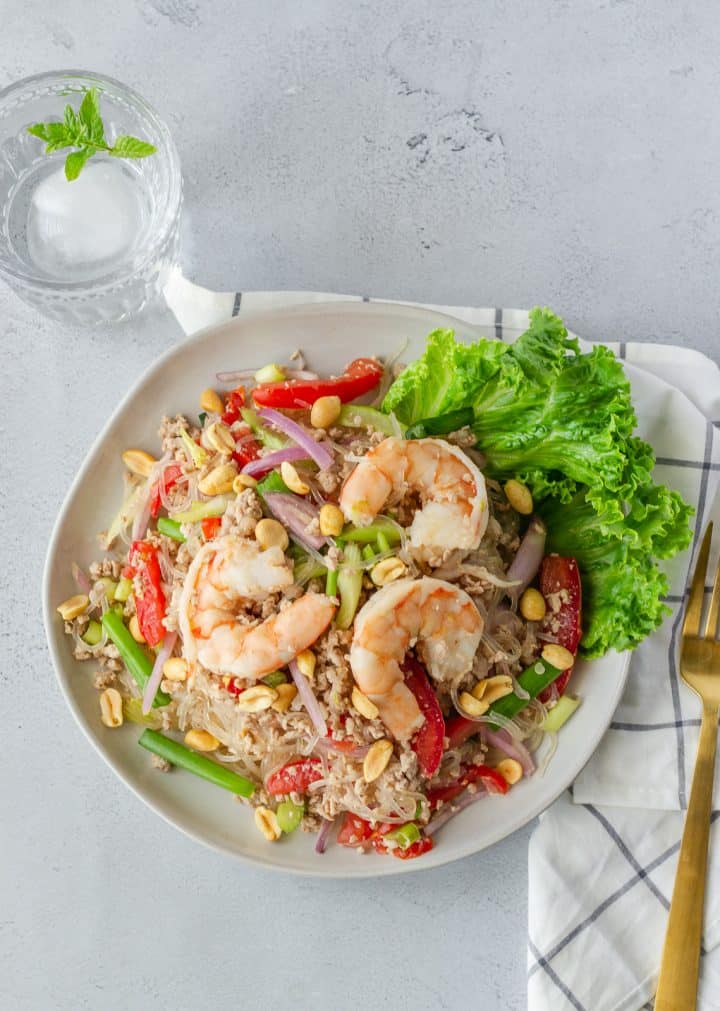 Yum Woon Sen is best eaten right away since the noodles will continue absorbing the dressing and expand. Therefore, I don't recommend storing leftovers.
Click the YouTube Video to see step by step how I prepare this recipe: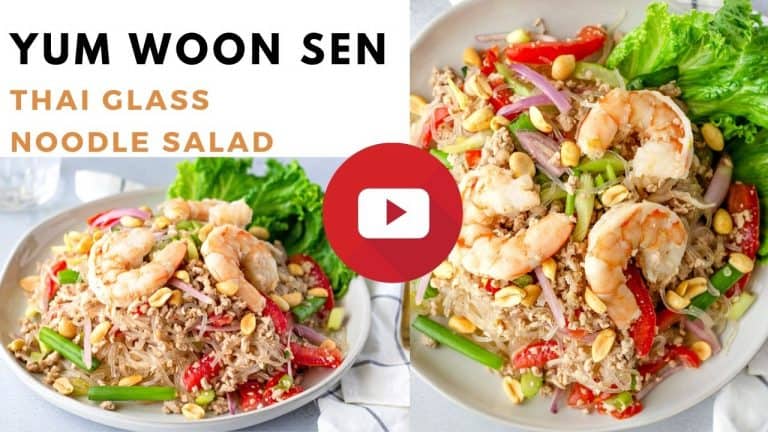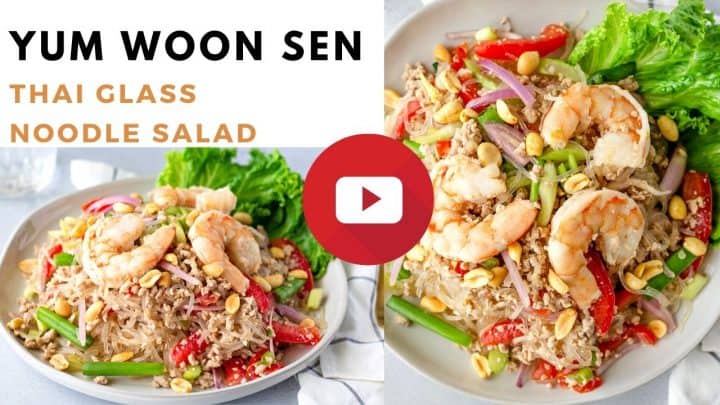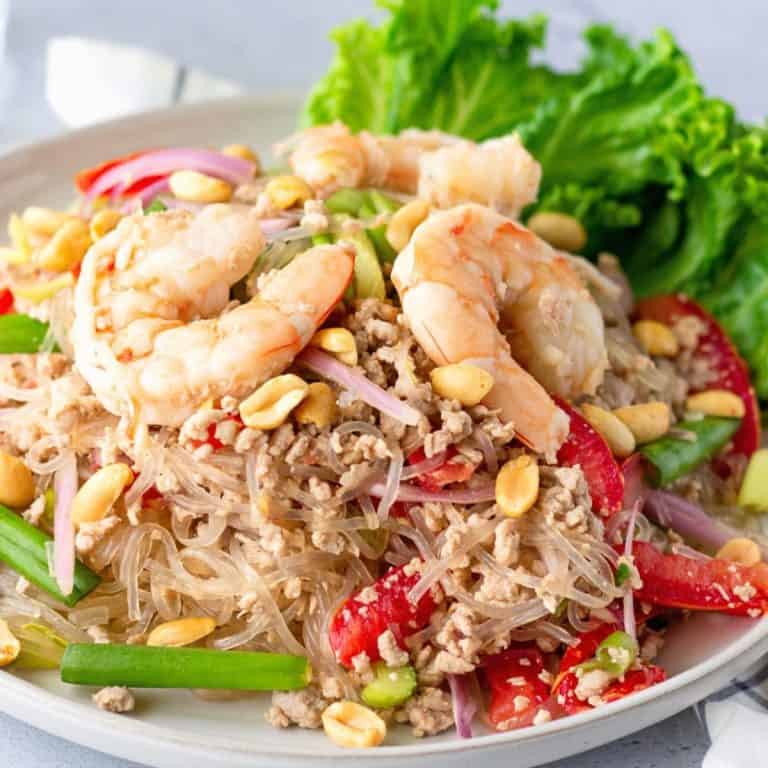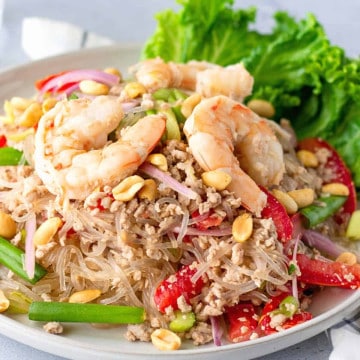 Yum Woon Sen Recipe
A spicy glass noodle salad with ground pork, peanuts, and fresh herbs.
Ingredients
2

oz

Bean Thread Noodles

3

Shrimp

Peeled and Deveined

½

lb

Ground Pork

Mixed with 1 tablespoon soy sauce (preferably Golden Mountain)

1

Tablespoon

Fish Sauce

(Add more if needed)

3

Tablespoon

Lime Juice

(Add more if needed)

1

teaspoon

Coconut Sugar

or regular sugar

1

Roma Tomato

Sliced and seeds removed

1

Shallot

Sliced thin or purple onion

2

Celery Stalks

Sliced thin

2

Green Onion

(white parts cut small and green parts in 1 inch pieces)

1-2

Thai birds eye Chili's

Chopped fine or Red pepper flakes

2

Tablespoon

Roasted Peanuts

or Cashews for garnish
Instructions
Place dried bean thread noodles in room temperature water for 10 minutes.

Mix 1 tablespoon of soy sauce with the ground pork and set aside in refrigerator.

Combine Fish sauce, Fresh lime juice, Sugar, and chopped chili pepper or red pepper flakes together in a small bowl. You can also add a splash or water to dilute it.

Once noodles have softened, drain water and cut with kitchen scissors to make them shorter.

Bring a small pot of water to a boil. Place softened noodles in boiling water and cook for 30 seconds. They should be soft and clear at this point. Drain and place in a mixing bowl.

With the same boiling water, reduce the heat to a simmer and add shrimp. Cook gently for about a minute or until shrimp are pink. Remove and place in same bowl with noodles.

Empty the water from the pot and fill it up with fresh water until it covers a thin layer on the bottom of the pot. Have heat on medium and add ground pork to the pot with water. Break up pork and keep stirring until the pork is full cooked.

In the mixing bowl with the noodles and shrimp, add the cooked pork with some of the cooking liquid. This prevents the salad from being too dry.

Now add the dressing, sliced tomatoes, shallots, celery, and green onions. Toss to incorporate and taste to see if additional lime, fish sauce or sugar is needed. Transfer to a plate and top with roasted peanuts. Serve immediately.
Notes
Yum Woon Sen is best eaten right away since the noodles will continue to absorb the dressing and therefore I don't recommend storing leftovers.
More Thai Salads:
Som Tum- Papaya Salad
Laap Gai- Ground Chicken Salad
Nue Nam Tok- Beef Waterfall Salad
Nutrition
Serving:
1
g
Calories:
491
kcal
Carbohydrates:
35
g
Protein:
23
g
Fat:
29
g
Saturated Fat:
10
g
Polyunsaturated Fat:
4
g
Monounsaturated Fat:
13
g
Cholesterol:
82
mg
Sodium:
829
mg
Potassium:
622
mg
Fiber:
2
g
Sugar:
4
g
Vitamin A:
434
IU
Vitamin C:
19
mg
Calcium:
58
mg
Iron:
2
mg
Nutritional information is provided as an estimate only and depends on ingredients and amounts used. Thai Caliente makes no guarantees to the accuracy of this information.