Pad Woon Sen is a Thai glass noodle stir fry with egg and vegetables for a quick and easy meal.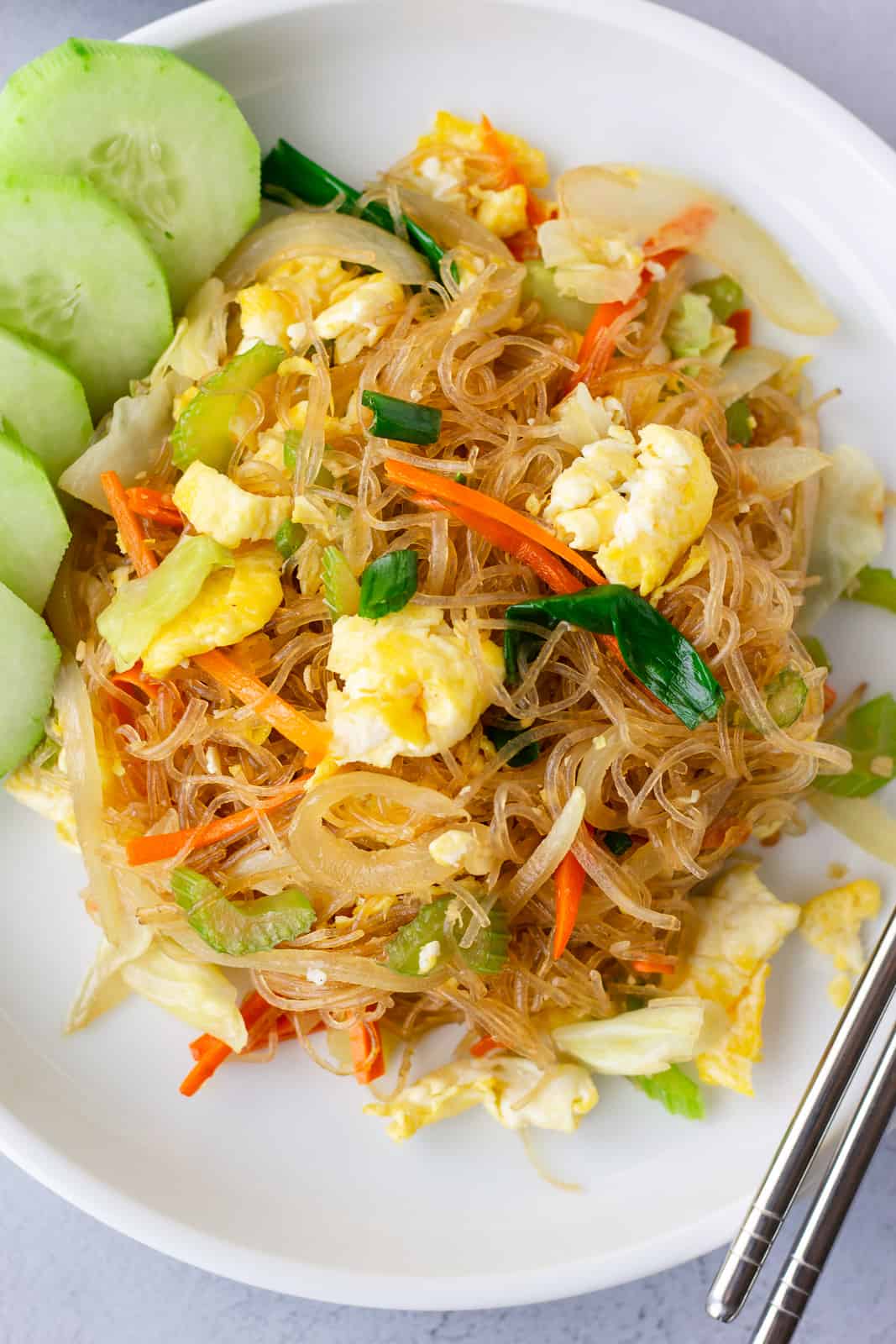 Pad Woon Sen is a popular noodle dish in Thailand, but not widely known here like Pad Thai. Pad Woon Sen is easy to make and uses ingredients you can get at your local grocery store.
Jump to:
What is Pad Woon Sen?
In Thai 'Pad' means to stir fry and 'Woon Sen' is the type of noodle. These noodles go by various names but are all the same.
You will find Woon Sen Noodles under the following names: Glass Noodles, Mung Bean, Bean Thread, and Vermicelli. These noodles are widely available online, Asian markets, and some local grocery stores.
Ingredients and Substitutions
Noodles- You want to start by soaking the noodles in cool water for about 15 minutes to soften them. I also like to cut the noodles so they are smaller. Otherwise they are very long and can clump together while cooking.
Protein- I'm using eggs as my protein, however you can also add any other type of protein like, (chicken, shrimp, beef, pork, or tofu for vegetarian).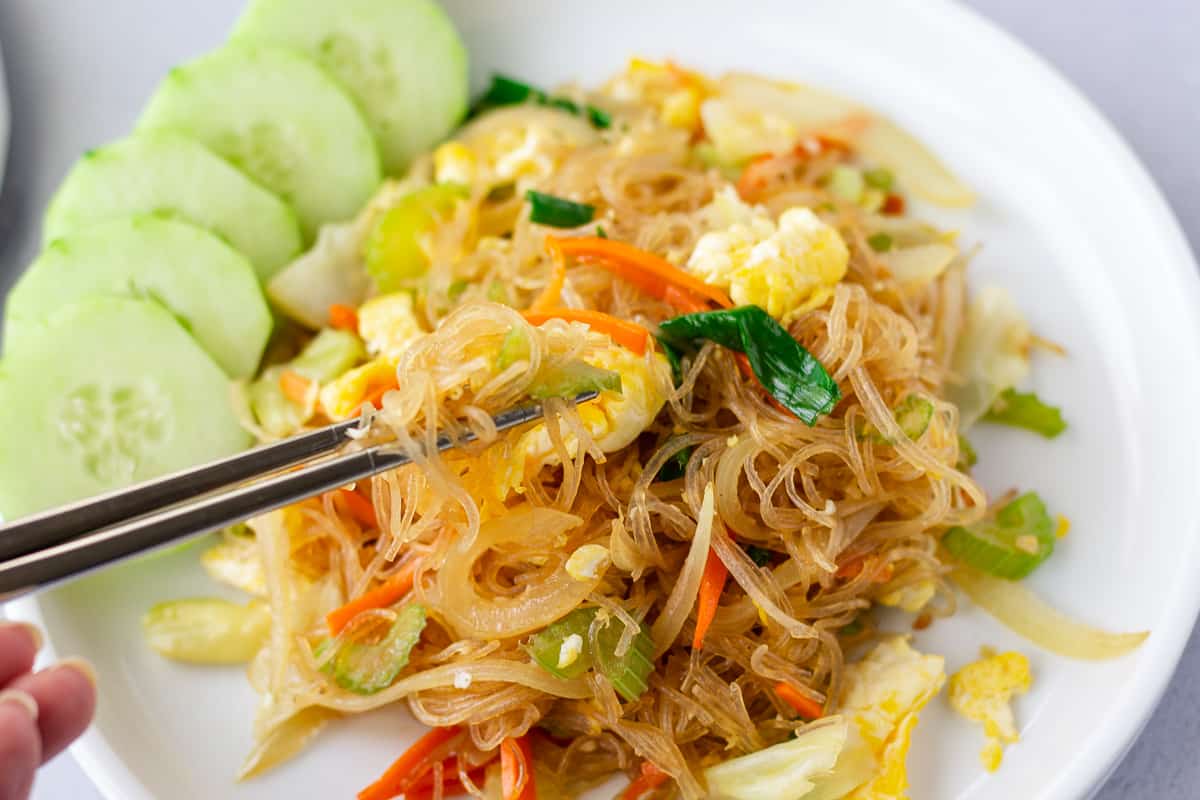 Vegetables- You can use any vegetables you prefer. I did sliced onions, carrots, cabbage, celery, and green onions.
I've also made Pad Woon Sen with broccoli florets, nappa cabbage, and sliced tomatoes- similar to Thai Fried Rice.
Stir Fry Sauce- It's a simple sauce of Soy Sauce or Golden Mountain Sauce and Oyster Sauce. I also add a splash of water to thin it out.
If you need the sauce to be low sodium or gluten free, use coconut aminos and liquid aminos.
Can Pad Woon Sen be made ahead of time?
Like all stir fried noodle dishes, they are best served right after making it. However, I have saved leftovers and reheated them in the microwave.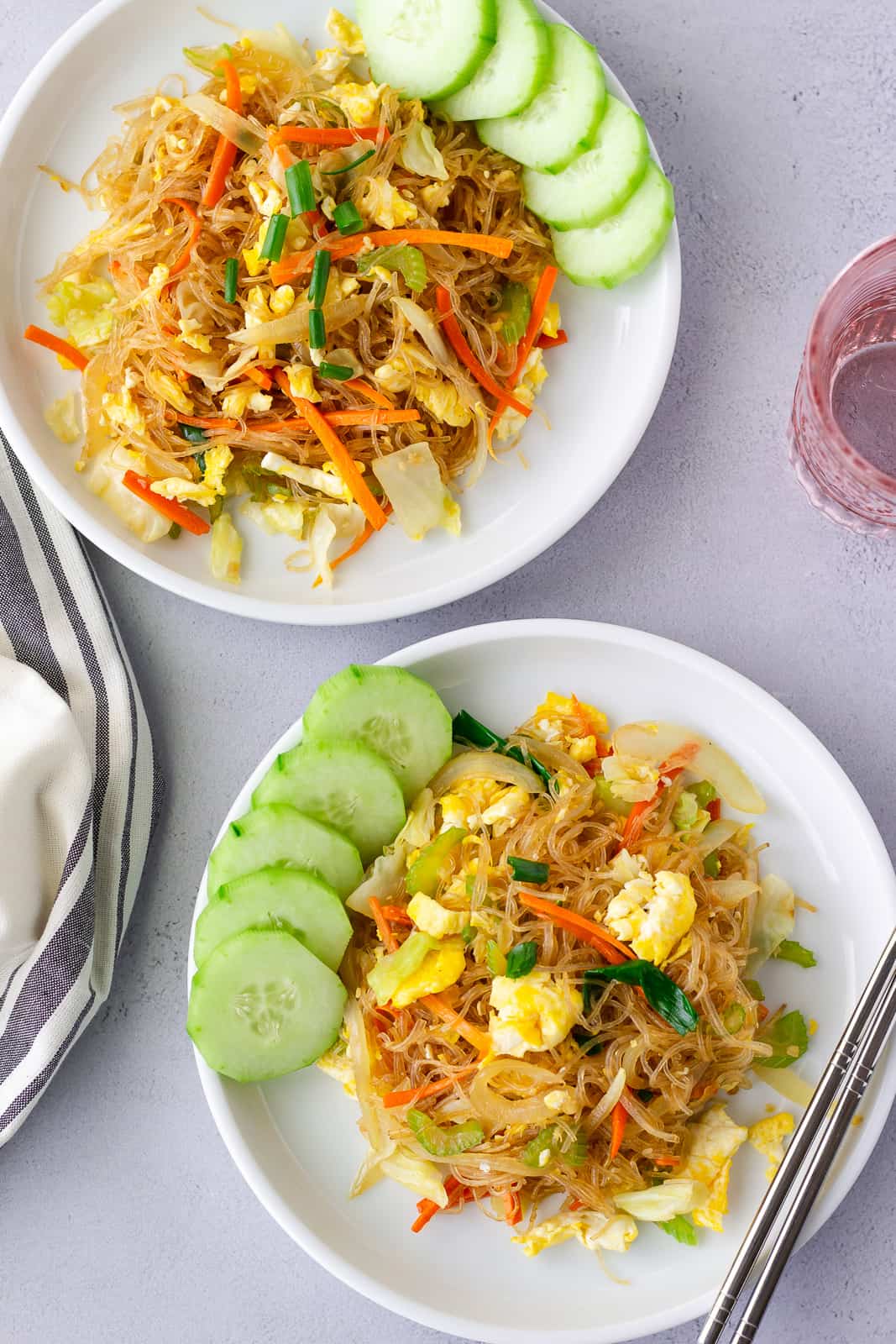 I wouldn't go longer than 2 days, because the noodles will start to dry out and the vegetables will get soggy.
In Thailand, sometimes you'll see Pad Woon Sen served with a side of jasmine rice. However, I prefer to eat it as a meal on its own.
Here are some other recipes that use the same glass noodles: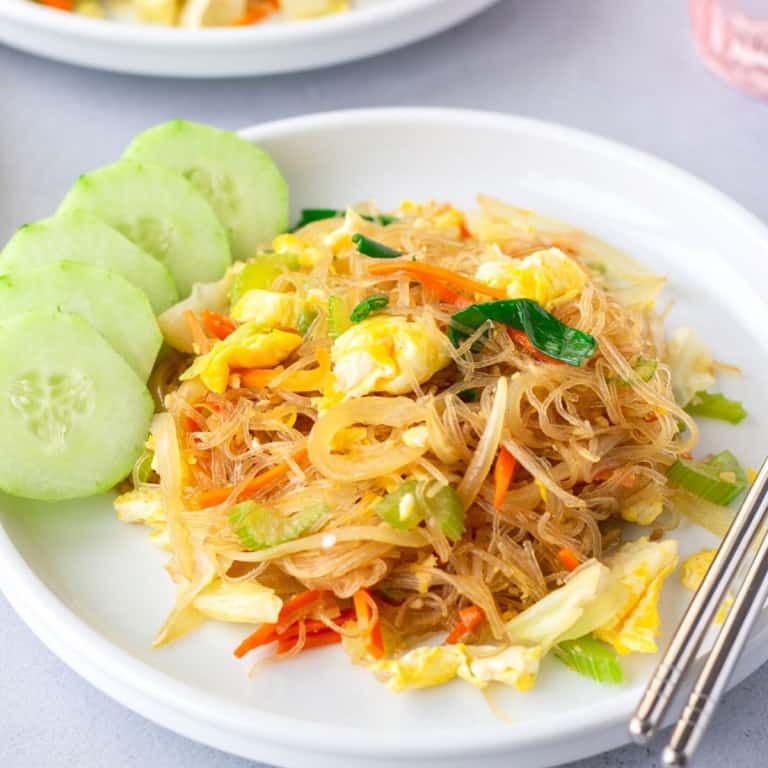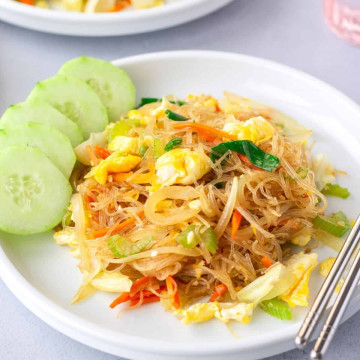 Pad Woon Sen Recipe
Pad Woon Sen is a Thai glass noodle stir fry with egg and vegetables for a quick and easy meatless meal or add your favorite protein.
Ingredients
80

grams

Bean Thread or Vermicelli Noodles

Soaked in water for 15 minutes until soft.

2

tablespoon

Oil

Avocado, Canola, or sesame oil (but use only 1 teaspoon of sesame oil)

3

Eggs

2-4

Garlic Cloves

Minced

¼

White Onion

Sliced

1

Cup

Diced Cabbage

1

Carrot

Shredded or thinly sliced

¼

Cup

Celery

Sliced thin

¼

Cup

Green Onions

3in slices

2

tablespoon

Oyster Sauce

1

tablespoon

Soy Sauce or Golden Mountain Sauce
Instructions
Place noodles in a bowl of cool water and soak for 15 minutes or until soft. Then drain water and cut noodles to make them shorter.

Mix Soy Sauce, Oyster sauce, and splash of water then set aside.

Whisk eggs and add to a hot pan with 1 tablespoon of Oil. Cook until eggs are slightly undercooked. They will cook more once added back into the dish. Remove eggs and set aside.

Add Garlic and sliced white onions to hot skillet and cook for 2 minutes.

Then add drained noodles, cabbage, celery, carrots, and toss around for a minute. Add soy sauce and oyster sauce mixture. Toss everything until noodles are coated with sauce. Taste and see if additional sauce is needed. If it's too dry add a splash of water.

Once you've adjusted the seasoning, add a dash of white pepper, cooked eggs, and sliced green onions to the pan. Toss everything around and serve.
Notes
Leftovers can be stored in the refrigerator for up to 2 days, then reheated in the microwave.
If using a protein like chicken, cook it after the eggs and leave it in the pan while you add the remaining ingredients.
More Glass Noodle Recipes:
Gang Jued Woon Sen
Yum Woon Sen
Nutrition
Serving:
1
g
Calories:
415
kcal
Carbohydrates:
45
g
Protein:
12
g
Fat:
21
g
Saturated Fat:
3
g
Polyunsaturated Fat:
5
g
Monounsaturated Fat:
11
g
Trans Fat:
1
g
Cholesterol:
246
mg
Sodium:
1201
mg
Potassium:
388
mg
Fiber:
3
g
Sugar:
4
g
Vitamin A:
5668
IU
Vitamin C:
19
mg
Calcium:
98
mg
Iron:
2
mg
Nutritional information is provided as an estimate only and depends on ingredients and amounts used. Thai Caliente makes no guarantees to the accuracy of this information.