Homemade Yellow Corn Tortillas made with just 3 ingredients and ready in 20 minutes.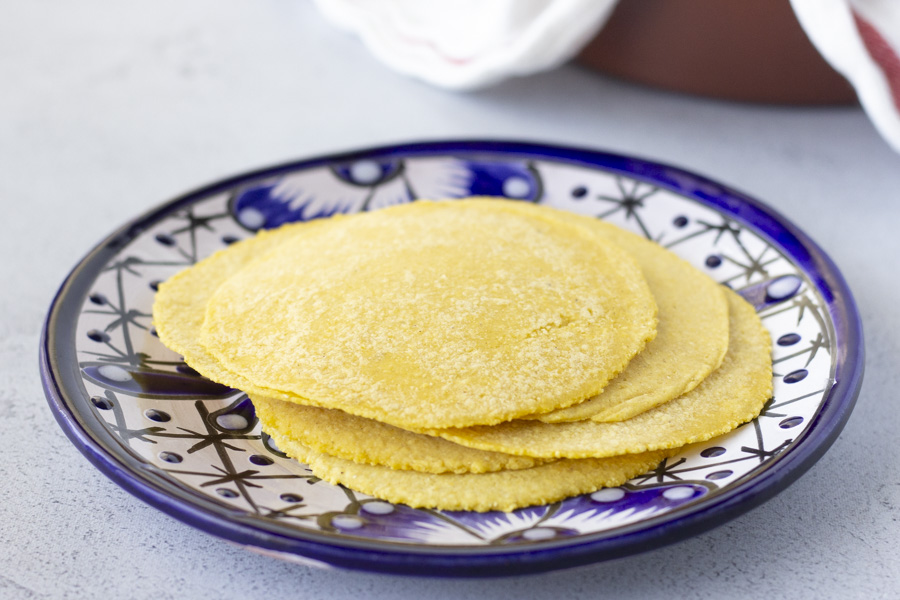 Take your tacos to the next level with fresh made tortillas. I promise the extra effort is so worth it!
Corn tortillas are much easier to make than flour and if you have a gluten allergy, corn tortillas are gluten free. Just make sure the masa you use indicates gluten free.
Jump to:
Ingredients for Corn Tortillas
It's easy as 1, 2, 3!
Masa Harina- I'm using a yellow masa harina and was able to find this at my local grocery store, but I also linked it below on Amazon. You can find Masa Harina in White, Yellow, and Blue corn.
Salt- This will give the tortillas some flavor
Warm Water- This is our mixing liquid and the heat from the water will allow the dough to be moist and soft.
How to Press the Tortilla
In the video I show how to use a tortilla press and a square casserole dish to make the tortillas. You can see that they both turned out pretty similar in size and thickness.
You'll need either a quart size zip top bag or parchment paper to place on the top and bottom of the dough. This will make it easier to remove and place on the griddle.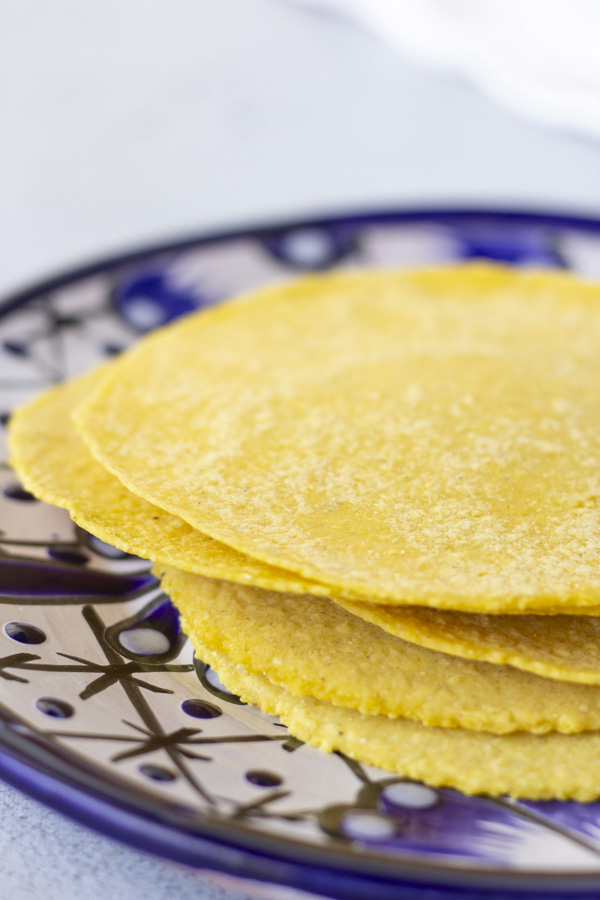 Tortilla Press- This helps make tortillas fast and effortless, but if you can't stand the thought of buying another kitchen gadget, then you can still make great tortillas without one.
Square Casserole dish- I used this one, and with a little bit of maneuvering, I was able to create the same size tortilla as the one from the press. A glass pie dish would work too. Any dish that has a heavy flat bottom.
How to Cook Corn Tortillas
Traditionally tortillas are cooked on a griddle or comal. My mother in law uses a stainless steel one like this.
Since I have an induction stove, I prefer to use a cast iron griddle like this one. The low edges make it easy to flip the tortillas.
Another option is to use any existing skillet you already have 🙂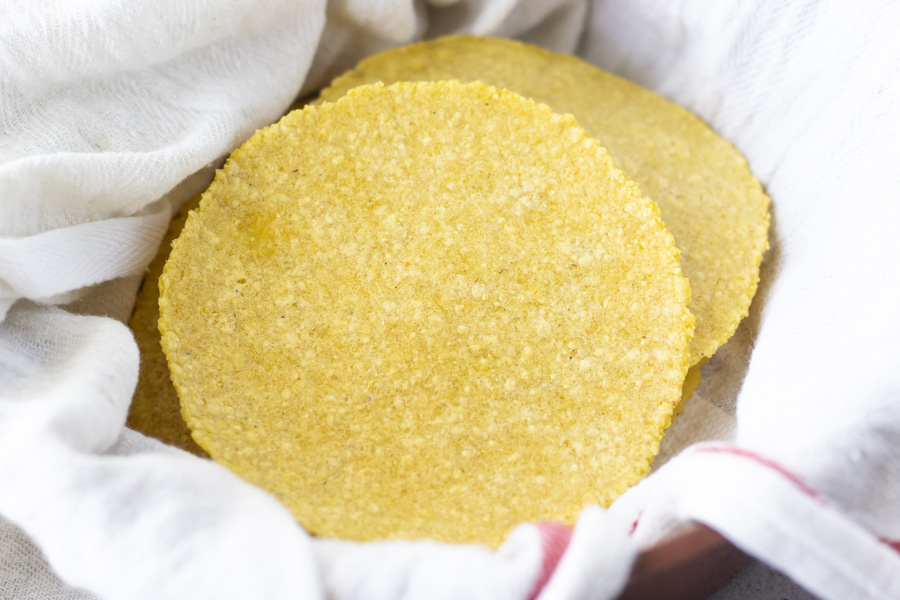 Whichever pan you decide to use, preheat it over medium heat. Don't add any oil to the pan. The tortilla will release from the pan when it's ready to flip.
The tortillas will need about 30-45 seconds per a side. If it's sticking to the pan, then it needs more time.
How to Store Corn Tortillas
Fresh made corn tortillas need to be stored and kept warm to prevent drying.
Since Yellow Masa Harina is less refined, it has a thicker texture compared to white corn tortillas.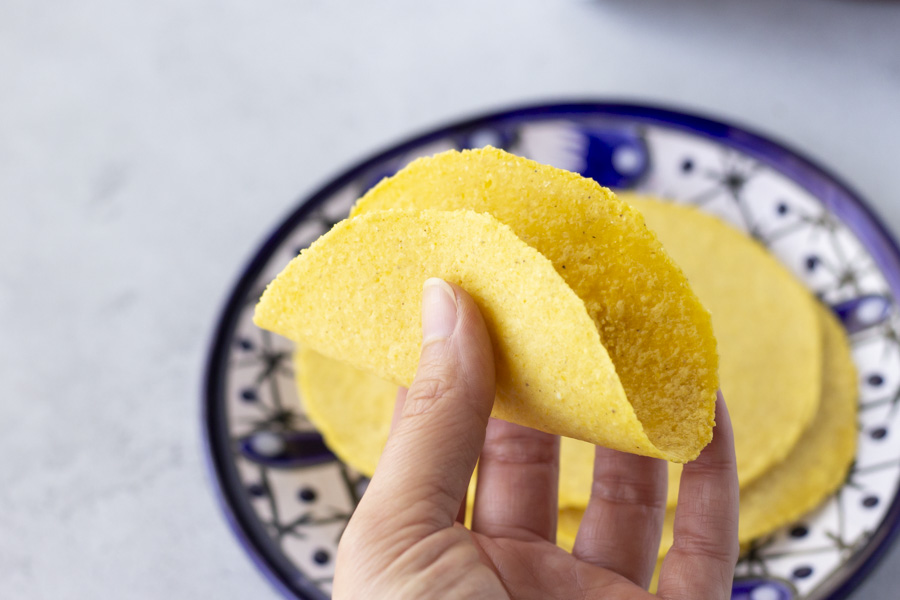 Once you remove the tortillas from the griddle, wrap it in a kitchen towel and keep warm in a tortilla warmer, or wrap in a towel and placed in a zip top gallon bag.
If you have leftovers and need to store them, place them in a zip top bag and keep in the fridge. Reheat the tortillas on a pan or griddle. Another options is to wrap tortillas in a paper towel then microwave for 20 seconds or until hot.
Here are some ideas on what to fill up your tortillas with:
Watch the Full YouTube Video Here: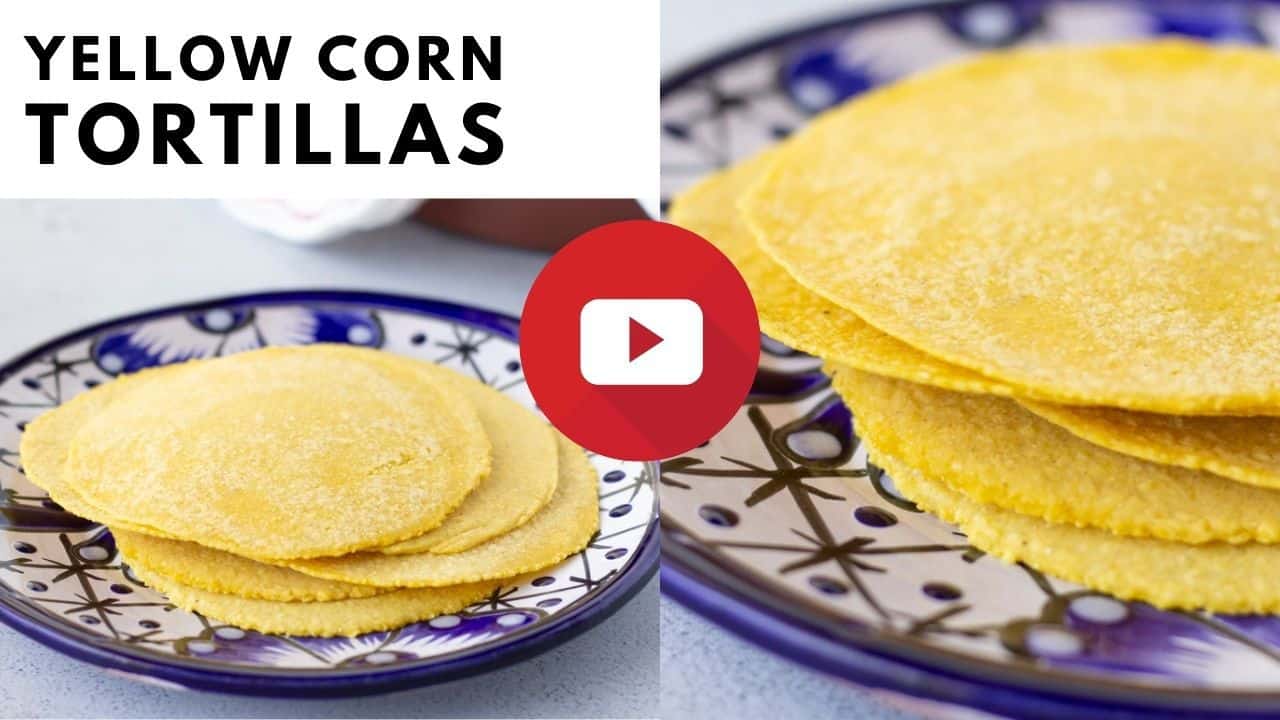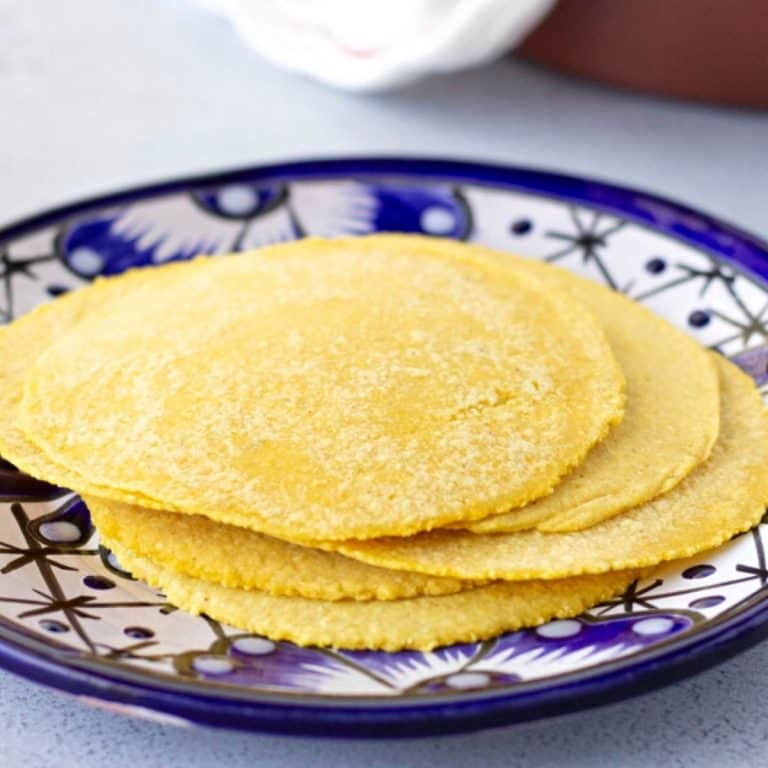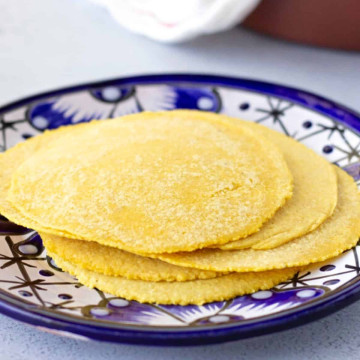 Yellow Corn Tortilla Recipe
Homemade Yellow Corn Tortillas made with just 3 ingredients and ready in 20 minutes.
Ingredients
1

cup

Masa Harina

I used Yellow Masa

¼

teaspoon

Salt

¾-1

cup

Warm Water

Start with ¾ then add more is dough is dry.
Instructions
Place Masa Harina and Salt into a mixing bowl. Slowly add warm water and with a spoon or your hands mix until incorporated. Start with ¾ cup of water and add more if dough feels too dry. If dough is too wet, then add more masa, a teaspoon at a time. Mix for about 2 minutes, form into a dough ball, and cover with a kitchen towel to prevent drying.

Have 2 pieces of parchment paper or a quart size zip top bag with the seams cut out.

Tortilla Press Method- Place parchment paper or plastic bag on the bottom of the press. Place a 2 in round dough ball in the center. Top with other plastic or paper, place top down and press with handle.

Baking dish method- Use a square casserole dish or pie dish (needs to have a flat bottom). Place parchment paper or plastic bag on the bottom of a flat surface. Place a 2 in round dough ball in the center. Top with other plastic or paper, then press down with dish and jiggle sides until an even round tortilla forms.

Heat a griddle or comal over medium heat until hot. Place tortilla and allow to cook for 30-60 seconds. If tortilla does not move easily off the pan, then allow to cook longer. Once it can move freely on the pan, flip and cook another 30-60 seconds on the other side. You can flip it 2 more times if you want some charred marks on the tortillas.

Wrap tortilla in a kitchen towel and place in a tortilla warmer or zip top gallon bag until ready to serve. The steam will allow the tortilla to stay warm and soften. Leftover tortillas can be stored in the fridge and reheated on the griddle.
Notes
Tortillas will soften as then steam in a towel or tortilla warmer. Store leftover tortillas in a sealed bag up to 5 days and reheat on a griddle.
Recipe for Flour Tortillas
Nutrition
Serving:
1
g
Calories:
42
kcal
Carbohydrates:
9
g
Protein:
1
g
Fat:
1
g
Saturated Fat:
1
g
Polyunsaturated Fat:
1
g
Monounsaturated Fat:
1
g
Sodium:
60
mg
Potassium:
30
mg
Fiber:
1
g
Vitamin A:
24
IU
Calcium:
16
mg
Iron:
1
mg
Nutritional information is provided as an estimate only and depends on ingredients and amounts used. Thai Caliente makes no guarantees to the accuracy of this information.