Authentic Mexican Rice or Arroz rojo, can be made either in the instant pot or stove top with a few basic ingredients. This rice goes perfect with any Mexican meal.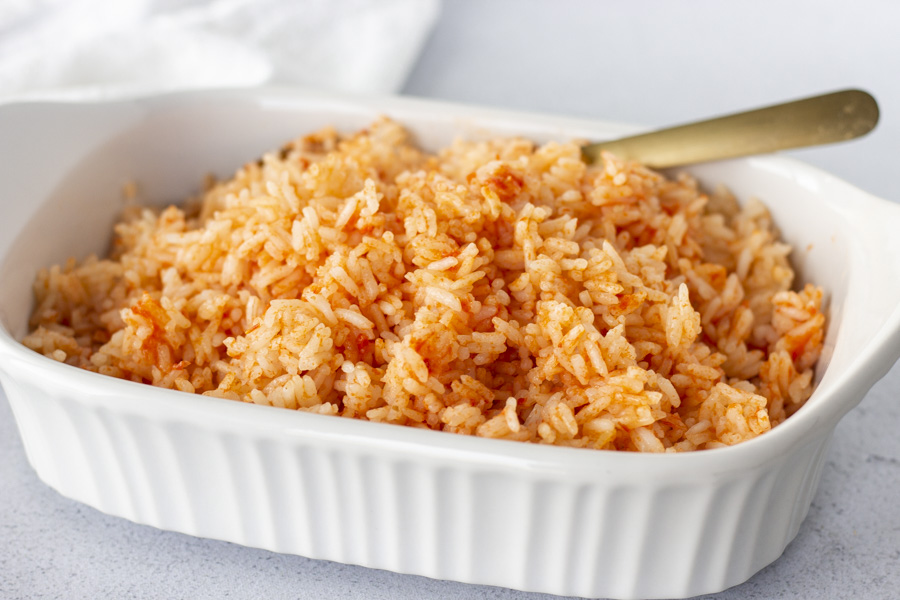 Mexican Rice or Arroz Rojo, is one of those recipes where it's very simple, but can take some practice to perfect it. I have some tips that I've learned myself and from my mother in law to help you succeed in making this staple side dish in Mexican cuisine.
Jump to:
How to make the Tomato Sauce
I call this the essential Mexican sauce. It's the same blended sauce that is used for Fideo, Albondigas, and Lentejas. This is the recipe my Mother in law shared with me, but I'll provide some substitutions as well.
Roma Tomatoes- This is the method I use most and prefer. It's just 2 roma tomatoes, sliced in half, and half of a white onion, and 2 garlic cloves. I also add a Tablespoon of chicken bouillon or use Chicken Broth.
*Note- If the bouillon or stock you are using is low sodium, you might need to add additional salt to season the rice.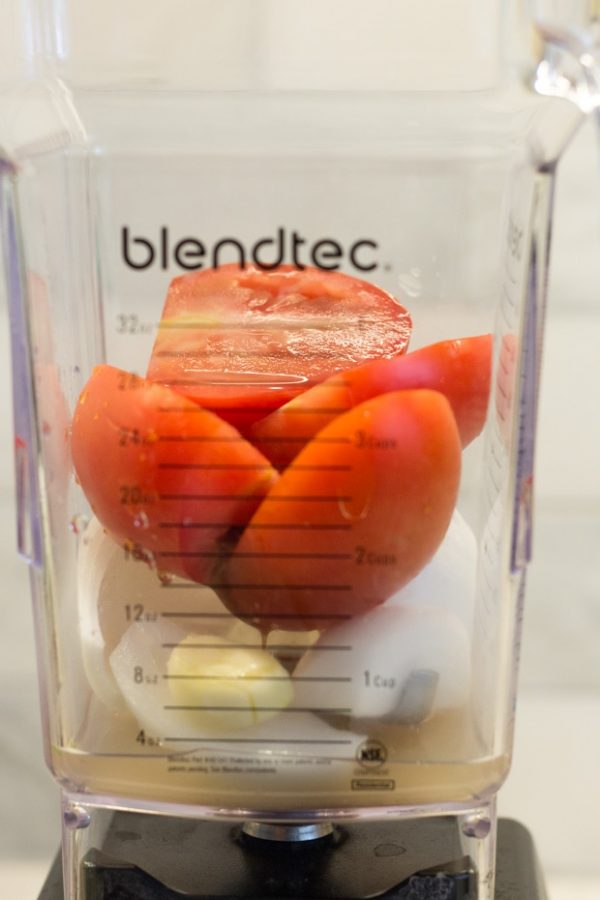 Canned Tomato Sauce- If you don't have Roma tomatoes, then you can use ¼ cup of canned tomato sauce. Blend the tomato sauce with the onions, garlic, and bouillon.
Tomato Bouillon- I've never made Mexican rice with tomato bouillon, so I can't comment on the taste of it, but I've seen it used often in rice recipes.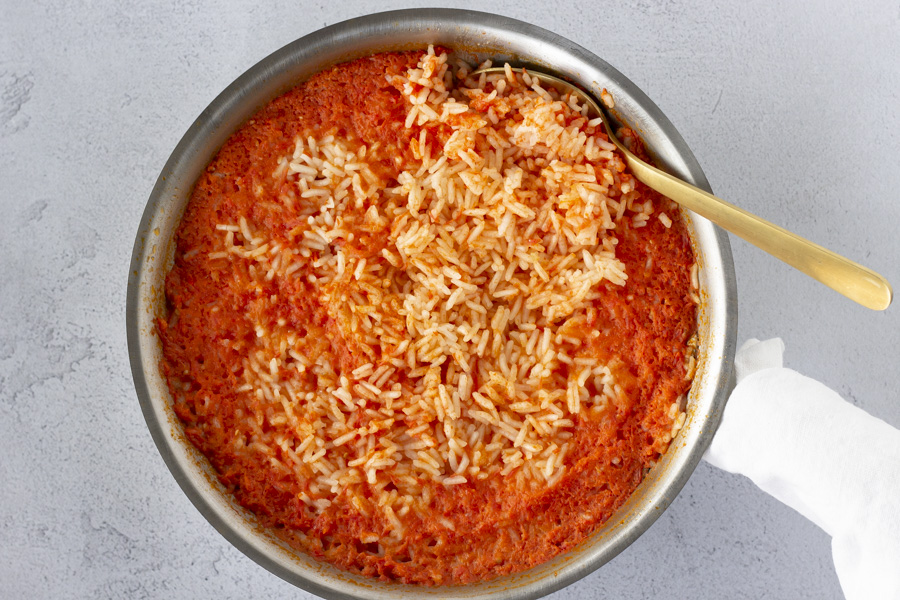 What kind of Rice to Use?
Long Grain White Rice- This is the rice that I've had the best results with. Always rinse your rice to remove starches and allow it to drain in a strainer.
Brown Rice- The cooking time is 40 minutes for brown rice, and a 1:2 rice to liquid ratio
Jasmine Rice- I've used Jasmine rice before since that's what I've had on hand. The only difference is that the rice will be a little bit stickier, but still tastes great!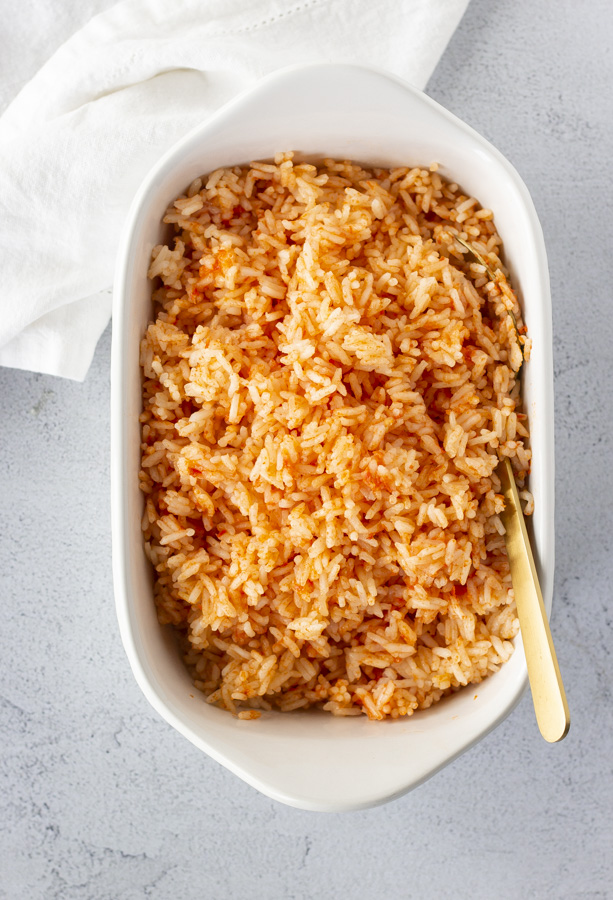 Instant Pot Method
As much as I love my Instant Pot, I actually prefer the way the rice turns out on the stove top instead. I did several tests in the instant pot, and got better results when the recipe was doubled. So using 2 cups of dried rice and 2.5 cups of liquid.
When using the instant pot with 1 cup of rice, my rice would stick to the bottom of the pot. After some research, this usually happens when there is not enough liquid in the pot to generate steam, or the liquid is too thick.
I also got some feedback that sautéing the rice on low helps prevent it from sticking to the pot. This seems to help and I've included this in the instructions.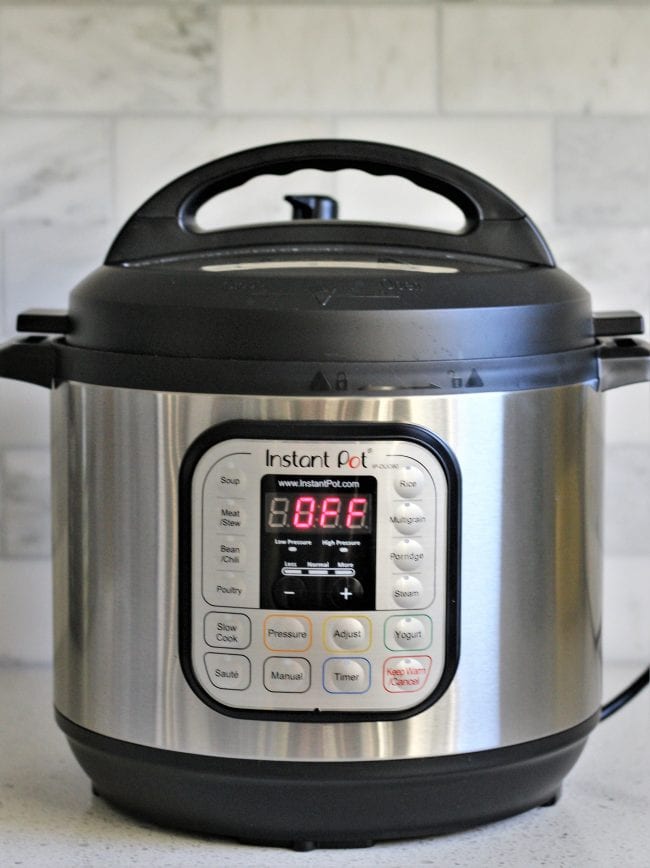 Saute Function- Set your instant pot to saute (less/low). Add oil to the pot and your rinsed/drained rice and sauté until lightly browned.
Liquid to Rice Ratio- The rule of thumb for instant pot rice is actually a 1:1 ratio of liquid to rice. However since this liquid is a bit thicker, I tested with a ratio of 1 cup of rice to 1.5 cups of liquid, and that seems to be the best ratio.
The Mexican Rice cooks in the instant pot for 5 minutes on high, then allow the pressure to release for at least 10 minutes before moving the valve to vent and removing the lid.
Stove Top Method
This is my preferred way to make Mexican Rice, on the stove. It turns out perfect every time!
Toast the Rice- Use a pan with a lid. Add your rinsed/drained rice to a pan over medium heat with oil and saute till lightly browned.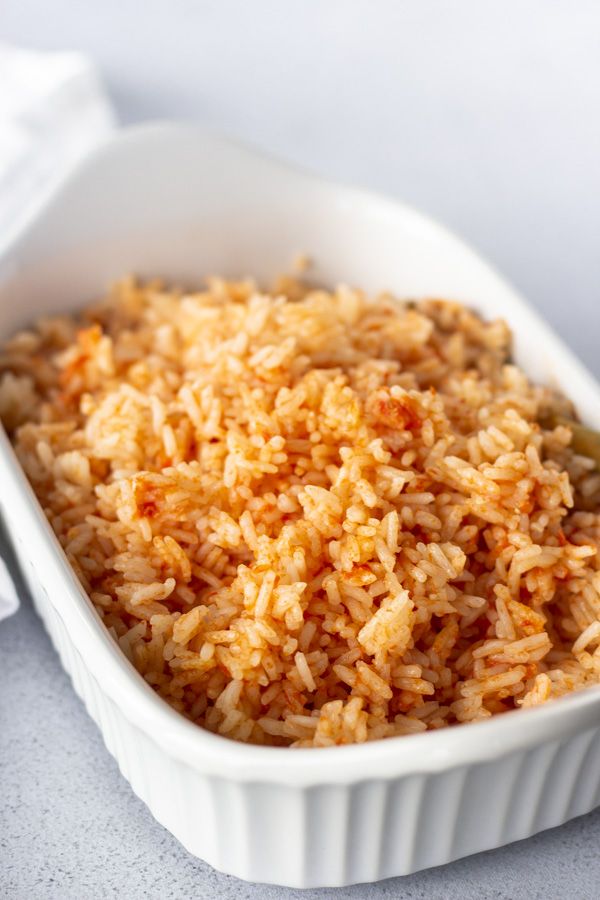 Liquid to Rice Ratio- I used 1 cup of rice to 1.5 cups of liquid. However if your rice is older, then you'll need closer to 2 cups of liquid. The thing with rice, is that if you add too much liquid you can remove the lid at the end and keep the heat on low to evaporate the extra liquid.
Don't touch it! Once you add the tomato mixture to the rice, stir it, place the lid on, lower the heat, and walk away!
The key to perfect rice is to not mess with it once it starts cooking. So leave the lid on for 12 minutes under a gentle simmer. Then remove the pan from the heat and keep the lid on for another 10 minutes. Remove the lid and fluff the rice with a fork.
Here are some recipes to serve with Mexican Rice:
Grilled Cilantro Lime Chicken, Carne Asada Tacos, or Enchiladas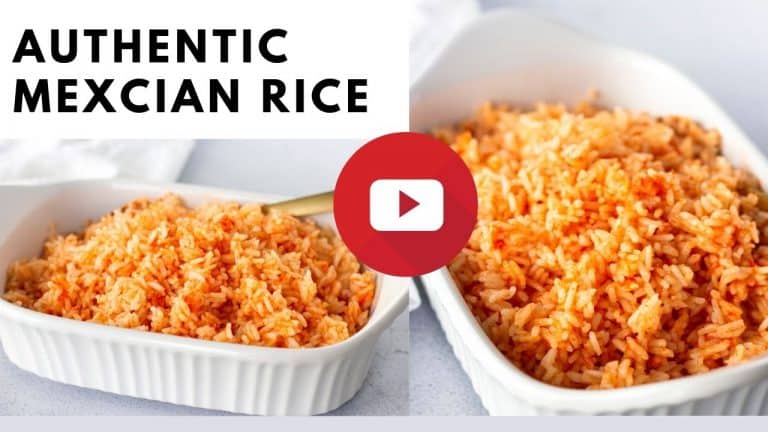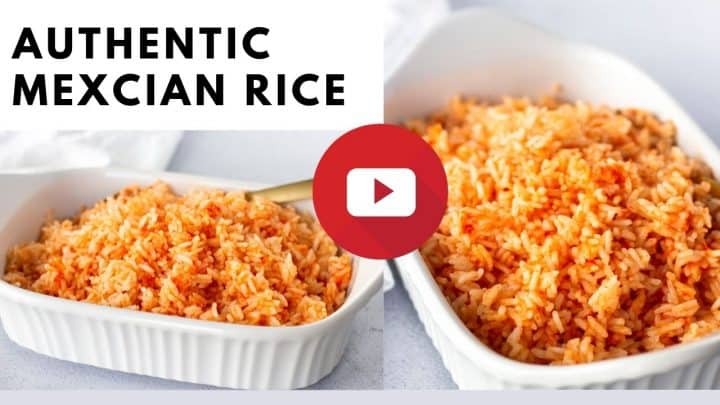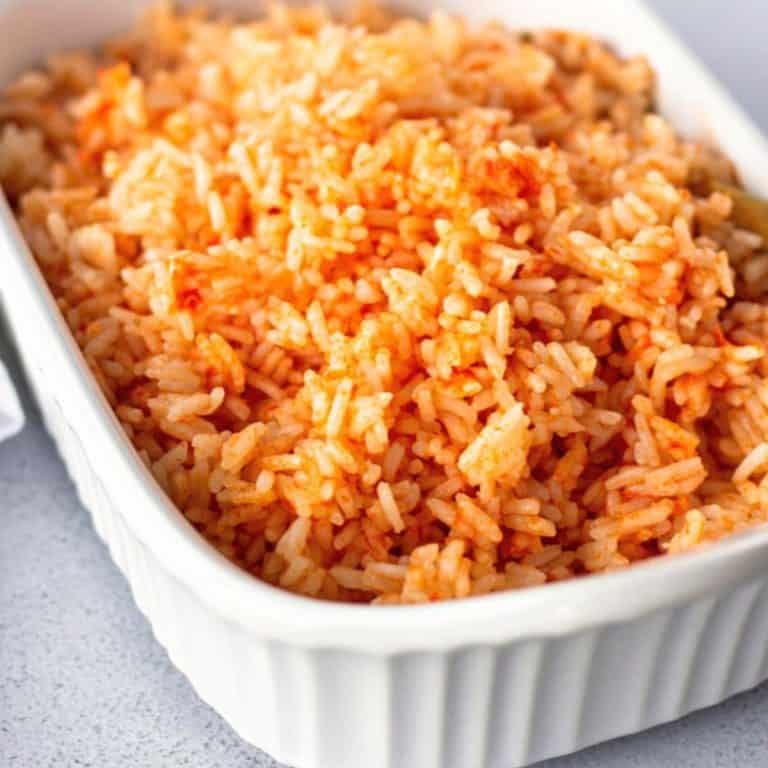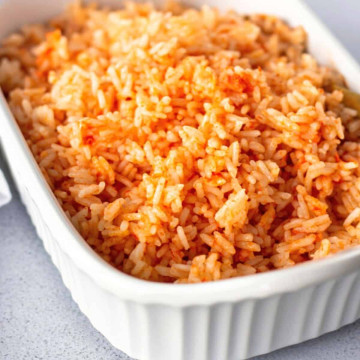 Authentic Mexican Rice Recipe
Mexican Rice made either on the stove top or instant pot, with a few basic ingredients.
Equipment
Blender

Saute Pan with Lid or an Instant Pot
Ingredients
1

Cup

Long Grain Rice

(rinsed well and set aside to drain)

1

tablespoon

Oil

2

Roma Tomatoes

(cut in half)

½

White Onion

(quartered)

2

Garlic Cloves

whole

1

tablespoon

Chicken Bouillon

+ ¼ Cup Water or (¼ cup Chicken or vegetable broth)

¼

tsp

Salt

Depending on the bouillon or broth you are using, you may need more or less salt. Taste the mixture before cooking the rice.
Instructions
Stove Top:
Rinse rice in a fine mesh strainer under cold water for about 30 seconds. Set aside to drain. You want to drain as much water as you can.

In a blender add tomatoes, onion, garlic, chicken bouillon and water, or use chicken broth, and blend till pureed.

You'll want to end up with 1.5 cups of liquid for 1 cup of rice. Add additional water or broth if needed to reach 1.5 cups after blending.

In a pot with a lid, add oil over medium heat. Add rice and continuing stirring to toast rice until lightly browned. Pour in blended sauce, (be careful because it will splatter), stir well and turn heat to medium low. Once rice is simmering place lid and allow rice to simmer for 12 minutes.

Remove pan from heat and keep lid on for another 10 minutes. Then remove and Fluff rice with a fork and serve.
Instant Pot:
Follow first 2 steps. In the instant pot add oil and press the saute function (low heat). Add rice and continuing stirring to toast rice until lightly browned.

Pour in blended sauce, stir well. Place lid on instant pot, put valve to sealing. Press Rice Function and cook for 5 minutes, allow pressure to release naturally for 10 minutes once timer goes off, then quick release. Fluff rice with a fork and serve.
Notes
If the bouillon or stock you are using is low sodium, you might need to add additional salt to season the rice.
Leftovers can be stored up to 4-5 days in the refrigerator.
Here are some recipes to serve with Mexican Rice:
Grilled Cilantro Lime Chicken, Carne Asada Tacos, or Enchiladas
Nutrition
Serving:
1
g
Calories:
171
kcal
Carbohydrates:
32
g
Protein:
3
g
Fat:
3
g
Saturated Fat:
1
g
Polyunsaturated Fat:
1
g
Monounsaturated Fat:
2
g
Trans Fat:
1
g
Sodium:
132
mg
Potassium:
122
mg
Fiber:
1
g
Sugar:
1
g
Vitamin A:
207
IU
Vitamin C:
5
mg
Calcium:
18
mg
Iron:
1
mg