This Frittata dish is filled with spiced ground turkey, zucchini, broccoli, and tomatoes.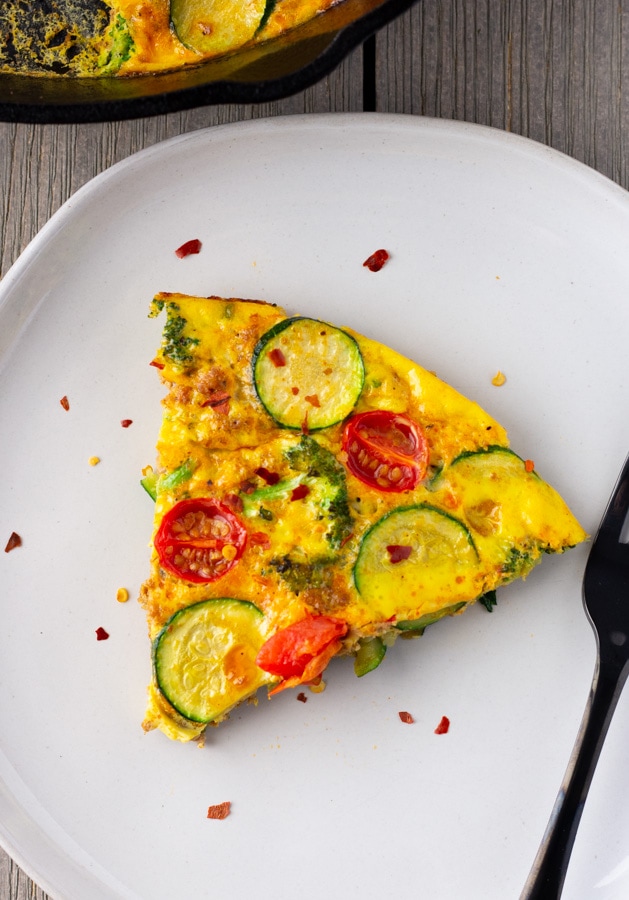 A frittata is a great meal-prep breakfast or a good way to use up some leftover vegetables and protein.
Once you have the process down on making the frittata, the filling options are endless and completely customizable to what you like.
Steps to Make a Frittata
Saute/cook your filling ingredients first. Otherwise if you bake them raw, the moisture will make the eggs less creamy.
You can saute everything in the same pan, but if you are cooking the meat raw, then drain any excess liquid or fat. Then move on to cooking the vegetables.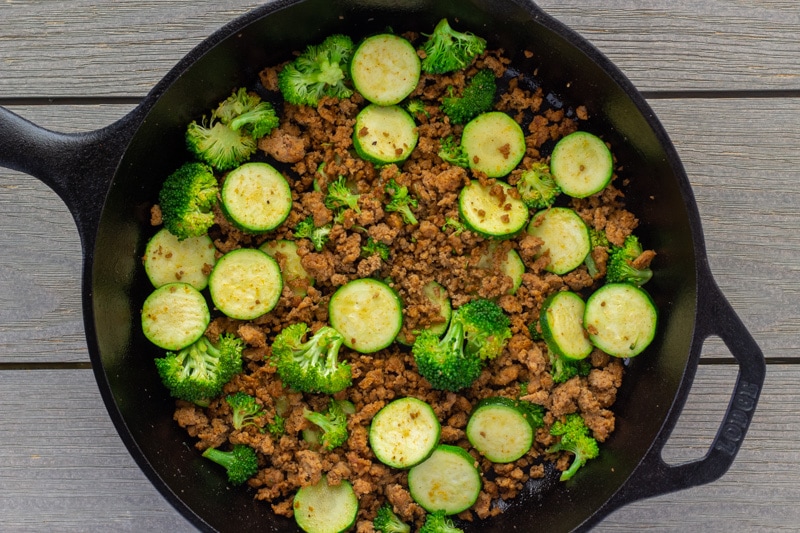 I used leftover ground turkey taco meat in this recipe, so it was a matter of heating it up with the veggies.
Whisk the eggs right before adding them to the frittata and quickly to incorporate air in them. This helps the frittata to turn out more fluffy.
Using heavy cream or half n half will result in creamier eggs, but since I wanted this to be dairy free, I used almond milk.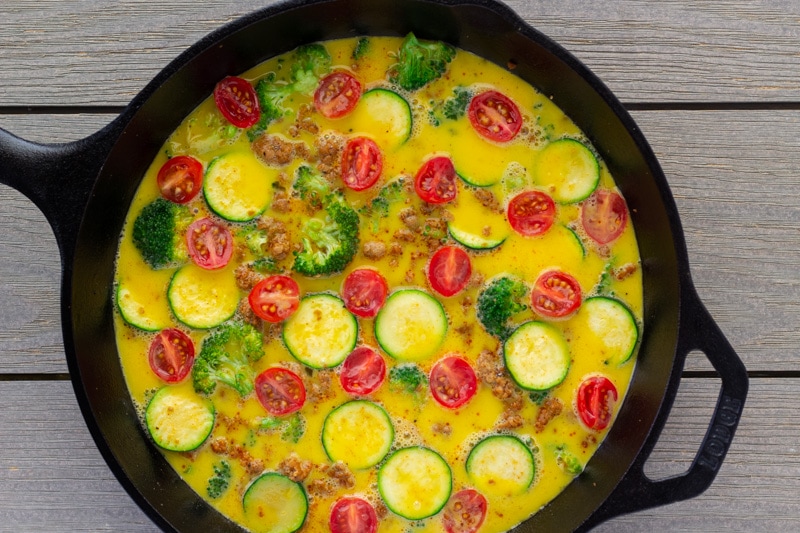 Use an oven proof skillet. I love using my cast iron skillet. If you don't have an ovenproof skillet, then you can transfer your filling to a baking dish or even a muffin tin for smaller portions.
Frittatas typically have cheese either baked in or sprinkled on top, but I wanted a dairy free version. Feel free to top with cheese if you like.
Try to not overcook the Frittata, otherwise the eggs will get rubbery.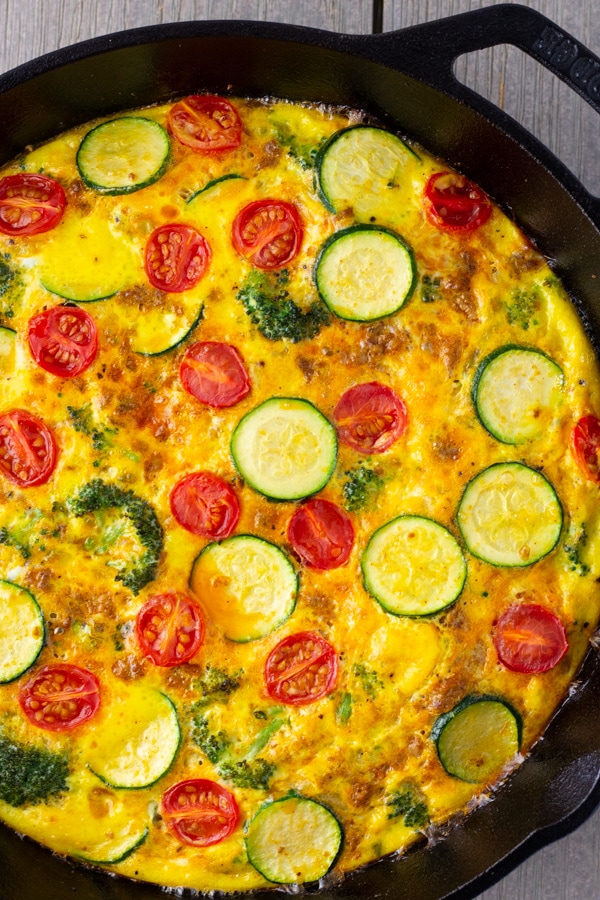 Can Frittatas Be Made Ahead of Time?
Yes! Frittatas are great to make on the weekend and have for a quick meal during the week.
I also love to switch it up with either toast for breakfast or with a side salad for lunch. Frittatas are great any meal of the day!
Store leftovers in a airtight container in the refrigerator. To reheat, simple heat in the microwave until hot.
Check out these other Breakfast Inspired Recipes: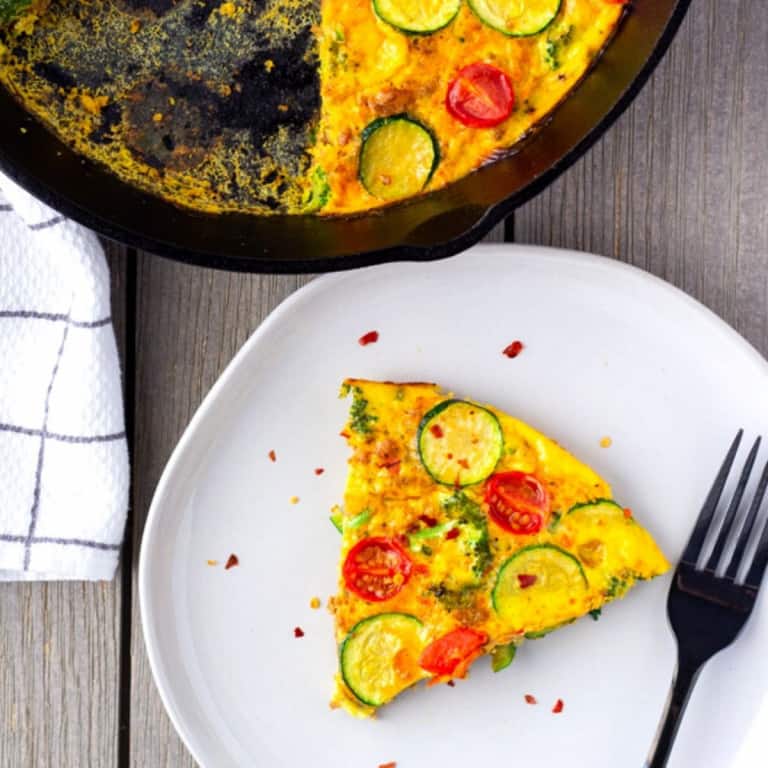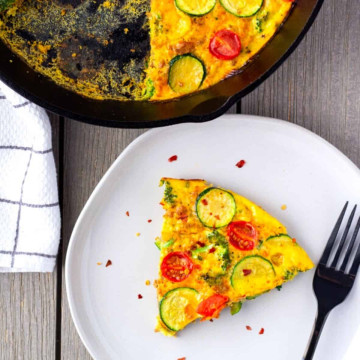 Veggie and Ground Turkey Frittata
This Frittata dish is filled with ground turkey, zucchini, broccoli, and tomatoes.
Ingredients
1

tablespoon

Oil

1

Zucchinni

Sliced into rounds

1

Cup

Chopped Broccoli Florets

1

Cup

Cooked Ground Turkey

Seasoned with Taco seasoning

10

Cherry Tomatoes

Halved

6

Eggs

Whisked abruptly, right before pouring into pan

Salt and Pepper

¼

Cup

Almond Milk

Can substitute regular milk, or half n half if you don't need to be dairy free.
Instructions
Preheat oven to 350 degrees.

Heat a cast iron skillet over medium heat with oil. Saute zucchini and broccoli with some salt and pepper for a few minutes. Add in cooked ground turkey. If using raw turkey, then cook first drain any liquid, and then add in with veggies.

Whisk eggs abruptly right before placing into the skillet. Add milk and some salt and pepper. Whisk again and pour into skillet. Top with halved cherry tomatoes, with the seeds facing up so they don't run into the frittata.

Bake at 350 degrees for about 15 minutes, or until it puffs up. Then broil for 2-3 minutes to get some color on the top.

Allow to cool a couple minutes, slice and serve for breakfast or with a side salad for lunch/dinner.
Notes
If you don't have a cast iron or oven proof skillet, then saute filling per instructions and place in a baking dish or muffin tin.