This Easy Mexican Shredded Beef is made in the instant pot and results in tender, flavorful beef that's perfect for your favorite Mexican meals.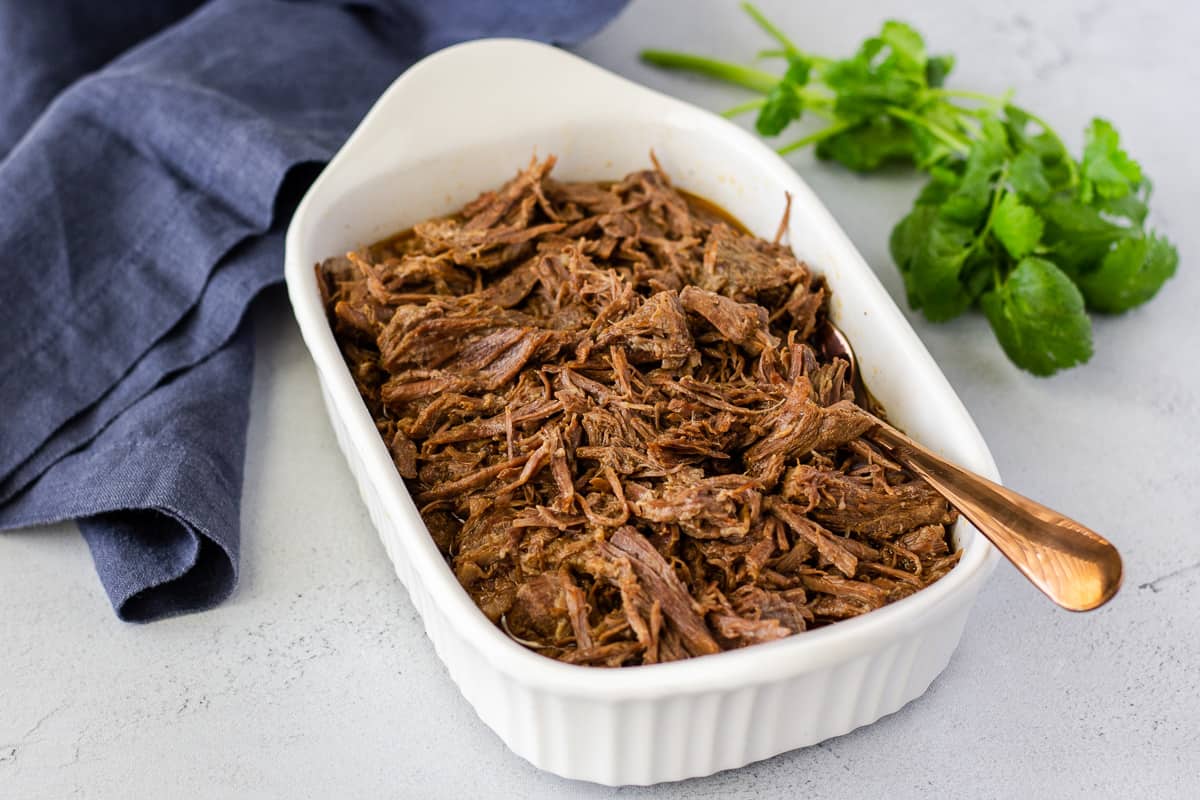 Easy recipes that take minimal time to prep but come out tasting like you spent hours cooking are absolutely the best! I used the instant pot, but a slow cooker works just as well.
This shredded beef reminds me of Chipotle's version of Barbacoa, but I'm not going to label it that since the spices and meat used are different. I do have a more traditional recipe for Barbacoa using beef shank, but it's still not 100% authentic since barbacoa traditionally uses tongue and cheek meat.
Jump to:
What kind of Beef to Use
Chuck Roast- This is what I used and have tested the recipe with this cut of beef. I trim some of the excess fat, if there's a lot, but keep most of it on for flavor and moisture.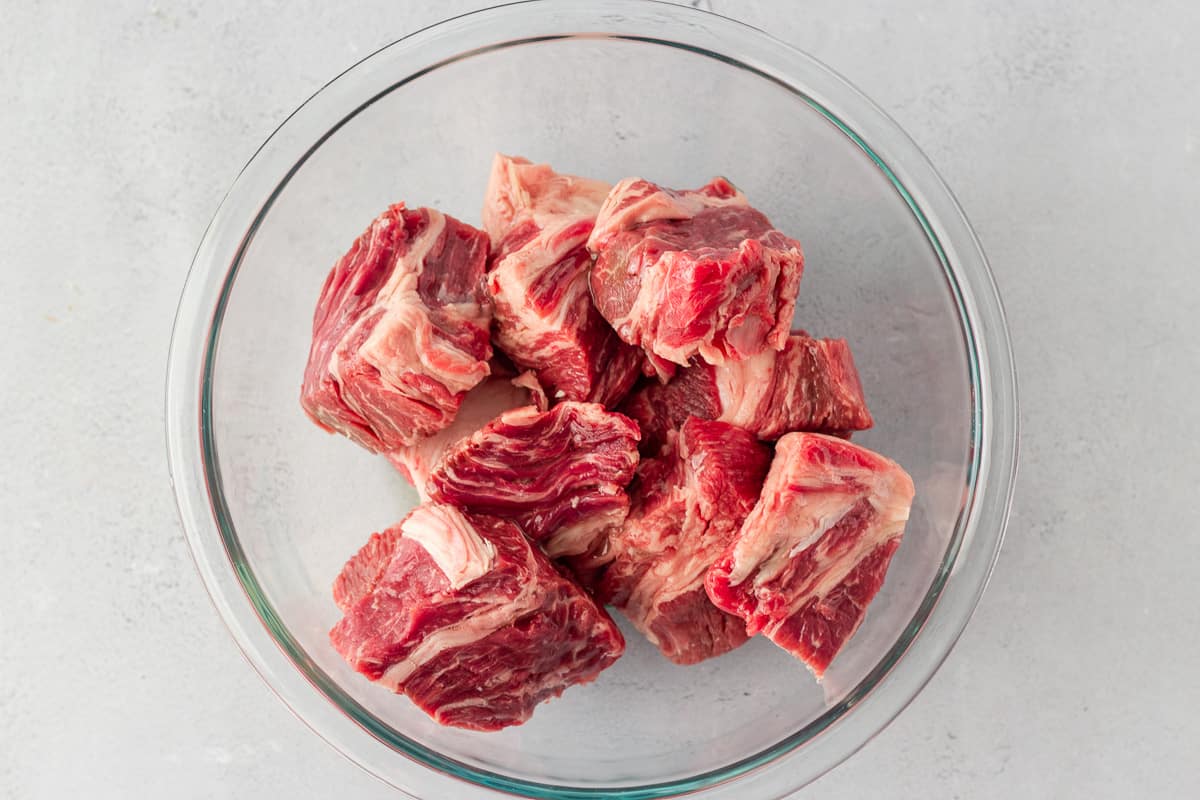 Other options for the cut of beef included: Beef Roast, Rump Roast, Eye Round Roast, Stew Meat, or Chuck Shoulder. Any of these 'tough' meats will work since we are cooking it for a long time to break down the tough tissue.
Keep in mind, the leaner the cut of beef the less tender it will be.
Seasoning for the Shredded Beef
What makes this shredded beef 'Mexican' inspired, are the spices. Don't be afraid to use spices! They really help to bring out the flavor in the beef.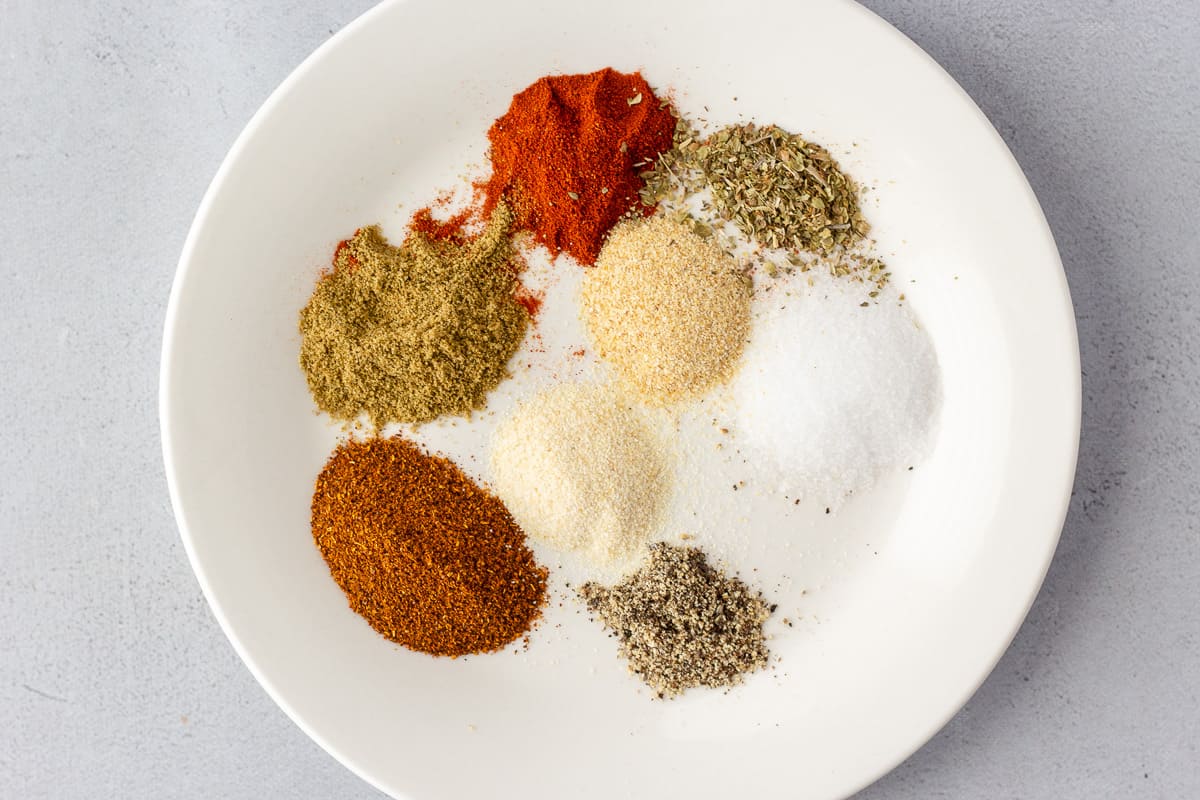 Ancho Chili Powder- I love the sweet and smokiness in ancho chili powder, but you can use regular chili powder.
Cumin- Some people may not like cumin, and you can omit if you really don't care for it. But cumin gives it warmth and earthiness.
Smoked Paprika- Similar to Ancho chili powder, smoked paprika delivers notes of sweet and smokiness. Regular paprika can be substituted.
Garlic Powder- You can also use fresh minced garlic or granulated garlic.
Onion Powder- Granulated onion or onion powder will work, but we are also adding a half onion for even more sweet onion taste.
Mexican Oregano- Mexican Oregano is actually a different plant than regular oregano and the flavor profile is more robust. If you can't find Mexican oregano, you can sub regular oregano.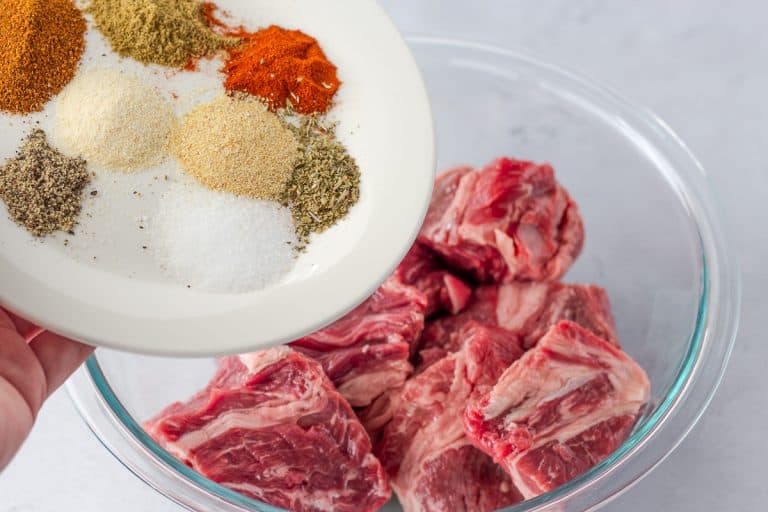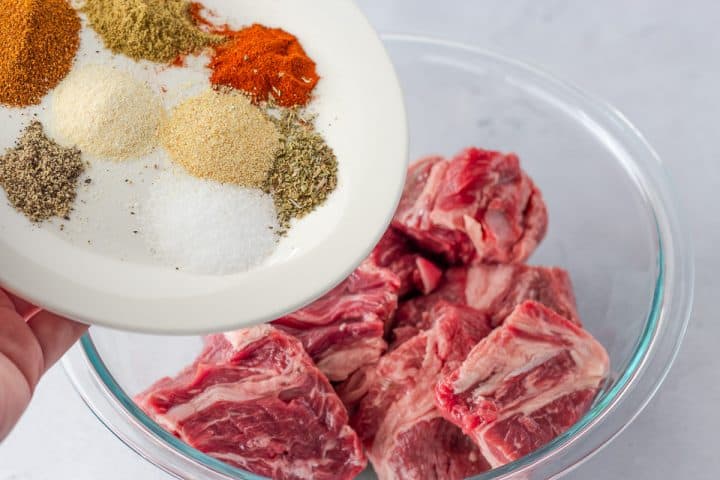 Add some oil to your chuck roast and sprinkle on the spices. Mix to incorporate the seasoning onto each piece of meat.
Cooking Instructions
The chuck roast I used was 5 pounds, so a large size. Cut the chuck roast into large chunks so that the seasoning can coat each piece and the meat can cook evenly.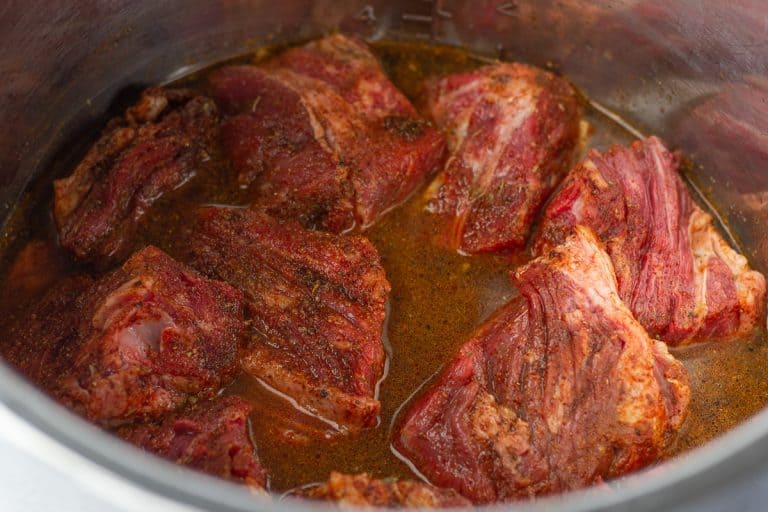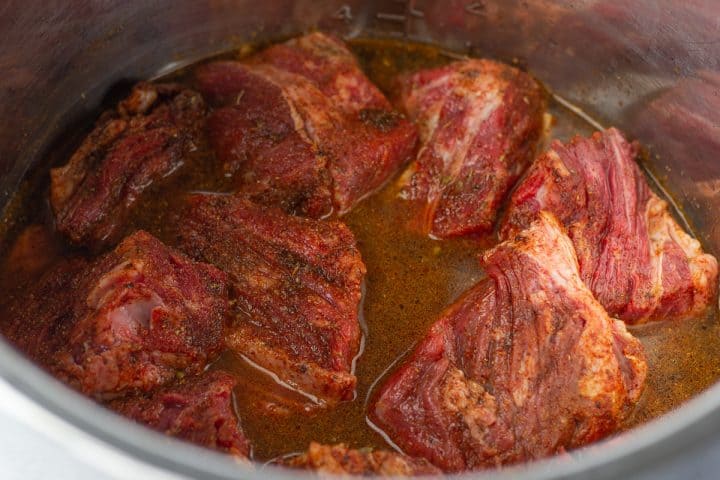 Add 1 cup of water first the the instant pot the the chunks of seasoned beef.
The cooking time I used for 5 pounds was 75 min in the Instant Pot.
Most chuck roast portions found in the store are about 3 pounds. So the cooking time can be decreased for the Instant Pot as follows:
3 pounds- 65 min
4 pounds- 70 min
5 pounds- 75 min
When the beef is done cooking, this is what it will look like.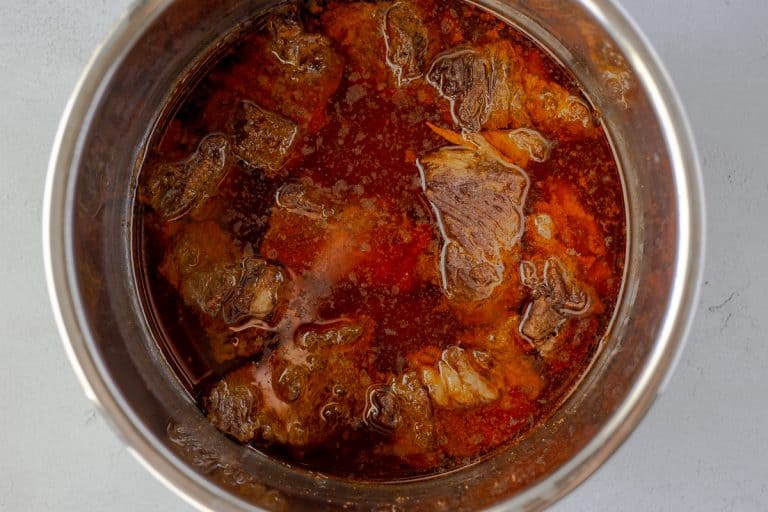 Remove the beef into a bowl, shred it and remove any extra fat. You can either place it back into the broth, or add some broth into the meat.
This also makes a great consomé or dipping sauce to serve on the side for tacos. If you plan on storing leftovers, make sure store the beef with the liquid to prevent it from drying out.
What can Shredded Beef be used in?
This Mexican Shredded Beef turns out so flavorful and tender, and can be used in any of your favorite Mexican Dishes. Here are some of my favorites:
Tacos and Quesadillas- Pile the shredded beef on tortillas for tacos or load up with some cheese for a quesadilla. Add other toppings like salsa, avocado, or cilantro.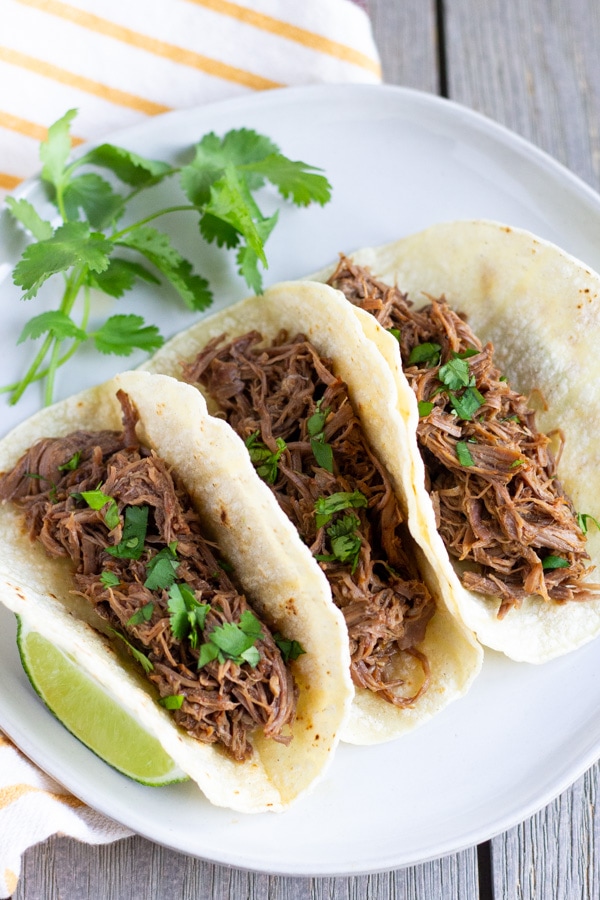 Salad or Bowls- A great healthy option is a taco salad using crisp romaine or iceberg lettuce, chopped tomatoes, onions, cucumbers, and jalapenos for spice!
This homemade Cilantro Lime dressing is easy to make and perfect on a salad. You can also make a bowl with Rice and your favorite toppings.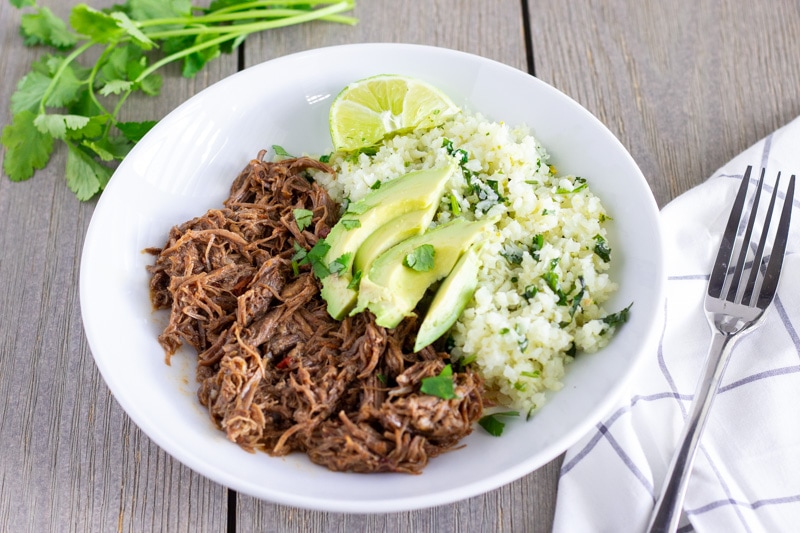 Tamales- While tamales can be time consuming to make, the filling can be easy by using this shredded beef. Watch my YouTube video HERE on how to make tamales in the instant pot.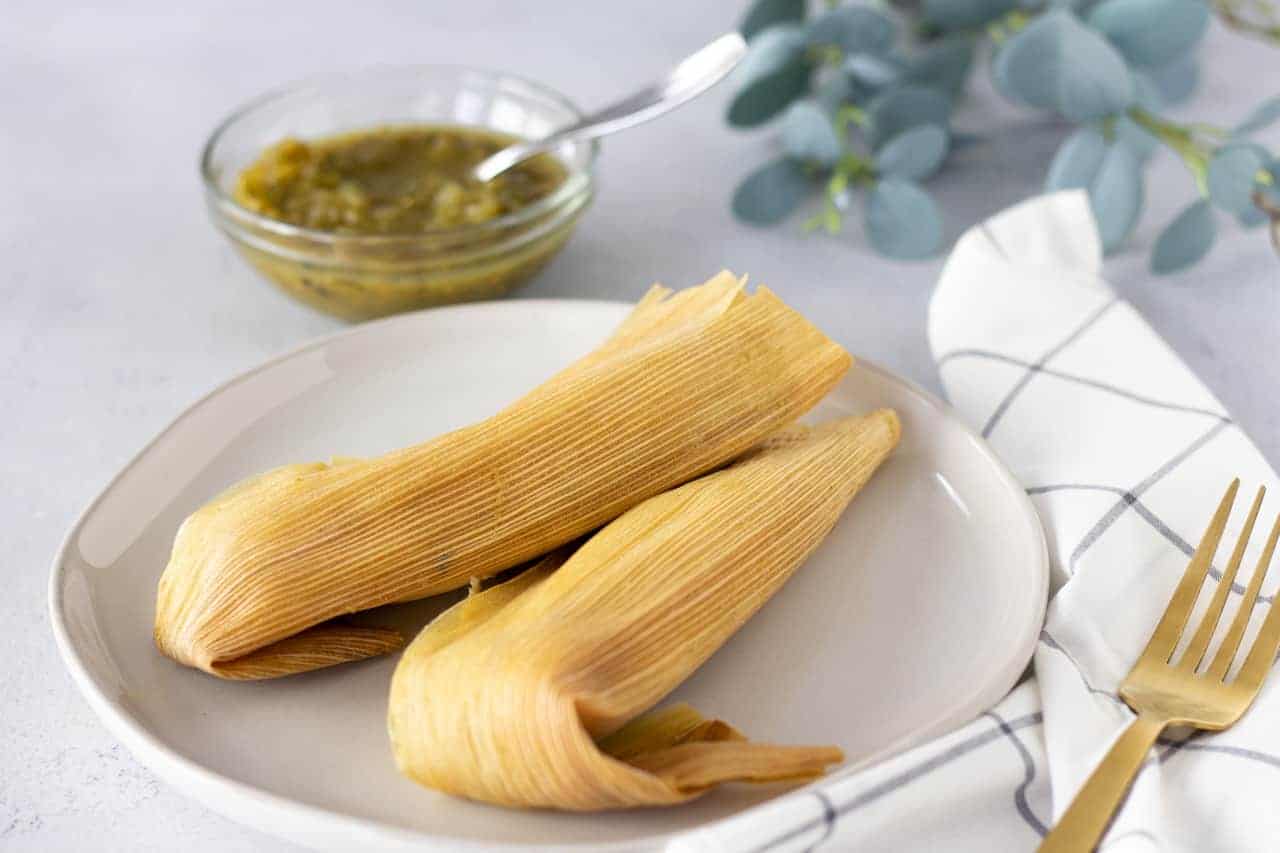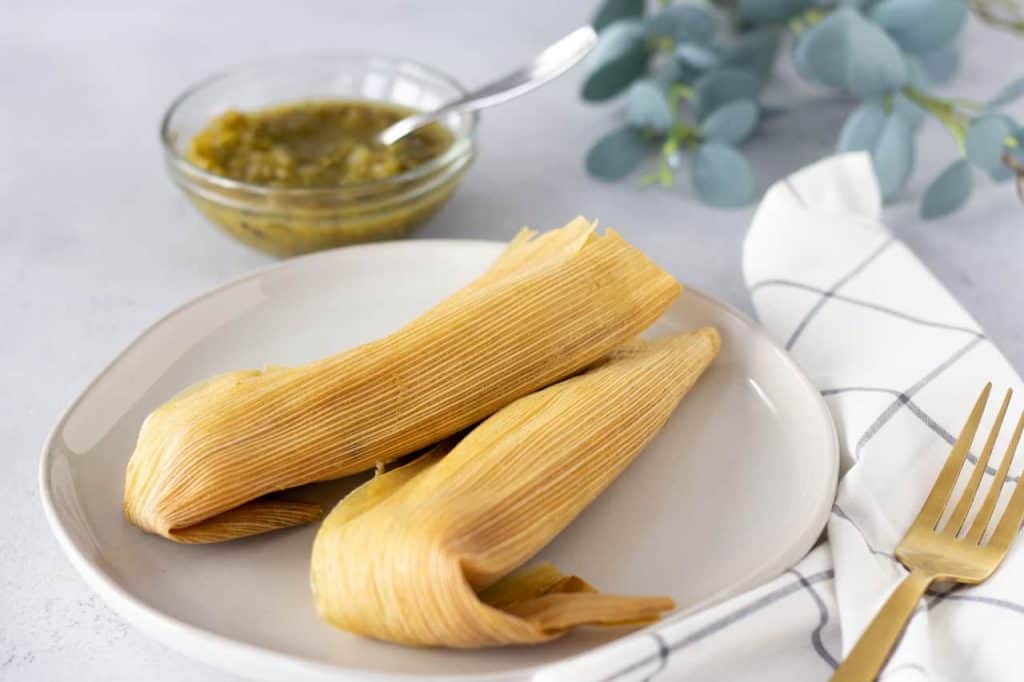 Breakfast- Whether it's a weekend breakfast or breakfast for dinner, this shredded beef goes really well with eggs. You can make scrambled egg and beef tacos, or Huevos Rancheros with some of the beef on top.
You can also make the shredded beef crispy by using a slotted spoon to drain the juice and place on a greased baking sheet. Then place under the broiler for 5 min or until it gets some crispy edges.
I recommend making a large batch and saving leftovers in a zip top bag in the freezer. Freeze the beef with it's juices to keep it moist and flavorful when re-heating.
To re-heat, simple thaw overnight and heat on a skillet or microwave.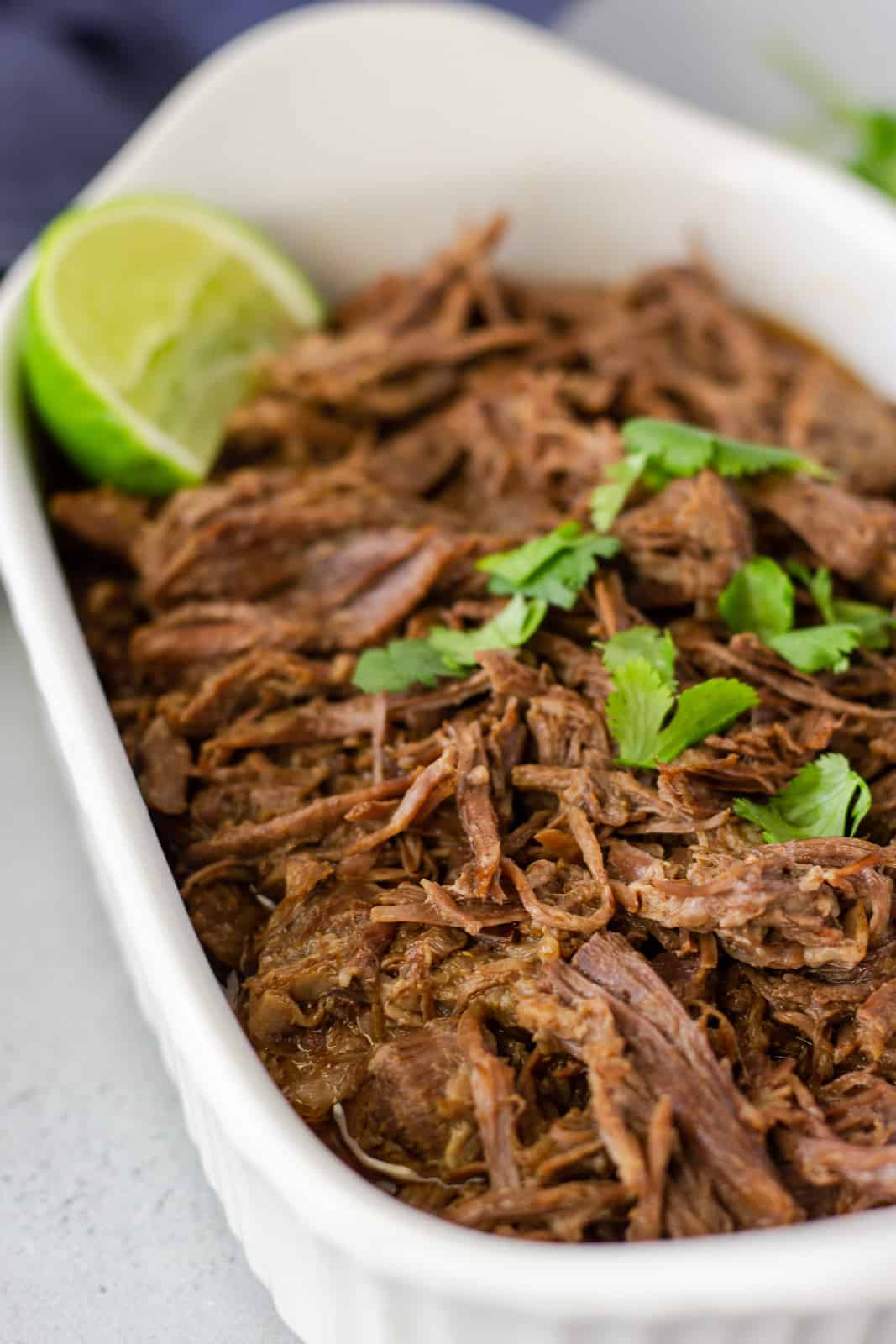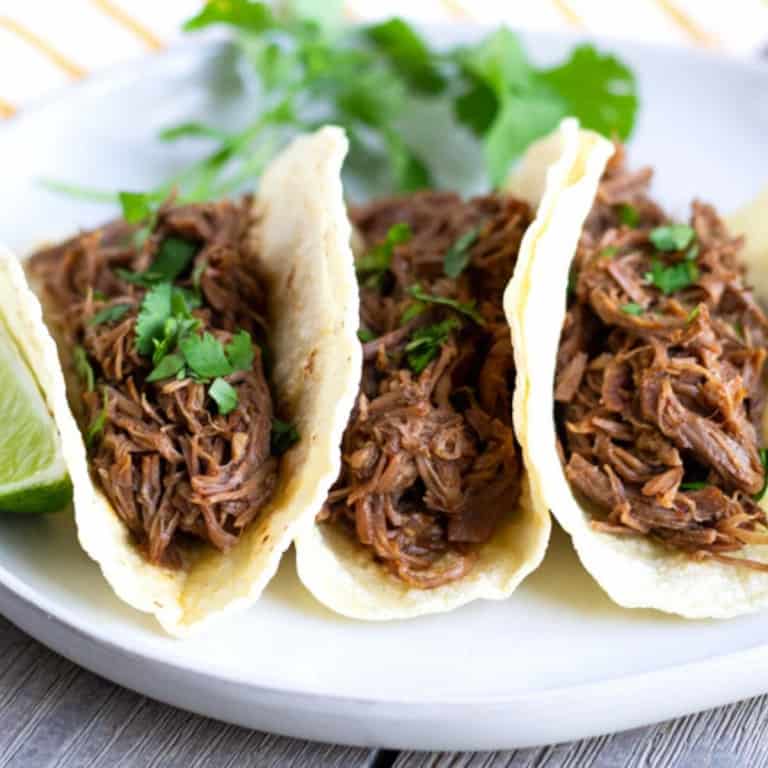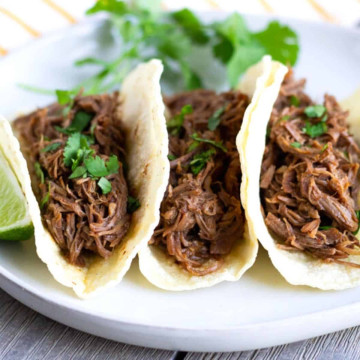 Mexican Shredded Beef Recipe
This Easy Mexican Shredded Beef is made in the instant pot or slow cooker and results in tender, flavorful beef that's perfect for your favorite Mexican meals.
Ingredients
1

Cup

Water

3-5

pounds

Chuck Roast

2

tablespoon

Oil

2

teaspoon

Salt

Add more later if needed.

1

teaspoon

Black Pepper

1

tablespoon

Ancho Chili Powder

Can sub regular Chili Powder

1

tablespoon

Cumin

1

teaspoon

Smoked Paprika

Can sub regular Paprika

1

teaspoon

Garlic Powder

1

teaspoon

Onion Powder

1

teaspoon

Mexican Oregano

Can sub regular oregano

½

White Onion

Placed on top of the beef with the cut side up.

1

tablespoon

White Vinegar, Apple Cider Vinegar, or Lime Juice

Added after Beef is done. This helps add some acidity to the meat.
Instructions
Cut chuck roast into large chunks. Add oil to beef and toss to coat. Season chuck roast with all the spices and salt, stir to coat.

Pour water into Instant Pot or slow cooker, then add seasoned chuck roast, and halved onion with the cut side up. (This makes it easier to remove after cooking).

Instant Pot- High Pressure and see times based on the weight of beef.

3 pounds- 65 min

4 pounds- 70 min

5 pounds- 75 min.

Once the timer is done, carefully (I use a kitchen towel) release the valve to venting. Or wait 10 minutes for pressure to release naturally, then move the valve to venting.

Slow Cooker- Cook on Low for 8-10 hours.

Once the beef is cooked, add vinegar or lime juice, then shred the meat with 2 forks in the pot with the juices. Taste and see if additional salt is needed.
Notes
For a crispy version, place cooked shredded beef on a sheet pan drizzled with oil and place under a broiler to crisp up.
If freezing leftovers then freeze with some of the juices to prevent it from drying out when re-heated.
Beef Shank Barbacoa
Shredded Beef Tamales
Nutrition
Calories:
350
kcal
Carbohydrates:
2
g
Protein:
33
g
Fat:
23
g
Saturated Fat:
9
g
Polyunsaturated Fat:
3
g
Monounsaturated Fat:
12
g
Trans Fat:
1
g
Cholesterol:
117
mg
Sodium:
739
mg
Potassium:
627
mg
Fiber:
1
g
Sugar:
1
g
Vitamin A:
457
IU
Vitamin C:
1
mg
Calcium:
49
mg
Iron:
4
mg
Nutritional information is provided as an estimate only and depends on ingredients and amounts used. Thai Caliente makes no guarantees to the accuracy of this information.