A Paloma is a Mexican cocktail made with fresh grapefruit juice and tequila. It's refreshingly tart, low in sugar, and packs in vitamin C.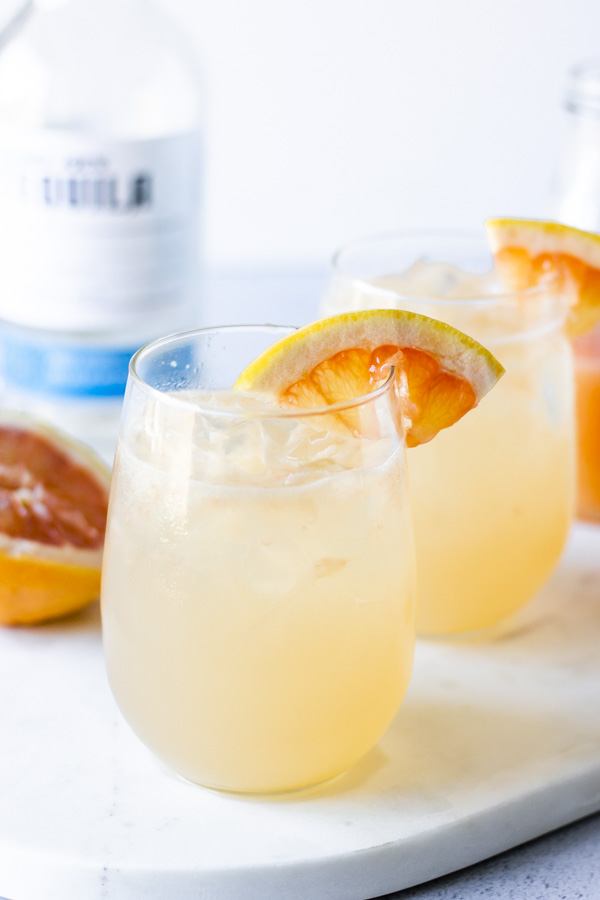 I was planning on calling this a Grapefruit Margarita, which essentially it is, but I learned that it's also known as a Paloma cocktail. Paloma cocktails are perfect to sip on during the warmer weather and are great for poolside!
How to Make a Paloma
What I like best about this recipe is that it's easy, and only requires 1 type of liquor. Most margarita recipes use cointreau or triple sec which have an orange flavor to them.
The Tequila- This is so important. Use a good quality Blanco or Silver Tequila. I found an affordable one at Trader Joe's. If you want a good drink, start with a good tequila.
Grapefruit Juice- Fresh squeezed Grapefruit juice should be your first option. I realize that grapefruits are not in season all year. In Mexico, they also make a paloma with Squirt, a grapefruit soda. I personally don't like it, but another option to try!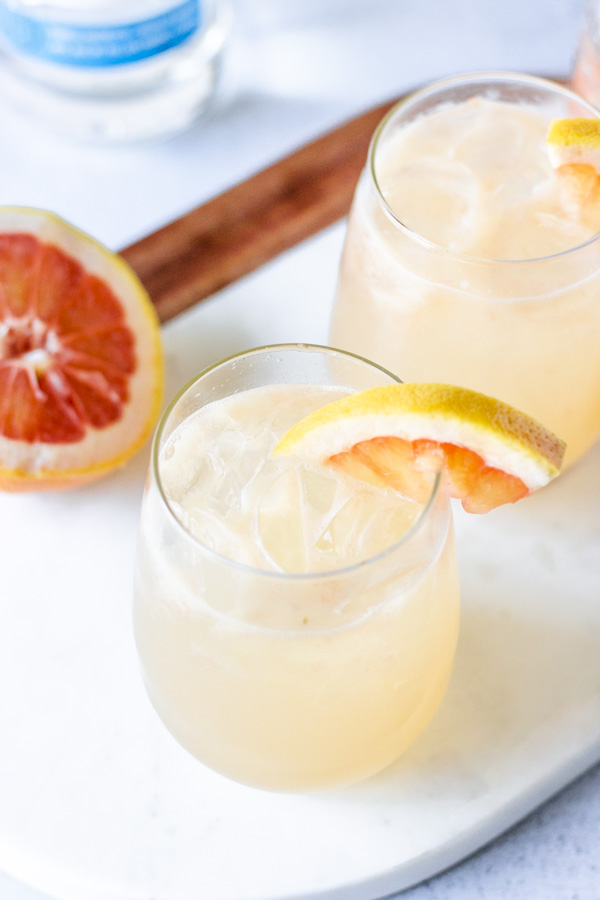 Lime Juice- It might seem a little redundant to add lime juice but if you don't love the taste of tequila, lime juice helps cut through the bitterness.
Agave Syrup- I like using agave syrup because it mixes easily and pairs well with tequila (agave). Another alternative is a simple syrup, which is mixing equal parts of sugar and water and boil till it dissolves.
Shaken or stirred? I don't have a shaker, so I just get a metal straw and give it a good stir. But if you have a shaker then you can shake everything above together.
Soda Water- I love bubbly drinks, topping off the paloma with sparkling water or club soda provides that refreshing carbonation.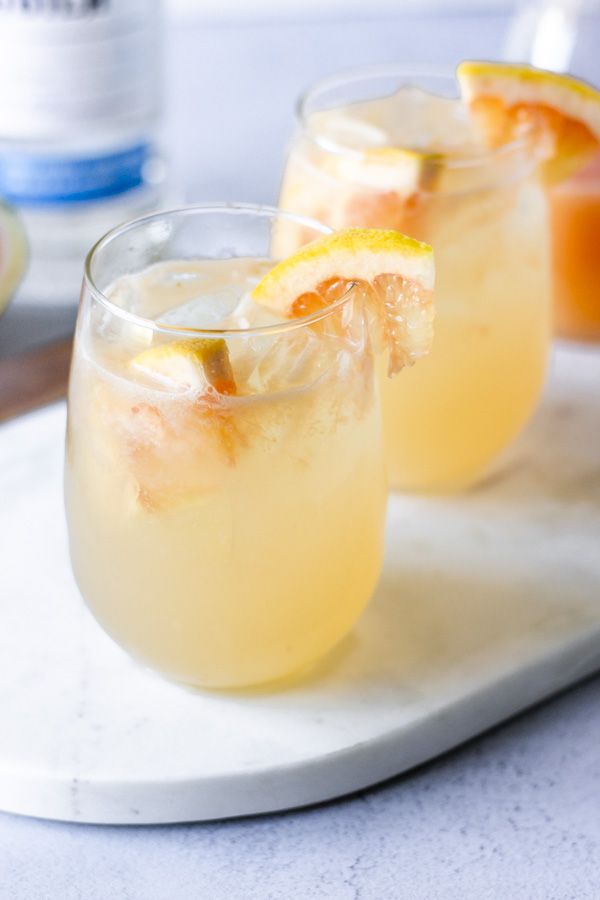 Sugar or Salt Rim? I left my drinks naked, but feel free to give the drinks either a sugar, salt, or combo rim!
Garnish with a slice of grapefruit and Enjoy!
Can you make a Paloma without alcohol?
Yes! This drink is so refreshing for the the warmer months and tastes delicious without the tequila. Grapefruit supplies good vitamin C and turns bland water into a citrus flavored drink!
Can you substitute the tequila?
Yes, I've made this same drink with both Vodka and Gin. Both were delicious!
Pair these appetizers with your Paloma-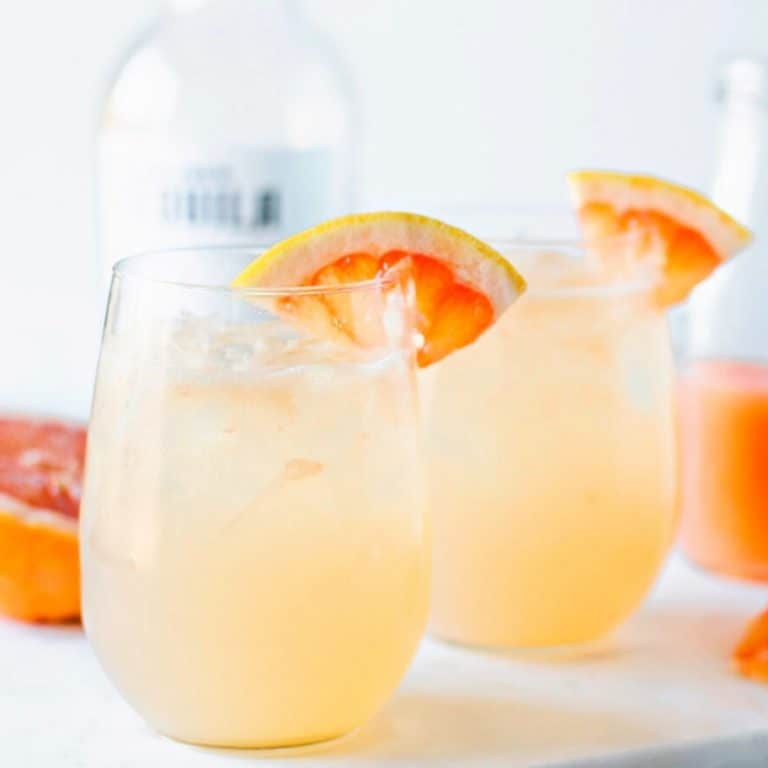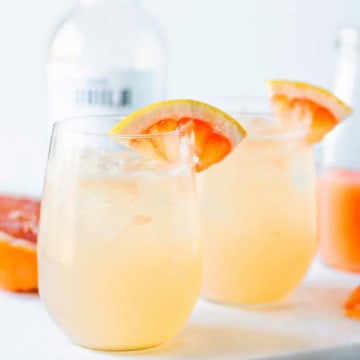 Paloma Cocktail
A Paloma is a Mexican cocktail made with fresh grapefruit juice and tequila. It's refreshingly tart, low in sugar, and packs in vitamin C.
Instructions
Add Tequila, Grapefruit juice, lime juice, and agave into a glass and stir or shake well. Add ice and top with sparkling water or club soda.
Notes
You can skip the tequila and have a refreshing mocktail!
Nutrition
Calories:
198
kcal
Carbohydrates:
17
g
Protein:
1
g
Fat:
1
g
Saturated Fat:
1
g
Polyunsaturated Fat:
1
g
Monounsaturated Fat:
1
g
Sodium:
15
mg
Potassium:
128
mg
Fiber:
1
g
Sugar:
14
g
Vitamin A:
21
IU
Vitamin C:
27
mg
Calcium:
23
mg
Iron:
1
mg
Nutritional information is provided as an estimate only and depends on ingredients and amounts used. Thai Caliente makes no guarantees to the accuracy of this information.