An antioxidant and vitamin packed margarita made with Elderberry tea, tequila, and fresh lime.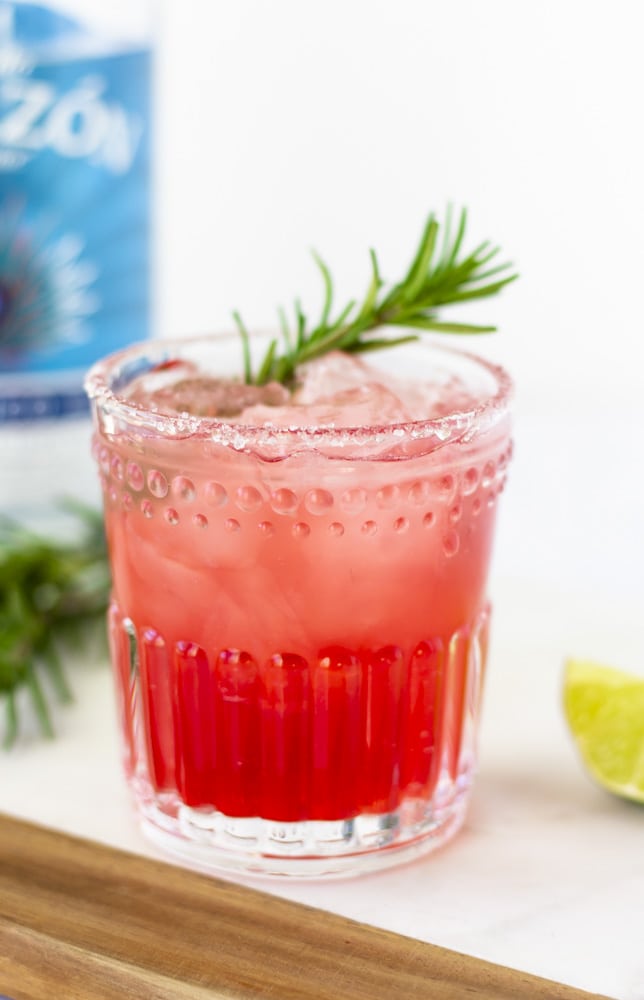 This refreshing margarita is also packed with antioxidants and vitamins from Elderberry, which also gives it a beautiful color. Similar to this pretty Pomegranate Prosecco drink.
I've learned that delicious cocktails are really easy to make, and I can adjust the taste to what I like.
What You'll Need: Tequila Blanco, Elderberry Syrup (Elderberry Tea + Sugar), Lime Juice, and Sparkling Water.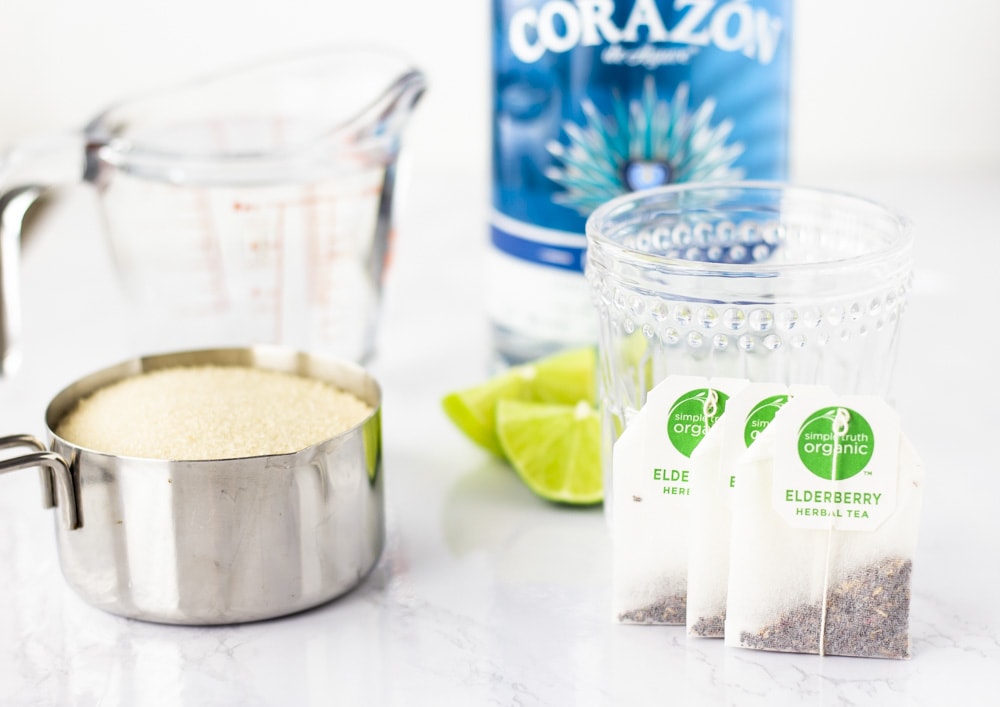 Spirit: I used a silver or blanco tequila, however, I've used the same recipe with vodka and whisky. So feel free to try different spirits.
Elderberry Syrup: I did a homemade simple syrup by steeping bags of elderberry tea and mixing it with sugar. This recipe makes 1 cup of elderberry syrup and can be stored in a glass container for a couple weeks.
However, you can also use elderberry syrup, which is great when you're feeling under the weather.
The Elderberry syrup makes a great Mocktail too!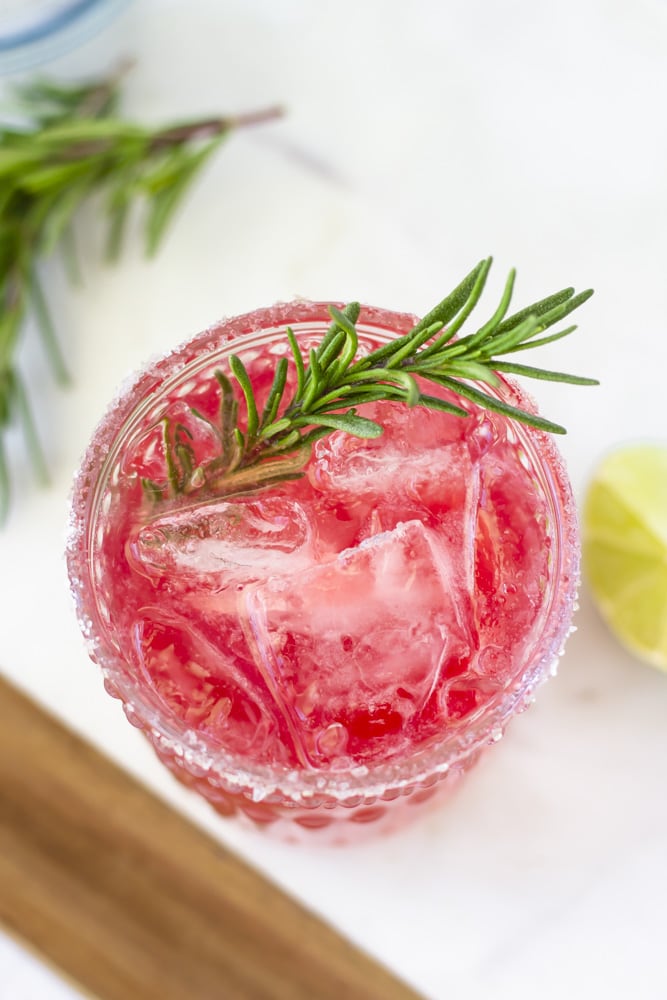 Lime Juice: Fresh Lime juice is essential to balance out the sweetness of the elderberry syrup.
Sparkling Water: I finished the drink with a splash of Sparkling water. Flavored soda water would be good too.
Salt and Sugar Rim- Mixing both sugar and salt together creates a sweet and salty balance that goes so well with this margarita.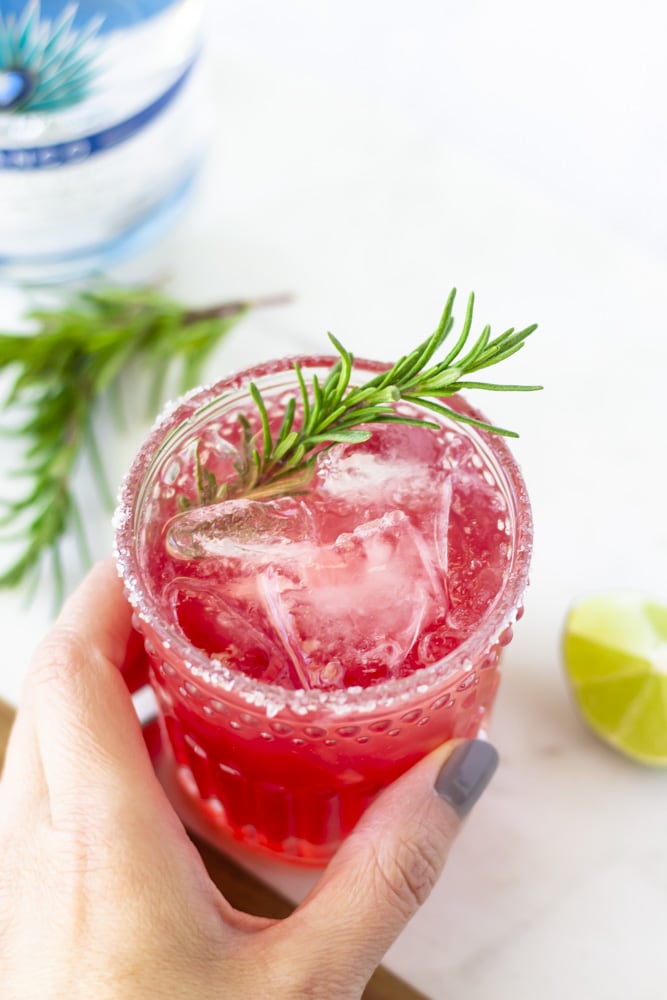 To make this margarita even more festive, garnish with some fresh rosemary or mint sprigs.
If you want to make this a batch cocktail, duplicate based on the number of servings you need. Then mix everything together except for the ice and sparkling water.
Check out my recipe for a Grapefruit Margarita or Paloma.
Margaritas go perfect with: Chips and Salsa or Chips and Cashew Queso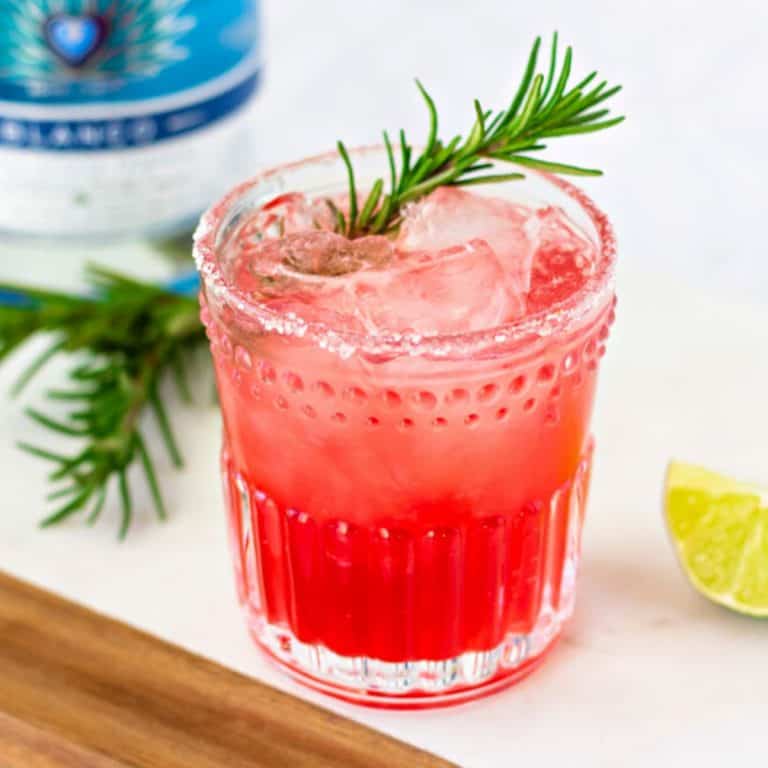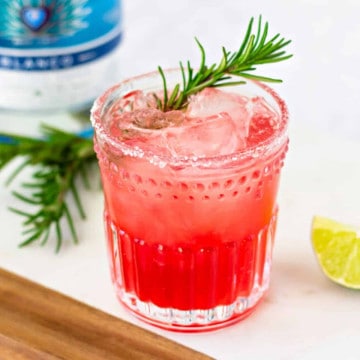 Elderberry Margarita
An antioxidant and vitamin packed margarita made with Elderberry tea, tequila, and fresh lime.
Ingredients
Elderberry Margarita
1

teaspoon

Salt and Sugar for Rim of Glass

1-2

oz

Tequila Blanco

1 oz for a lighter drink, 2 oz for a stronger drink. Can also use Vodka or Whisky.

1

oz

Elderberry Syrup

1

oz

Fresh Lime Juice

Ice

Sparkling Water
Instructions
Elderberry Tea Syrup
Bring 1 cup of water to a boil, add 3 bags of Elderberry tea, turn off heat, and steep for 5 minutes.

Remove tea bags, bring back to a boil, add 1 cup of sugar, mix until sugar is dissolved. Remove from heat and allow to cool before storing in a glass container in the fridge. Elderberry syrup can be stored in the fridge for a couple of weeks.
Elderberry Margarita
In a small plate mix 1 teaspoon of sugar and 1 teaspoon of salt. Rub the rim of the glass with a lime wedge and circle around the plate of salt and sugar.

Mix Tequila, Elderberry syrup, Lime Juice, and fill cup with ice. Top with sparkling water and garnish with rosemary or mint.
Nutritional information is provided as an estimate only and depends on ingredients and amounts used. Thai Caliente makes no guarantees to the accuracy of this information.