Jericalla is a Mexican custard dessert from the city of Guadalajara, Mexico.
When you think of traditional Mexican desserts, most people are familiar with Flan. However where my husband is from, Guadalajara México, there is a variation of this dessert called Jericalla.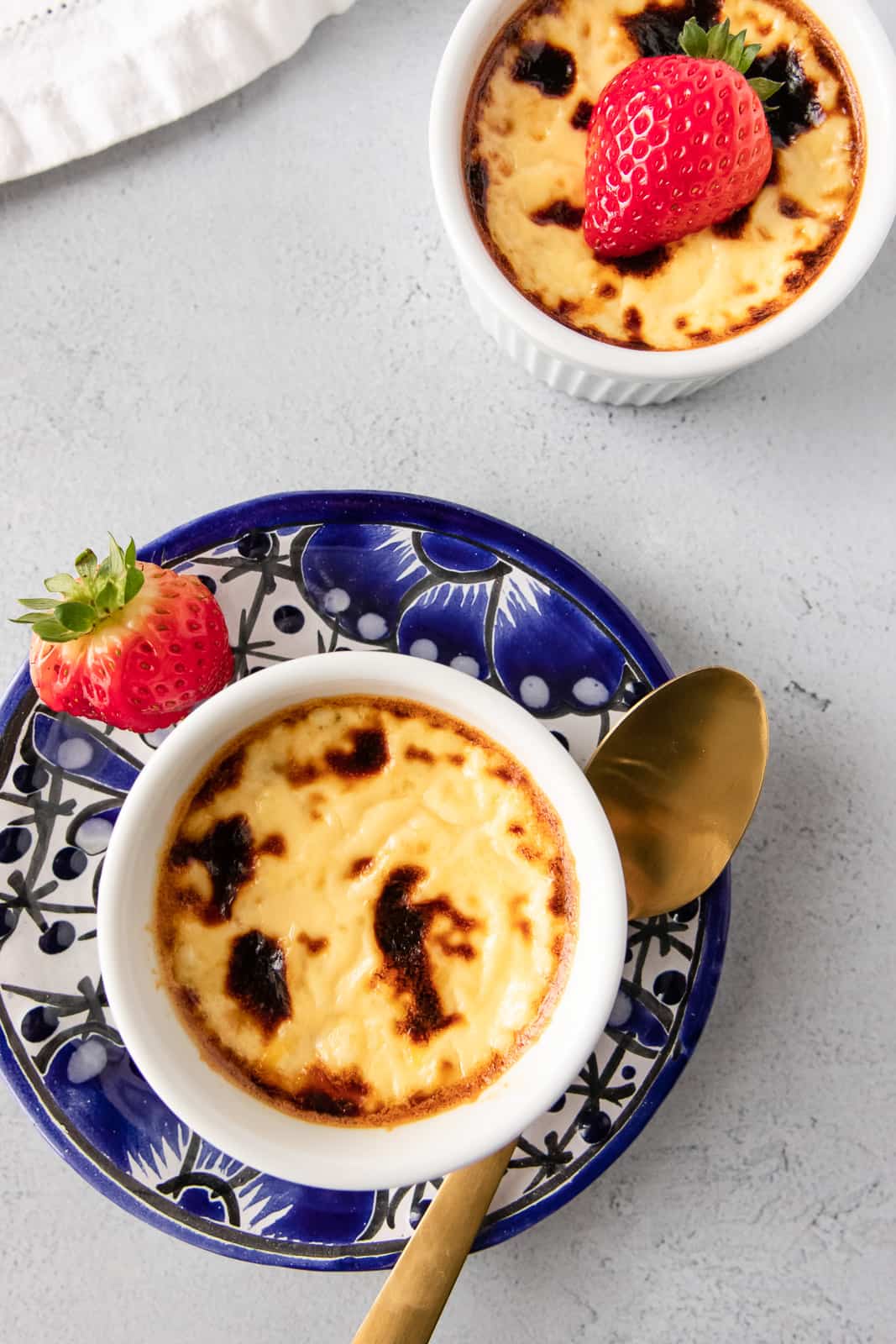 What is a Jericalla?
Jericalla is a Mexican custard dessert made with just a few ingredients. It has a custard like texture similar to flan, and a burned top like crème brûlée. However there isn't a sugar topping, so you won't get a hard shell.
You'll find this dessert all over Guadalajara from street cart vendors to restaurants. I had made Jericallas before going to Mexico, and once I tasted the ones there, the taste was spot on.
Let's get baking!
Ingredients and Substitutions
Milk, Sugar, Cinnamon sticks, Vanilla, and Eggs.
The ingredients to make Jericallas are easily accessible and you probably have most of them in your kitchen.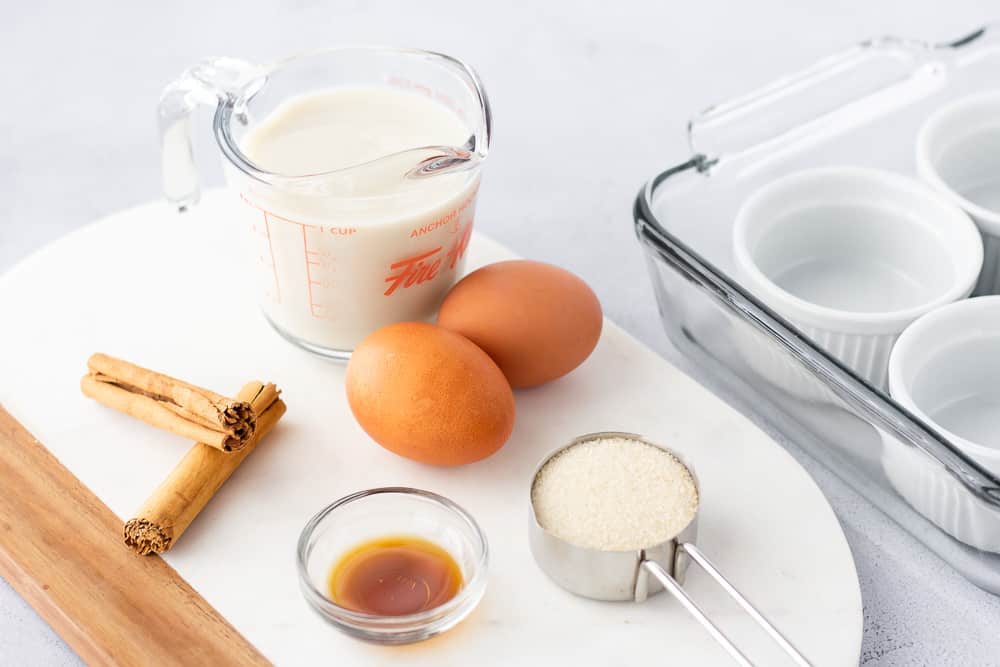 Milk- Authentic Jericallas are made with whole milk, but since I can't tolerate dairy, I wanted to try a substitution. I made a separate batch with Oat Milk and it totally works! This is an awesome substitution if you are like me and can't tolerate dairy.
The color of the Jericallas is darker with the Oat milk and the browning isn't as spotty as the whole milk version. It's also a little more denser, but honestly I thought it still tasted delicious.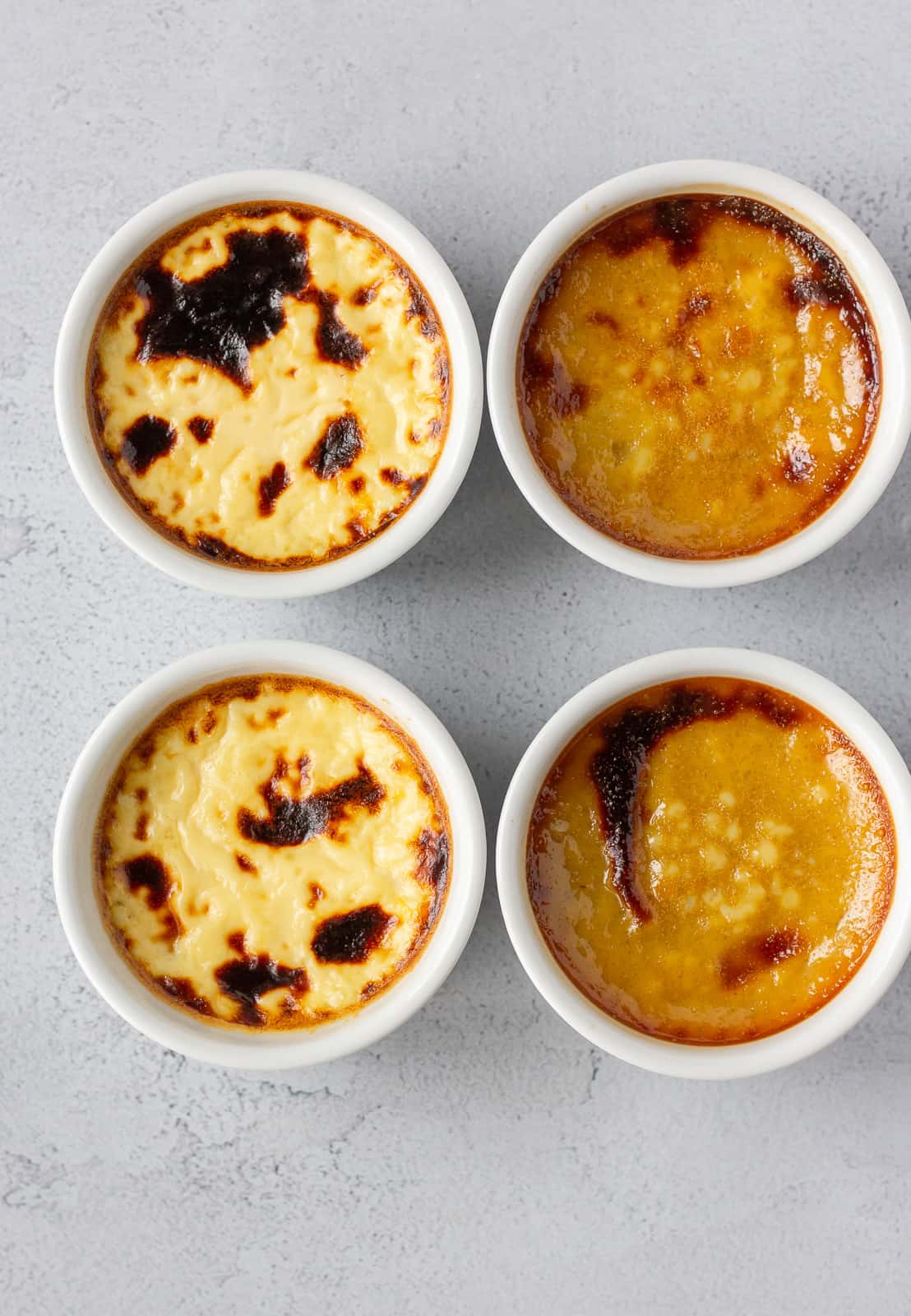 Sugar- Plain white sugar is what you'll need. I haven't tried any natural sweeteners or sugar substitutes with this recipe, so I can't offer any advice.
Cinnamon Sticks- Preferably Mexican cinnamon sticks because the flavor is more concentrated. But regular cinnamon sticks are preferred over ground cinnamon.
Vanilla Extract- Preferable Mexican vanilla, since again the flavor is stronger. However regular Vanilla will work too.
Eggs- Some recipes call for just egg yolks, but I try to avoid separating eggs, and using the whole egg works in this recipe.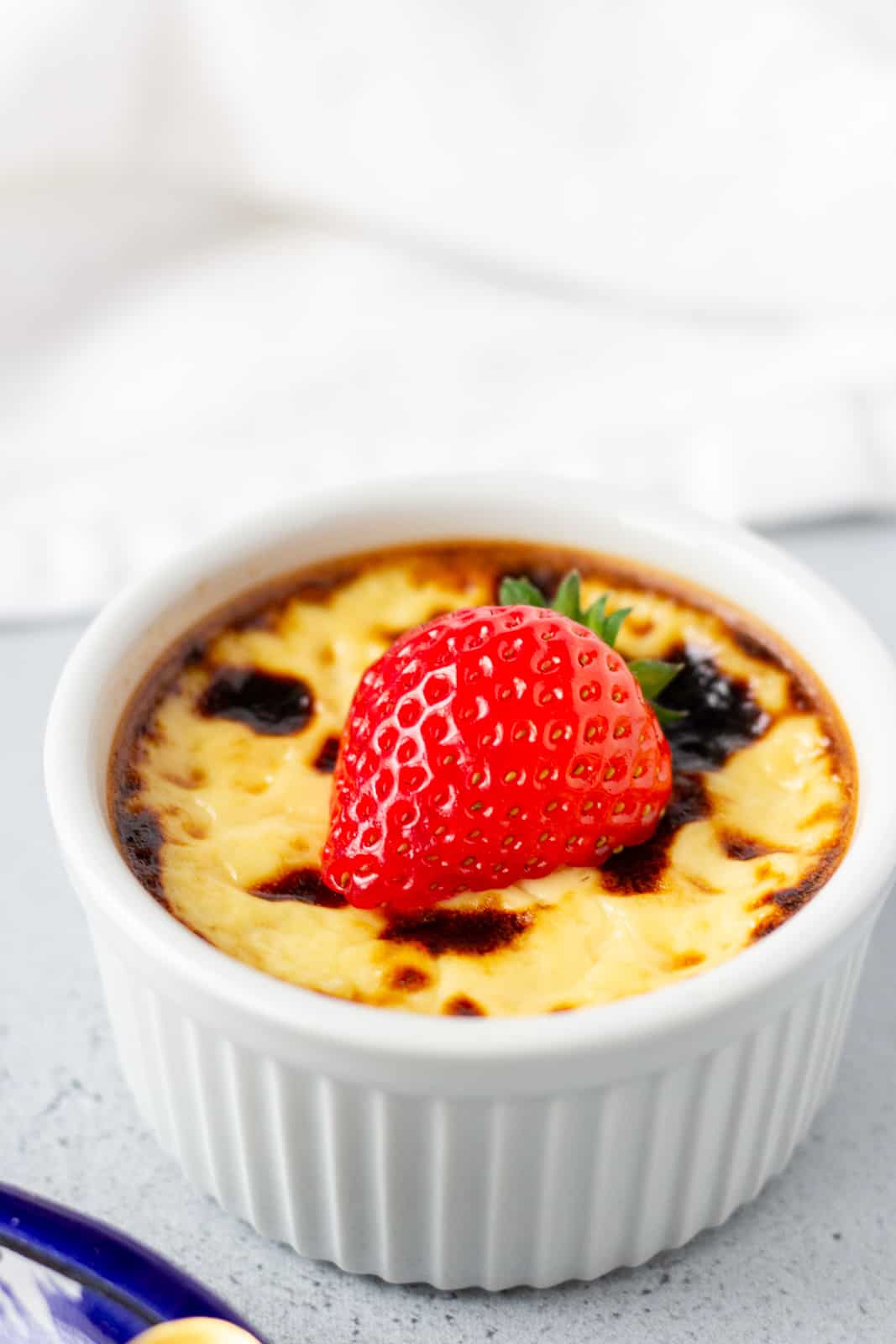 How to make the Custard
Start by bringing the milk, sugar, cinnamon, and vanilla to boil. Then immediately remove from the heat and let it cool for 30 minutes.
We need the milk mixture to cool down so when combined with the eggs, they don't start cooking or curdling.
Once the mixture is cool add a few tablespoons to the whisked eggs. Then add the remaining milk mixture to the eggs and whisk until smooth.
How to Bake Jericallas
Like most custards, Jericallas need to be baked in a water bath. This prevents the custard from getting rubbery or cracking at the top.
A water batch is simply a baking dish filled halfway with water and the ramekins placed inside. Just make sure once you place the ramekins in the water, they only reach halfway up the sides.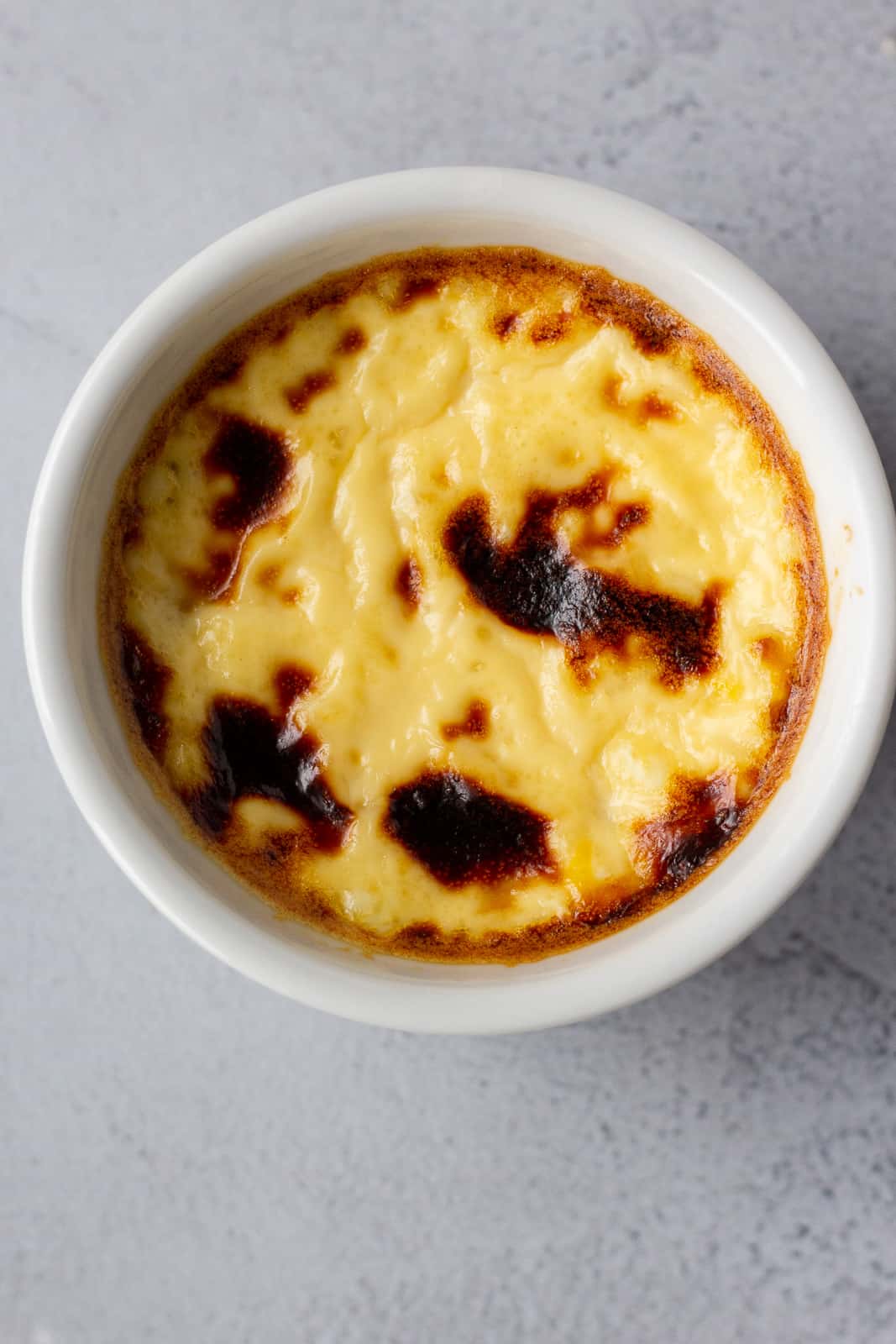 Baking Time for Jericallas with Whole Milk is 30 Minutes + 4 Min under the broiler.
Baking time for Jericallas with Oat Milk is 45 Minutes + 4 Min under the broiler.
You want the middle to be set or when a toothpick inserted comes out clean.
Can Jericallas be made ahead of time?
Absolutely! They actually require to be made ahead of time, since they will need to cool in the refrigerator for a few hours. They are best served after they've had some time to chill and firm up.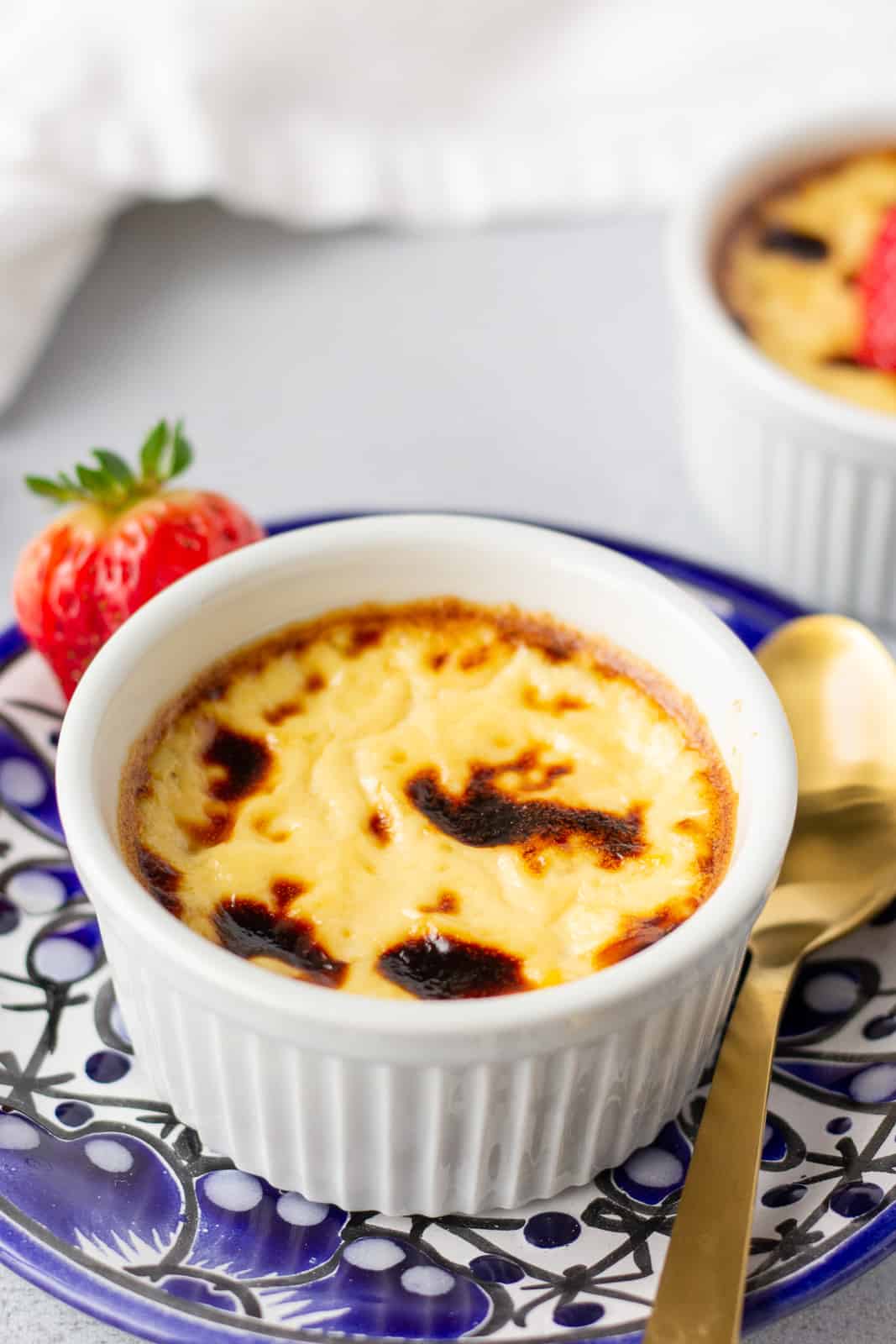 I recommend making them and refrigerating overnight or up to 3 days in advance. When storing in the fridge, just wap with some plastic wrap over the top or store in a large container with a lid.
How to Serve
In Guadalajara, Jericallas are served right in the cup they were baked in. So unlike flan you don't need to take it out of the ramekin. It's not traditional to serve with berries or fruit, but I like the little pop of color that it gives.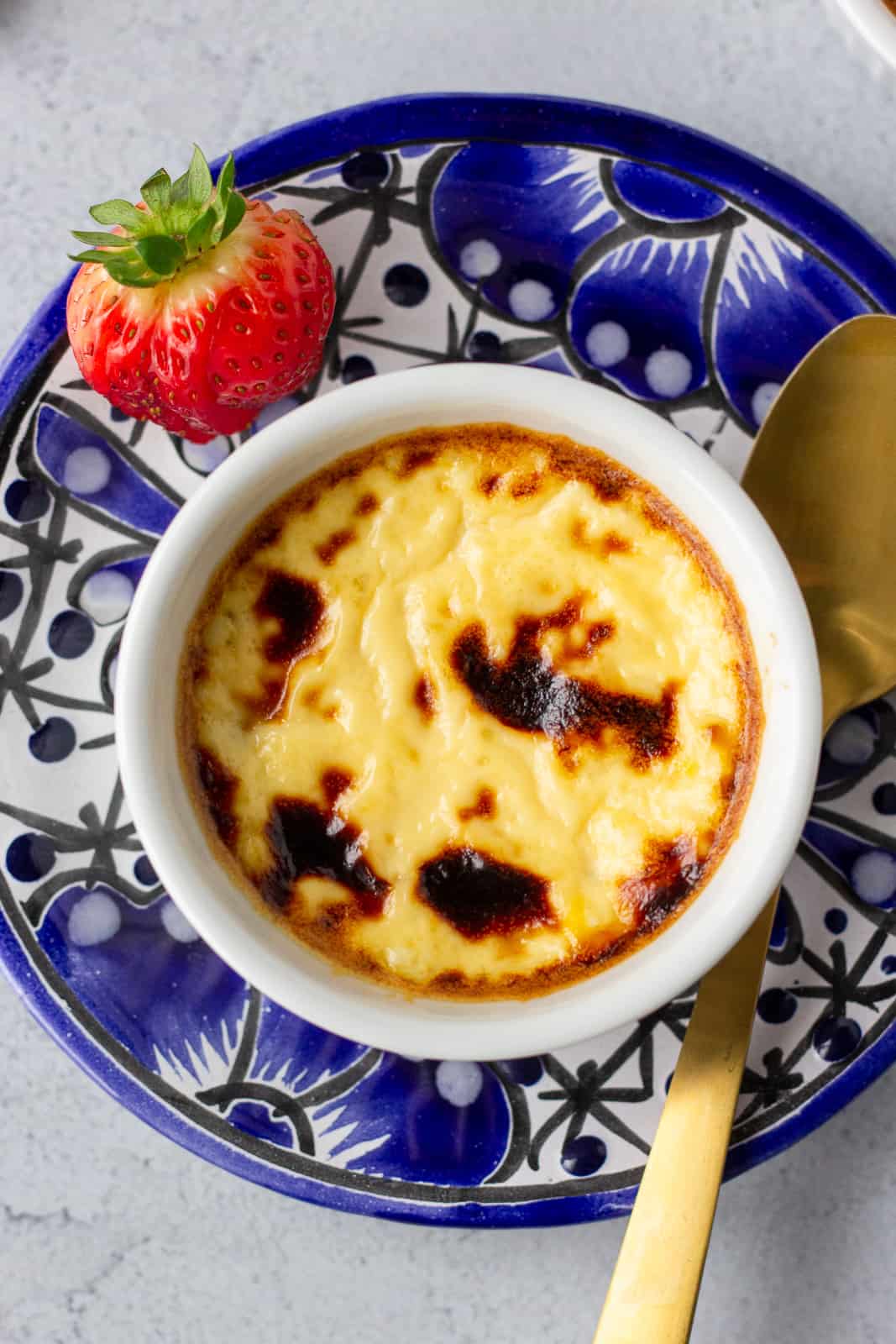 Enjoy them anyway you like! The are they perfect sweet ending to any Mexican meal.
Feeling adventurous? Try making homemade Conchas, Mexican sweet bread.
Watch the Full YouTube Video Here: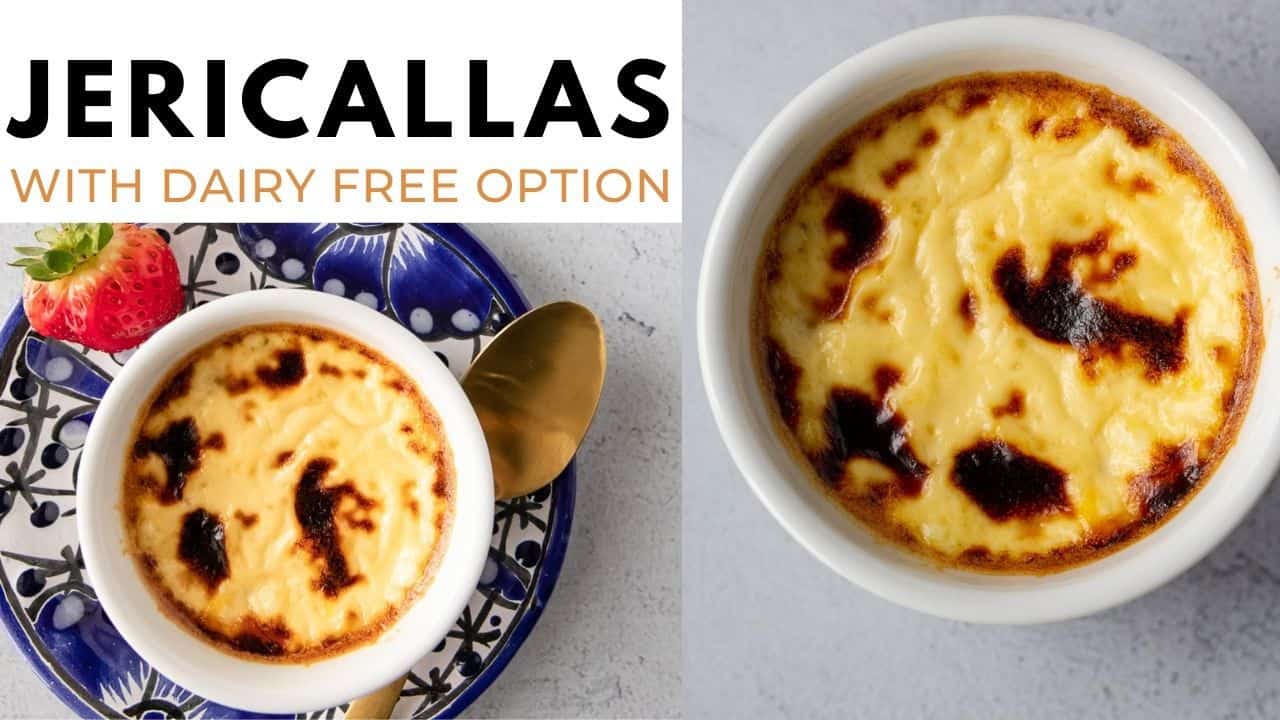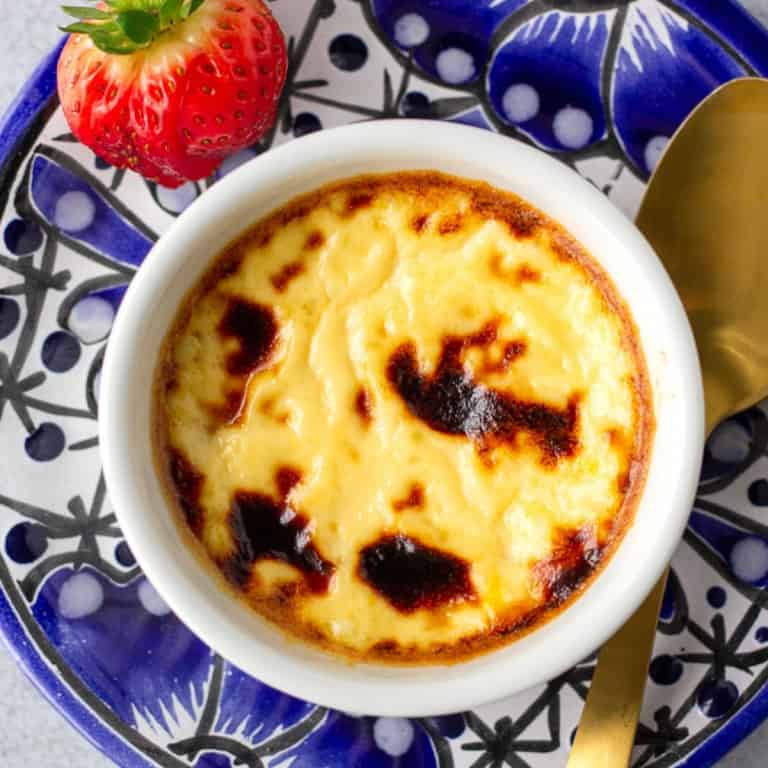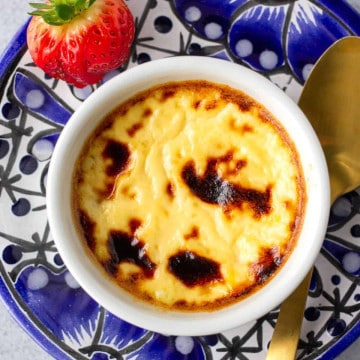 Jericalla Recipe
Jericallas are a Mexican custard dessert. This recipe has both a dairy and dairy-free version.
Ingredients
3

Cups

Whole Milk

OR Oat Milk for Dairy Free version

1

Cup

Sugar

2

Whole Cinnamon Sticks

1

teaspoon

Vanilla Extract

Add more if you like more vanilla flavor

6

Whole Eggs
Instructions
Place milk, sugar, cinnamon sticks, and vanilla in a pot over medium low heat. Stir to dissolve sugar, and bring to a boil. Once it reaches a boil, immediately remove from heat. Allow to cool for 30 minutes off the heat.

Whisk eggs in a medium bowl.

Remove cinnamon sticks from cooled milk and add a tablespoon of the cooled milk mixture to the eggs. Keep whisking and add a couple more tablespoons to temper the eggs. Then pour the remaining milk in with the eggs and whisk until smooth.

Get a large baking dish, place your empty ramekins inside and fill halfway with water. Make sure the water is not touching the top of the ramekins. Then fill each ramekin with the custard mixture.

Carefully place in a 350 degree oven and bake 30 minutes for whole milk and 45 minutes for the Oat milk version. Insert a toothpick and see if it comes out clean. Otherwise bake longer till the toothpick comes out clean. Once done, place under broiler for 4 minutes or until tops get browned.

Remove Jericallas from dish and place in the refrigerator for at least 2 hours. Serve in ramekins and top with berries if you like.
Notes
If you plan on storing the Jericallas longer than 2 hours in the refrigerator, place ramekins in a container with a lid, or wrap them in plastic wrap and store for up to 3 days.
Check out these Mexican Dessert Recipes:
Conchas
Chocoflan
Apple Empanadas
Nutrition
Calories:
202
kcal
Carbohydrates:
30
g
Protein:
7
g
Fat:
6
g
Saturated Fat:
3
g
Polyunsaturated Fat:
1
g
Monounsaturated Fat:
2
g
Trans Fat:
0.01
g
Cholesterol:
134
mg
Sodium:
82
mg
Potassium:
188
mg
Fiber:
0.5
g
Sugar:
30
g
Vitamin A:
329
IU
Vitamin C:
0.03
mg
Calcium:
140
mg
Iron:
1
mg
Nutritional information is provided as an estimate only and depends on ingredients and amounts used. Thai Caliente makes no guarantees to the accuracy of this information.