Arroz con leche is a Mexican rice pudding that can be served warm or cold with your favorite toppings for a creamy sweet treat.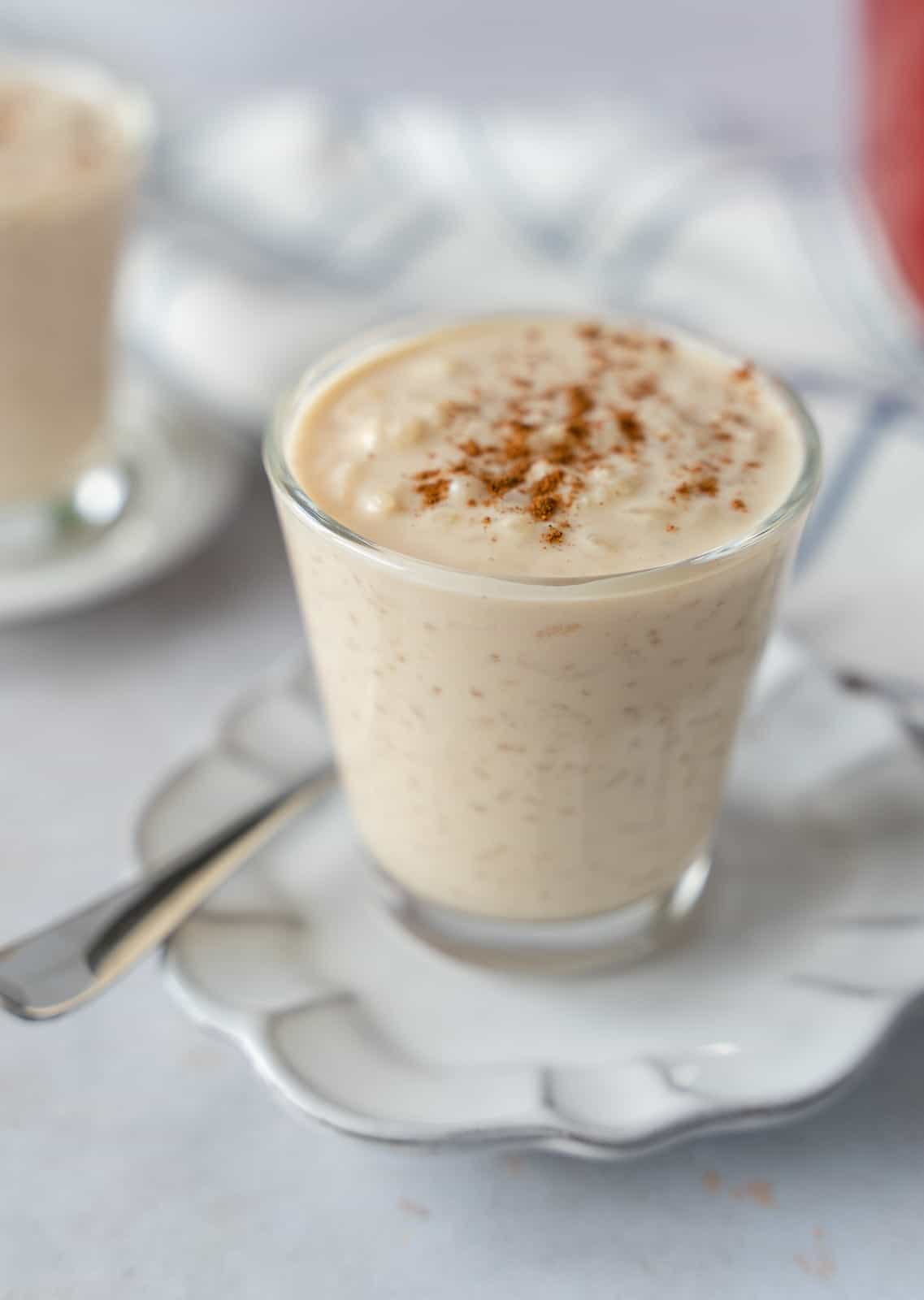 Arroz con leche is a popular dessert in Mexico and Latin American countries. Therefore you will find different variations, like this Colombian version.
Rice pudding is a popular dessert because it is easy, affordable, and feeds a crowd. So if you need a dessert for a group of people or a large family, this is it!
Or try this recipe for Chocoflan, the layers make it a showstopper.
Jump to:
Ingredients
The Ingredients are simple:
White Rice
Cinnamon Stick
Water
Vanilla
Evaporated Milk
Sweetened Condensed Milk
Whole Milk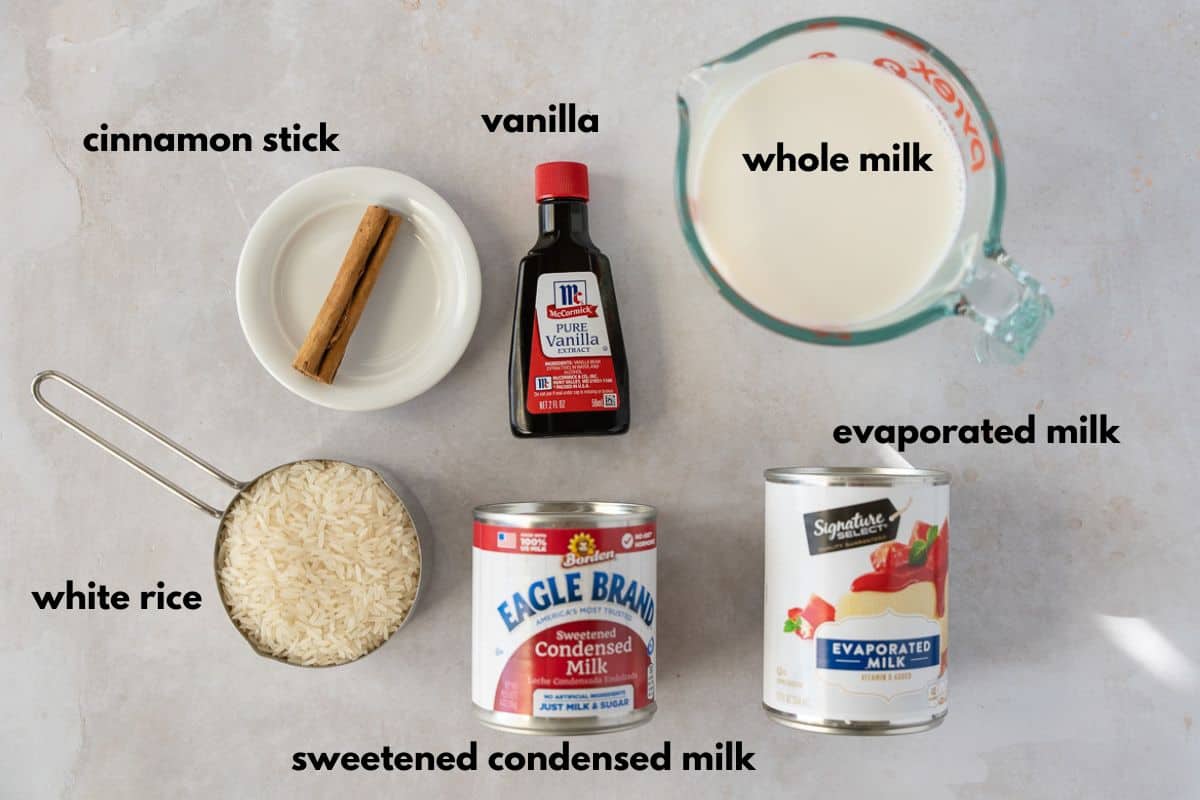 White Rice- I used Jasmine rice since I always have it in my pantry. However, any type of white rice will work for this recipe.
Cinnamon Stick- You get a stronger cinnamon flavor using a stick, however, 1 teaspoon of ground cinnamon can be substituted.
Vanilla- I have regular vanilla pictured above, but if you can use Mexican vanilla, that's even better.
For the 3 kinds of milk, (whole, evaporated, and sweetened), I can't offer any substitutions for these. I've only made the recipe using these kinds of milk.
How to Make
Mexican rice pudding is not difficult to make but does require some babysitting on the stove. The milk can overflow or burn the bottom of the pot, which has happened to me. So be sure to keep an eye on it.
Start by rinsing the rice well in a strainer to remove extra starches. Then add it to a large pot with water and the cinnamon stick.
Cook the rice until most of the water is absorbed, this takes about 15 minutes.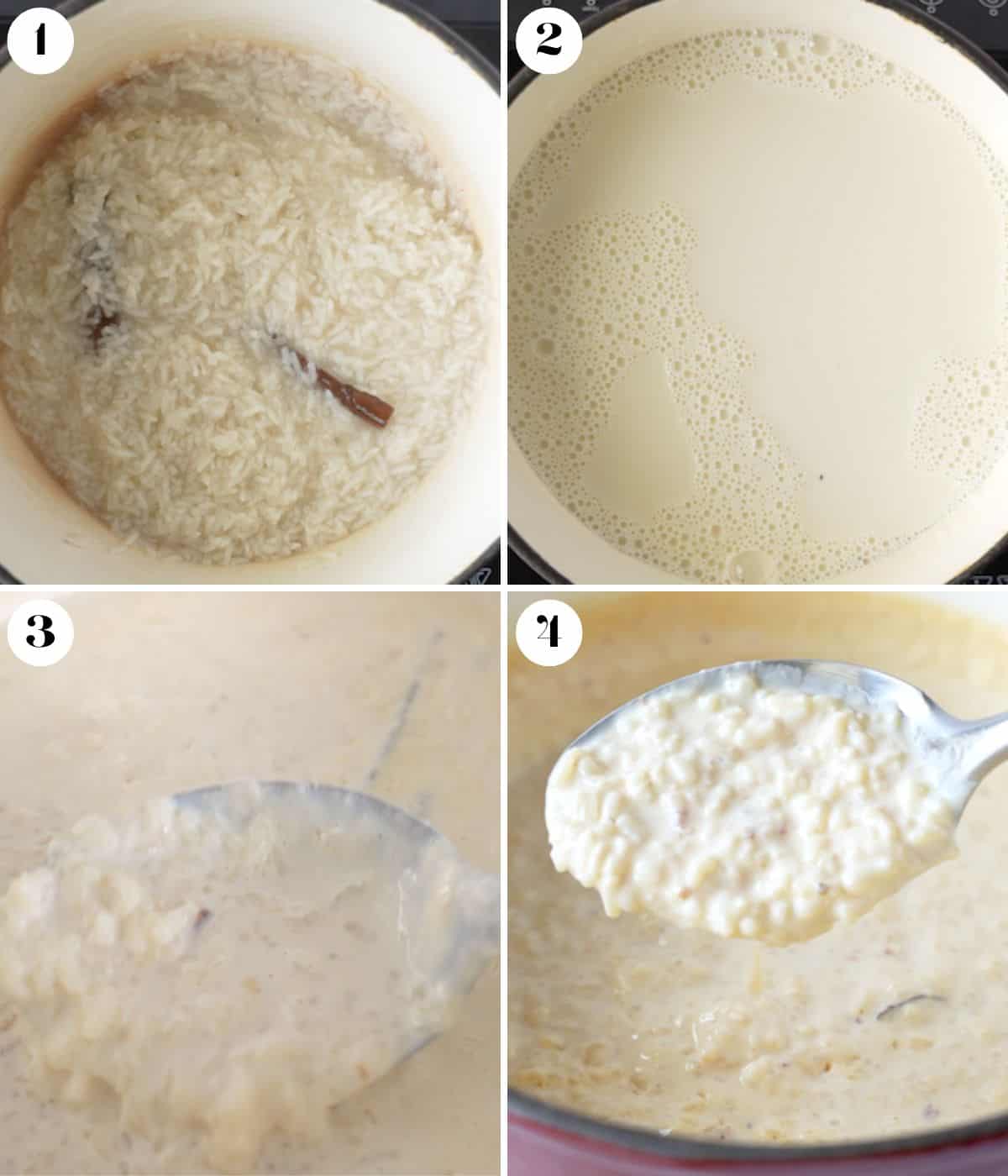 Then add the Evaporated, Sweetened Condensed, and Whole Milk to the rice. Give it a good stir and bring the heat up until the mixture starts simmering.
*Note- This is a creamier arroz con leche, if you prefer a thicker version, then reduce the whole milk to 3 cups.
Once simmering reduce the heat, and stir it every couple of minutes. You can add any dried fruit, like raisins at this point.
Allow the rice pudding to continue simmering for 20-25 minutes until it thickens. Then turn off the heat and allow the rice pudding to rest for 30 minutes before serving.
Serving and Storing
You may see a film develop on top as it cools, just stir it again. After 30 minutes of resting, the arroz con leche can be served. It will still be slightly warm.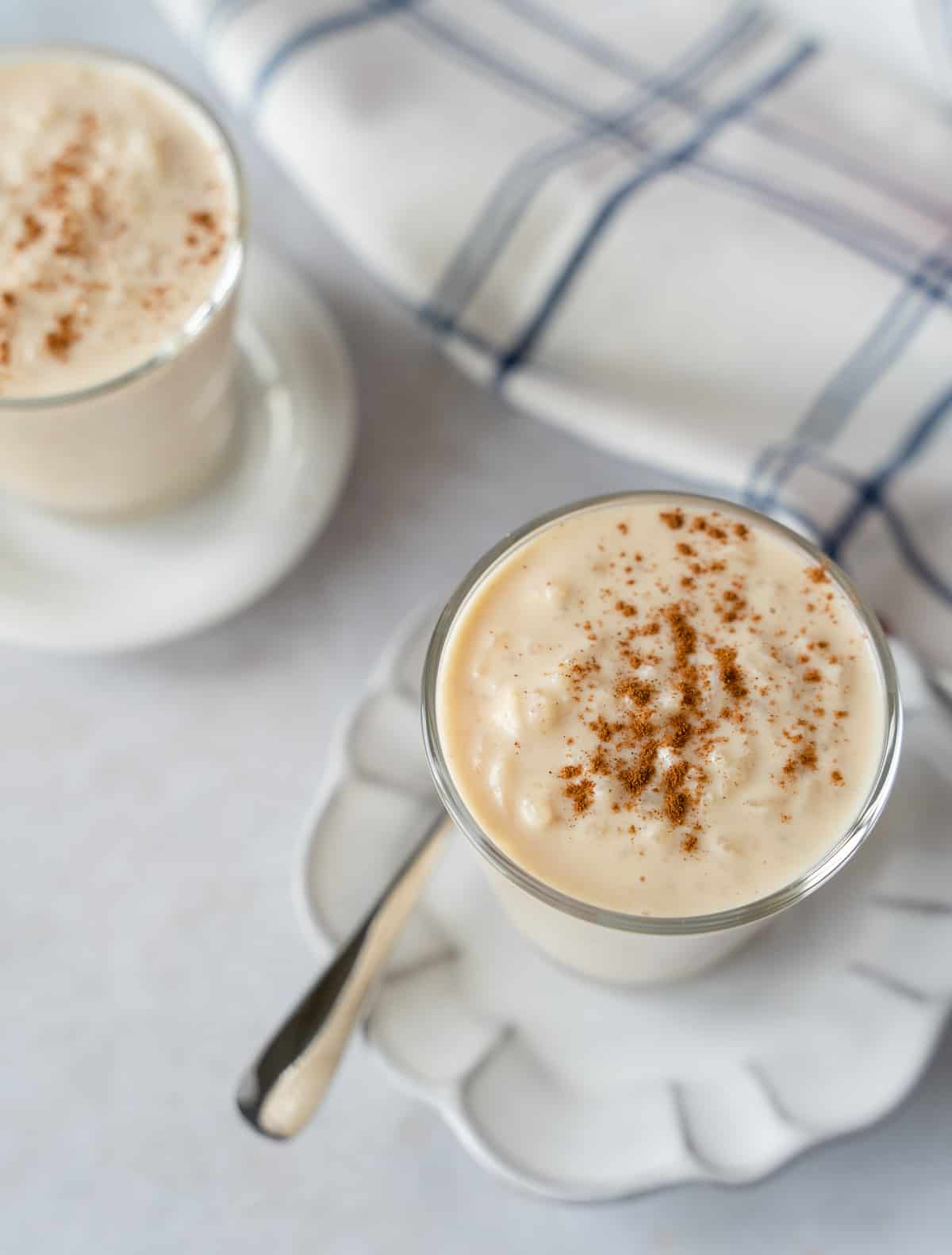 Sprinkle additional cinnamon on top or serve with fresh berries.
Store any leftover rice pudding in a sealed container in the refrigerator for up to 5 days. Arroz con Leche can be served cold and makes a refreshing treat in the summertime.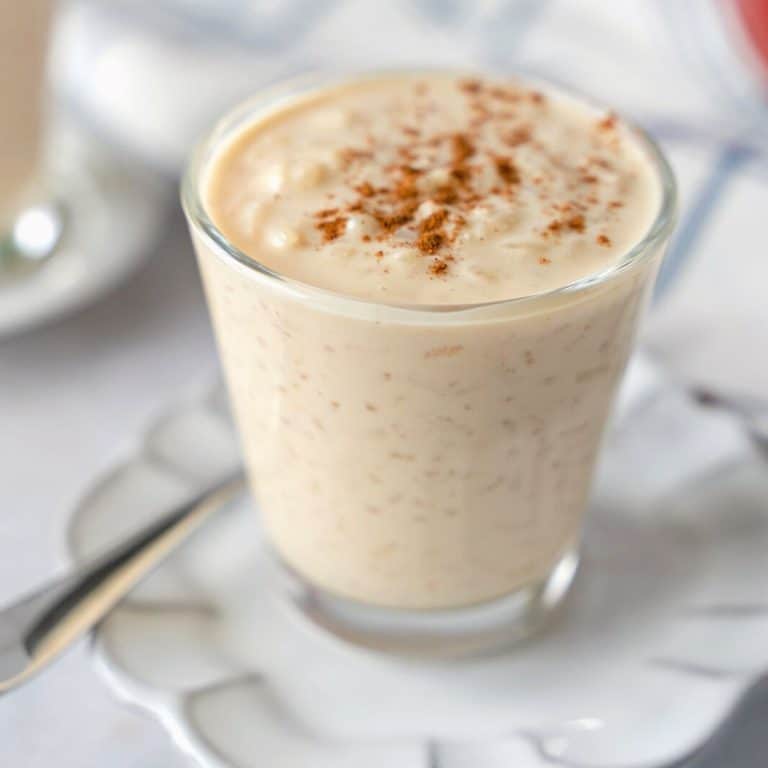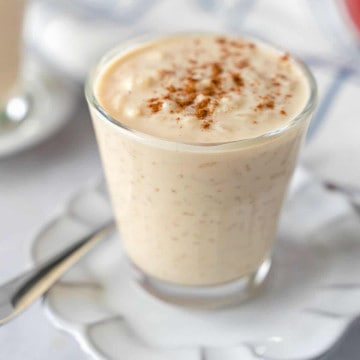 Mexican Rice Pudding Recipe
Arroz con leche is a Mexican rice pudding that can be served warm or cold for a creamy sweet treat.
Instructions
Rinse rice in a strainer, then place in a large pot with 4 cups of water, and a cinnamon stick.

Bring to a boil then simmer for 15 minutes or until most of the water is absorbed.

Remove the cinnamon stick, and add Evaporated milk, sweetened condensed milk, and whole milk to the rice. Add vanilla and stir to combine.

You can add any dried fruit, like raisins at this point.

Turn the heat back to medium and bring to a simmer. Keep an eye on the pot and stir the rice every few minutes to avoid it sticking to the bottom.

Simmer the rice pudding for 20-25 minutes, stirring every few minutes.

Remove the pot from the heat, and allow the rice pudding to rest for 30 minutes. If a film forms on top, just stir it again. Serve warm or refrigerate and serve cold.
Notes
Nutrition
Calories:
256
kcal
Carbohydrates:
37
g
Protein:
8
g
Fat:
8
g
Saturated Fat:
5
g
Polyunsaturated Fat:
0.3
g
Monounsaturated Fat:
2
g
Cholesterol:
29
mg
Sodium:
108
mg
Potassium:
353
mg
Fiber:
0.4
g
Sugar:
25
g
Vitamin A:
289
IU
Vitamin C:
1
mg
Calcium:
278
mg
Iron:
0.3
mg
Nutritional information is provided as an estimate only and depends on ingredients and amounts used. Thai Caliente makes no guarantees to the accuracy of this information.