Conchas or Pan Dulce is a popular Mexican Sweet Bread with a sugar topping
Special thanks to my friend Zaira for providing this Concha recipe from her blog Hangry in PHX, Give here a follow for tasty recipes like this one and local AZ Eats!
This is actually my second attempt at making Conchas, but the first recipe I used was lacking in cinnamon. This recipe hit all the notes of a traditional Concha and my in laws said they tasted like the ones from Mexico, I call that a win!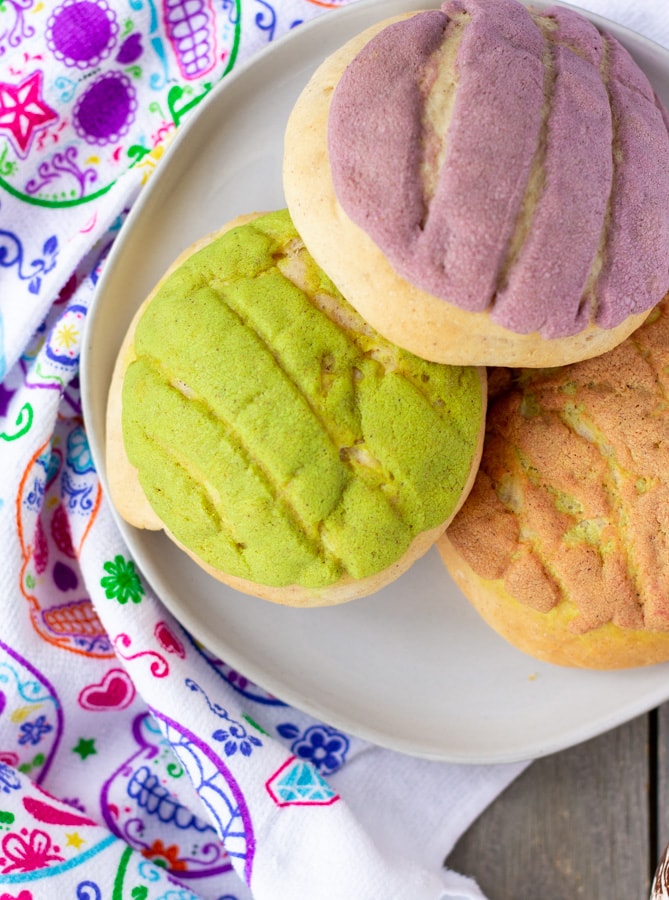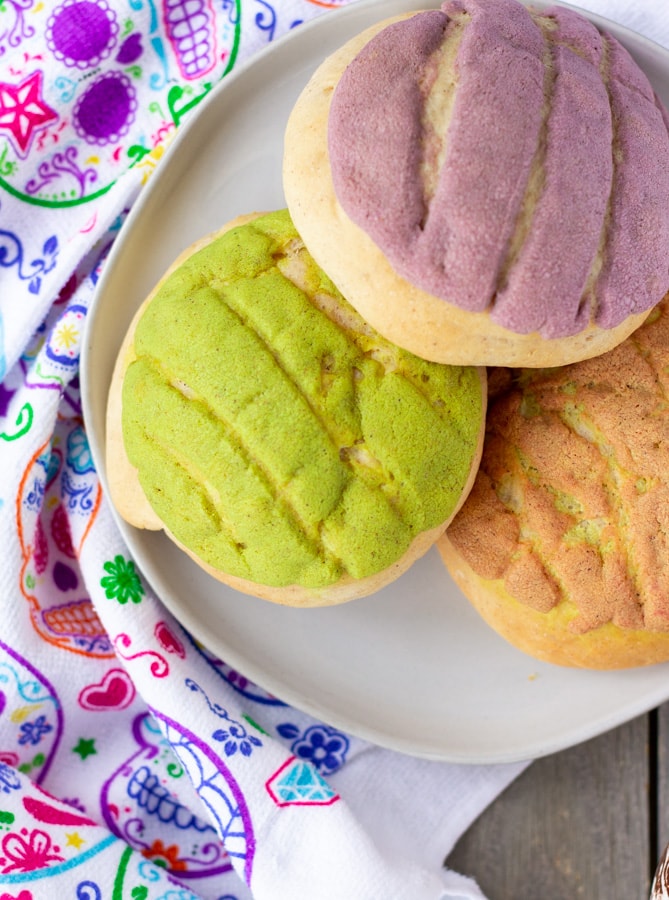 Every Sunday we do a family dinner at my in laws, and we always have pan dulces and cafe (sweet bread and coffee). The Mexican bakeries or Panaderia's usually have a variety of pastries, but Conchas are probably one of the most popular ones. The sugar crumb topping is what makes them unique and tasty! I tried making them different colors for Dia de los Muertos, but I used natural food coloring and it wasn't as saturated as I wanted, but they still tasted good!
Dia de los Muertos or Day of the Dead, is a multi-day celebration in Mexico for families to honor and celebrate the lives of those who have passed away. This holiday is more familiar now with Disney's CoCo, and if you haven't seen the movie, I highly recommend it! Disney knows exactly how to pull at your heart strings. One of the traditions for this holiday is to leave offerings and favorite food for the deceased family members. Conchas and Pan de Muerto are pretty common pastries during this time of year, but we like to enjoy them all year long 🙂
I used my KitchenAid Mixer with the dough attachment to mix the dough, made it so much easier than kneading by hand.
As an Amazon associate I earn from qualifying purchases
Conchas- Mexican Sweet Bread
Conchas or Pan Dulce is a popular Mexican Sweet Bread with a sugar topping
Ingredients
Dough
Sugar Crust
⅔

cup

Confectioners Sugar

½

cup

Butter

Room Temperture

¾

cup

All Purpose Flour

1

teaspoon

Cinnamon

1

teaspoon

Vanilla Extract

Food Coloring

Optional if you want different colored crust
Instructions
Dough
Add 2 tablespoons of sugar, yeast, and warm milk to your stand mixer bowl. Set aside for 5 - 10 minutes until the yeast is activated and starts foaming. Be sure the milk is not too hot or this will kill the yeast. You want the milk to be between 98-100 degrees F

Add the flour, remaining sugar, salt, egg, butter and cinnamon to the bowl. With the dough attachment, knead the ingredients for 8 minutes, or until the dough is smooth and has a slight elasticity. If you are using AP flour, then add a few more tablespoons at a time till it starts pulling from the sides and has some structure.

Remove the dough from the mixing bowl and transfer to a clean bowl that has been greased with butter. Then flip over to grease the other side. Cover your dough and allow it to double in a warm place, about an hour.
Sugar Crust
In a clean bowl, combine room temperature butter and the sugar, mix until creamy. Add the cinnamon, vanilla, and flour and continue to mix until a thick paste is formed. Divide the sugar paste into the number of colors you plan on using for the crust. In this case I separated the sugar crust into three. Add desired Food Coloring and mix well.

Divide each color into 4 equal portions and roll them into a smooth ball and set aside until dough is ready.
Making the Conchas
Once the dough has doubled, punch down the dough and cut into 3 ounce pieces (weighing your dough ensures you have an even bake for your bread). This will make 12 dough balls.




Roll each 3 oz piece into smooth balls and press down in the middle to flatten them slightly onto a lined baking sheet with parchment paper or silicon. Repeat with the remaining dough.

Place each ball of sugar crust between 2 pieces of plastic wrap. Use the bottom of a 1 cup measuring cup and press down on the sugar ball to form a flat circle. Remove the top plastic wrap and transfer the sugar crust onto the top of each Concha using the bottom plastic wrap. Once all the Dough balls have been covered, use a butter knife and score the sugar crust to make it look like a shell or crisscross pattern. Allow to rise again for 1 hour. Preheat oven to 375 degrees.

After an hour, place Conchas in the oven and bake for 15-18 minutes. Until dough is slightly browned and sugar crust is hard. Remove and allow them to cool on a wire rack. Serve with a warm cup of coffee or hot chocolate.