Thai sweet sticky rice with mango is a traditional Thai dessert of sweet coconut milk mixed with sticky rice and topped with fresh mango.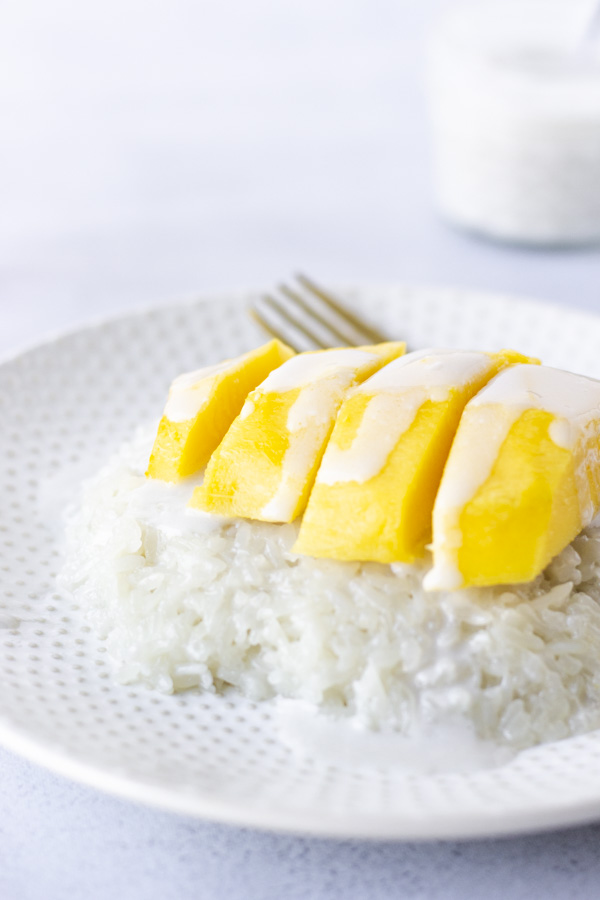 This authentic Thai dessert is easy to make, and is widely popular in Thailand and here in the States. If you love coconut, try this Thai Coconut Jelly dessert.
The sticky rice is mixed with a sweet and slightly salty coconut milk then topped with sweet mango and a drizzle of the coconut milk. My favorite way to eat it is with warm sticky rice and chilled mango, so good!
How to Make Thai Sticky Rice
The dessert requires you to make traditional Thai Sticky Rice first and then the dessert comes together quickly after it's made.
I have an entire post and video showing you how to steam sweet rice or also know as glutinous rice.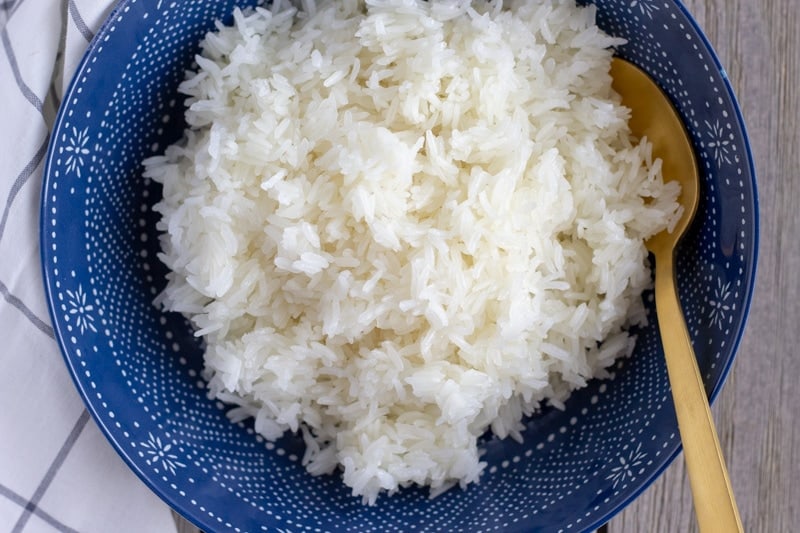 The correct rice is very important, do not use jasmine or long grain rice. And it needs to be steamed not boiled.
The sweet rice also needs to be soaked either overnight or at least 4 hours. So you'll need to plan ahead before making sticky rice with mango.
Coconut Sauce
The coconut sauce it what will make the rice sweet and creamy. I'm using coconut cream. You can also use full fat canned coconut milk.
To make the sauce you'll need: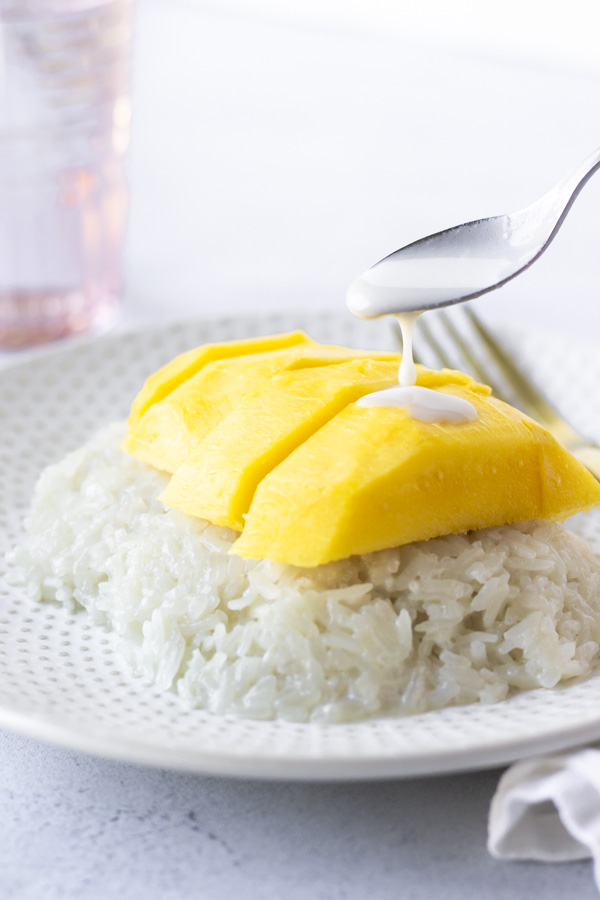 This is the easy simple version of the coconut sauce. I use this same sauce in my Thai coconut corn. Some variations will include a thicker saltier sauce to drizzle on top, but instead, I just reserve a ¼ cup of the coconut sauce for drizzling.
Types of Mango
Traditionally Yellow or Champagne Mangos are used for this dish. They are small and very sweet. You can find this variety of mango at most ethnic and Asian Grocery stores.
In most local grocery stores in the states, you will find Red mangos. If you use red mango, you'll want it slightly soft, but not too soft. The more ripe the red mango is, the sweeter it will be.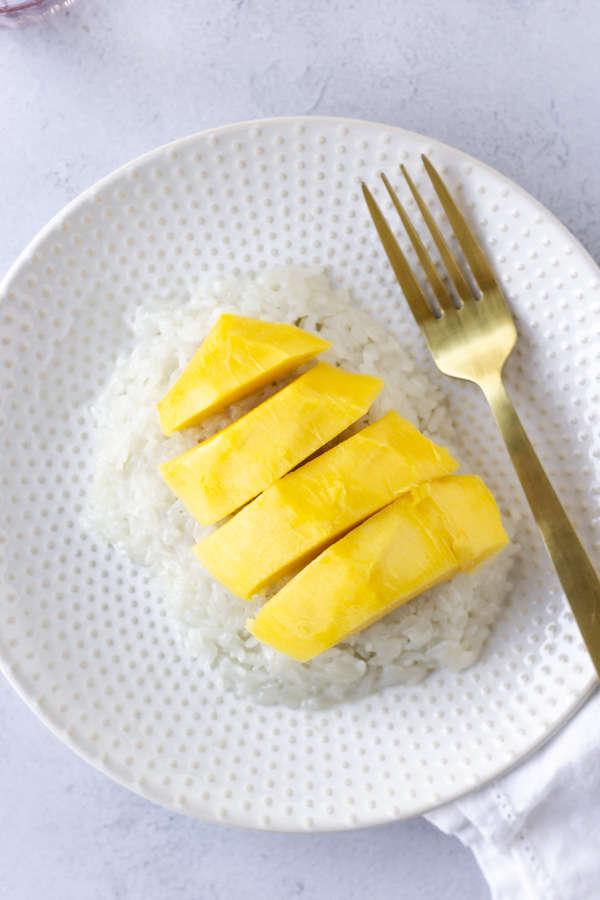 To prepare the mango, carefully peel the skin, then slice along the pit of the mango. You can do chunks for easier eating or slices.
I also like to chill my mango pieces so they are cold before serving.
Something about the warm sticky rice and cold sweet mango makes a party in your mouth!
Assembling the Dessert
I recommend cooking the sticky rice and making the coconut sauce simultaneously.
This way when the rice is done it can be added to the coconut sauce when it's still warm. This will help the rice absorb the sauce and turn out really creamy.
Plate the dessert with some rice on plate or bowl, sliced or cubed cold mango, and a drizzle of the reserved coconut sauce.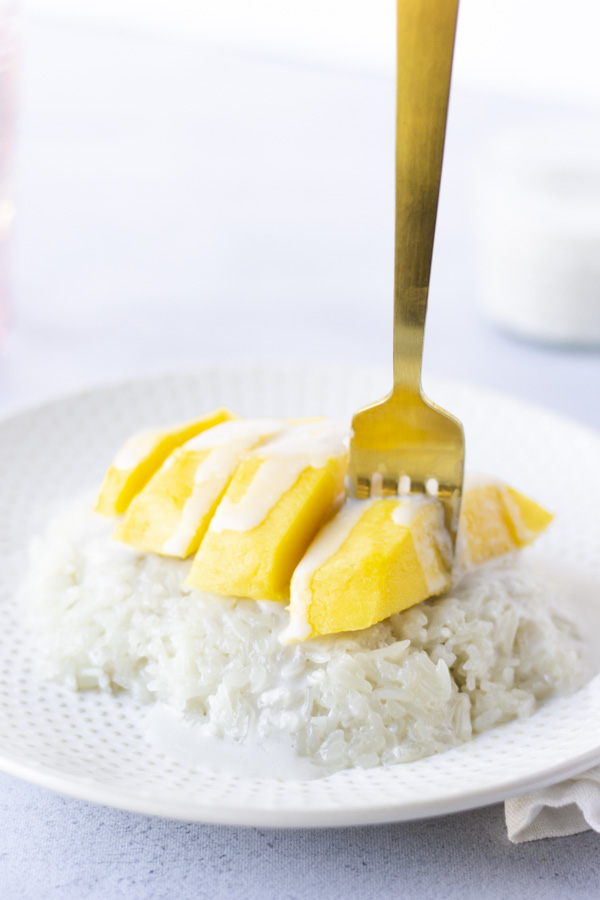 You can also top with toasted sesame seeds or toasted mung beans.
This dessert is best served right away, but you can also keep the rice warm in the sauce pan on the very lowest setting and stir periodically.
If serving the next day, store in the refrigerator and reheat in the microwave with a damp paper towel on top.
Here are some recipes you can use with plain steamed sticky rice: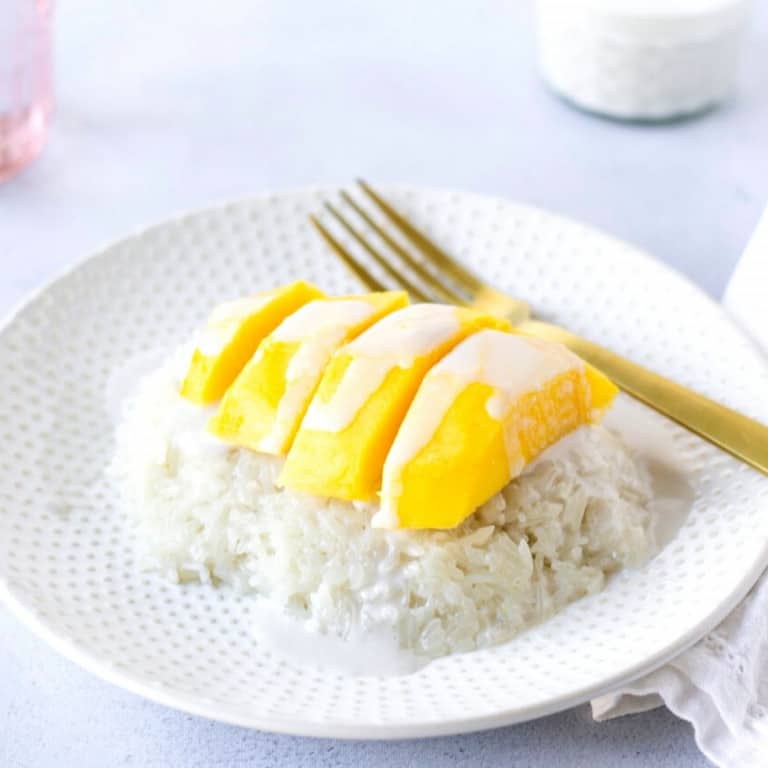 Thai Sweet Sticky Rice with Mango Recipe
Thai Sweet Sticky Rice with Mango is a traditional Thai dessert of sweet coconut milk mixed with sticky rice and topped with fresh mango.
Ingredients
1

Cup

Sweet (Glutinous) Rice

Do Not use Jasmine or Long Grain Rice.

1

can

Coconut Cream

or Full Fat Canned Coconut Milk

¼

Cup

White Sugar

more if you like it sweeter.

½

teaspoon

Salt

2

Whole Mangoes (Yellow or Red)

You want them to be semi soft and ripe.

Optional: Toasted sesame seeds or mung beans for garnish.
Instructions
Rinse rice well until water runs clear, then soak in a bowl with water overnight or at least 4 hours.

While the rice is cooking simultaneously make the coconut sauce. In a small saucepan over medium low heat, add entire can of coconut cream. Gently stir and bring up to a gentle simmer.

Once the coconut milk is at a gentle simmer, add the sugar and salt. Stir well to dissolve, then adjust heat to the lowest setting. At this point, you want to taste the sauce. If you prefer a sweeter sauce you can add more sugar. Now reserve ¼ cup of coconut sauce to save for drizzling on top.

When the rice is done cooking, immediately add it to the warm coconut milk. Doing so while it's still warm will allow the rice to soak up the coconut milk. Add it in batches and stir in between to incorporate.

If serving right away, then remove from heat and allow to cool for about 15 minutes. If serving within 30 minutes, keep it on the stove on the very lowest heat setting and stir periodically.

To serve, add rice to a plate or bowl, top with cold sliced or cubed mango, and drizzle with reserved coconut sauce. You can also garnish with toasted sesame seeds or mung beans if you like.
Notes
If serving the next day, store sweet coconut rice in the refrigerator and reheat in the microwave with a damp paper towel on top.
Reserved coconut milk also needs to be stored in the fridge.
More Mango Recipes:
Tropical Smoothie
Chia Pudding
Mango Salsa
Nutrition
Calories:
741
kcal
Carbohydrates:
140
g
Protein:
4
g
Fat:
18
g
Saturated Fat:
16
g
Polyunsaturated Fat:
0.2
g
Monounsaturated Fat:
0.2
g
Sodium:
348
mg
Potassium:
210
mg
Fiber:
6
g
Sugar:
97
g
Vitamin A:
1120
IU
Vitamin C:
38
mg
Calcium:
17
mg
Iron:
1
mg
Nutritional information is provided as an estimate only and depends on ingredients and amounts used. Thai Caliente makes no guarantees to the accuracy of this information.