Baked Apple Empanadas made easy with premade pie crusts, a simple apple filling, and baked until golden.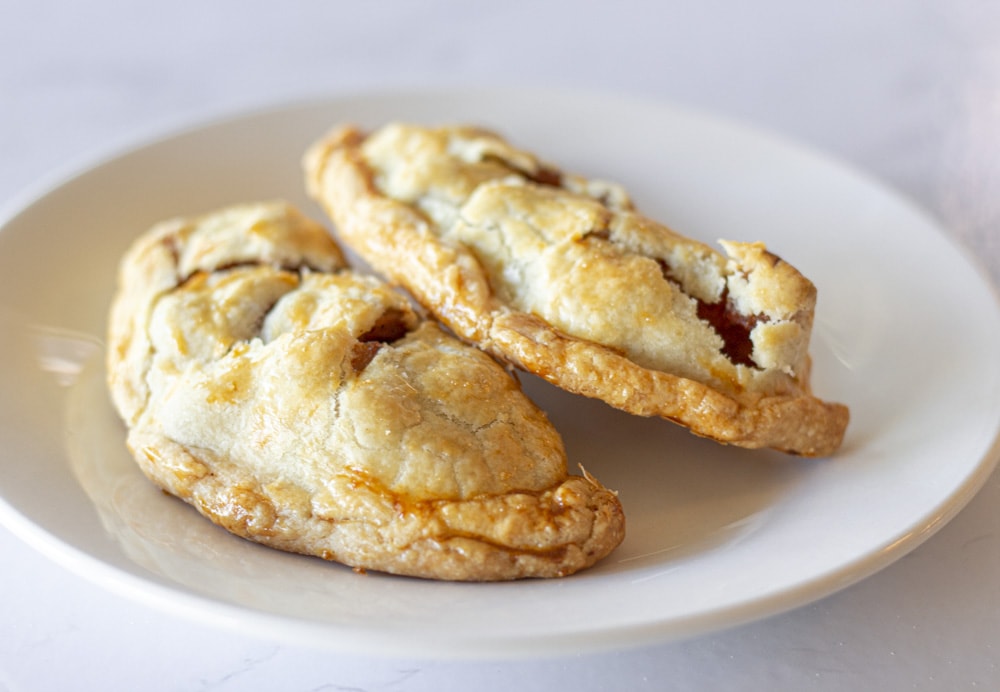 Empanadas are essentially the Latin American version of a hand pie. Similarly they can be filled with Sweet or Savory flavor combinations.
I was able to get together with a foodie friend who just happens to live down the street from me! Her name is Belqui and her Food Blog is Belqui's Twist. Be sure to check out her Delicious Empanada Recipe!
We had so much fun making this YouTube video on Dessert Empanadas. Click on the image below to watch the episode and see what filling option Belqui uses for her empanadas!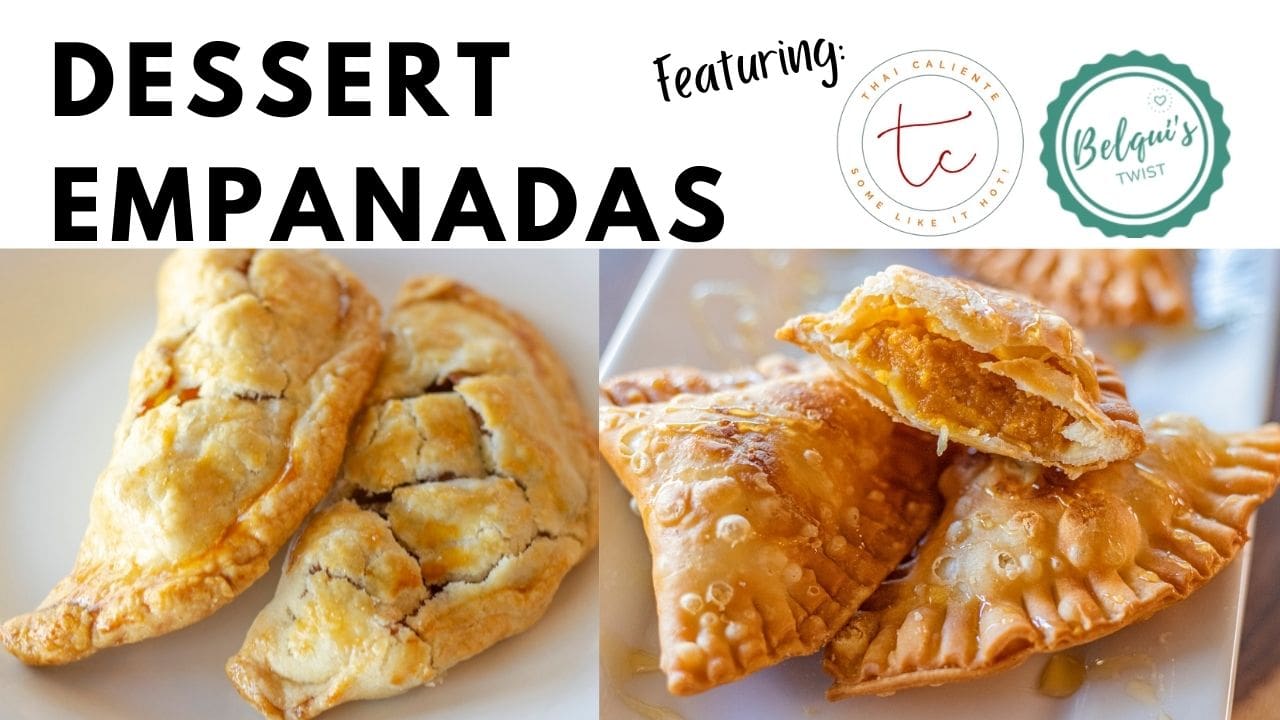 How to Make Apple Empanadas
What You'll Need: Pre-made Pie Crust, Apples, Brown Sugar, Cinnamon, Lemon, Egg + Water.
Apples- I used a combination of Honeycrisp and Granny Smith apples. I like the flavor you get from combining sweet and tart apples. Peel and dice the apples and place them in a skillet.
Add lemon juice, brown sugar, and cinnamon to the apples. Cook over medium- low heat for 15-20 minutes.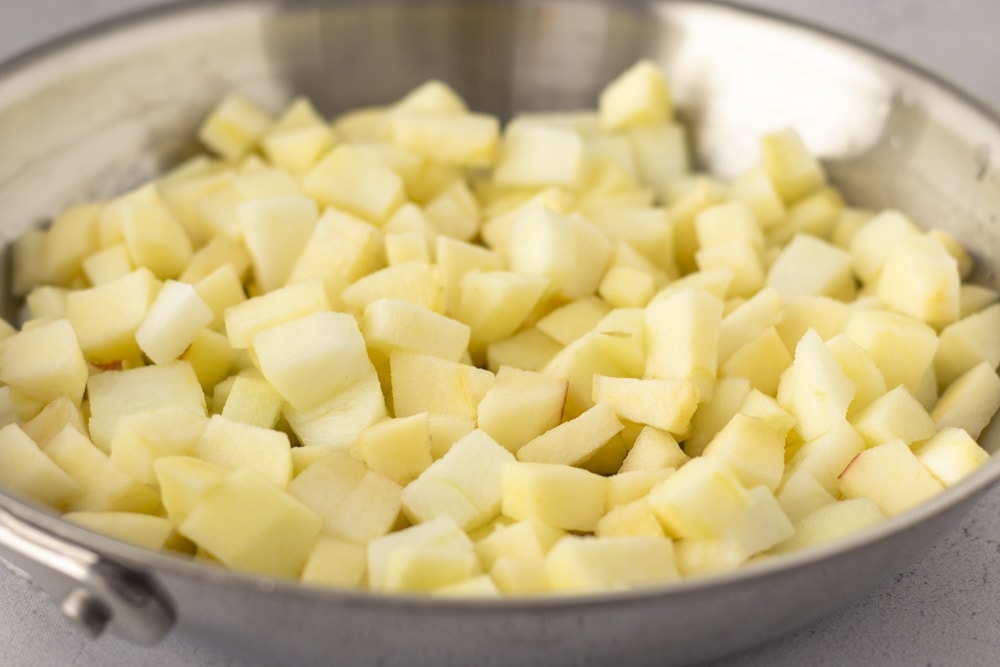 You want to cook the apples until all the liquid evaporates and the apples have softened. The consistency should be soft and sticky. Allow the filling to cool before assembling the apple empanadas.
You can also make this filling ahead of time and store in the fridge for a couple of days.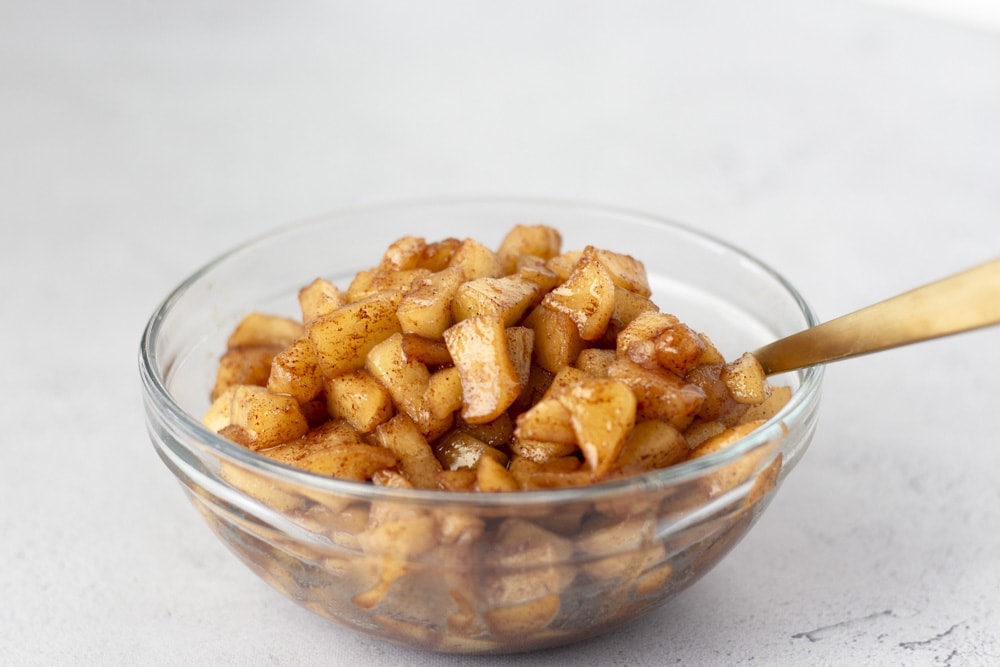 Pie Dough- If using a refrigerated pie crust, take it out at least 30 minutes before you plan on making the empanadas.
If using a frozen pie crust, allow it to thaw overnight in the fridge, then take it out on the counter for 30 minutes before making.
How To Fold The Empanadas
Unfold the pie crust and using a glass or small bowl, 3 in diameter, cut circles in the pie crust. They should be close together, and once you run out of room, remove the cut circles. Roll the leftover dough back into a ball and roll it out flat to repeat the process.
You should get about 9 discs from 1 standard pie crust. Now roll out each disc till it almost doubles in size, 6 in. You want the dough to be as thin as possible since it will puff up during baking.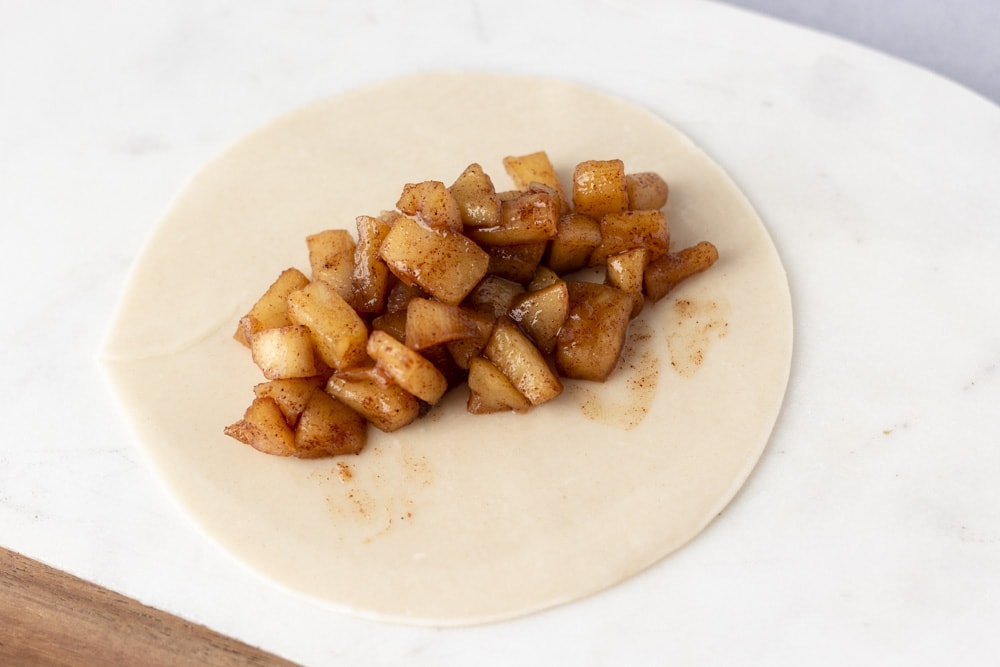 Now fill each rolled out dough disc with 2 heaping tablespoons of the apple filling. Enough to fill the middle, but leaving some room on the sides.
Once the filling is added fold the bottom over to meet the top and either crimp the edges with a fork or make a seal by folding the edges over. It doesn't have to be perfect! Just needs to be sealed.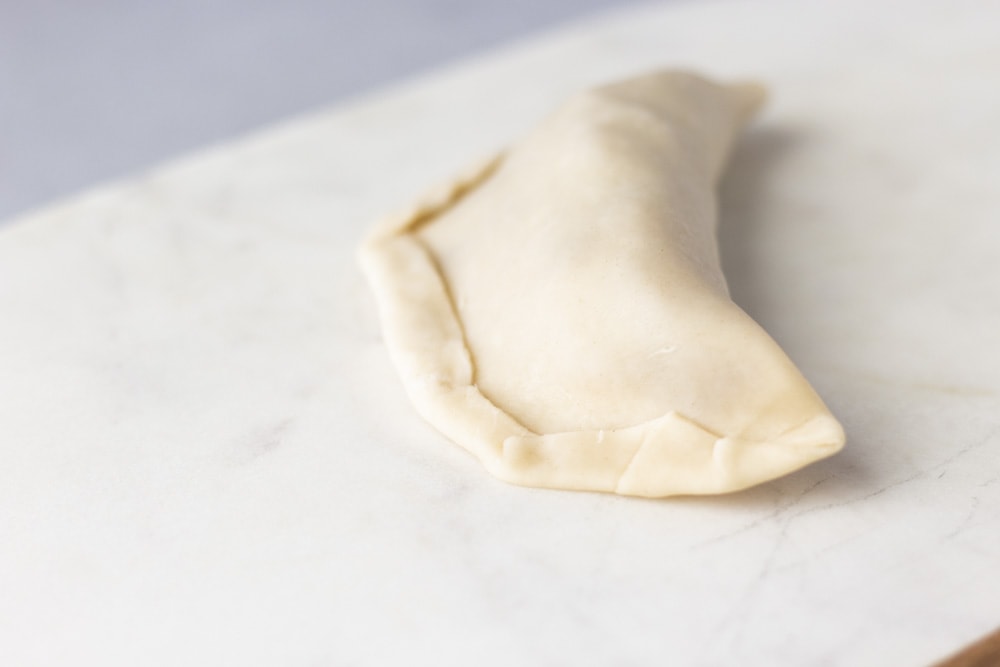 Once all your apple empanadas are filled and sealed, you want to cut small slits on the top to allow some venting during the baking process.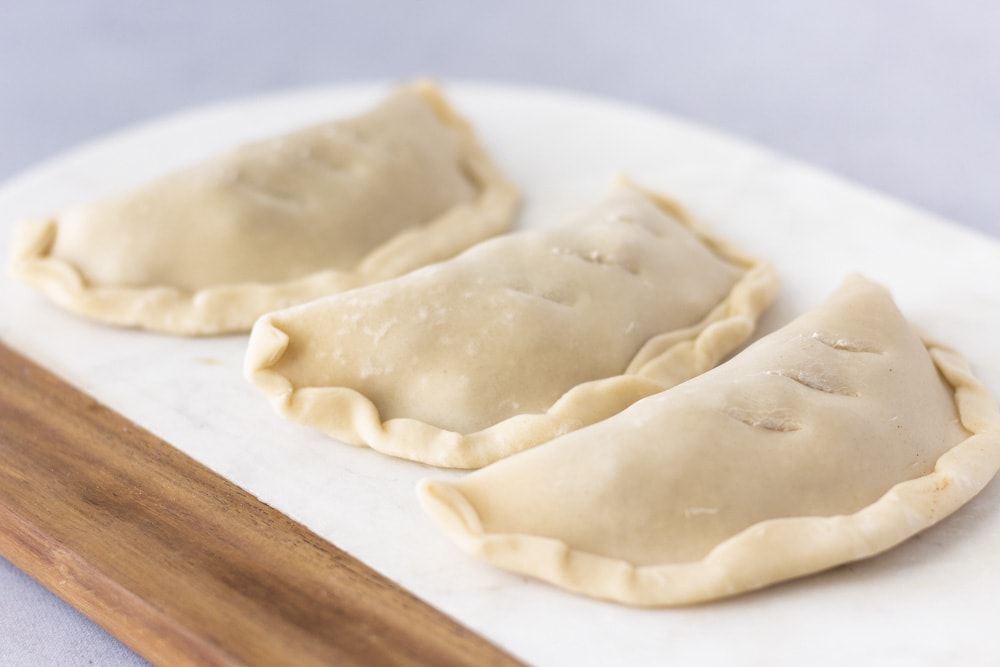 The last step is to brush the empanadas with an egg wash to create a nice golden crust on the outside. Simple beat 1 whole egg or egg yolk with 1 tablespoon of water until smooth. Then brush over the tops of each empanda.
Bake at 350°F for 25 minutes, or until golden brown. Remove the empanadas from the oven and allow them to cool on the baking sheet for at least 5 minutes.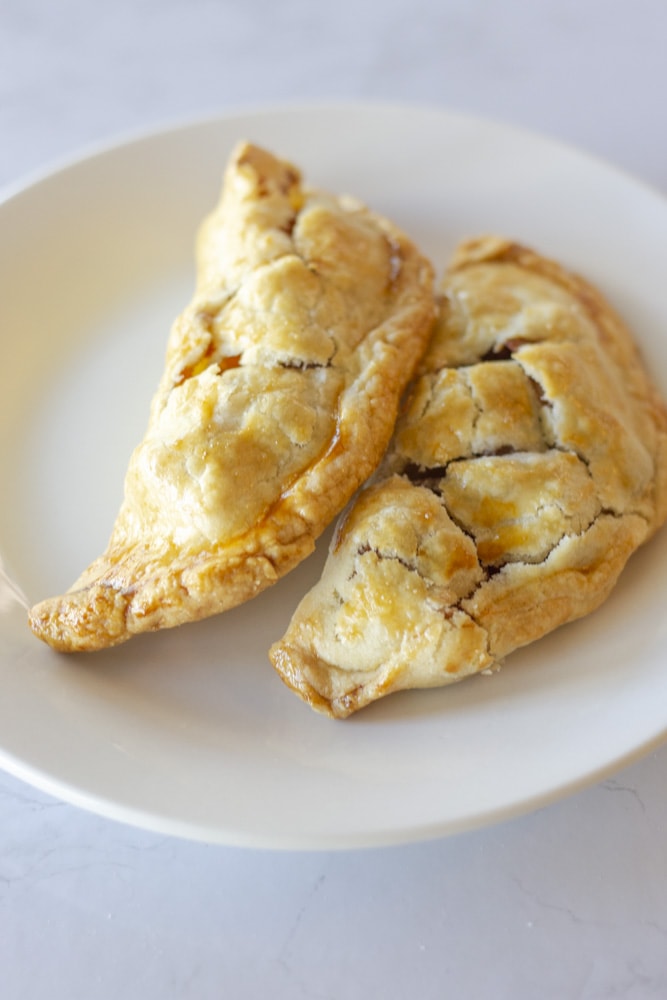 The apple empanadas can be served warm or allow them to rest and serve at room temperature.
My favorite way to eat them is with a hot cup of coffee 🙂
Be sure to check out the YouTube video on Dessert Empanadas, and you can find the full recipe for Belqui's Pumpkin Empanadas Here.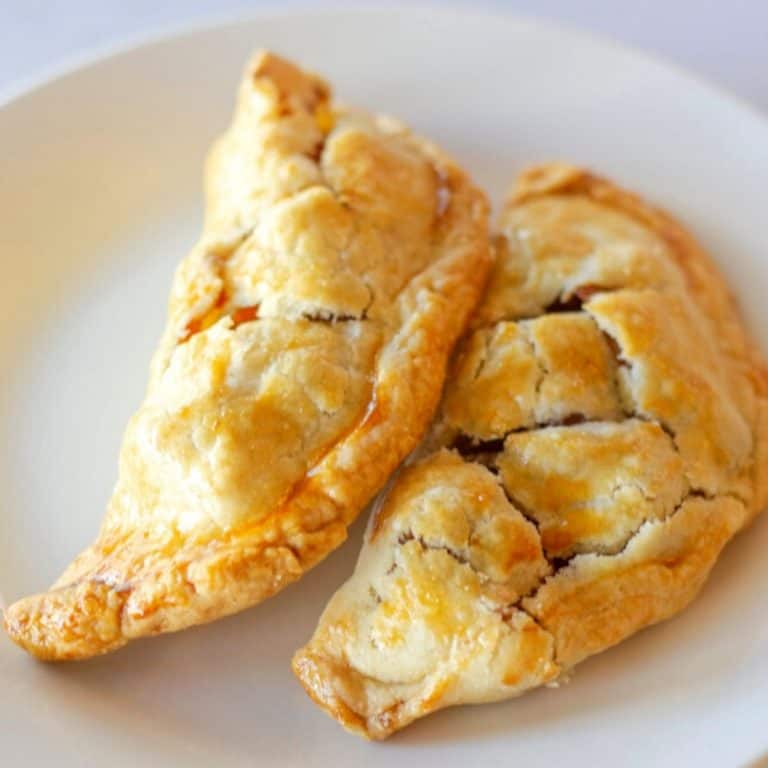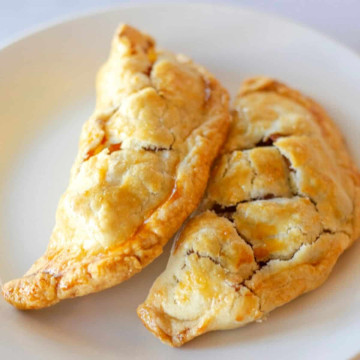 Easy Baked Apple Empanadas
Baked Apple Empanadas made easy with premade pie crusts, a simple apple filling, and baked until golden.
Ingredients
1

Refrigerated or Frozen Pie Crust

Thawed and left on the counter 30 minutes before making empanadas.

3

Honeycrisp Apples

2

Granny Smith Apples

1

tablespoon

Lemon Juice

¼

Cup

Brown Sugar

1

tsp

Cinnamon
Egg Wash
1

Whole Egg

Beaten

1

tablespoon

Water
Instructions
Remove pie crust from refrigerator and allow to sit on counter for at least 30 minutes. It is harder to roll out the pie crust when it is too cold.

Peel and dice apples into small pieces. Place apples in a skillet over medium heat, add lemon juice, brown sugar, and cinnamon. Bring to a simmer and reduce heat to medium low.

Continue cooking a stir periodically until liquid evaporates and apples have softened. You don't want the apple filling to have a lot of moisture. Remove from heat and allow to cool while you prep the dough. You can also make this a couple days in advance and store in the refrigerator until ready to use.

Preheat oven to 350 degrees F.

Use a cup or small bowl that is 3 in diameter. Unroll the pie crust and use the cup to cut out circles in the crust. Make them close together to use up all the space. Then roll the scrapes back together into a ball and roll out again and repeat the process until you use all the dough.

Take one dough disc and roll it out again to double in size, about 6 in diameter. Then take 2 heaping tablespoons of apple filling and place in the center of the disc. Fold the dough over and seal edges with a fork or create a seal by folding the edges over. Place on a parchment lined baking sheet.

Continue filling all the apple empanadas. Take a butter knife and make 3 small slits across the top for venting. Beat one egg with water until smooth and use a pastry brush to brush the tops of each empanada with the egg wash.

Bake empanadas for 25 minutes or until golden brown. Allow to cool on the baking sheet for 5 minutes before removing. Serve warm or allow to cool to room temperature and serve. Empanadas can be stored in the refrigerator and reheated in a toaster oven or oven.
Nutrition
Serving:
1
g
Calories:
170
kcal
Carbohydrates:
29
g
Protein:
2
g
Fat:
6
g
Saturated Fat:
2
g
Polyunsaturated Fat:
1
g
Monounsaturated Fat:
2
g
Trans Fat:
1
g
Cholesterol:
18
mg
Sodium:
87
mg
Potassium:
144
mg
Fiber:
3
g
Sugar:
16
g
Vitamin A:
82
IU
Vitamin C:
5
mg
Calcium:
20
mg
Iron:
1
mg
Nutritional information is provided as an estimate only and depends on ingredients and amounts used. Thai Caliente makes no guarantees to the accuracy of this information.