A Dairy Free Mexican Hot Cocoa that packs in cinnamon and chocolate flavors. And if you prefer Milk, I provide dairy instructions too.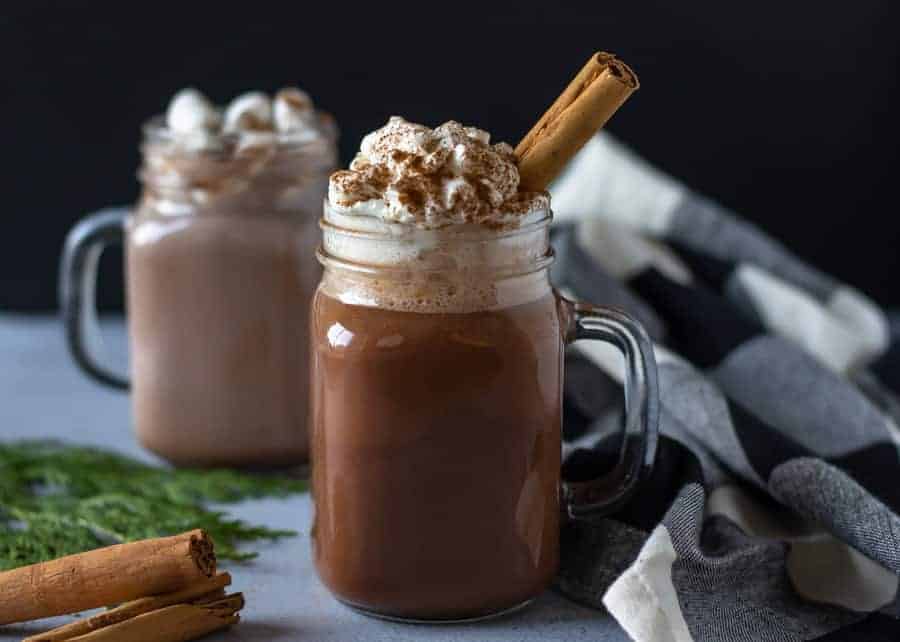 You'll notice in the image that the two cups of hot cocoa are different colors. The one up front is the dairy free version that I made with oat milk and looks more chocolatey, and the one behind it is with whole milk.
I wanted to try both versions to make sure the recipe was versatile for dairy and non-dairy milk. The dairy version is creamier and I found needed a little more cocoa powder to bump up the chocolate taste.
Jump to: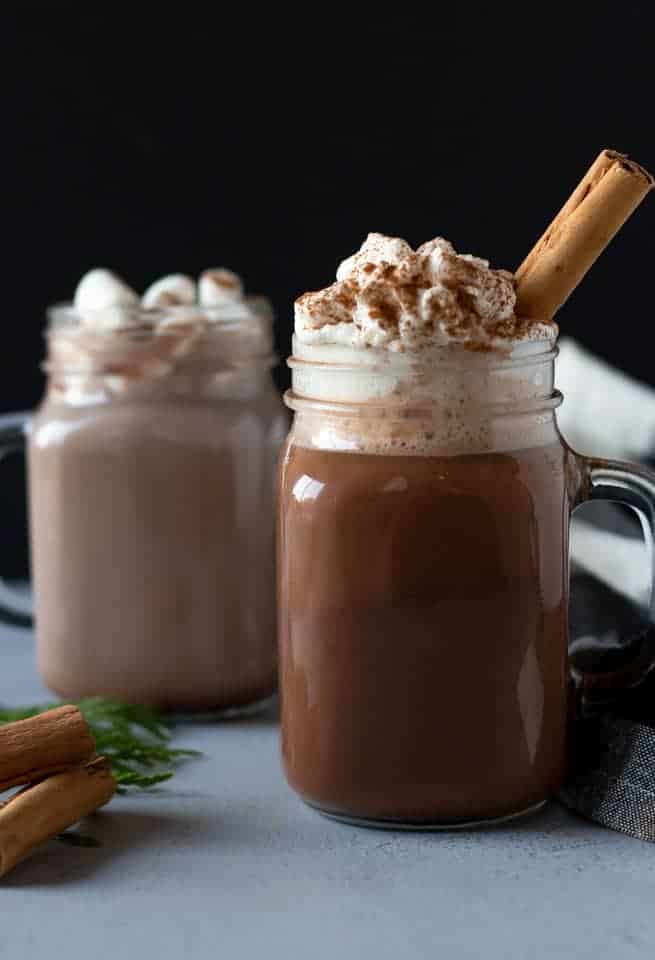 What Makes this Hot Cocoa Mexican?
It's steeped with Mexican Cinnamon sticks which brings another level of warmth and spice to your traditional hot cocoa. I was able to find Mexican Cinnamon sticks at my local grocery store, but you can always substitute regular cinnamon sticks.
This Mexican hot cocoa is just as easy to make as the 'pre-made' version, but without all the preservatives and ingredients you can't pronounce. You can double the recipe as needed and add in different flavor combos like peppermint extract, or a splash of tequila or Jameson for a boozy version. It will surely warm you up!
What Kind of Dairy Free Milk Works Best?
I used an extra creamy oat milk for this recipe and it mimics the taste of regular milk pretty well. I've also found that if the dairy free milk has oil then it will help with getting a smooth consistency.
Also keep in mind that if your dairy free milk is sweetened then you'll need less sweetener. Always best to add more later.
Hot Cocoa Toppings
Don't skip the toppings! I did a dairy free whipped cream for mine and mini marshmallows for my kids. Garnish with cinnamon sticks, a dusting of cinnamon powder, or chocolate shavings.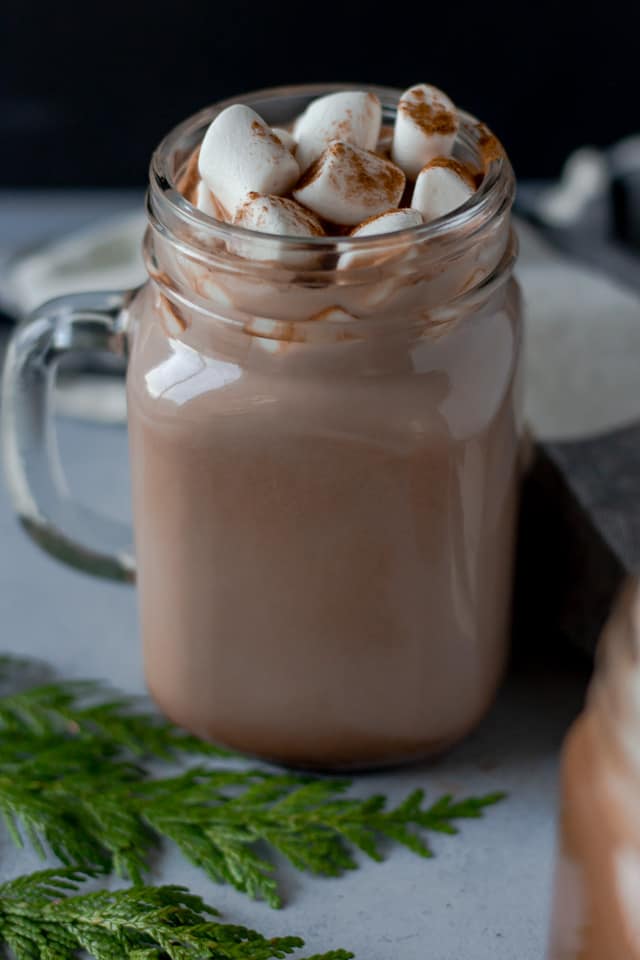 Mexican hot cocoa is perfect around the holidays to share with friends and family. And a bonus, your house will smell amazing from the cinnamon and chocolate!
Want more chocolate goodness?? Check out these recipes:
Double Chocolate Banana Muffins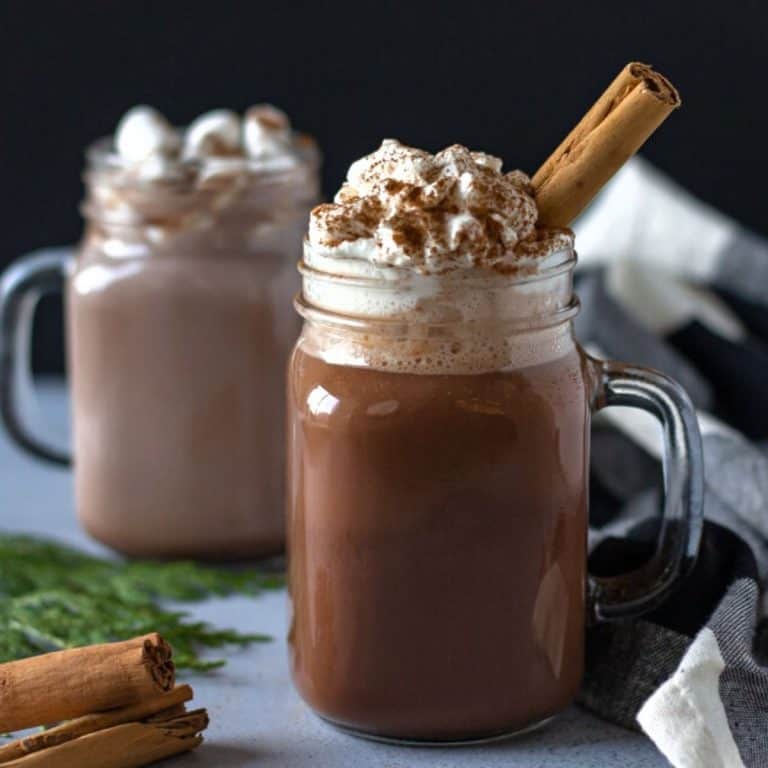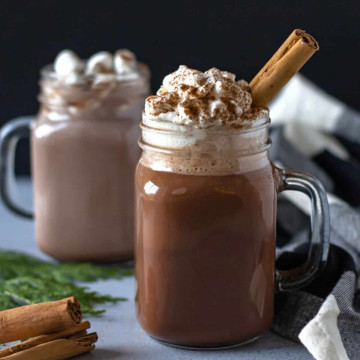 Mexican Hot Cocoa Recipe
A Dairy Free Mexican Hot Cocoa that packs in cinnamon and chocolate flavors. I also include substitutions for a milk version.
Instructions
Add milk to a small saucepan with a cinnamon stick, bring to a soft boil, and lower heat to steep for 2 minutes.

Remove cinnamon stick, add cocoa powder and sweetener. Mix well with a whisk over low heat, and pour into a cup for serving.

Top with whip cream, marshmallows, cinnamon, or chocolate shavings.
Notes
To make multiple batches, simple increase the number on the scale.
Nutritional information is provided as an estimate only and depends on ingredients and amounts used. Thai Caliente makes no guarantees to the accuracy of this information.