An easy and fun treat of frozen bananas dipped in melted chocolate with your favorite toppings.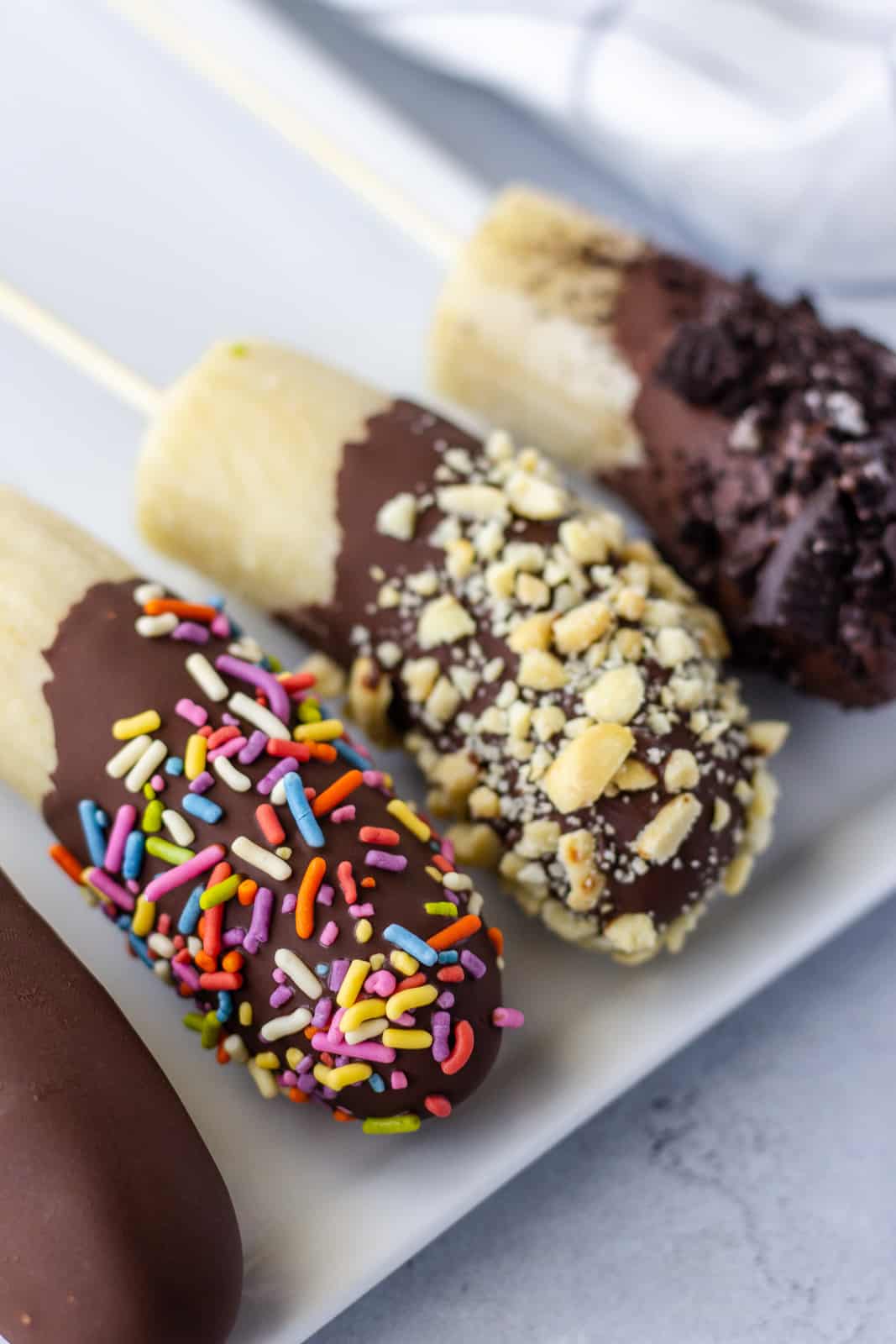 It might surprise some of you, but frozen chocolate dipped bananas are actually pretty popular in Mexico!
When we we visited Guadalajara, it was hot and humid in October. So to cool down we would enjoy Paletas and Bananas (frozen dipped chocolate bananas).
Once I learned how easy they were to make, I had to share!
How to Freeze the Bananas
You want to use ripe bananas, but not over ripe since they can get too soft. I prefer to slice the bananas in half to make it easier to dip them.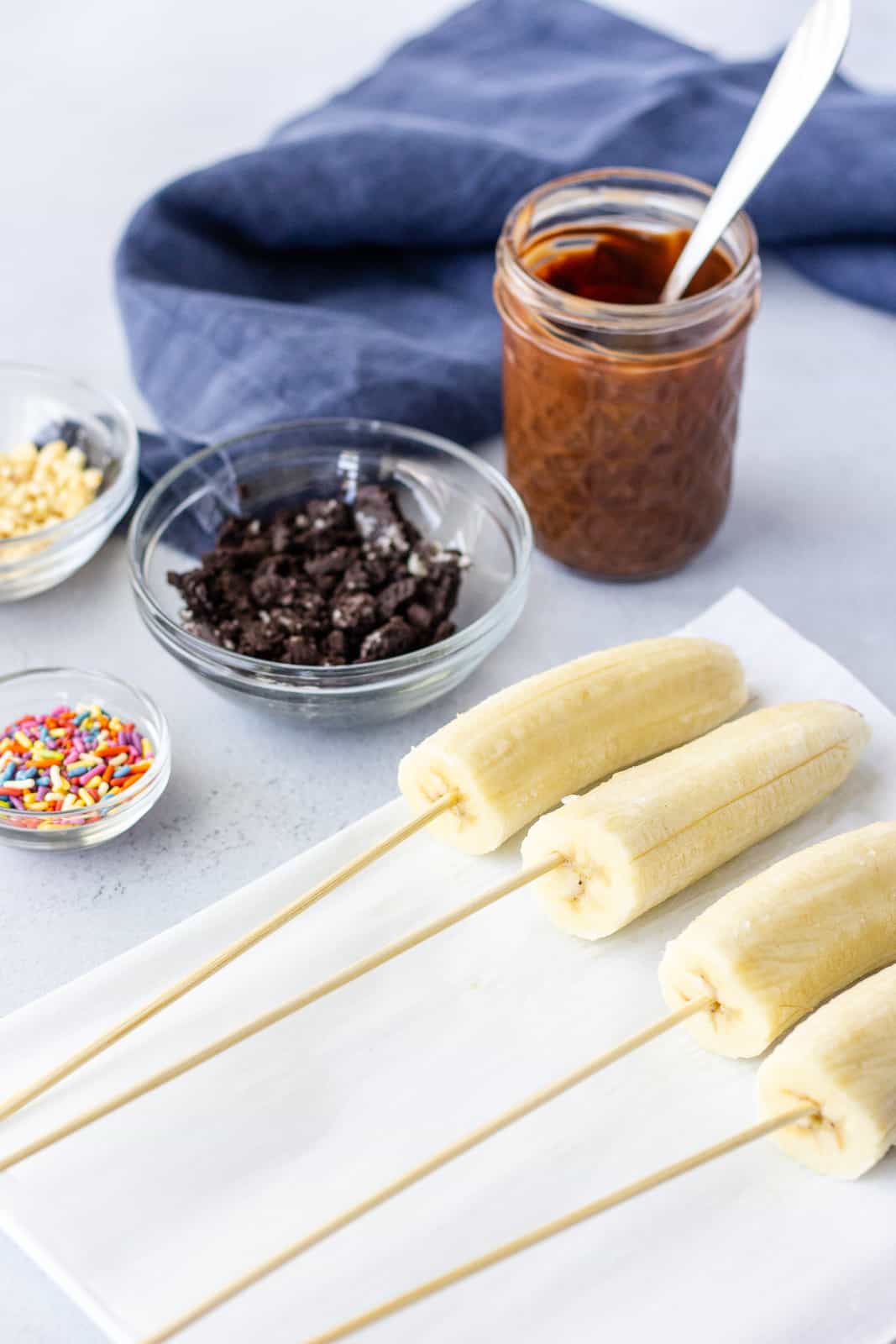 Start my slicing your bananas in half and using popsicle stick, cake pop stick, or skewer in the middle of the banana.
Place the skewered bananas on parchment paper on a baking sheet and freeze for at least 2 hours.
How to Melt the Chocolate
You can use any chocolate you prefer, Dark, Milk, or Semi-Sweet chocolate. I did a combination of milk and dark chocolate chips.
I also wanted the chocolate to have a smooth finish and set quickly. So I add some coconut oil to get that shell topping finish.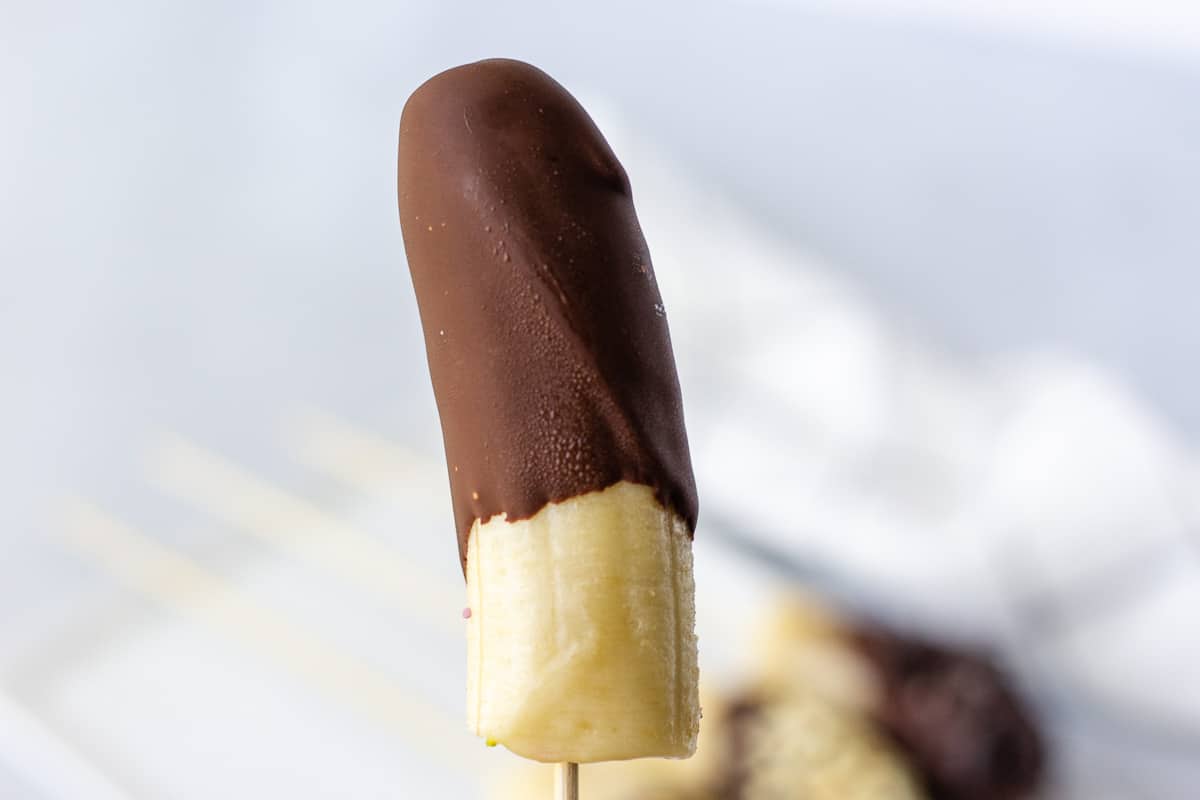 The chocolate chips can be melted in the microwave at 15 second increments or on the stove using a double broiler.
Be sure not to over cook the chocolate because it can burn.
How to Dip the Bananas
It's best to use a tall narrow glass to dip the bananas so you don't waste any chocolate. The half pint mason jars are the perfect size for this.
These jars are also microwave safe and can be used to melt the chocolate chips in the microwave.
Another tip is to keep the chocolate warm in between dipping the bananas.
I used a bowl filled with warm water and placed the jar of melted chocolate inside. Just make sure water doesn't touch the chocolate or it will seize.
Tilt the jar slightly and dunk the banana all the way in. Quickly let any excess drip off and hold it over a plate.
The chocolate will set very quickly after the frozen banana is dipped so have your plate and toppings ready before starting.
Toppings
Plain chocolate dipped bananas are delicious as is, but you can jazz it up with your favorite toppings. I used sprinkles, chopped peanuts, and crushed chocolate sandwich cookies.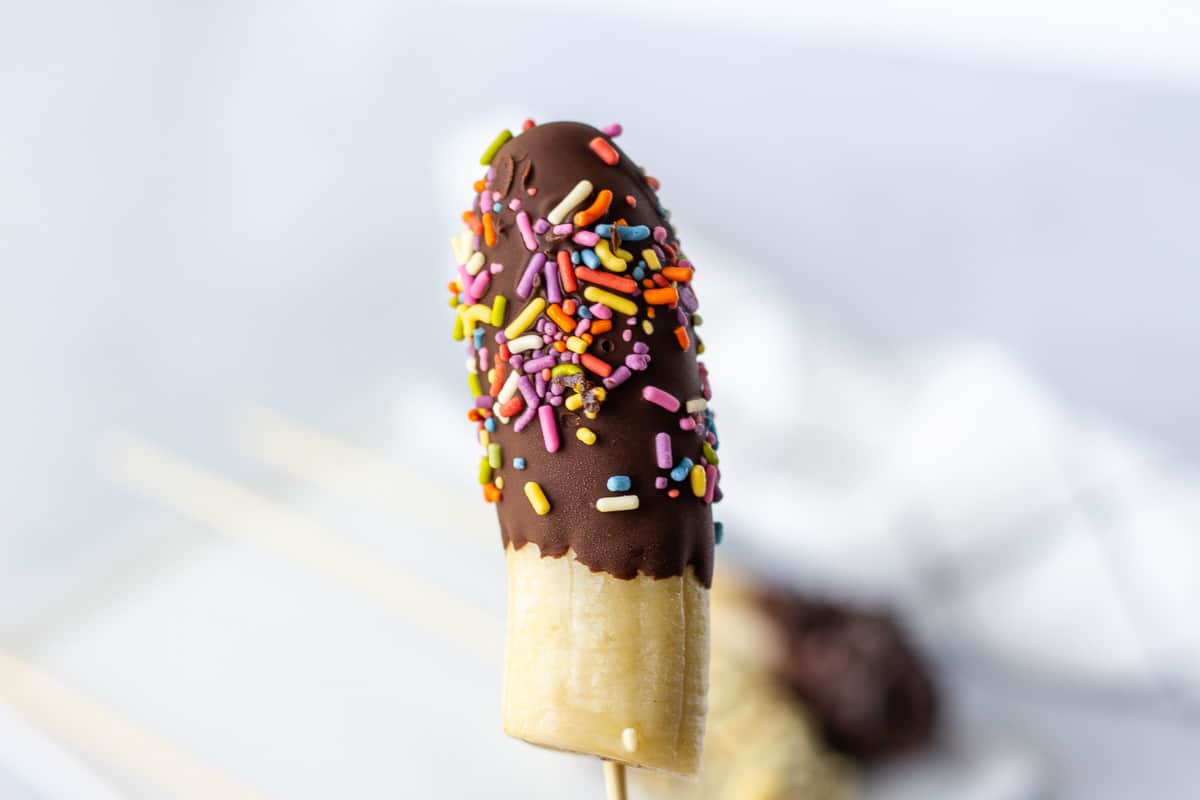 It's best to sprinkle the toppings on the chocolate immediately after dipping the banana.
I tried rolling them in the toppings and it cause some of the chocolate to come off.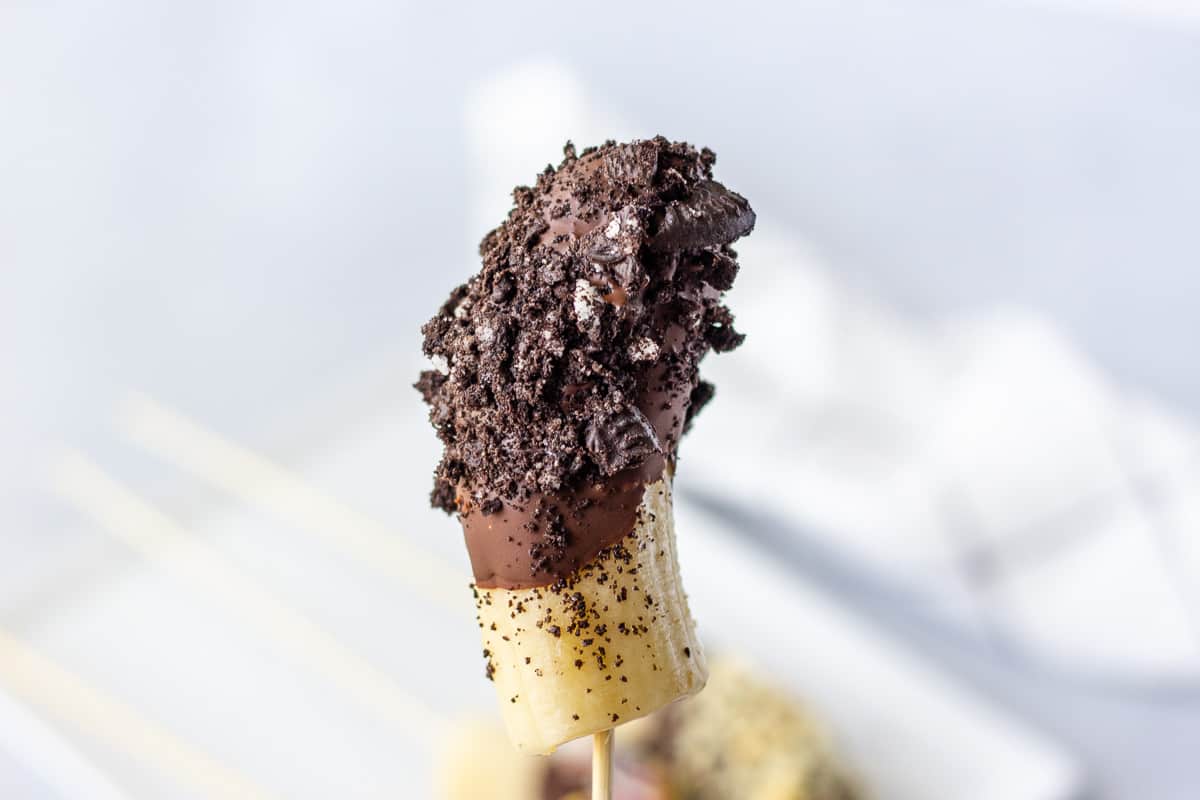 Once all your toppings are on, the chocolate should be set by now. You can eat them right away or place them on parchment paper and make more chocolate dipped bananas.
Dipped bananas can hang out for about 20 minutes, but longer than that will need to be kept in the freezer.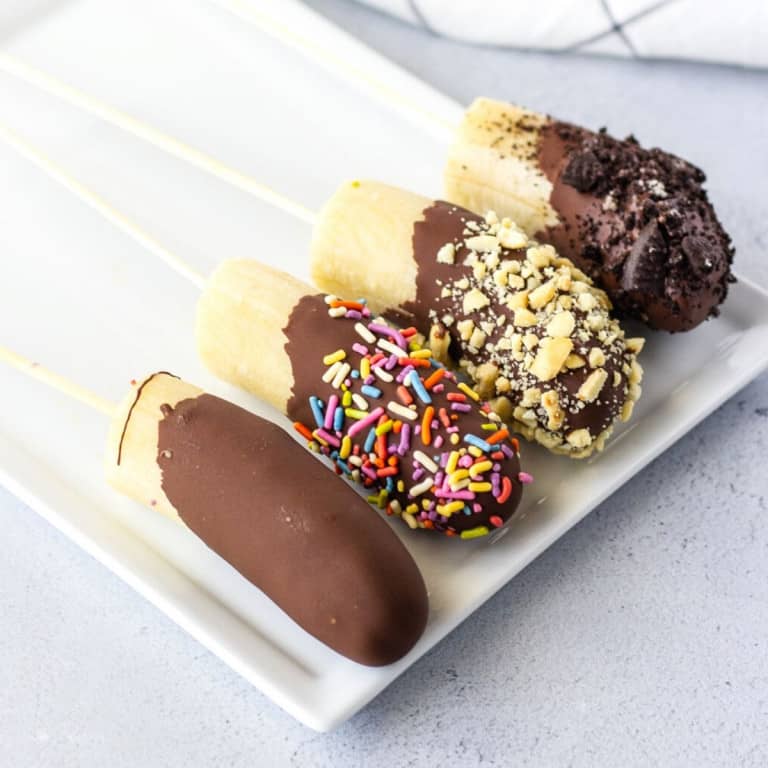 Chocolate Dipped Frozen Banana Recipe
An easy and fun treat of frozen bananas dipped in melted chocolate with your favorite toppings.
Ingredients
1

cup

Chocolate Chips

Dark, Milk, or Semi-Sweet

1

tablespoon

Coconut Oil

3

Whole Bananas

Peeled and sliced in half (you'll have 6 banana pops)

Optional Toppings:

Sprinkles, Crushed Peanuts, Crushed Cookies, etc.
Instructions
Peel and slice bananas in half then skewer each half with either a popsicle stick or lollipop stick. (I don't recommend using the wooden skewers I used, since they have a sharp tip.)

Place skewered bananas on a parchment paper lined baking sheet and freeze for at least 2 hours.

Fill a tall pint mason jar or similar size jar with 1 cup of chocolate chips and 1 tbsp. of coconut oil. Place in microwave for 30 seconds, stir and warm again for 15 seconds or until chocolate is melted. To keep chocolate warm while dipping, place jar in a small bowl of hot water.

If adding toppings, have them all ready in bowls and setup up a dipping station. The chocolate hardens in about 10 seconds so you have to work quickly.

Tilt jar of melted chocolate slightly and dip banana and remove quickly while allow some of the excess to come off. For plain dipped bananas allow it to harden for 10 seconds then place on parchment paper.

For toppings, quickly sprinkle them on all sides before chocolate hardens. Then place on parchment paper and finish the remaining bananas.

Once all the bananas are dipped, they can be enjoyed immediately or left out for about 20 minutes. To save, wrap each banana in plastic wrap tightly and place back in the freezer up to a month. Remove from freezer 10 minutes to thaw before eating.
Notes
The chocolate can also be melted on the stove using a double broiler method. Just be sure the melted chocolate doesn't touch water or it will seize. Chocolate can burn, so don't overheat it.
More Dessert Recipes:
Jericalla
Arroz Con Leche
ChocoFlan
Nutrition
Calories:
169
kcal
Carbohydrates:
26
g
Protein:
1
g
Fat:
8
g
Saturated Fat:
5
g
Polyunsaturated Fat:
1
g
Monounsaturated Fat:
1
g
Cholesterol:
6
mg
Sodium:
8
mg
Potassium:
211
mg
Fiber:
2
g
Sugar:
18
g
Vitamin A:
38
IU
Vitamin C:
5
mg
Calcium:
3
mg
Iron:
1
mg
Nutritional information is provided as an estimate only and depends on ingredients and amounts used. Thai Caliente makes no guarantees to the accuracy of this information.