Two ingredients is all you need for a Thai Sweet Chili Salmon that's easy to make for a healthy weeknight meal.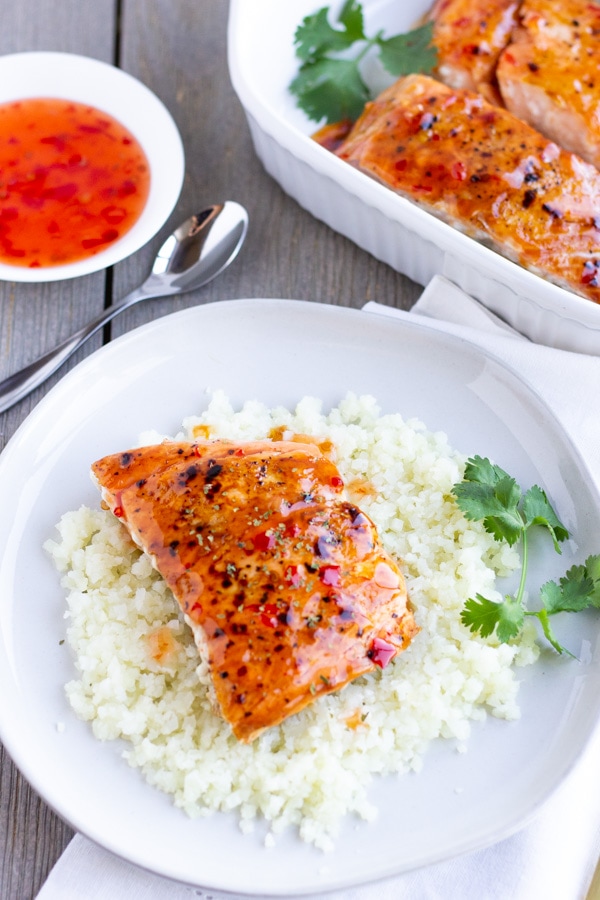 I love easy recipes, especially ones that don't need a lot of ingredients. This Thai Sweet Chili Salmon is only 2 ingredients, the Salmon and Thai sweet chili sauce.
Of course you need some salt, pepper, and oil, but those are considered staples in any kitchen.
Jump to:
What Kind of Salmon Should You Use?
I feel like this is a personal preference, and you'll find some people have some very strong opinions on the best type of salmon.
Recently I've been using fresh salmon that I get from Trader Joe's. I personally like the Atlantic BBQ filets because they are flakey and fatty.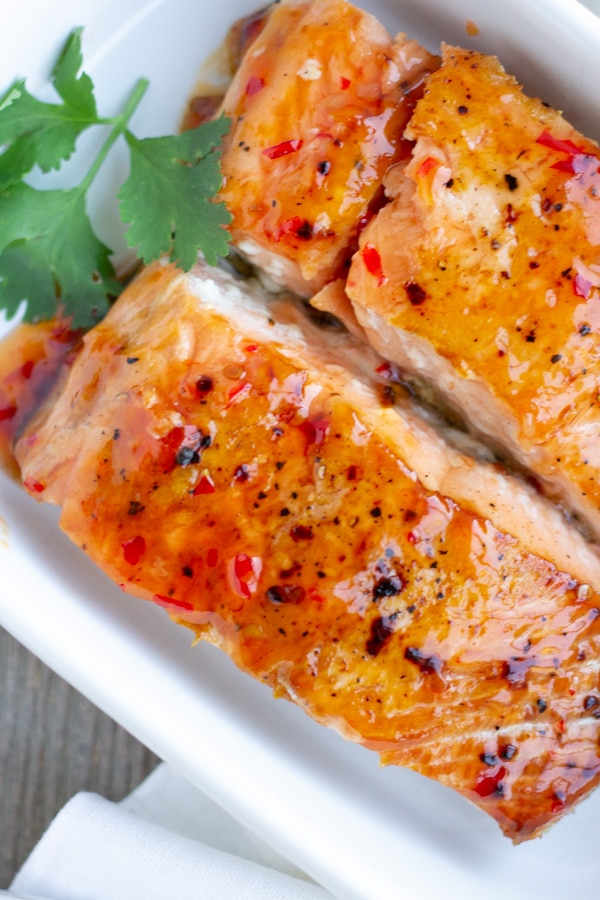 I've also purchased Wild Alaskan Salmon, which is suppose to be a higher quality salmon. But sometimes I find the Alaskan salmon has more of a fishy taste to it.
Feel free to use whichever type of salmon you prefer or have access to, whether it be fresh, frozen, wild, or farmed.
How to Cook Salmon
Salmon typically comes with the skin on, and this is how I prefer to cook it. You don't have to eat the skin, but It's much easier to remove the salmon skin after it has been cooked.
When cooking the salmon, the most important tip is to not overcook it!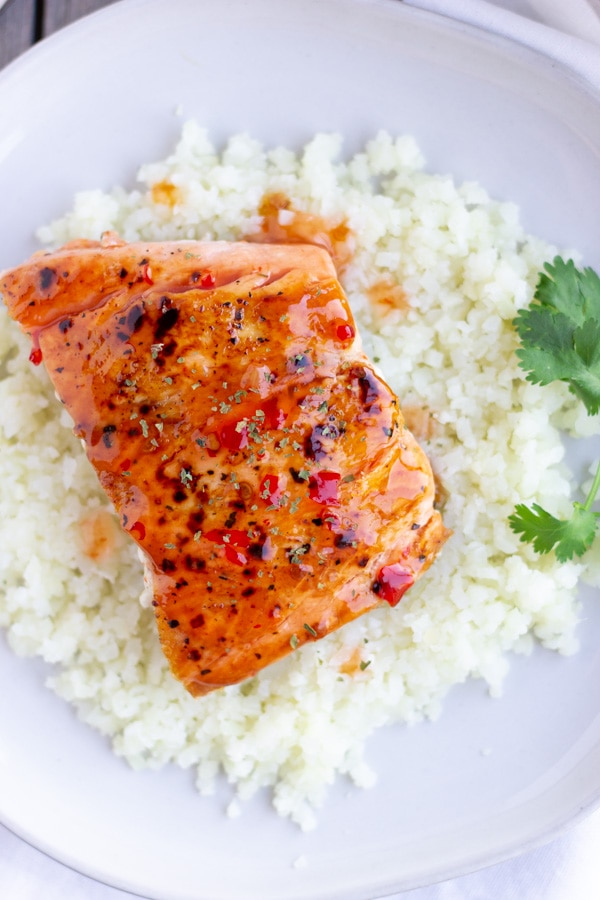 I always have my Instant Thermometer handy in the kitchen. Cook salmon to 145 degrees F, and remove it from the pan.
I start cooking the salmon with the skin side up to get a nice crust on the top of the fish, about 3 minutes, then flip it over to the skin side down, and cook for another 3 minutes, or longer till it reaches 145 degrees F.
The heat should be on medium. If it's too hot you'll start seeing white pockets oozing out, this is the fat coming out, which you don't want to happen. Instead, get the pan hot with oil, and adjust the heat as needed once you put the fish in.
In the last minute of cooking I pour the sweet chili sauce over the salmon, allow it to heat up, then remove from the pan and serve.
What kind of sweet chili sauce should you use?
For the Thai Sweet Chili sauce, I prefer to use one that doesn't have corn syrup.
The most authentic taste will be the Mae Ploy Brand, but I've also used the sweet chili sauce from Trader Joe's and Thai Kitchen.
Once the bottle of sweet chili sauce is open, store it in the refrigerator for the best taste. Sweet Chili Sauce also goes perfect with Thai Fried Spring Rolls, Baked Cream Cheese Wontons, or Sweet Chili Shrimp Cups.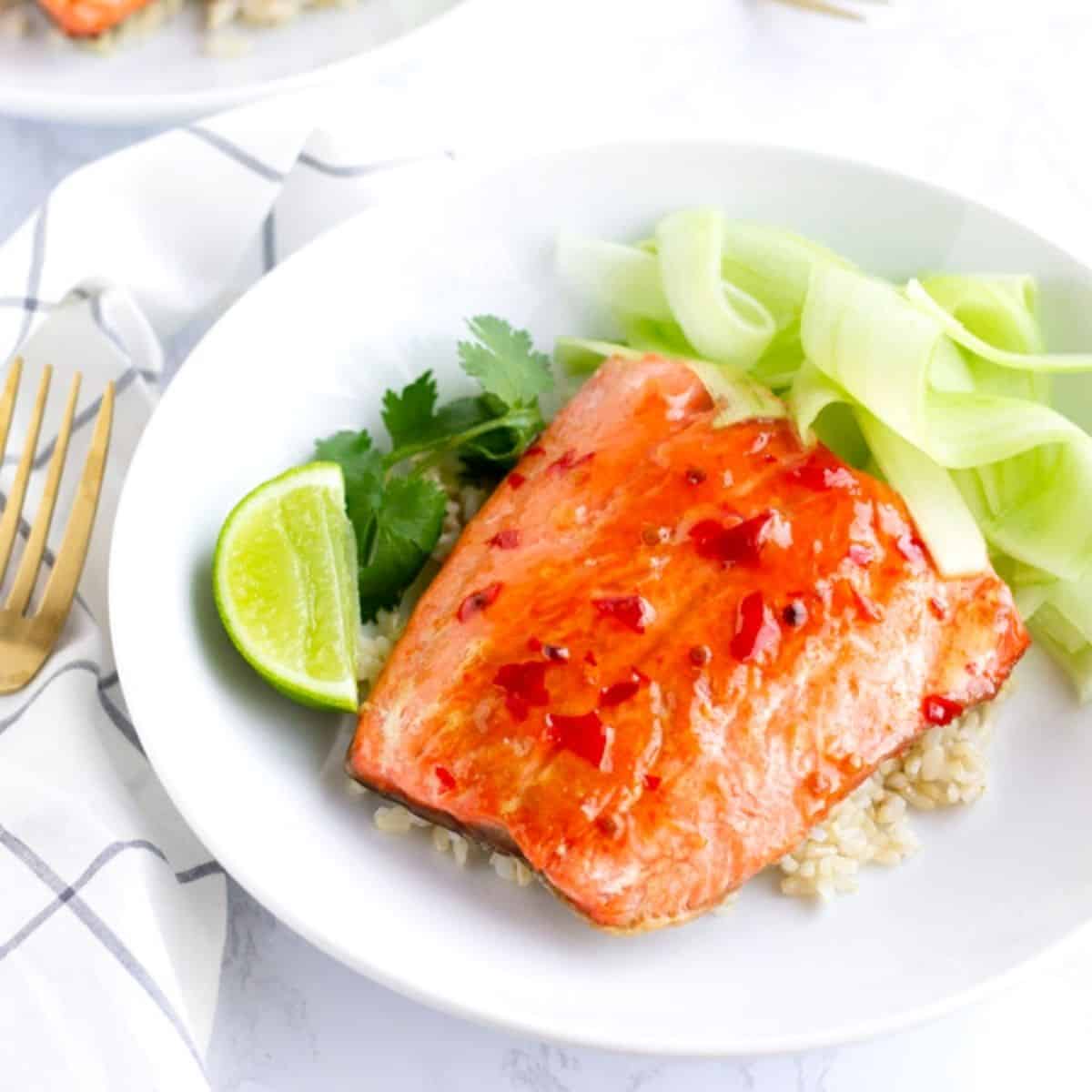 Pair this Sweet Chili Salmon with Cilantro Cauliflower Rice or a Kale Salad.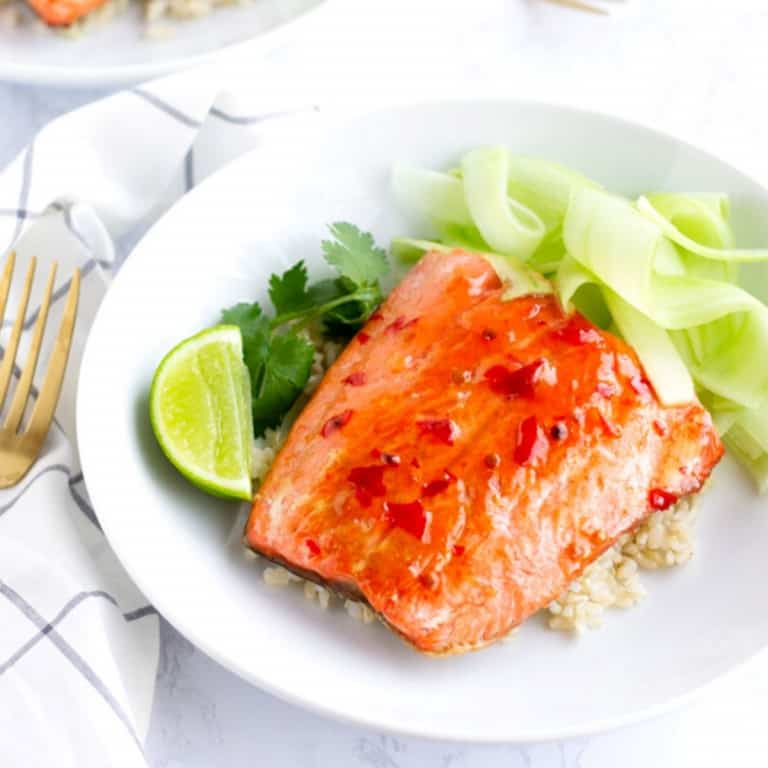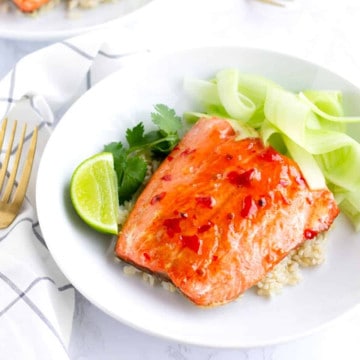 Thai Sweet Chili Salmon
Two ingredients is all you need for a Thai Sweet Chili Salmon that's easy to make for a healthy weeknight meal.
Ingredients
1

tablespoon

Oil

2

Salmon Filets

Skin on and seasoned with salt and pepper on both sides.
Instructions
Heat a large non stick skillet over medium heat with oil. Season Salmon filets with salt and pepper on both sides.

Place skin side up and cook for 3 minutes, depending on thickness. If fat pockets start coming out, then lower the heat. Flip Salmon over to skin side down and cook for another 3 minutes or until internal temp reaches 145 degrees F.

On the last minute of cooking, pour sweet chili sauce over the top of each filet. Allow to simmer for a minute, remove and serve immediately with rice or noodles.
Video
Notes
Most important tip is to not overcook the salmon, use an instant thermometer and remove at 145 degrees F.
To bake the salmon, place filets on a lined baking sheet or dish. Pour the sweet chili sauce on top. Bake at 400 degrees for 11-14 minutes. It will depend on how thick the salmon piece is. Check with the instant thermometer.
Serve with Rice or Cauliflower Rice
Nutrition
Calories:
391
kcal
Carbohydrates:
21
g
Protein:
34
g
Fat:
18
g
Saturated Fat:
2
g
Polyunsaturated Fat:
6
g
Monounsaturated Fat:
8
g
Trans Fat:
1
g
Cholesterol:
94
mg
Sodium:
500
mg
Potassium:
833
mg
Fiber:
1
g
Sugar:
20
g
Vitamin A:
68
IU
Calcium:
20
mg
Iron:
1
mg
Nutritional information is provided as an estimate only and depends on ingredients and amounts used. Thai Caliente makes no guarantees to the accuracy of this information.