Fried Thai Spring Rolls are the perfect appetizer or side dish for a Thai inspired meal.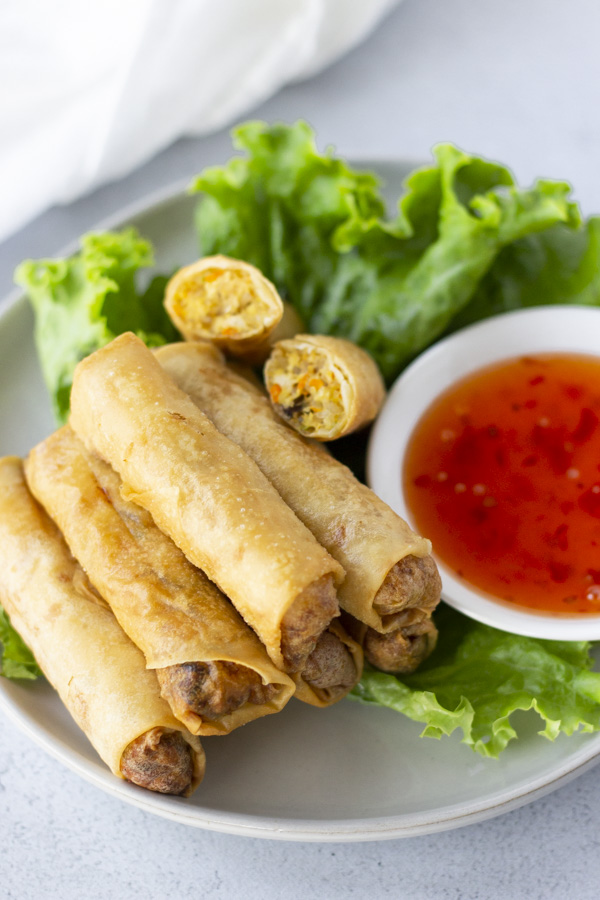 You'll find spring rolls at the night markets in Thailand, and they're a popular appetizer at Thai Restaurants. Growing up, my mom always made crispy spring rolls for parties, so continuing the tradition is so important to me.
I try my best to provide easy and quick recipes on my blog, this is not one of them.
There is quite a bit of prep work involved and the recipe is portioned for 50 small spring rolls. You can decrease the portion or follow the last step on how to freeze rolled spring rolls.
Jump to:
Spring Roll Wrapper
This is a key ingredient for Thai Spring Rolls, therefore the correct skin or wrapper is necessary. The one you want is found in the freezer section at most Asian Grocery Stores.
I use these same wrappers for my Shrimp in a Blanket, Cheese Rolls, and Banana Spring Rolls.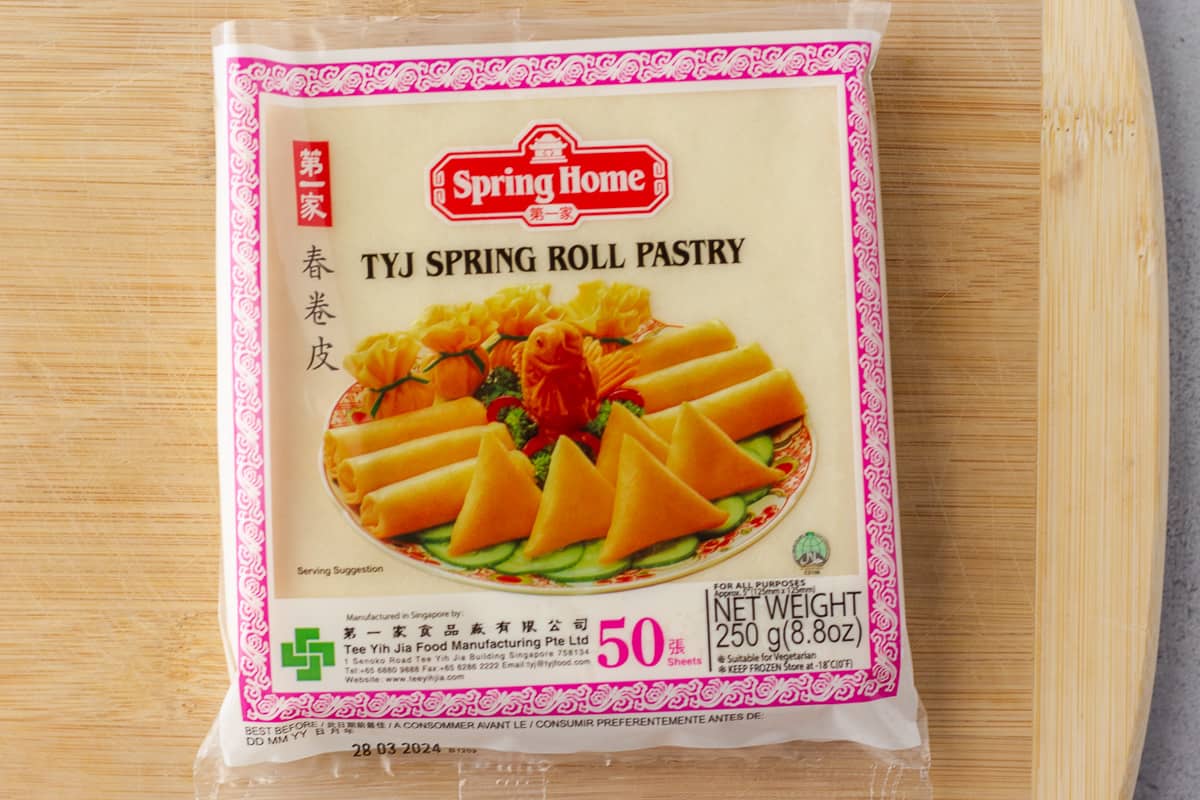 Do Not use the dried rice paper wrappers, these are for Fresh Spring Rolls.
If you are in a pinch and can't get the frozen spring roll wrapper, you can use egg roll wrappers. Just keep in mind they are thicker, have a different texture, and will taste more like an egg roll than spring roll.
I've always been able to find frozen spring roll wrappers at both large and small Asian markets. Watch the video down below to see which type of wrapper I use.
The Filling
Meat- In this recipe we are using ground chicken. Ground pork and shrimp are pretty popular proteins for fried springs rolls as well. For shrimp you can either dice it fine or pulse it a few times in a food processor.
Vegetarian- To make the spring rolls vegetarian use shredded cabbage instead of meat. You'll need to wilt the cabbage by cooking it in a pan with a little oil. A shortcut is to use coleslaw mix, which is usually 16 oz. Cook with all the remaining ingredients: noodles, mushrooms, carrots, cilantro stems, soy sauce, mushroom sauce, and spices. You can omit the eggs, and allow the filling to cool before rolling.
Glass noodles- They also go by Bean Thread or Vermicelli noodles. These need to be soaked in warm water to soften. Once softened, drain and rinse. I like to go in with kitchen shears or a knife and make the strands shorter, otherwise they will be really long.
Dried Mushrooms- When I first posted this recipe I used dried black fungus mushrooms, however I wanted to try using dried shiitake mushrooms since these are more common to find. The dried shiitake mushrooms worked great! You'll need to rehydrate them in warm water and chop them up.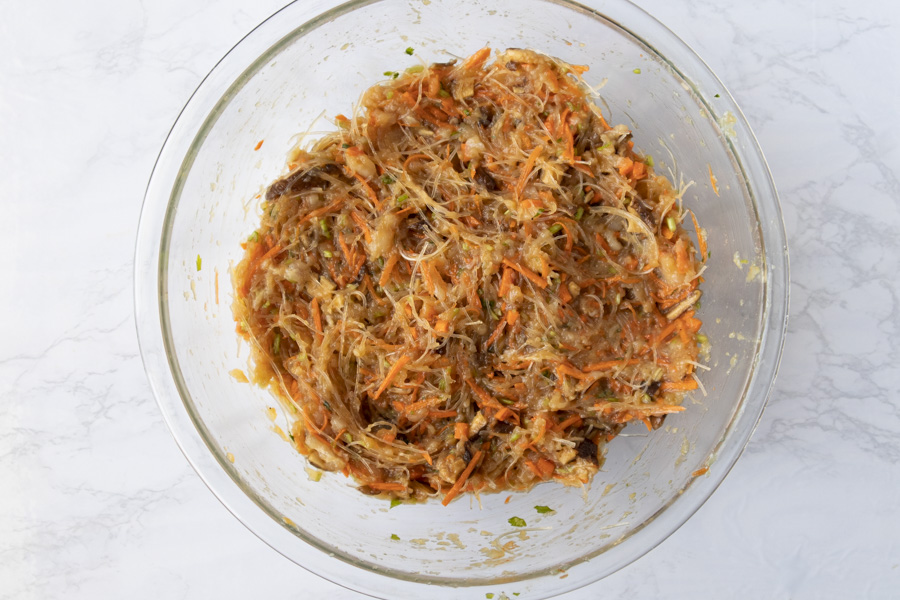 Cilantro Stems- I'm using just them stems and finely chopping them. The cilantro stems actually have more flavor and the leaves tend to turn brown when cooked. This is a great way to use up the stems and save the leaves for a fresh garnish.
Soy Sauce- Traditionally in Thai cooking Golden Mountain Soy Sauce is used. There is a slight difference in taste compared to Japanese soy sauce, but I've made this spring roll recipe with both and you can't taste a significant difference. If you already have regular soy sauce or need it to be low sodium, then go ahead and use what you have. Otherwise Golden Mountain sauce can be found at an Asian market.
Oyster Sauce- Oyster sauce is a thick, slightly sweet and salty sauce. If you have a shellfish allergy or need it to be vegan, then use mushroom sauce instead.
Rolling the Spring Rolls
This is the time consuming part, but also kind of fun. If you plan to make the full recipe, then I highly recommend having some help with this part.
I show in the video the 2 different sizes of square spring roll wrappers, and how to cut the large wrappers into triangles to make them smaller and double the quantity. Or you can use the wrapper as is and buy 2 packs.
Crack an egg into a small bowl and scramble for the 'glue'. Or you can mix equal parts all purpose flour and water together.
Triangle method- If you are cutting the large wrappers into triangles, then start with the point at the of your board. Dip your finger into the egg wash and paint the tip of the triangle. Then add a heaping tablespoon of filling in the middle, close to the bottom.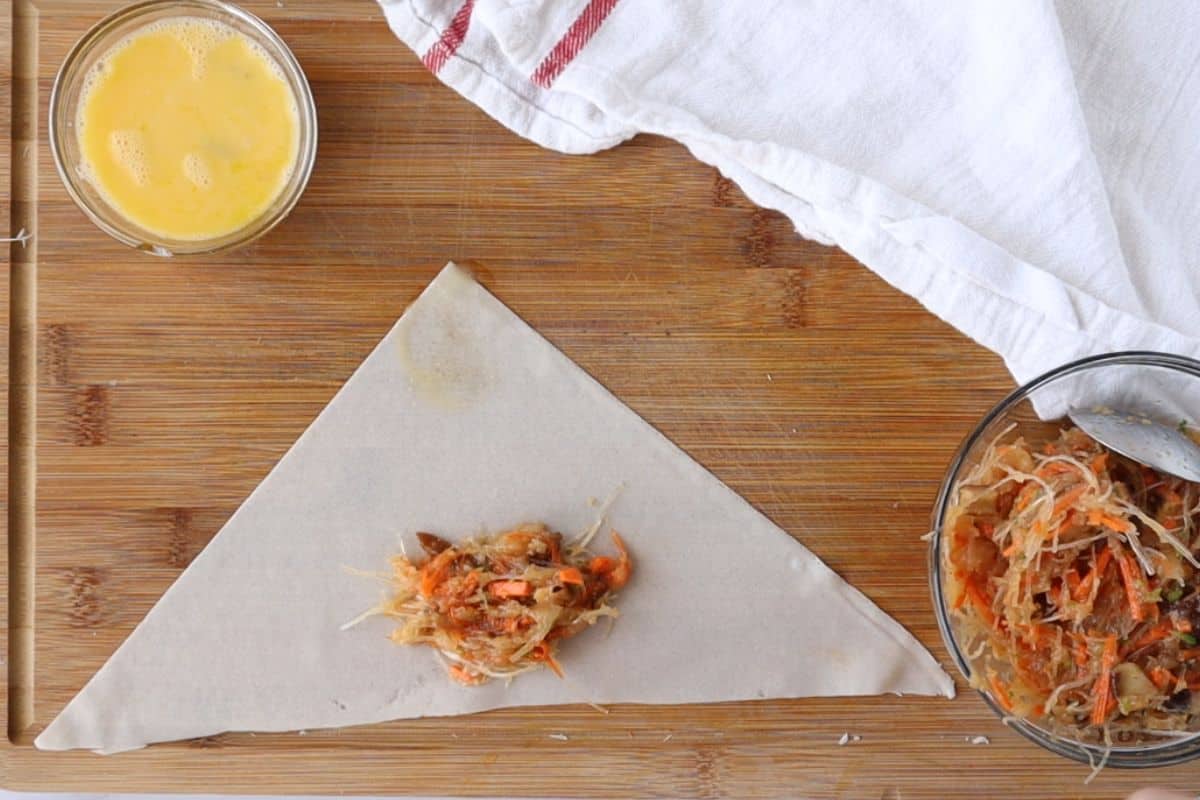 Fold one side over, smooth it out, fold the other side, smooth it out, and tightly roll it all the way to the top. Ensure the top is sealed with the egg wash.
Square Method- If you are using a full square wrapper then start with it in a diamond shape. Dip your finger in egg wash and brush the top point of the wrapper. Place the filling in the center/middle of the wrapper, fold the bottom over the filling, then repeat with the sides, and roll to the top.
In both methods you want to roll to be tight and sealed with the egg wash.
How to Fry
I prefer to shallow fry, this saves oil and makes clean up easier. I'm using a large skillet and filling it half way with a high heat oil like Canola. A good rule of thumb when frying is to have your oil at 350 degrees, otherwise if the temp is lower the food will absorb the oil instead of getting crispy.
If you don't own an instant thermometer, I can't recommend it enough! You can check the oil temp with one and it's essential when grilling or cooking meat, poultry, and even fish.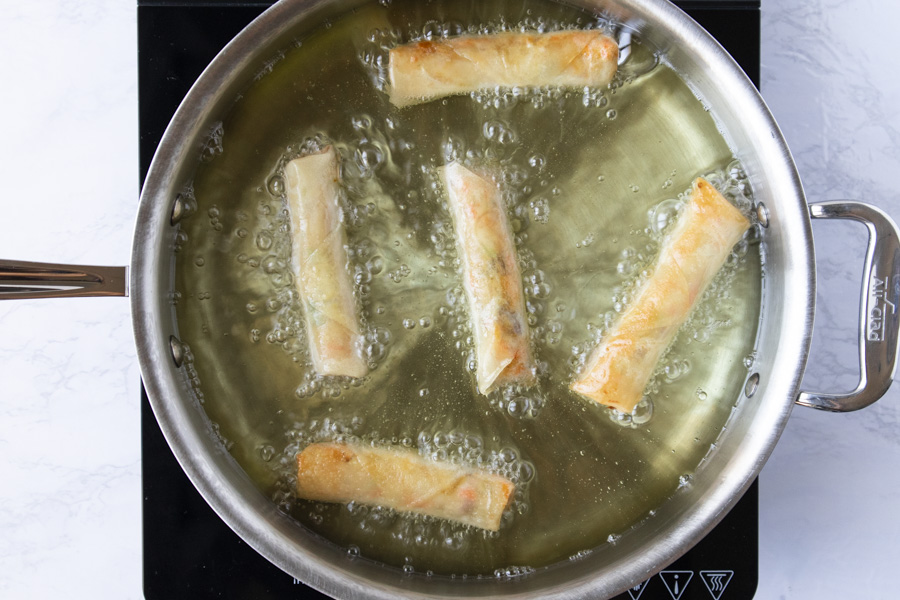 Carefully place spring rolls into the 350-degree oil, the number of rolls will depend on the size of your pan. Just make sure the pan is not too crowded to prevent the oil temp from dropping.
If you are using this recipe with ground chicken or pork, you want to make sure the spring rolls are fully cooked. I flip them a few times to get a nice golden color. Approximate cooking time was 4 minutes.
How to Serve and Store
The Best Part, eating the Spring Rolls!
When you remove the rolls from frying, place them on a paper towel lined dish to cool down for a few minutes. The filling will be very hot!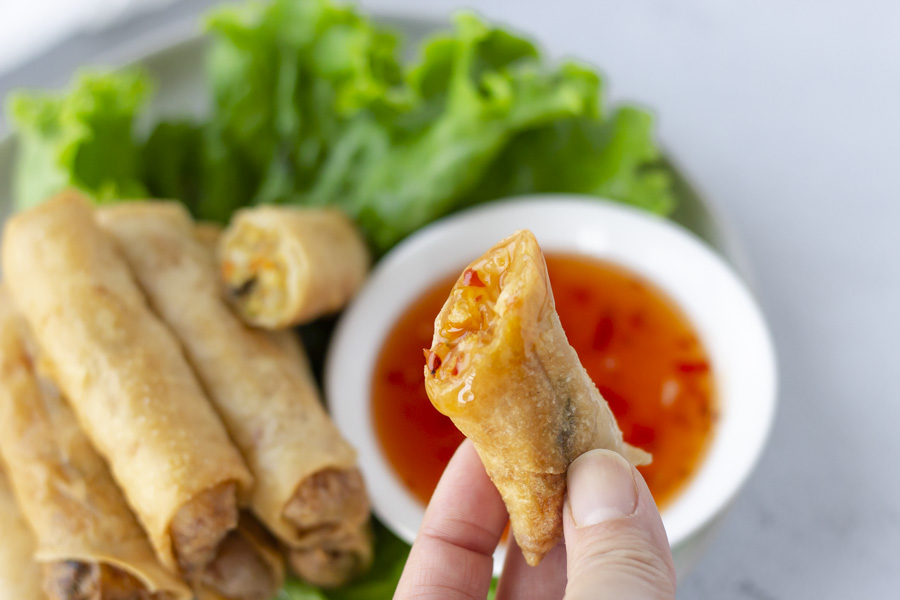 Thai spring rolls can be served as is or with a sweet chili dipping sauce. I just use a bottled sweet chili sauce.
If you are making all 50 spring rolls, keep them warm on a baking rack in the oven at 200 degrees. If you have leftover spring rolls, store them in the fridge and reheat in the oven at 350 degrees for about 10 minutes or until warm and crispy.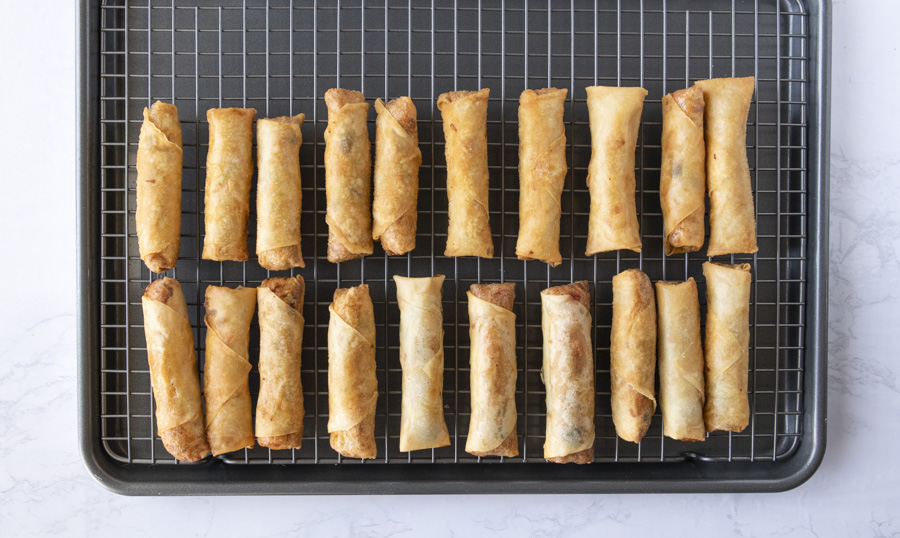 Another option is to roll all the spring rolls then place them in the freezer to fry when needed. For example you can store a dozen in a zip top bag and fry them directly from frozen.
Thai Fried Spring Rolls make a great appetizer or party snack. Pair them with my Thai Chicken Satay and Baked Cream Cheese Wontons for a Thai appetizer feast.
Want a non-fried version? Try these easy Rice Paper Rolls.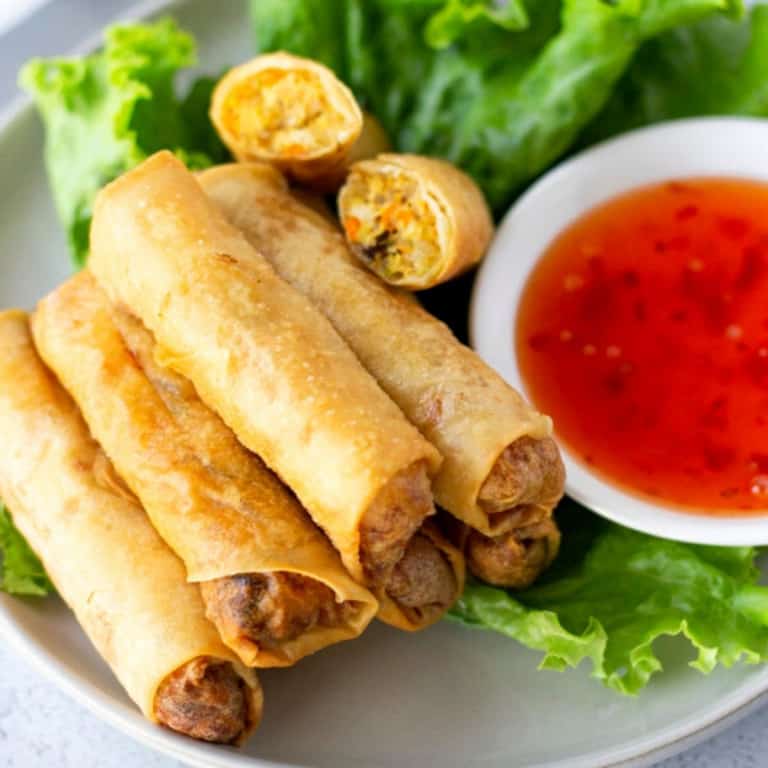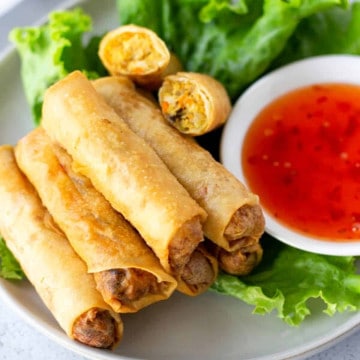 Thai Spring Roll Recipe
These crispy spring rolls have a meaty filling and go perfect with a sweet chili dipping sauce.
Ingredients
High heat oil for frying

Enough to fill your pot half way. I used Canola oil.

1

Egg

Beaten for the 'glue'

50

Spring Roll Wrappers (Frozen)

These are in the freezer section at Asian Markets. Defrost on counter 15 min before rolling.

2

pounds

Ground Chicken

(ground pork or ground turkey work too. See the Post for substitutions on Shrimp or Cabbage to make vegetarian.)

6

ounce

Glass, Bean Thread, or Vermicelli Noodles

Soak in warm water till softened, then chop into smaller pieces.

1

ounce

Dried Black Shiitake Mushrooms

Soak in warm water till softened, squeeze out excess water, and dice into small pieces.

2

Cup

Shredded Carrots

½

Cup

Finely Chopped Cilantro Stems

2

Whole Eggs

3

tablespoon

Golden Mountain Soy Sauce

Can substitute regular or low sodium soy sauce.

3

tablespoon

Oyster Sauce

Can substitute Mushroom Soy Sauce

1

teaspoon

Garlic Powder

1

teaspoon

Onion Powder

½

teaspoon

Salt

¼

teaspoon

White Pepper

¼

teaspoon

Black Pepper
Instructions
Soak noodles and dried mushrooms in separate bowls with warm water for 20 minutes or until soft.

Remove frozen spring roll wrappers and place on counter to thaw for 15 min.

Once soft, drain noodles and cut noodles with kitchen shears into smaller pieces. Drain and squeeze excess water from mushrooms and dice into small pieces.

In a large mixing bowl, add all the ingredients: ground chicken, noodles, mushrooms, carrots, cilantro stems, 2 eggs, soy sauce, oyster sauce, and spices.

Using your hands, with gloves to make it less messy, mix everything until well incorporated. The mixture should be pretty sticky.

You can also do a taste test, by place a spoonful into a microwave bowl and heat on high for about 30-45 seconds.
Rolling the Spring Rolls:
Use a large cutting board as your work surface. Carefully peel apart all the spring roll wrappers and place them under a lightly damp towel. This will prevent them from drying out.

Crack the egg in a small bowel and scramble. Then have your filling in a bowl nearby.

Place 1 sheet of spring roll wrapper onto your board and have it in a diamond shape instead of a square. Dip your finger in the egg wash and paint the top of the wrapper at the tip.

Add a heaping tablespoon of filling into the center of the wrapper and spread to about 4 inches wide.

Fold the bottom portion over the filling and smooth it over the filling to shape the spring roll. Then fold the left and right sides up against the filling and smooth over. Then roll upwards until sealed.

If you are cutting the wrappers as I did in the video, then place the wrapper in a triangle with the point facing to the top. Dip your finger in the egg wash and paint the top of the wrapper at the tip. Add a heaping tablespoon of filling into the center of the wrapper, towards the bottom, and spread to about 4 inch width. Fold the sides over and tightly roll to the top.

Once you have all your spring rolls done, heat oil in a fryer or large pot to 350 degrees F. Add spring rolls carefully, but don't overcrowd pan. Carefully flip each spring roll to fry all sides until the outside is golden brown.

If frying in batches, keep spring rolls warm on a baking sheet in the oven at 200 degrees. When ready to eat, serve with a side of sweet chili dipping sauce.
Nutrition
Serving:
1
Roll
Calories:
102
kcal
Carbohydrates:
15
g
Protein:
6
g
Fat:
2
g
Saturated Fat:
1
g
Polyunsaturated Fat:
1
g
Monounsaturated Fat:
1
g
Trans Fat:
1
g
Cholesterol:
27
mg
Sodium:
241
mg
Potassium:
144
mg
Fiber:
1
g
Sugar:
1
g
Vitamin A:
883
IU
Vitamin C:
1
mg
Calcium:
15
mg
Iron:
1
mg
Nutritional information is provided as an estimate only and depends on ingredients and amounts used. Thai Caliente makes no guarantees to the accuracy of this information.