Tacos Dorados are filled with your favorite filling and fried until golden. This recipe will show you how to make Tacos Dorados de Papa, or Fried Potato Tacos.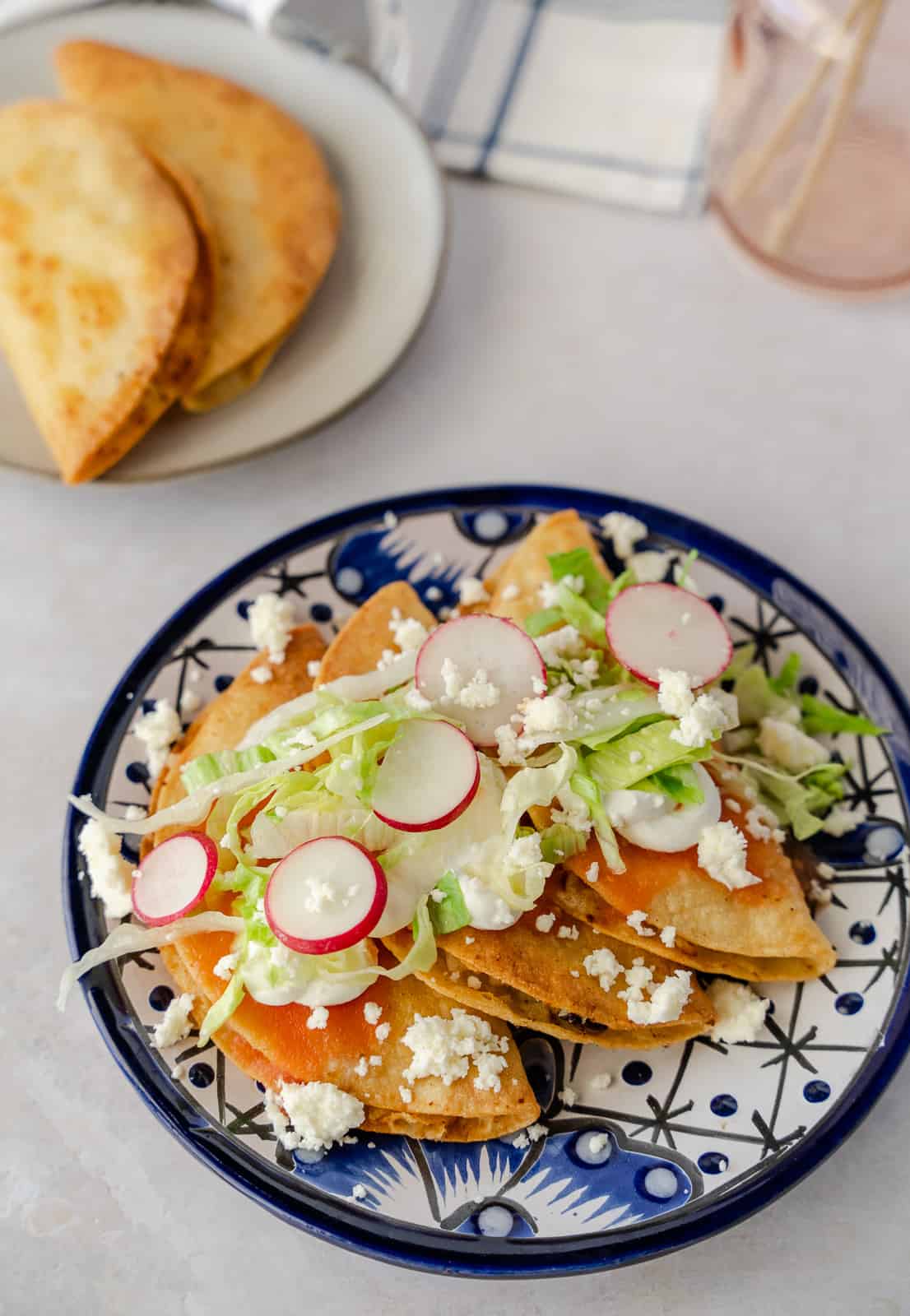 Tacos dorados can be filled with different protiens like beef, chicken, or pork, but my favorite way is with mashed potatoes or papas.
It's a simple and affordable taco, but they don't lack any flavor. Tacos dorados de papa are a comforting dish the whole family will love.
Jump to:
Potato Filling
The potato filling consists of the following ingredients:
Russet Potatoes
Butter
Onion
Sour Cream
Since we will be deep frying the tacos, the potatoes need a binder to ensure they don't leak out. Sour cream holds the potatoes together and adds flavor.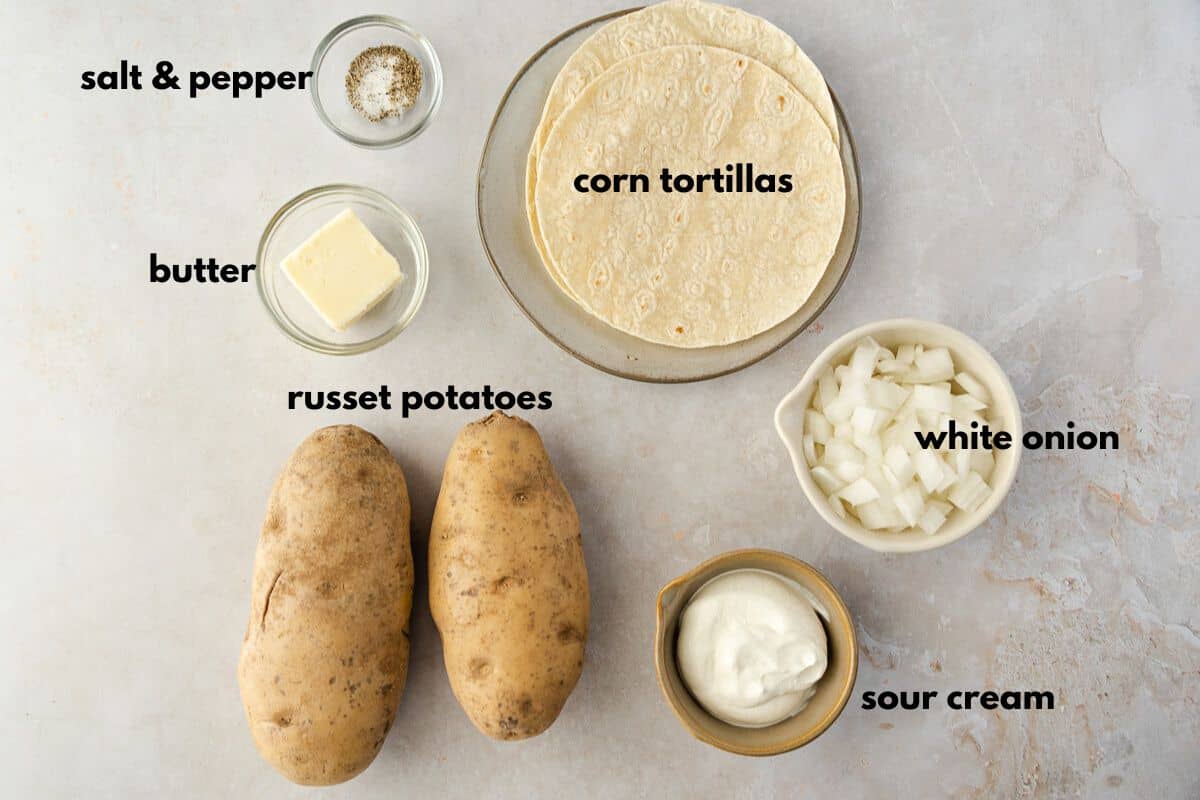 Boil the potatoes until they are fork tender, this will ensure they can be mashed nice and smooth.
Sauté the onions in a pan with the butter until they develop some color. If you have picky eaters like I do, then you can omit the onions and use onion powder instead.
Add the boiled potatoes to the pan and mash them until smooth. Turn off the heat, add sour cream along with salt and pepper. You can also substitute garlic salt instead of salt.
Taste the mashed potatoes to ensure they have enough seasoning.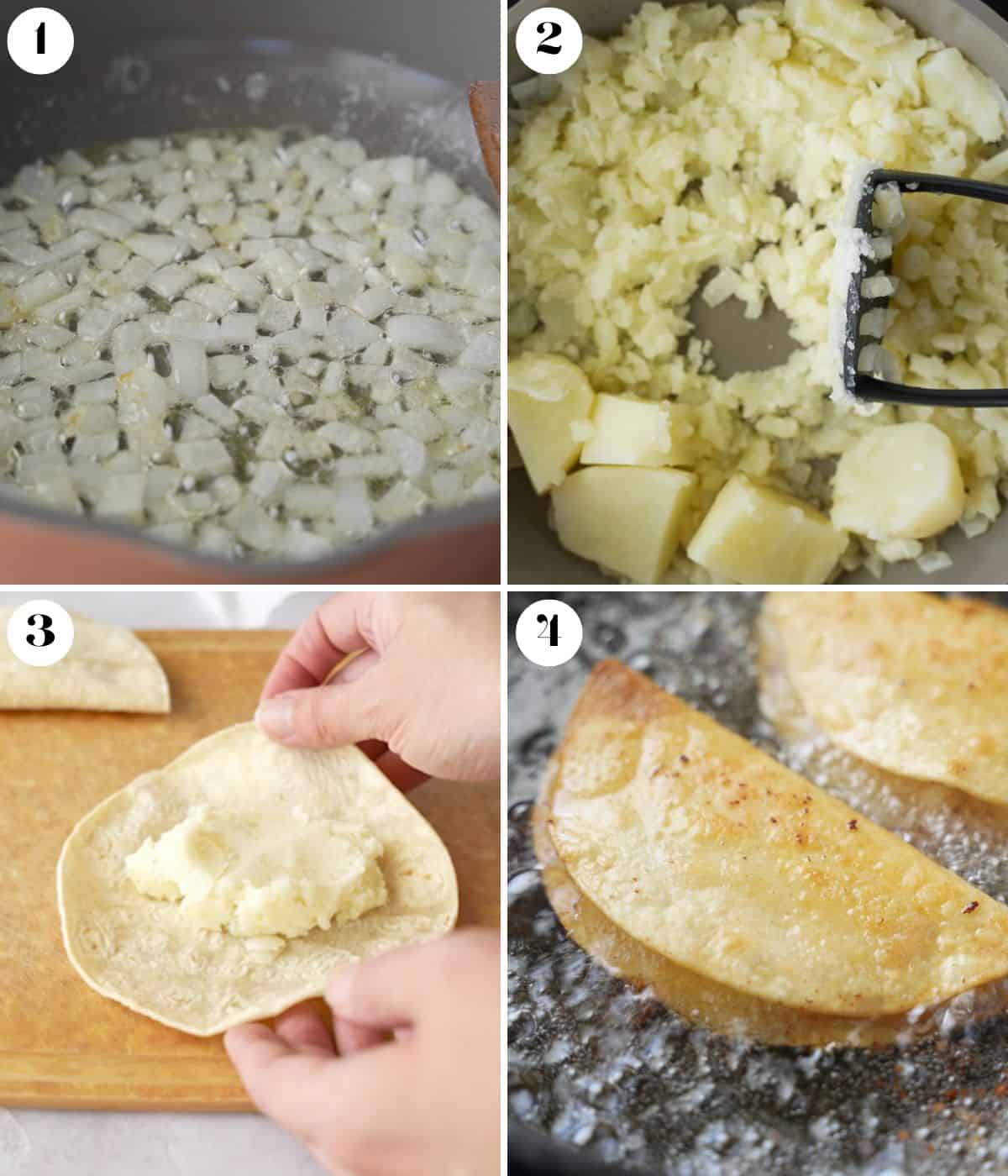 Making The Tacos
Wrap corn tortillas with a damp paper towel, place them on a plate and microwave for about 30 seconds or until they become soft.
This will help prevent them from breaking when folding. Also keep the tortillas wrapped in the paper towel to prevent them from drying out while you are folding the tacos.
Place about 2 tablespoons of the potato filling in the center of a corn tortila.
Fold the tortilla in half and press down lightly to create a seal. Make sure the filling does not go to the edge of the tortilla. Leave some space around the edge of the taco.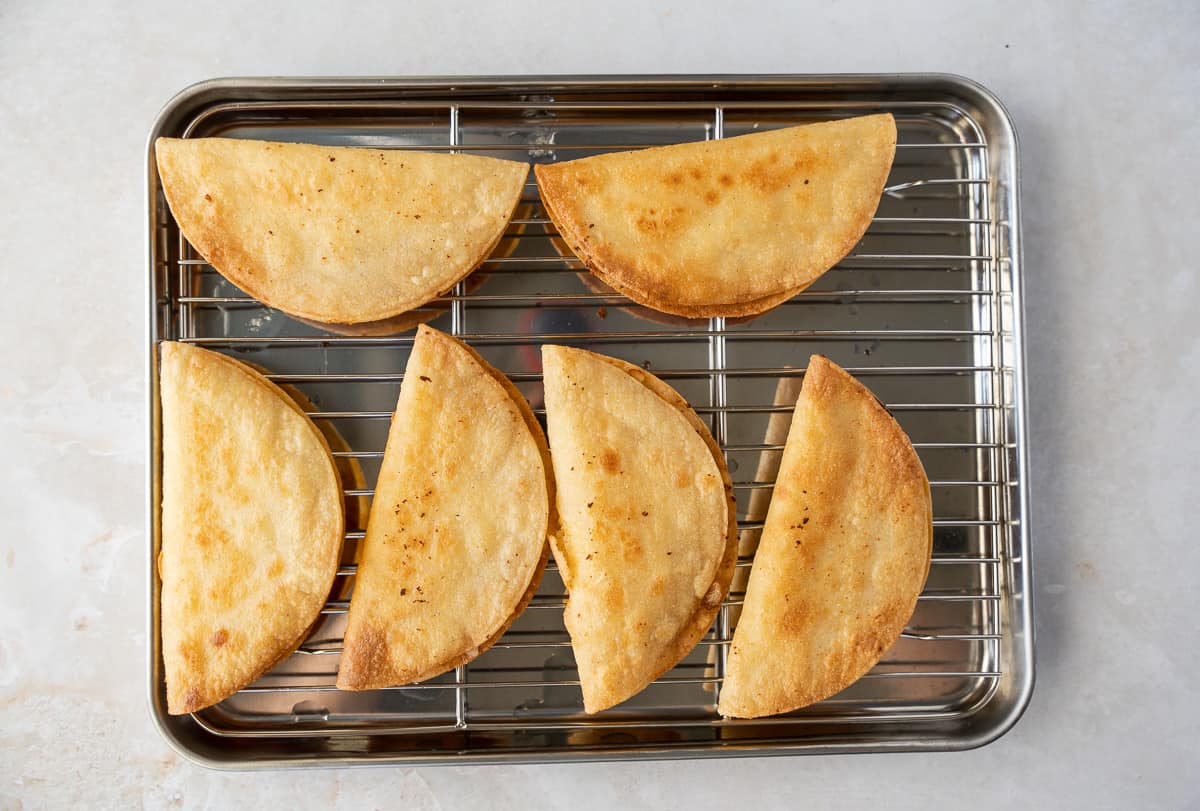 Fry the tacos in oil until they are golden on each side. Allow to drain on a rack or paper towel.
If you are making a large batch, keep the fried tacos warm in a 200° F oven while you fry the remaining tacos.
Frequently Asked Questions
Can I make Tacos Dorados with flour tortillas?
You can use flour tortillas, just keep in mind the texture will be slightly different. Corn tortillas give a nice crispy crunch, and flour tortillas will be crispy on the outside and slightly soft on the inside.
Can the Tacos Dorados be baked instead of fried?
Yes, just like my baked Flauta recipe, you can spray the tacos with oil and bake or air fry them until they get crispy. It can take anywhere from 8-15 minutes at 400°F. The texture will be different than the deep fried version.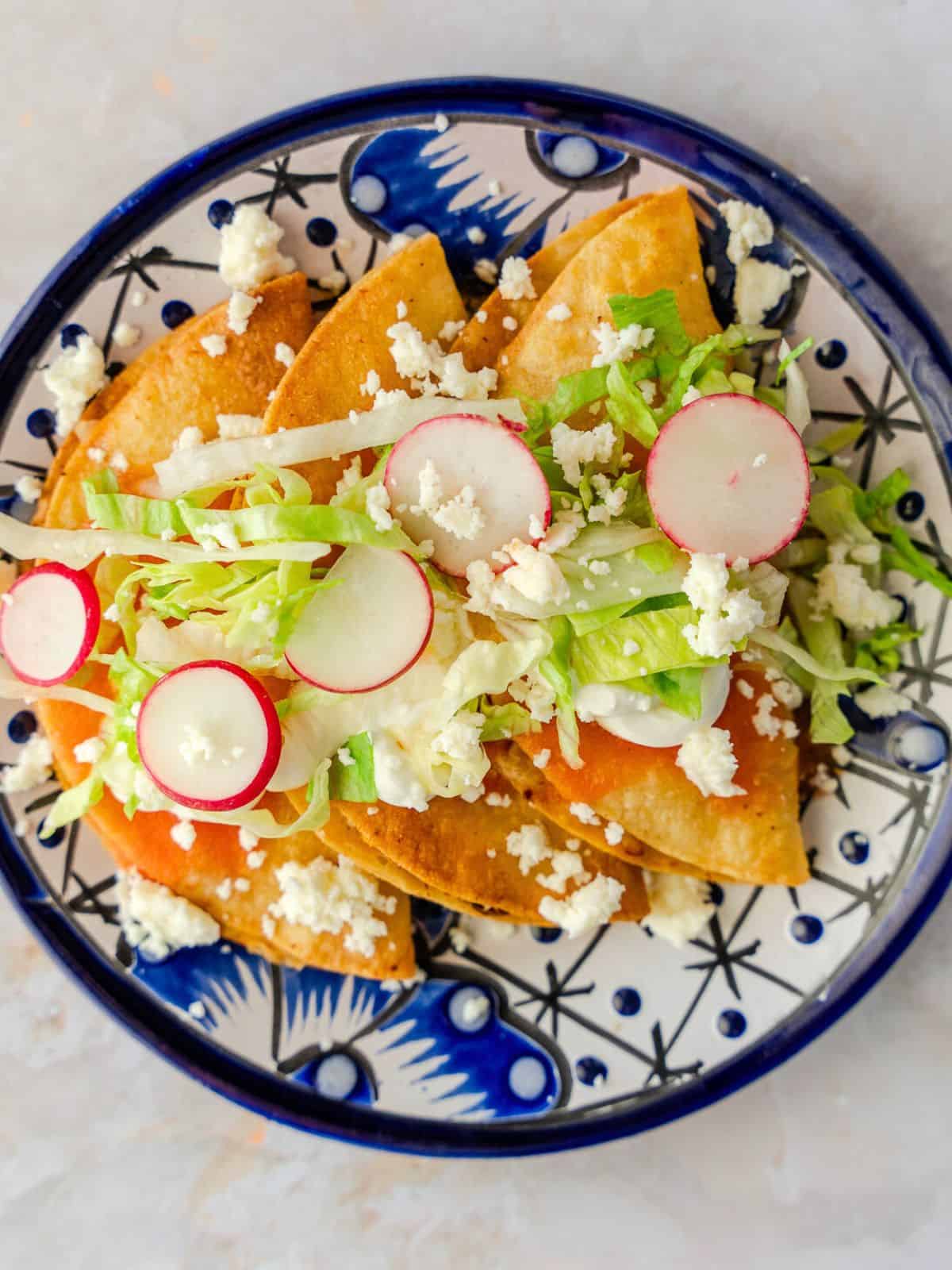 How to Serve
Tacos dorados need a few toppings to complete the dish. You can either gently open the tacos and place the toppings inside the taco or serve them on top like a Tostada.
I'm serving mine with tomato salsa, the same one I use in my Picadillo Taco recipe.
If you want some spice to your tacos, then make a chile de arbol salsa.
Serve with some shredded lettuce, sour cream, radishes, and queso fresco. Other topping ideas are Pickled Red Onions, Mexican Crema, or Avocado.
Store any leftover tacos in the refrigerator and reheat them in the oven or air fryer until they are warm.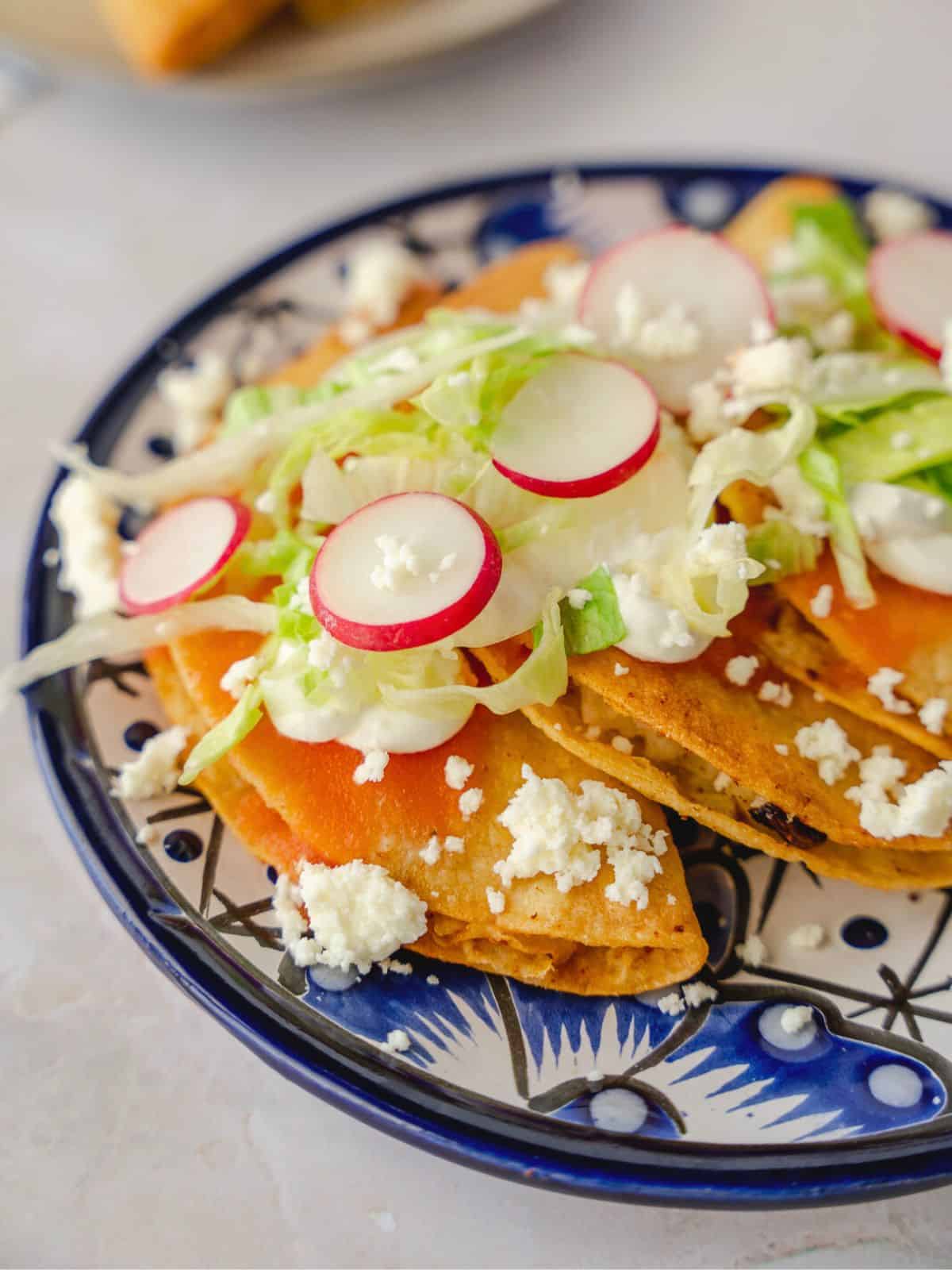 Tacos dorados are a family favorite recipe and my father in law's most requested dish for Sunday dinner. I hope you give them a try and leave a rating and review below, I appreciate it!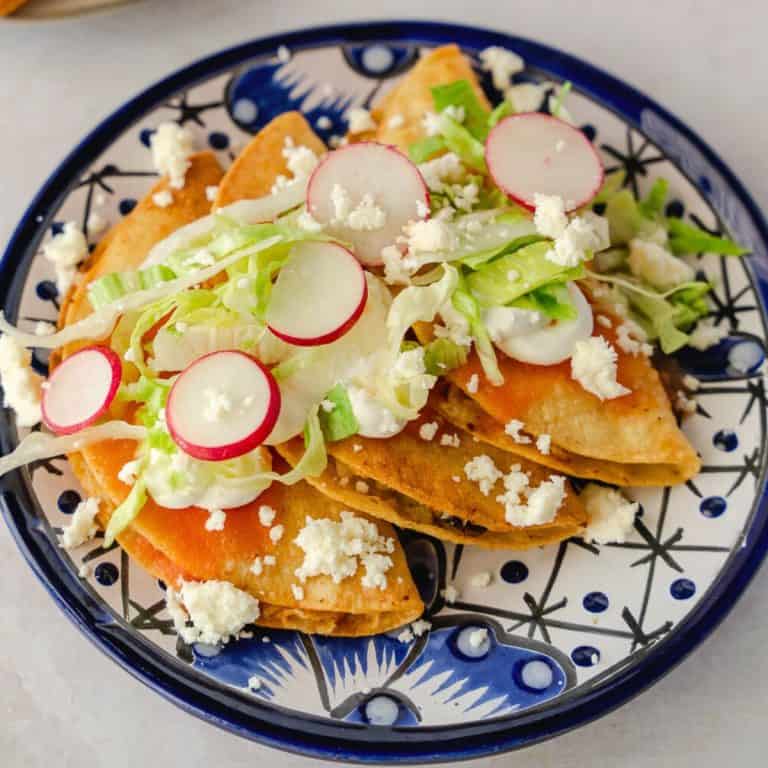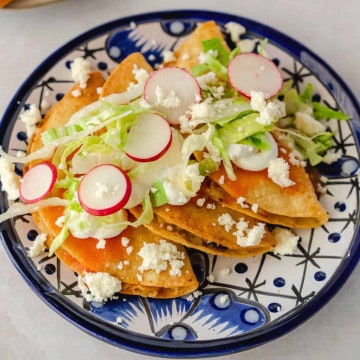 Tacos Dorados de Papa Recipe
Tacos Dorados de Papa are crispy fried tacos filled with mashed potatoes. Serve them with tomato salsa and fresh toppings like lettuce, radishes, and queso fresco.
Ingredients
Nuetral Oil

(for deep frying the tacos)

2

Russet Potatoes

2

tablespoon

Butter

½

cup

White Onion

diced

¼

cup

Sour Cream

Salt and Pepper

to taste
Tomato Salsa
4

Roma Tomatoes

¼

teaspoon

Salt

or Garlic Salt

Jalapeno

(if you want it spicy)
Toppings: Shredded lettuce, radishes, queso fresco, or pickled onions
Instructions
Peel and cut the potatoes into large chunks. Place in a pot of water and bring to a boil. Simmer until potatoes are soft then drain the water.

In a non-stick skillet add butter, then add onions and sauté until translucent.

Add cooked potatoes to the skillet, and mash until smooth.

Turn off the heat, add sour cream, and season with salt and pepper. Taste to make sure the seasoning is good. Remove from heat and allow to cool slightly.

Wash Roma tomatoes and cut slits on the top making an X. Place them into a small pot with water and bring to a boil for 4 minutes or until the skin starts to peel off.

Remove tomatoes from the water and allow them to cool. Peel off the skin and place tomatoes in a blender with salt or garlic salt. If you want the sauce spicy, add a jalapeno here. Blend until smooth and set aside.

Wrap the corn tortillas with a damp paper towel and microwave for about 30 seconds, or until warm.

Place 2 full tablespoons of the mashed potato mixture on each tortilla, fold it in half and gently press down to create a seal. Do not let the potato mixture reach the edge of the tortilla.

Heat a cast iron skillet with oil, enough to cover the tacos at least halfway. Once the oil reaches 350° F. Carefully place a couple of tacos in the oil. Don't overcrowd the pan.

Cook until each side is golden. Remove tacos and allow to drain before serving.

Serve the tacos with tomato salsa and toppings of your choice.
Nutrition
Calories:
117
kcal
Carbohydrates:
20
g
Protein:
3
g
Fat:
4
g
Saturated Fat:
2
g
Polyunsaturated Fat:
1
g
Monounsaturated Fat:
1
g
Trans Fat:
0.1
g
Cholesterol:
8
mg
Sodium:
80
mg
Potassium:
262
mg
Fiber:
2
g
Sugar:
1
g
Vitamin A:
261
IU
Vitamin C:
5
mg
Calcium:
35
mg
Iron:
1
mg
Nutritional information is provided as an estimate only and depends on ingredients and amounts used. Thai Caliente makes no guarantees to the accuracy of this information.