If you like traditional Thai Beef Salad, then you're going to love this easy Meal Prep version. Meal Prepping is definitely on trend, and for great reasons. Even though I stay home, I still prefer to have lunch prepped for the week. Things always seem to be coming up and knowing that I have a nutritious lunch ready, prevents me from eating not so healthy things. Personally, I prefer to make my lunches twice a week. I just can't seem to dedicate enough time in 1 day to do lunches/snacks for the whole week. Instead I make a meal that will last 2-3 days, or less if my husband decides to bring lunch to work. And then make another meal mid-week. For the most part this works for me.
If you're familiar with Thai dishes, then you'll notice that most of the salads like Larb and Nam Tok's have the same flavor profile. The main dressing is a simple combination of fish sauce, lime juice, and chili flakes. There are some dressing recipes that add garlic, onions, and other aromatics, but this is the very simple version. This Thai Beef salad is quick to prep, with the steak being the only thing you need to cook. As recommend in my original Beef Salad recipe, cook the steak to no more than medium. The acid from the lime juice will cook the steak more once mixed.
I decided to use an Herb Spring Mix salad, as my base, to cut back on extra toppings. The mason jar pictures the dressing in the bottom, but after the second day, the steak became too tough from the lime juice. Instead I would recommend to have the dressing on the side or adding it the morning before taking it to work. You could also have the tomatoes on the bottom with the dressing, to pickle them, and then the steak, and top with the mixed greens. I would only prep the salad like this for no more than two days. Once you're ready to eat, just dump it into a bowl, give it a good stir and enjoy. If you prefer the steak warm, then remove and heat separately. Then place on top of salad and add dressing on top. Now this looks like a delicious lunch!
These are the jars I use along with plastic lids since the metal ones rust after a few washes:
As an Amazon Associate I earn from qualifying purchases.
Meal Prep Thai Beef Salad
Traditional Thai Beef Salad simplified for an easy meal prep version.
Ingredients
10

oz

Sirloin Steak

seasoned with salt/pepper on both sides

2

Cups

mixed herb baby greens

1

Cup

Cherry tomatoes

sliced in half

1

Lime Squeezed

1

tablespoon

Fish Sauce

1-2

teaspoon

Dried Chili Flakes

add more or less depending on spice level
Instructions
Season steak on both sides with salt and pepper. Heat a heavy pan or Cast Iron skillet over medium/high heat. Place steak and cook for about 3-4 minutes on each side. Remove and allow to rest for 10 minutes before slicing thin.

Mix fresh lime juice, fish sauce, and chili flakes together and store in a small container.
If Eating Now:
Place 1 cup of packed herb mixed greens and ½ cup of sliced cherry tomatoes, and 5 oz of sliced steak on top. Add about a tablespoon of the dressing and enjoy.
If Packing for Lunch:
Place steak, tomatoes, and greens in a mason jar. Store dressing in a separate container. Can store like this for 2 days. Or add dressing on bottom, tomatoes, steak, and mixed greens on top. No need to reheat the steak, but if you prefer it warm, remove from salad, reheat slightly, and then mix with dressing.
Nutritional information is provided as an estimate only and depends on ingredients and amounts used. Thai Caliente makes no guarantees to the accuracy of this information.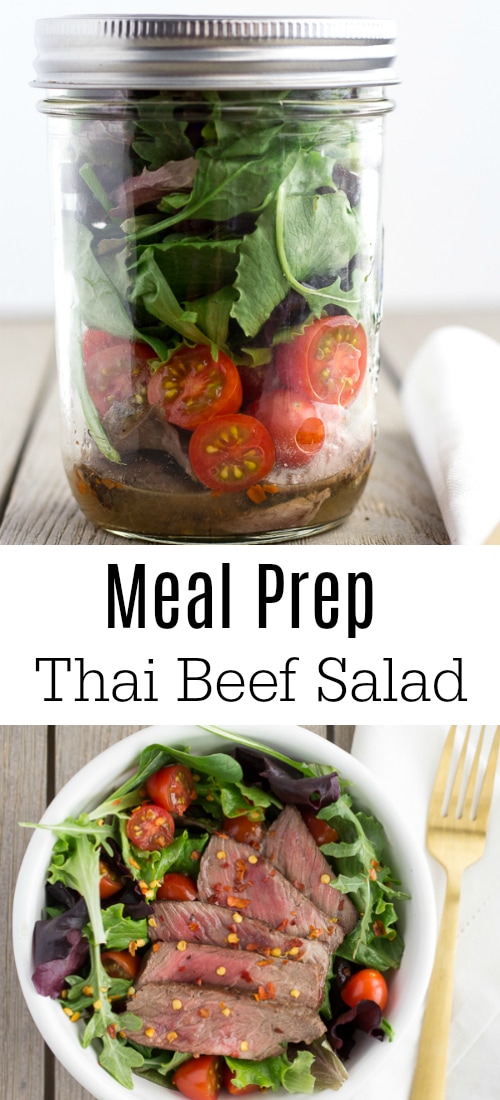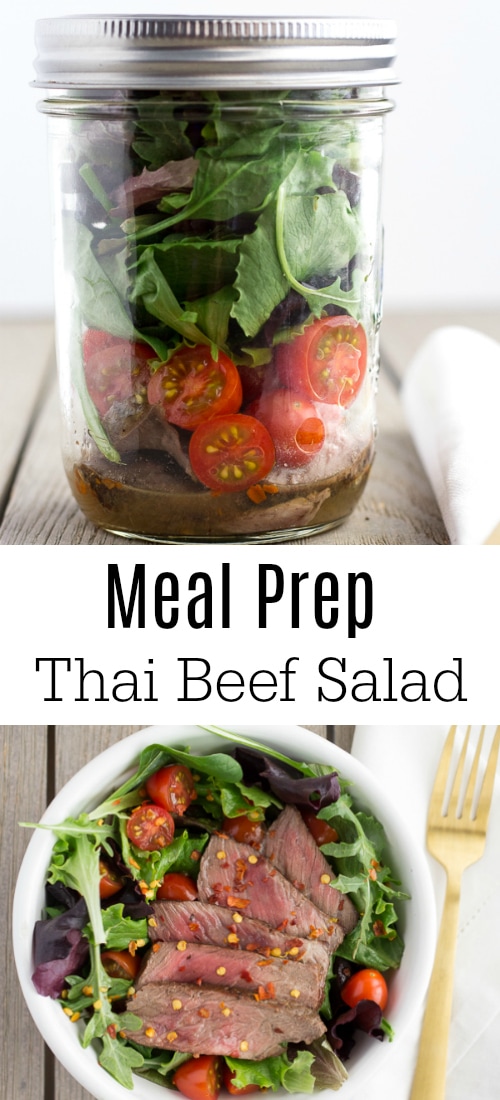 Similar Recipes:
Thai Beef Waterfall Salad: https://thaicaliente.com/nue-nam-tok-thai-beef-waterfall-salad/
Larb Gai- https://thaicaliente.com/larb-gai/