This Garlic Shrimp and Broccoli Stir-Fry comes together in less than 10 minutes and packs lots of flavor without all the sodium.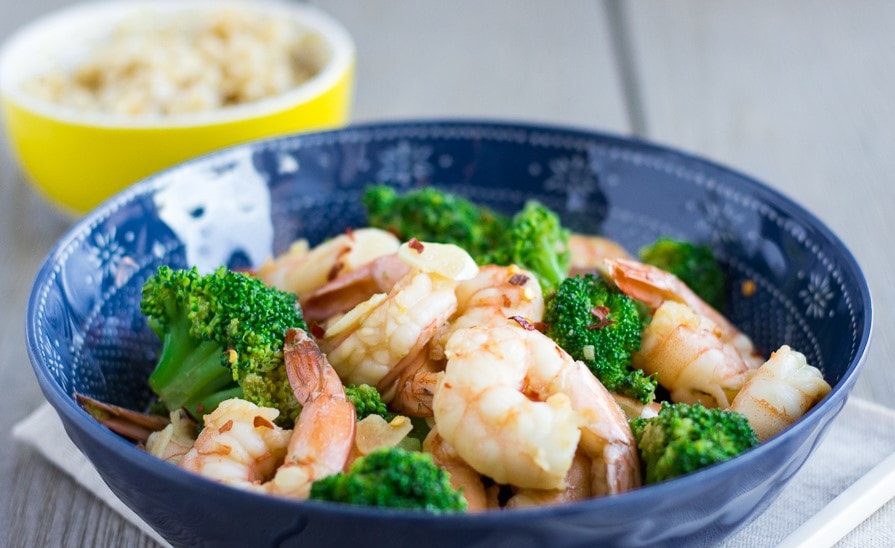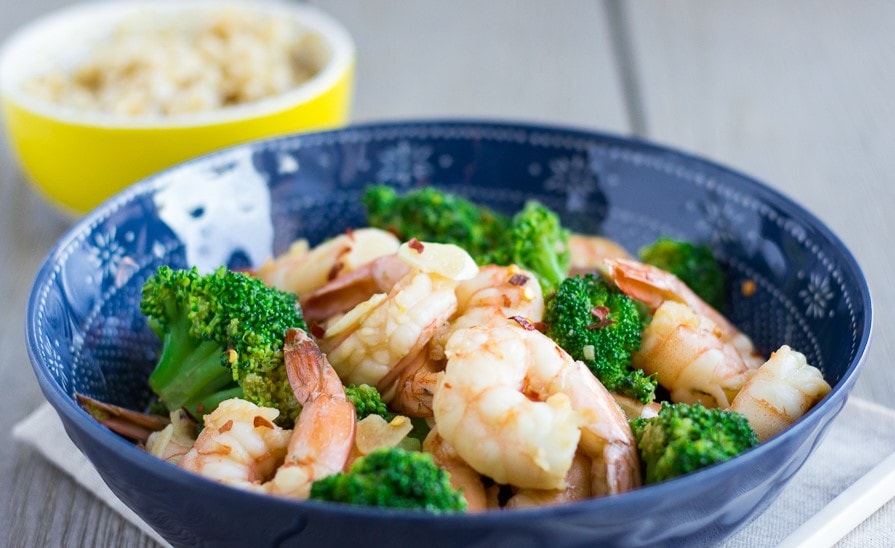 Do you ever order the stir-fry broccoli at Asian restaurants thinking you're eating something healthy? I hate to burst your bubble, but chances are that stir-fry is loaded with sodium and oil. Not exactly healthy for you. The good news is that you can make fast and easy stir-fry's at home, and I guarantee they'll be much healthier for you!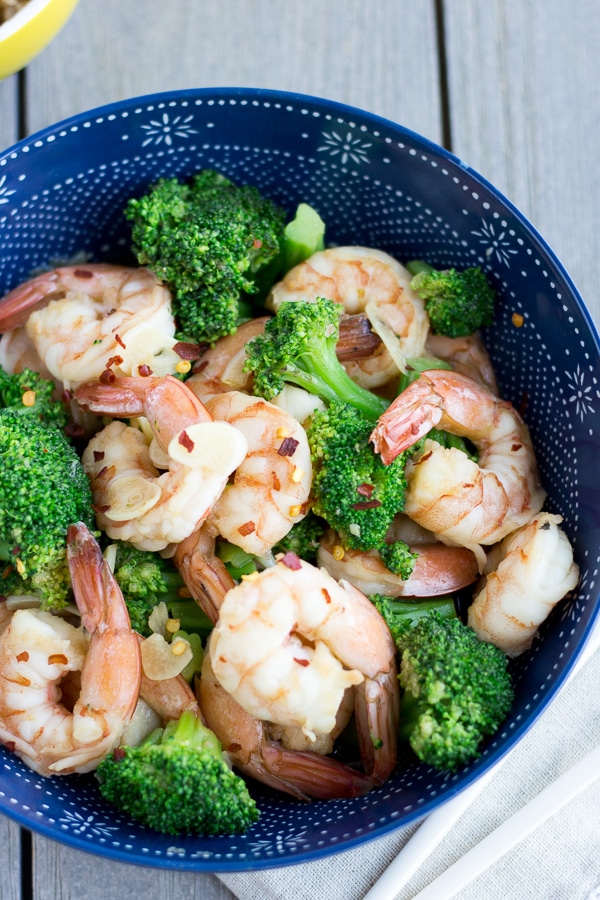 I always have frozen shrimp on hand, because it only takes a couple minutes to defrost, and my son loves shrimp. You could also use frozen broccoli florets if you have those on hand, or fresh ones like I did. With fresh broccoli, I recommend blanching the broccoli first in boiling water for a minute then rinsing in cold water to stop the cooking process. The broccoli will be a nice vibrant green and crisp for the stir fry.
Since this stir-fry uses a small amount of soy sauce, I built flavor with lots of fresh garlic. I used about 4 cloves and sliced them really thin. Of course I also added some heat with red pepper flakes. I made a separate batch for the kids without the pepper flakes. Another way to cut back on sodium, or if you are gluten free, is to use Coconut Aminos. I've been using Coconut Aminos for over a year now, and my kids actually prefer the taste over soy sauce. You still get some saltiness, but the coconut also gives a hint of sweetness. The best part is that it has almost 70% less sodium than regular soy sauce.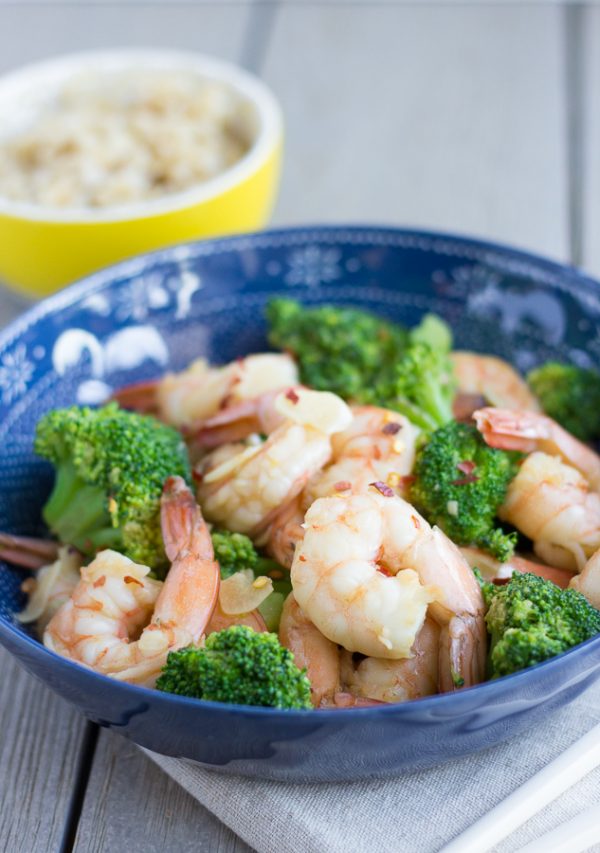 This Garlic Shrimp and Broccoli is a stir-fry, and if you don't have a wok, then I use a large skillet. You don't have to use a wok for Asian cooking, it just helps to make the stir-fry quicker since you can cook up and along the sides of the wok as you are tossing the ingredients. If you are looking to purchase one, I suggest a carbon steel one. Like all stir-fry's, have your ingredients prepped and ready. Serve the Garlic Shrimp and Broccoli with some Jasmine brown rice, or make it even more low-carb with a side of cauliflower rice. Either way, It's going to be healthier than take-out.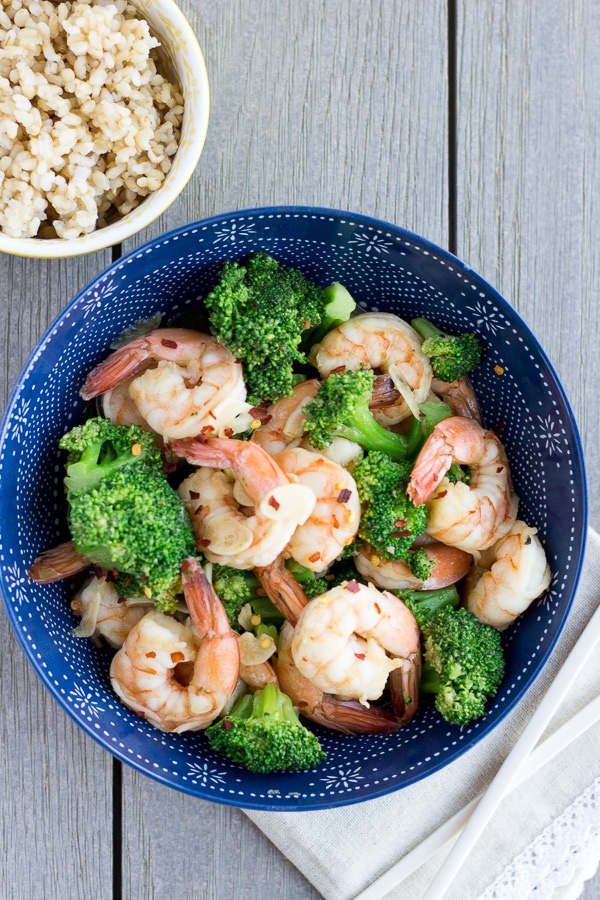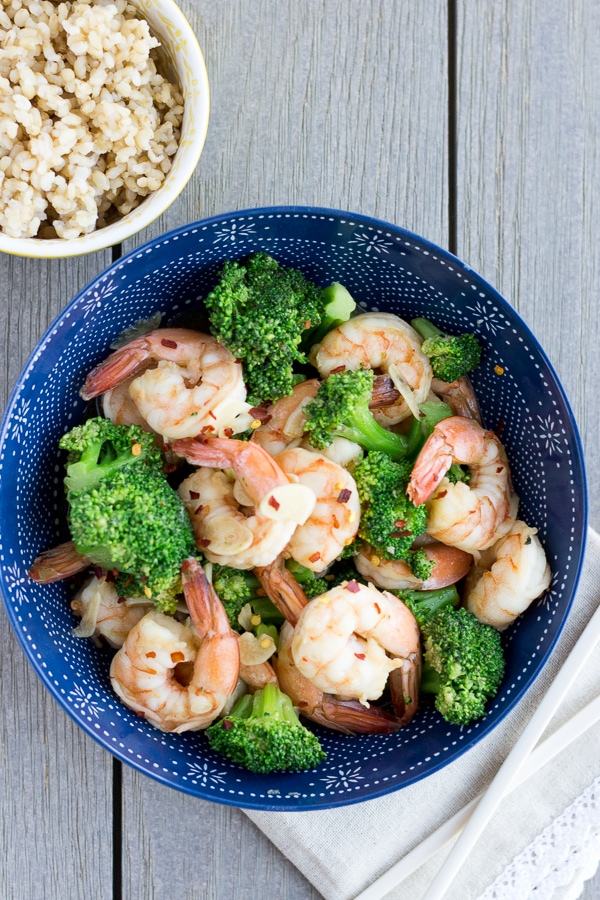 Products Used:
Be sure to tag me on IG @ThaiCaliente if you make any of my recipes and follow me on Pinterest to save them to your boards.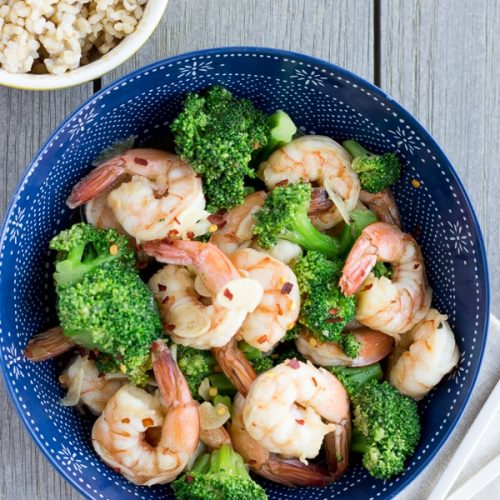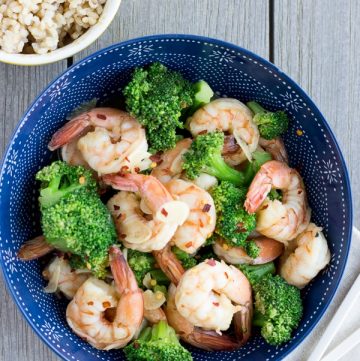 Healthy Garlic Shrimp and Broccoli Stir Fry
Easy and healthy 10 minute meal of shrimp and broccoli.
Instructions
If using frozen broccoli, heat until warm and drain out any water with a paper towel. If using fresh broccoli florets, then place in a small pot of boiling water for 1 minute or until bright green, strain and run under cold water to stop the cooking process. Set aside.

Have shrimp peeled and deveined.

Slice garlic cloves very thin and set aside. Mix soy sauce and coconut aminos together in a small bowl with red pepper flakes.

In a wok or large saute pan over medium high heat, add oil. Add garlic before pan gets too hot. Don't let the garlic get too browned. Add Shrimp and cook until slightly pink, about 2 minutes, then add drained broccoli and sauce.

Stir-fry for about another minute or two, until the shrimp is done and the broccoli is hot.

Serve with rice or noodles, and Siracha if you like more spice.
Nutrition
Serving:
1
g
Calories:
176
kcal
Carbohydrates:
6
g
Protein:
25
g
Fat:
5
g
Saturated Fat:
1
g
Polyunsaturated Fat:
2
g
Monounsaturated Fat:
2
g
Trans Fat:
1
g
Cholesterol:
286
mg
Sodium:
1326
mg
Potassium:
266
mg
Fiber:
1
g
Sugar:
1
g
Vitamin A:
432
IU
Vitamin C:
46
mg
Calcium:
194
mg
Iron:
3
mg
Nutritional information is provided as an estimate only and depends on ingredients and amounts used. Thai Caliente makes no guarantees to the accuracy of this information.