An easy and aromatic Thai style marinade makes these chicken wings juicy and flavorful. Cook them over indirect heat on a grill for the perfect bite.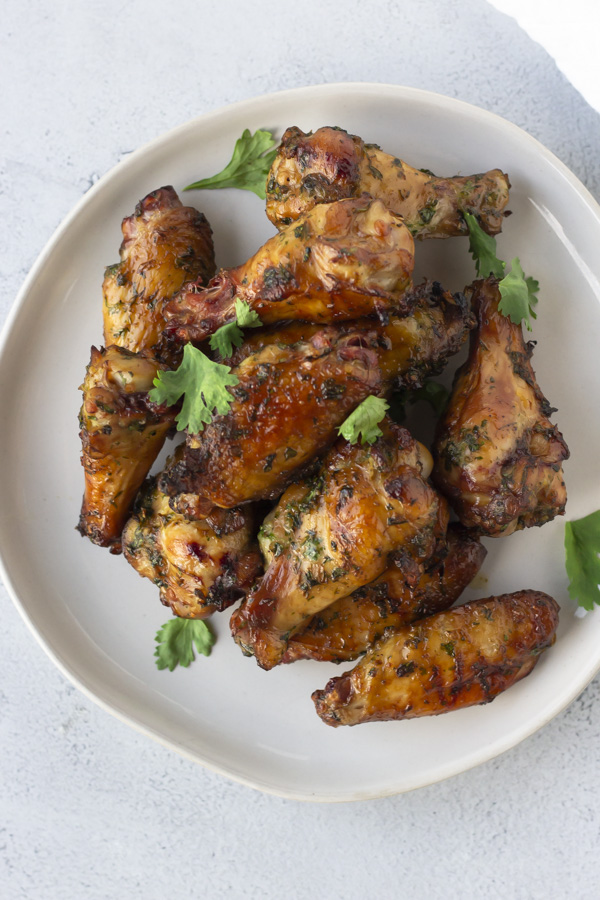 Grilled chicken in Thai is called Gai Yang, and traditionally served as a whole chicken. However in Thailand the chickens are much smaller than the ones here.
My Mom adapted her Gai Yang marinade to use on chicken wings instead since they are easier to work with and more convenient for people to just grab a wing. Thus making these a great party appetizer or snack.
The Marinade
We are making a simple and aromatic marinade for the wings, and it consists of 4 ingredients.
Garlic, Cilantro, Soy Sauce, Oyster Sauce
Like any recipe, you'll find variations of a Gai Yang marinade, but this is my Mom's way to get a flavorful chicken wing without much fuss.
The marinade starts with pulsing garlic and whole cilantro in a food chopper or processor until finely chopped. We're using the stems and leaves of the cilantro, because most of the flavor is actually in the stems.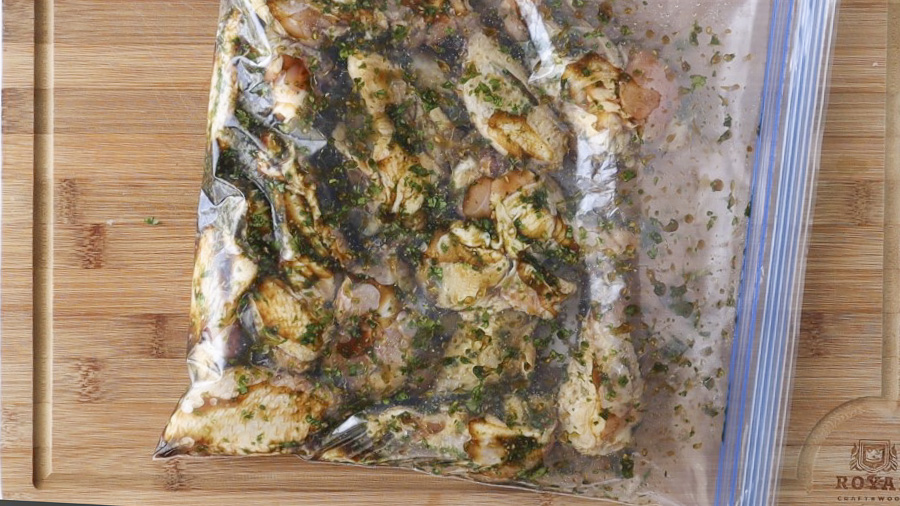 Next we're adding soy sauce and oyster sauce for saltiness and subtle sweetness.
Traditionally Thai cooking uses Golden Mountain Soy Sauce, which does have a slightly different flavor profile than traditional Japanese soy sauce. I've made the marinade using Golden Mountain and using a low sodium Japanese soy sauce, and both will work in this recipe.
How to Grill Wings
The key to perfectly grilled wings that don't taste burned is to use Indirect Heat. You do not want to use high heat because the outside will be burned and the inside uncooked.
We use a ceramic charcoal grill or Kamado, and place a heat deflector on the bottom of the grill. The temperature of the grill is at 350 degrees.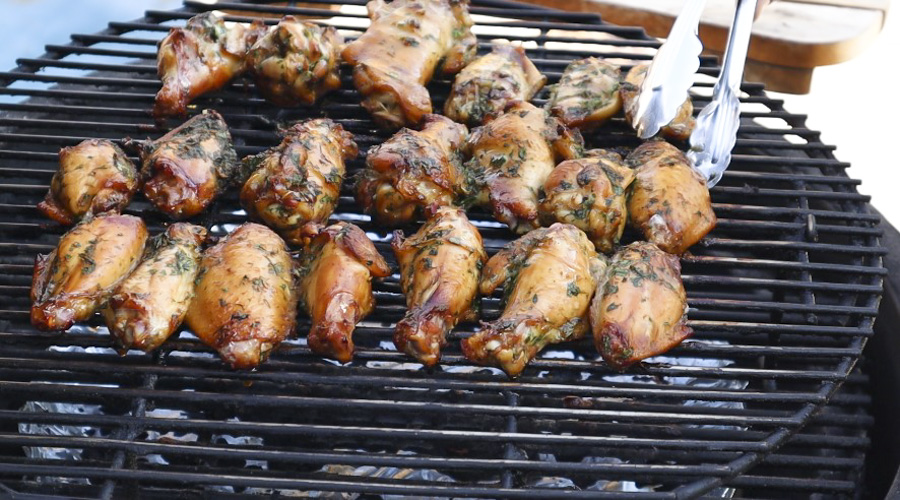 If you are using a gas grill then only turn one of the burners and place the wings on the non-burner side.
The first side will cook for 30 minutes, then flip each wing over and cook for another 15 minutes. The wings will develop a beautiful brown color.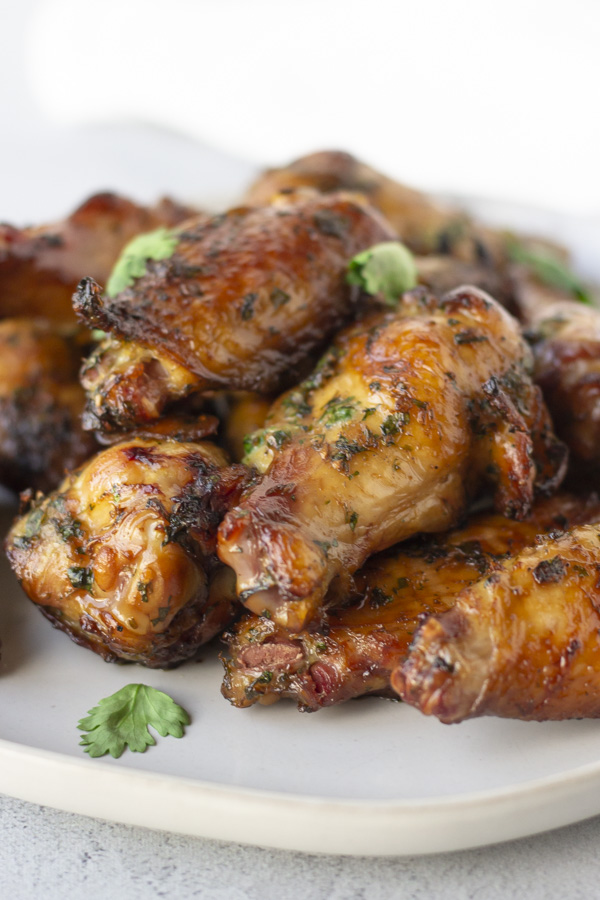 How to Serve
Grilled Thai Chicken Wings can be served as a appetizer or with a meal. We love to eat these with Thai Papaya Salad and Thai Sticky Rice.
The flavors go so well together!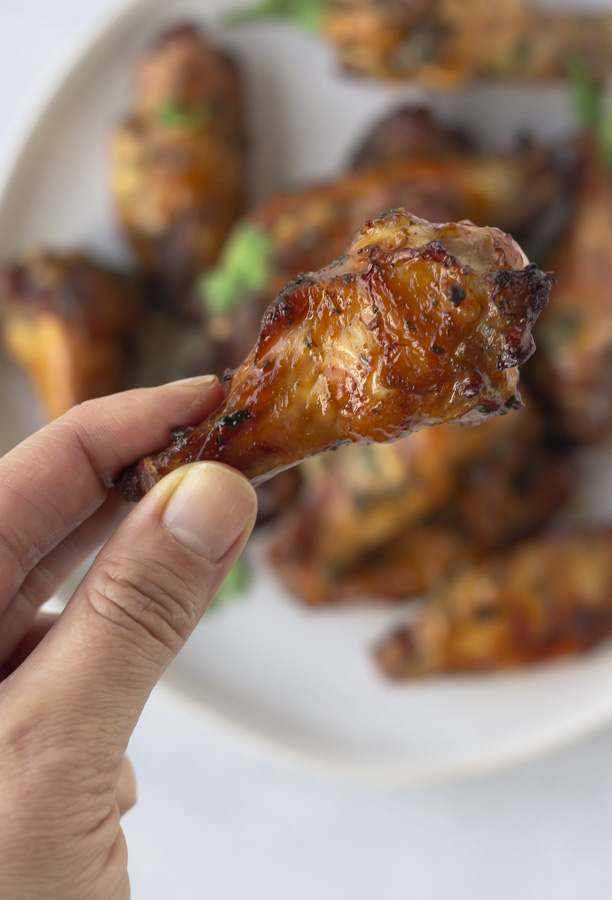 You can also serve the wings with a Thai Sweet Chili dipping sauce for even more flavor. The marinade also works great on Chicken legs, thighs, breast, or even a whole chicken.
For more grilled recipes, check out my recipe for Grilled Thai Burger.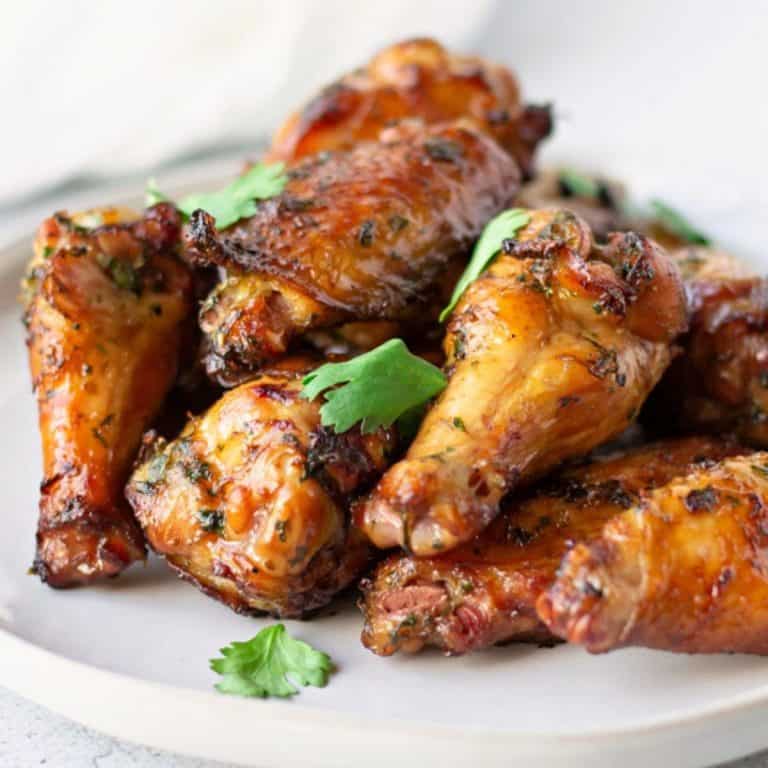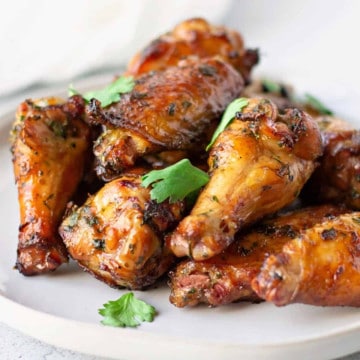 Grilled Thai Chicken Wings
Chicken Wings in a Thai style marinade then perfectly cooked on the grill.
Instructions
Rough chop Cilantro and place in a food processor with peeled Garlic Cloves. Pulse till everything is finely chopped, you may need to add a little water to get it going.

Remove blade and add Oyster Sauce, Golden Mountain Soy Sauce, and Black Pepper. Combine with a spoon.

Place Chicken Wings in a large gallon zip bag and pour marinade over wings. Let all the air out of the bag, seal it, and mix wings well with marinade. Refrigerate for at least one hour, or best when done overnight.

Have grill set to 350 degrees. Place wings on indirect heat on the grill and cook for 30 minutes on one side and 15 minutes on the other side. Check temperature with an instant thermometer and remove once it reaches 165 degrees.
Notes
Thai chicken wings can be served as an appetizer or as a meal with Papaya Salad and Sticky Rice.
The same marinade can be used on a Whole chicken, legs, or boneless chicken breasts.
Nutrition
Calories:
287
kcal
Carbohydrates:
3
g
Protein:
24
g
Fat:
20
g
Saturated Fat:
5
g
Polyunsaturated Fat:
4
g
Monounsaturated Fat:
8
g
Trans Fat:
1
g
Cholesterol:
94
mg
Sodium:
894
mg
Potassium:
231
mg
Fiber:
1
g
Sugar:
1
g
Vitamin A:
182
IU
Vitamin C:
2
mg
Calcium:
26
mg
Iron:
1
mg
Nutritional information is provided as an estimate only and depends on ingredients and amounts used. Thai Caliente makes no guarantees to the accuracy of this information.