Caldo de Pollo is a Mexican Chicken Soup with lots of veggies and made with bone in chicken for immune boosting benefits.
If you're ever feeling under the weather, caldo de pollo will help revive you. The age old saying of eating chicken soup while you're sick, actually does have benefits, especially if made with bone-in chicken.
I started learning about the health benefits of drinking bone broth, and I highly recommend you research them as well. Anytime we are feeling under the weather, my family requests caldo de pollo.
What You'll Need: Bone in Chicken pieces, Onion, Potato, Zucchini, Green Beans, Carrots, Tomato, and Oregano.
Bone in Chicken- For the Best Flavor and health benefits, use bone in chicken. I have made this soup with a small whole chicken, and a large half chicken. If you have a favorite butcher, ask them to break down the chicken for you into pieces to save time.
Season each chicken piece with salt and pepper. We're also searing the chicken in hot oil to develop flavor and give color to the broth before adding water.
Vegetables- I made this caldo with large chunks of vegetables, but you can dice them up smaller if you prefer them that way. You want to make sure the chicken is fully cooked before adding the vegetables to prevent them from over cooking and being soggy.
Caldo de Pollo is commonly served as a meal on its own. You can also add some rice to each individual bowl, or eat the caldo with rolled up corn tortillas. Make sure to squeeze some lime on the soup before serving.
Check out the Beef version of this soup: Caldo de Res
Click on the image below for the full YouTube Video: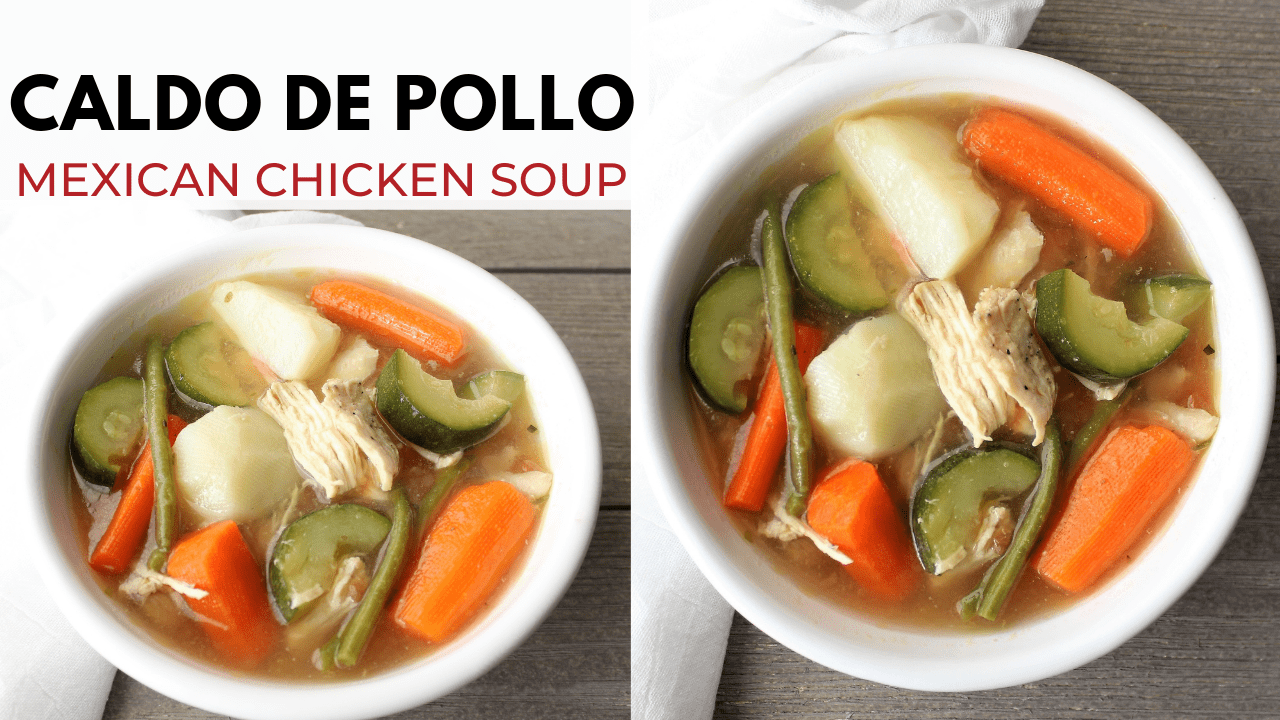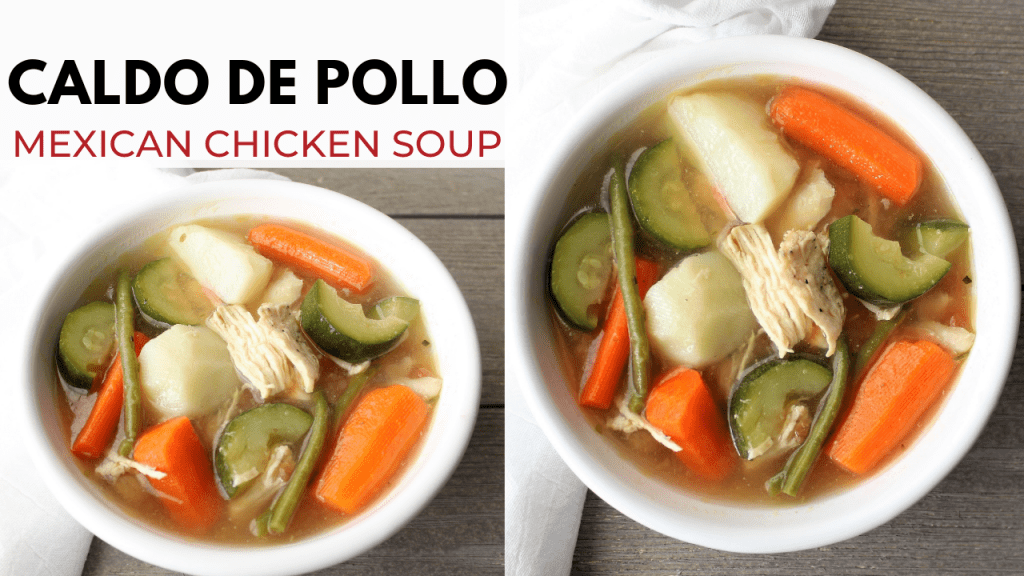 For a Thai Chicken Soup, check out my recipe for Tom Kha Gai, it has lots of aromatics and coconut milk.
Caldo de Pollo- Mexican Chicken Soup
Caldo de Pollo is a Mexican Chicken Soup with lots of veggies and made with bone in chicken for immune boosting benefits.
Ingredients
1

Whole Chicken

Broken down or bone in chicken pieces, seasoned with salt/ pepper on both sides. If the whole chicken is large then a split chicken will be enough, or save extra chicken for another meal.

1

tablespoon

Oil

8

cups

Water

1

Onion

peeled and halved

1

Large Russet Potato

cut into even chunks

1

Large Zucchini

sliced

1

Cup

Green Beans

left whole

3

large Carrots

large chunks

2

Roma Tomatoes

diced

½

teaspoon

Oregano

Salt and Pepper to taste

Rice or tortillas for serving

Lime wedges

Give each serving a squeeze of lime.
Instructions
In a large heavy pot, add oil over medium high heat. Place seasoned chicken pieces skin side down and brown for a couple of minutes then flip over to other side.

After both sides are browned add water, and halved onion, cover with lid, and bring to a boil. Once boiling reduce heat to a low boil for about 10 minutes.

Now add remaining vegetables and oregano. Allow to return to a low boil for an additional 10 minutes until carrots and potato are slightly soft. If your potato slices are large, then more time maybe needed.

Turn off heat, and carefully remove onion and chicken pieces. Once chicken is cool enough to handle, remove skin and bone from chicken. Place remaining chicken in a bowl and shred with 2 forks, then place back into soup. If you have excess chicken just add what you want for the soup and save the remaining for another meal.

Serve with rice on the bottom and lime wedges on the side. Or with tortillas for dipping into the soup.
Notes
If you buy a whole chicken at the store, ask the butcher to break it down for you. It will save you time and hassle of cutting up a whole chicken.