Tom Kha Gai is a Thai Coconut Soup with Chicken. The aromatics and herbs flavor the broth and the coconut milk makes it creamy and comforting.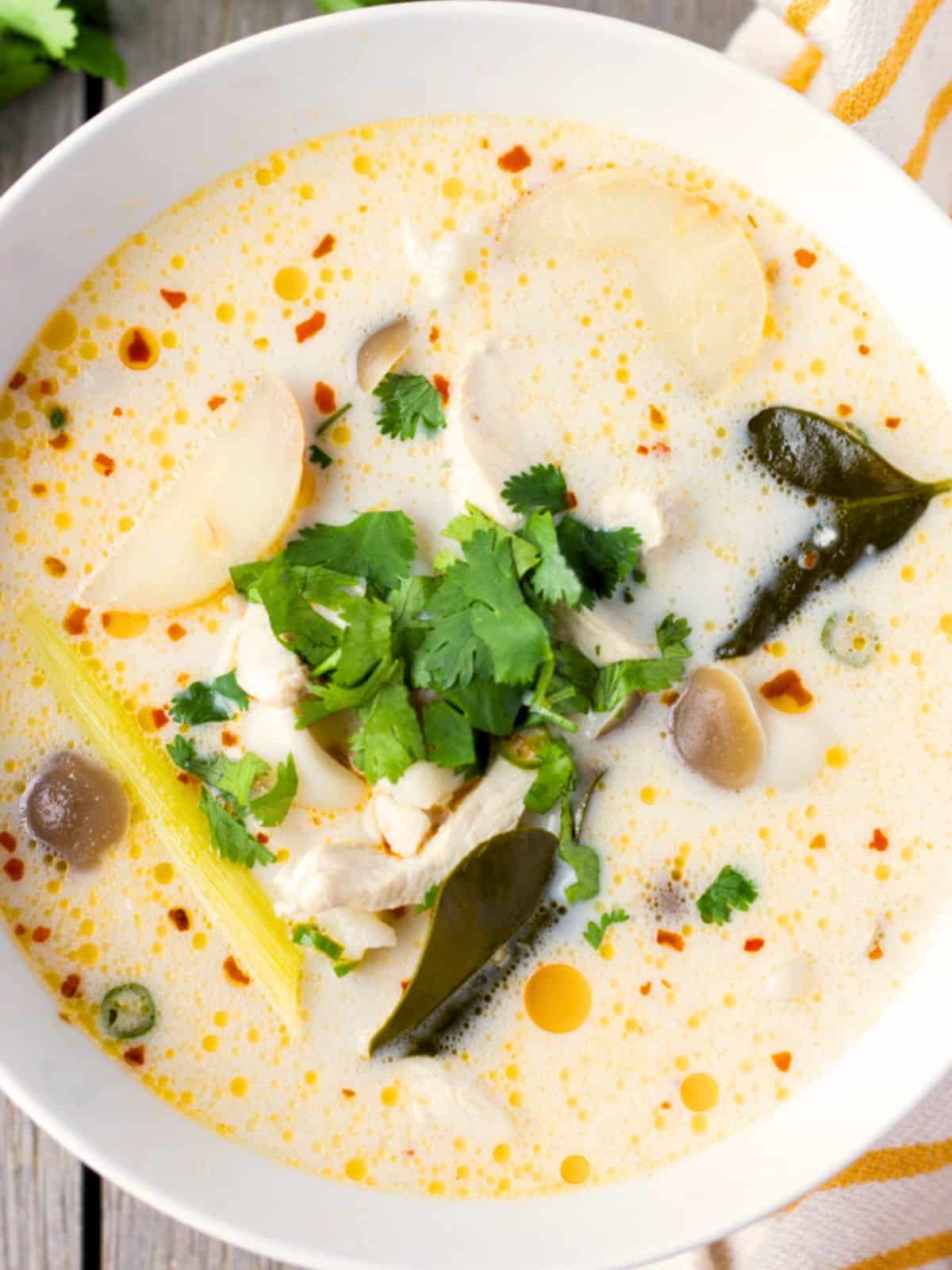 If you've had Tom Yum, the flavors are very similar, but Tom Kha has the addition of coconut milk.
This soup comes together quickly, the only challenging part may be having access to the ingredients.
Jump to:
Ingredients
Galangal Root
Lemongrass
Makrut Lime Leaves
Mushrooms
Chicken
Fish Sauce
Coconut Milk
Limes
Green Onions
Cilantro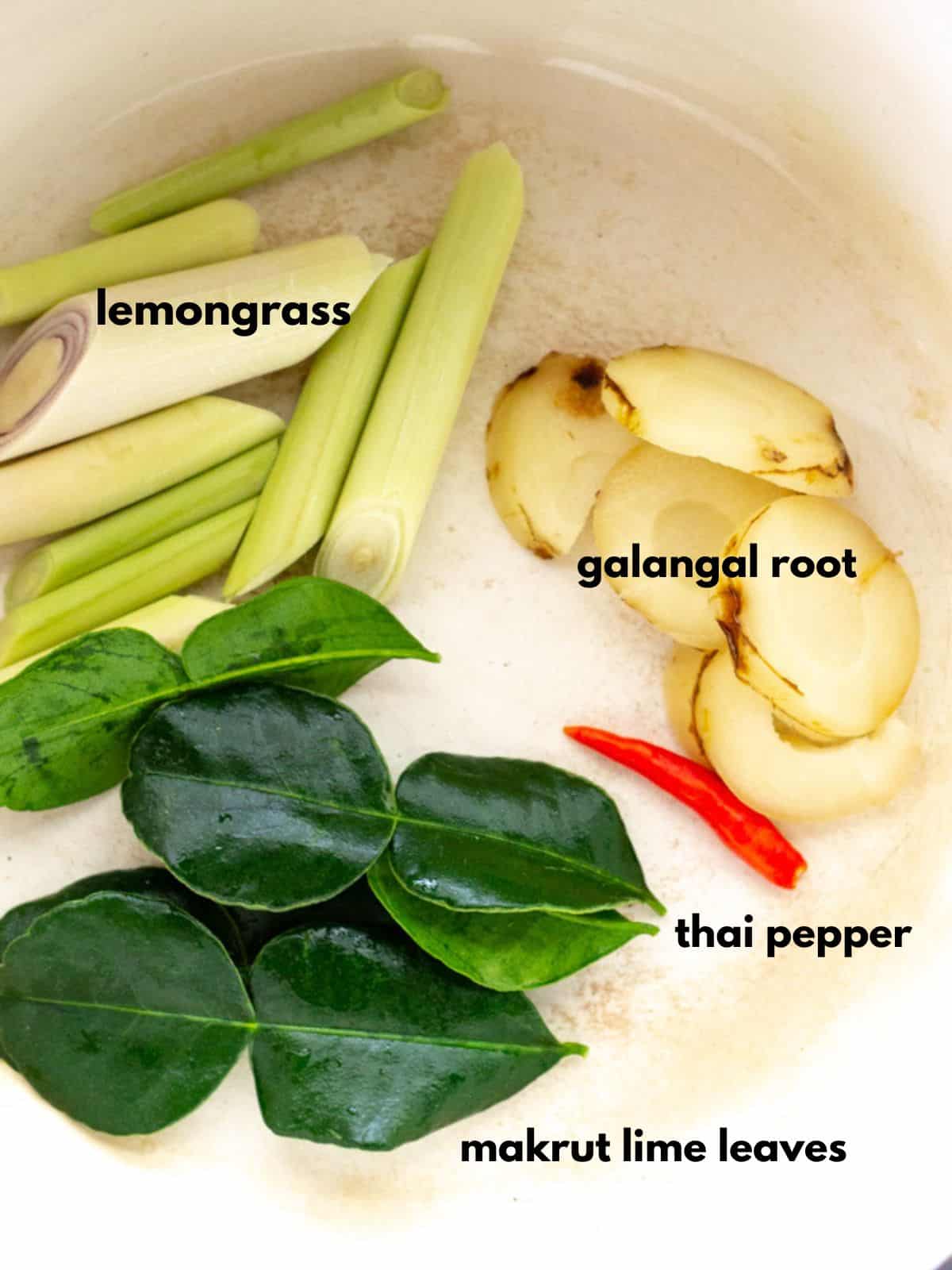 Galangal Root- In Thai Galangal translates to 'kha', which is the name of this soup. Galangal is a key ingredient for Tom Kha.
I can usually find it fresh from an Asian market, but you can also buy dried galangal root online. If you can't get either, then try using ginger, but keep in mind the flavor will be different.
The galangal is sliced and used to flavor the broth and is not meant to be eaten.
Lemongrass- We're using 1 stalk of lemongrass sliced into 4 inch pieces. In order to release the oil from the lemongrass, gently pound it with the backside of a knife. You'll start to smell the citrus aroma right away.
I've been able to find lemongrass at my local grocery store, however, an Asian Market will definitely have it. Just like the galangal, lemongrass is used to flavor the soup and is not meant to be eaten.
Makrut Lime Leaves- This is another ingredient that can be challenging to find. The oil and aroma are used to flavor the soup and give it a hit of citrus. Like the lemongrass, the lime leaves get pounded with the back of a knife. They are also not meant to be eaten and can be removed before serving.
If you cannot find fresh lime leaves, dried lime leaves can be substituted. And if you don't have either, try using some fresh lime zest to mimic the flavor of the leaves.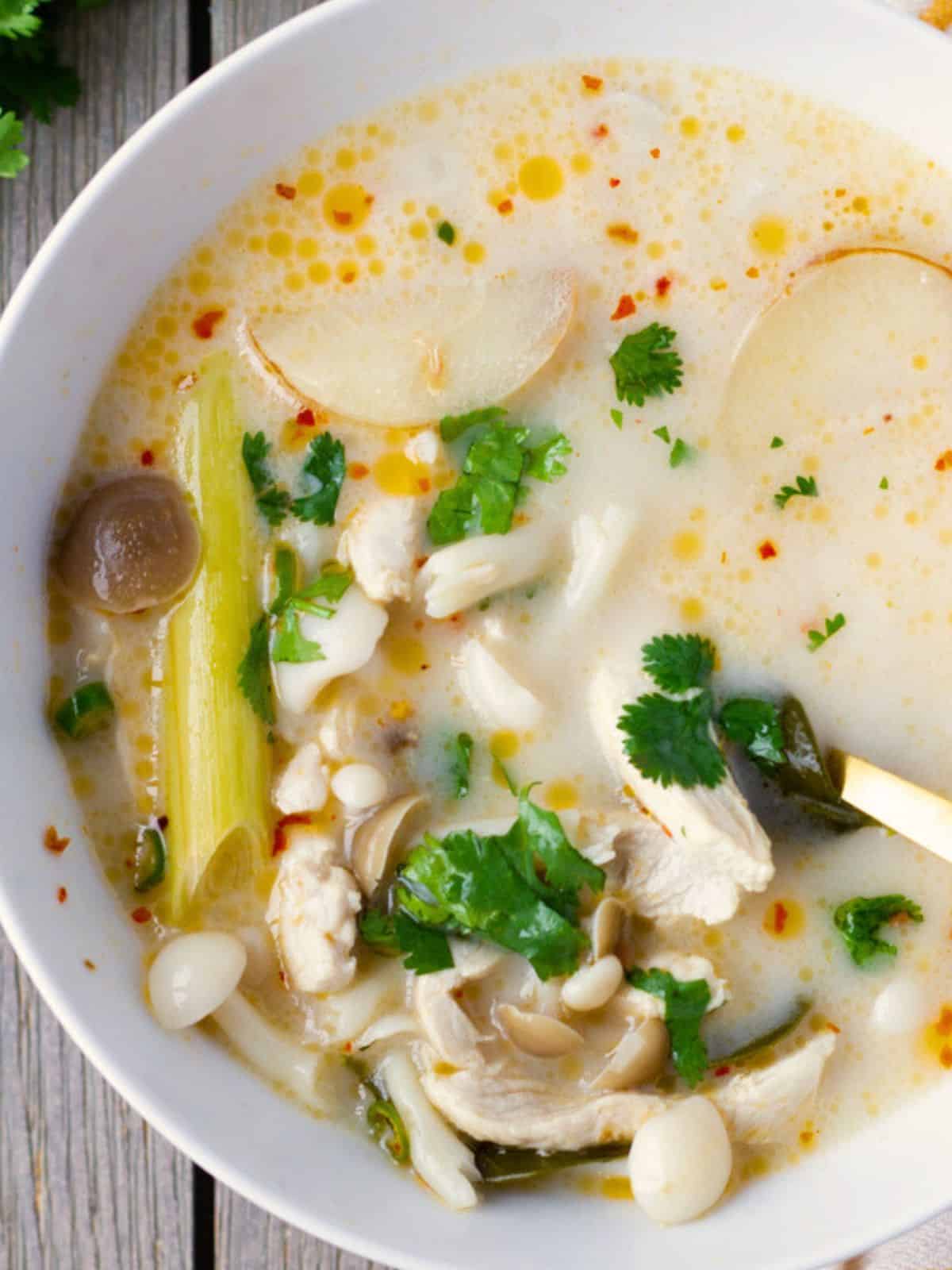 Mushrooms- I used an enoki white mushroom that I got from my Asian Market, but sliced Monterey or baby bella mushrooms can be used as well.
Chicken- This is the 'Gai' part of the recipe. I'm using sliced chicken breast in this recipe. Other options can be, chicken thighs, leftover turkey, seafood, or try this Tofu Tom Kha.
Fish Sauce- This gives the soup a salty and umami flavor. Fish sauce is pretty accessible and can be found at most stores. For a vegan version, use salt instead.
Coconut Milk- This is what distinguishes Tom Kha from Tom Yum. Use canned coconut milk, and I prefer using the full fat kind. Be sure to give the can a good shake before adding it to the soup.
Lime Juice- I like to add the lime juice just before serving either in each individual bowl, or into the soup if you plan on serving all the soup.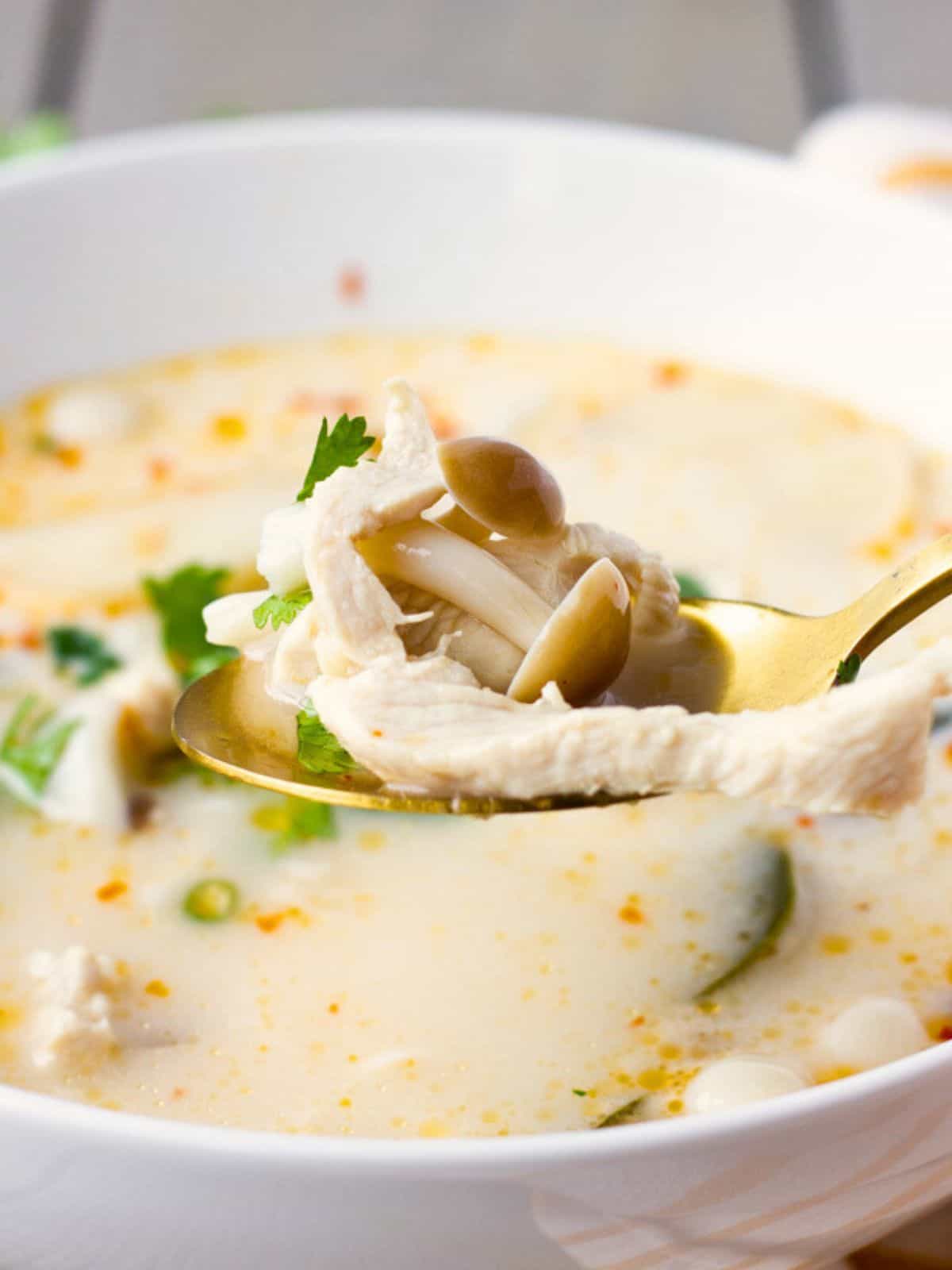 Thai Chili or Chili Oil- Traditionally Tom Kha is served a very pale color but spicy from adding whole Thai Bird's eye chilis. I added one in my recipe for a tiny hint of spice since my kids eat this soup too.
However in most restaurants here in the states, you'll find Tom Kha with chili oil. It gives the soup a bright orange color that looks more appetizing. I prefer to add chili oil to my individual bowl before serving.
Green Onions and Cilantro- When serving Tom Kha Gai, garnish each bowl with diced green onions and cilantro for a pop of color and freshness.
How to Serve and Store
Tom Kha Gai is best served right away. If you plan on having leftovers, then don't add the lime juice, green onion, or cilantro.
These can be added when you reheat the soup. I recommend storing leftovers for no more than 3 days. If you made the soup with seafood, then 1-2 days are what I recommend for leftovers.
As mentioned above, the Galangal, lime leaves, and lemongrass are not meant to be eaten. They are just to flavor the soup. You can remove them prior to serving into bowls.
In Thailand, Tom Kha is served as a main meal with a side of Jasmine rice. This is my favorite way to eat it! Here in the states, most Thai Restaurants serve it as an appetizer or accompaniment to a main meal.
Try the non-coconut version of this soup: Tom Yum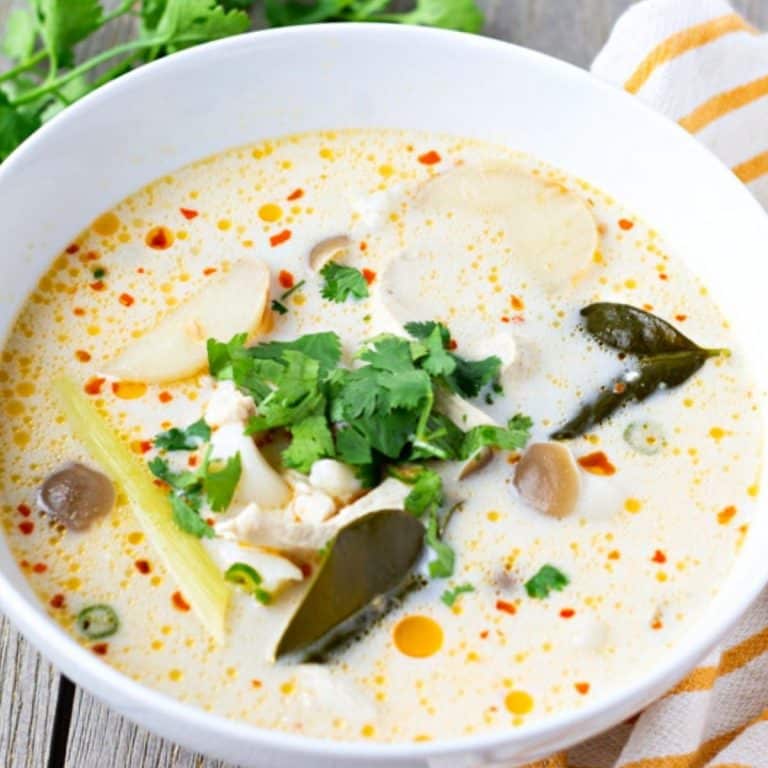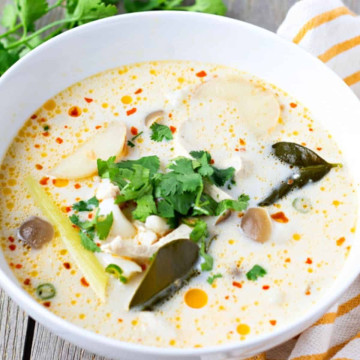 Tom Kha Gai Recipe
Tom Kha Gai is a spicy, fragrant, and creamy Thai Coconut Soup with Chicken.
Ingredients
4

Cups

Water

or use chicken broth for more flavor, but add less fish sauce.

1

Stalk Lemongrass

Cut into 2 inch pieces and pounded with back of knife to release aroma.

6

Makrut Lime Leaves

Rolled together and pounded with back of knife to release aroma.

1

Galangal Root

sliced into disc

Thai birds eye chili's

I just added one here for the soup stock, but added chili oil to my individual serving.

1

pound

Chicken Breast or Thighs

Thinly sliced

3.5

ounce

Beech mushrooms

Or use sliced Monterey or baby bella mushrooms.

1

tablespoon

Fish Sauce

Have more on hand, taste soup after and add more if needed.

13.5

ounce

Coconut Milk

Full Fat

2

Limes

I prefer to squeeze half a lime into each individual bowl before serving.

Chopped Cilantro and Sliced Green Onions

For Garnish

Chili Oil

For spice and color. Can be added to each individual bowl before serving.
Instructions
Add water (or broth), lemongrass, lime leaves, galangal, and Thai pepper(if using) to a large soup pot. Bring to boil then simmer for 10 minutes to allow aromatics to season the water.

With the water still simmering add chicken and allow to cook for 5 minutes.

Once chicken is cooked, lower heat and add mushrooms, fish sauce, and coconut milk. Stir slowly, taste and see if additional fish sauce is needed. Keep in mind you won't have the sour component yet.

When serving, squeeze half a lime into each bowl. Add chili oil if desired and ladle Tom Kha into each bowl. Garnish with chopped cilantro and green onions. Serve as is or with a side of Jasmine Rice.
Notes
Tom Kha Gai can be stored in the refrigerator up to 3 days, then reheat on the stove or microwave.
For the non-coconut milk version, click Here.
Vegetarian Tom Kha
Nutrition
Calories:
373
kcal
Carbohydrates:
9
g
Protein:
19
g
Fat:
30
g
Saturated Fat:
18
g
Polyunsaturated Fat:
3
g
Monounsaturated Fat:
6
g
Trans Fat:
1
g
Cholesterol:
68
mg
Sodium:
367
mg
Potassium:
448
mg
Fiber:
1
g
Sugar:
1
g
Vitamin A:
141
IU
Vitamin C:
10
mg
Calcium:
41
mg
Iron:
4
mg
Nutritional information is provided as an estimate only and depends on ingredients and amounts used. Thai Caliente makes no guarantees to the accuracy of this information.