Homemade Wontons elevate this soup that's packed with vegetables.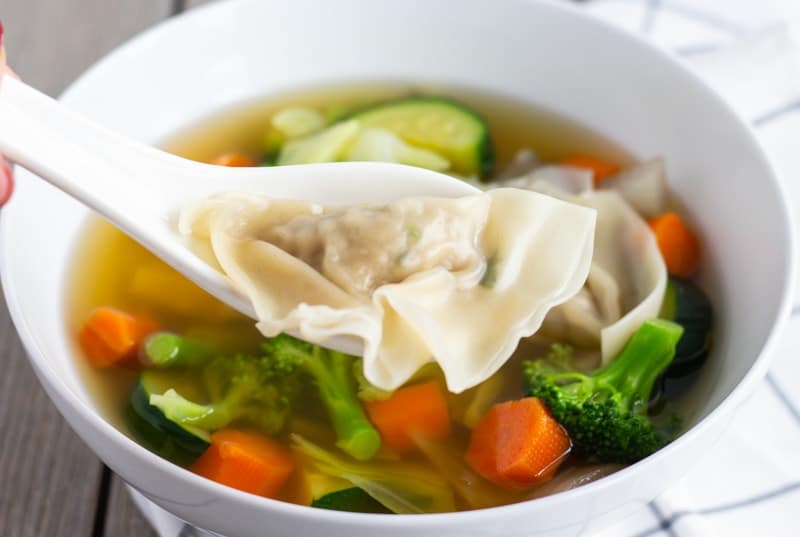 Homemade wontons may seem intimidating to make, but they are actually pretty easy once you practice making a few. The filling combinations are endless, so feel free to get creative once you get the hang of it.
This is a simple recipe for Thai Wontons and we're serving them in a vegetable packed soup.
Ingredients and Substitutions
Wonton Wrappers- or round Gyoza Skins, which is what I use in the video. You'll be able to find both variations at an Asian market, but I've also been able to find them at a local grocery store.
Keep the wrappers in the package until you are ready to use them, so they don't dry out. If the wonton wrappers are frozen, thaw overnight in the refrigerator.
Filling: I'm use Ground Pork, but ground chicken or shrimp are popular too.
The ground pork is mixed with soy sauce, minced garlic, chopped cilantro leaves and stems. Mix it well to get everything combined evenly.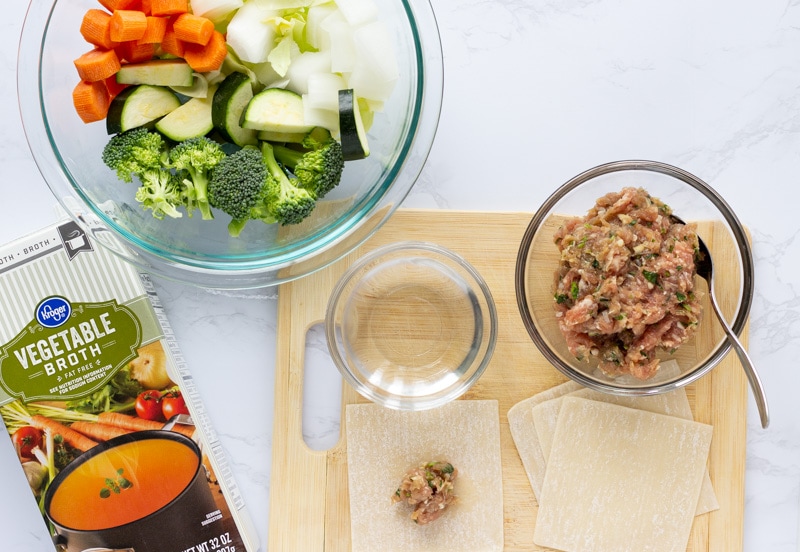 Vegetables- I made this soup with lots of vegetable to make it a filling meal. You'll commonly find most Thai Wonton soups with just broth and wontons.
This soup has cabbage, carrots, zucchini, broccoli, and white onion. But feel free to use any type of veggies or omit for a plain wonton soup.
Broth- I've used both a vegetable broth or chicken broth for this soup. Don't rely on the vegetables to flavor the soup. We are only boiling them for a few minutes just till tender.
Otherwise if you boil them too long they will get mushy. Same goes with the wontons.
How to Fold Wontons
Watch this video to see how I fold wontons and make the soup. There is also a longer YouTube Video at the end of this post.
Start by placing the filling in the middle of the wonton wrapper, dip your finger in water and rub it around the entire edge of the wrapper. If the wrappers are drying out, you will need more water to create a seal.
Fold over to create a half seal and push out any air pockets. You can leave the wontons in a half seal or make some pleats at the top. These are getting boiled and will wrinkle, so the pleats don't need to be perfect.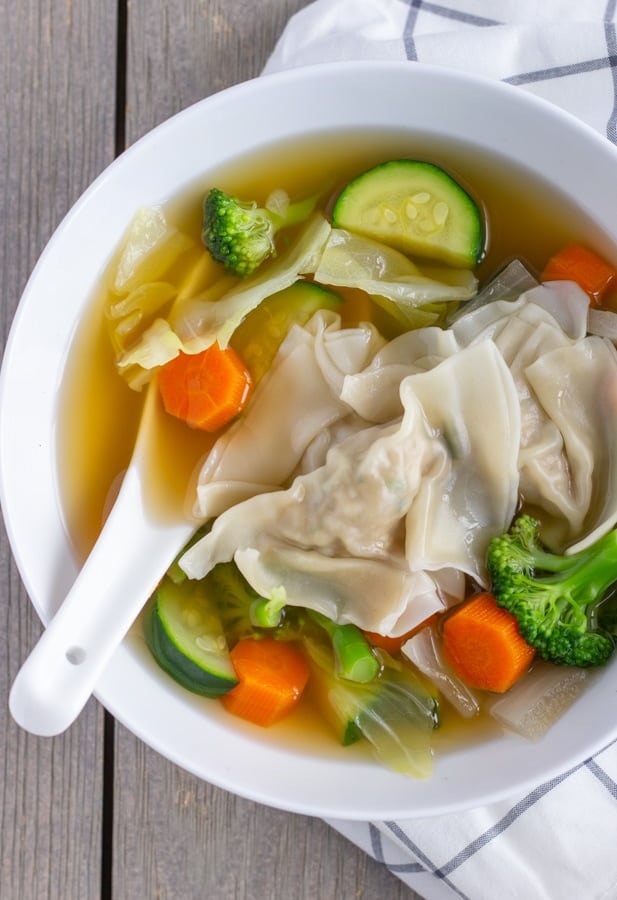 How to Make the Wonton and Vegetable Soup
Since the wontons will start to come apart after boiling too long, we want to cook them separately.
Have a small pot of water boiling and add your wontons. The filling is raw, so they will need at least 5 minutes of boiling time. Once cooked remove and place in a bowl.
Add veggies and soup broth to a medium/large soup pot and bring to boil. I also add coconut aminos or soy sauce, for more umami flavor.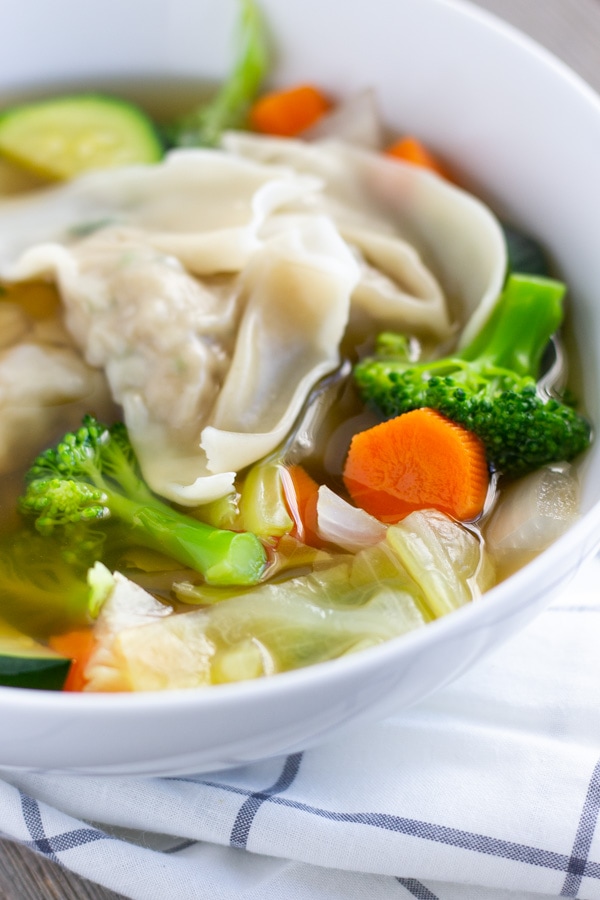 Simmer on a medium boil for about 5 minutes or until veggies are slightly tender but still have some bite to them.
To serve, ladle in the broth and veggies into serving bowls with the wontons. I usually do about 5-6 wontons per a person.
You can also add a dash of white pepper, squeeze of lime/lemon, or spicy chili oil for some heat.
Can the Soup Be Made Ahead of Time?
This soup is best eaten right away, but if you need to have things prepped ahead, you can have all your veggies chopped and store them in a container a day ahead.
The wontons can be made ahead of time and kept in a sealed container in the fridge for a day or frozen for a few months.
This is great to have for quick soups or snacks. Just keep in mind that if the wontons are frozen, they will need to be boiled a little longer to get cooked through.
Here are more tasty Thai Soups:
The filling is the same ingredients I used for my Thai Glass noodle soup.
Watch the Full YouTube Video Here: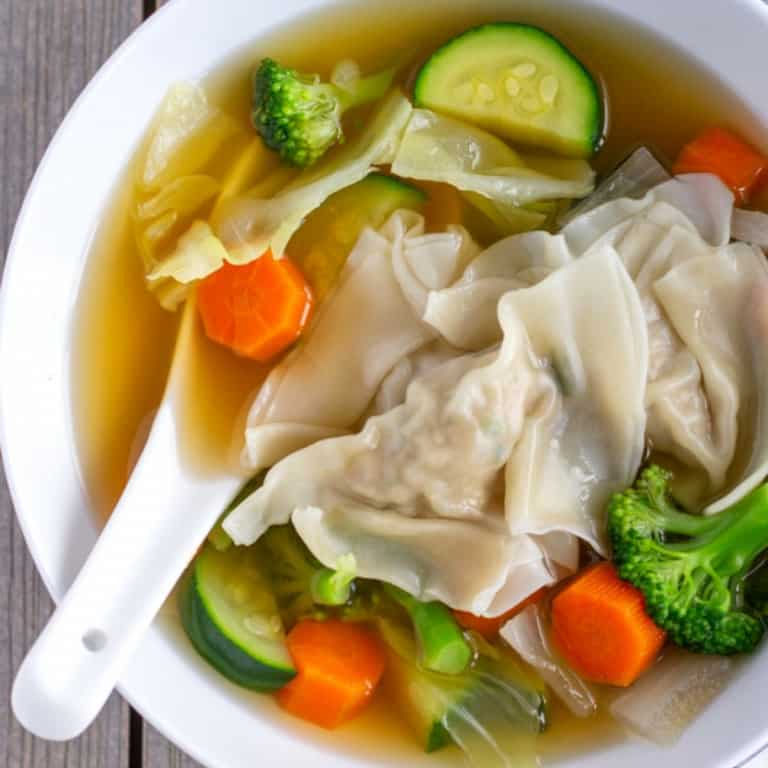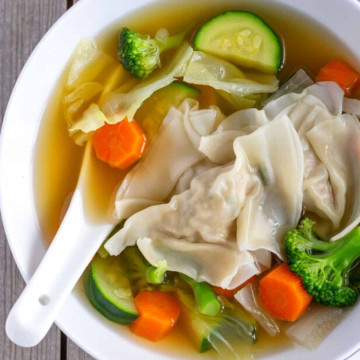 Thai Wonton and Vegetable soup
Homemade wontons and a vegetable packed soup.
Ingredients
Homemade Wontons
25

Wonton Wrappers

1

lb

Ground Pork or Chicken

4

Tbsp

Chopped Cilantro

Stems and Leaves

2

Garlic Cloves

Minced

1

Tbsp

Soy Sauce or Coconut Aminos
Soup Base
4

Cups

Chopped Vegetables (Cabbage, Zucchini, Broccoli, Carrots, and White Onion)

4

Cups

Low Sodium Vegetable or Chicken Broth

or use water with bouillon

1

Tbsp

Soy Sauce or Coconut Aminos

Taste broth and add more if needed

Lime or lemon

Squeeze a little right before serving.

Chili Oil, White Pepper, or fried garlic to top soup.
Instructions
Homemade Wontons
Mix garlic, chopped cilantro, and soy sauce into ground pork and combine well.

Have wonton wrappers in a bag or covered with a towel to prevent drying. Get a small bowl of water for the the 'glue'.

Watch video above on how to fold wontons. Place filling into middle of wonton wrapper, seal edges with water, and foldover to create a half seal. Push out any air pockets and ensure edges are sealed together. You can leave as is or make pleats. The wontons will wrinkle after boiling, so they don't need to be perfect.

Place wontons in a small pot of boiling water and boil for at least 5 minutes to cook the pork. Remove and place in serving bowls.
Soup Base
In a large pot add Vegetable or chicken broth and bring to a boil. Add all your chopped vegetables along with soy sauce or coconut aminos.

Boil for about 5 minutes till veggies are tender, but still have some crunch to them. Boiling them too long will cause the veggies to be too mushy. Taste and see if additional salt or soy sauce is needed. Ladle broth and vegetables into bowls with the wontons.

Add a dash of white pepper, chili oil, or a squeeze of lime/lemon before serving.
Want to Save this Recipe? Click on the Pinterest button below to Pin It!