Pad Cha Talay is a Spicy Thai Stir Fry with Seafood. It has aromatics like Thai basil, lime leaves, green peppercorns, and finger root.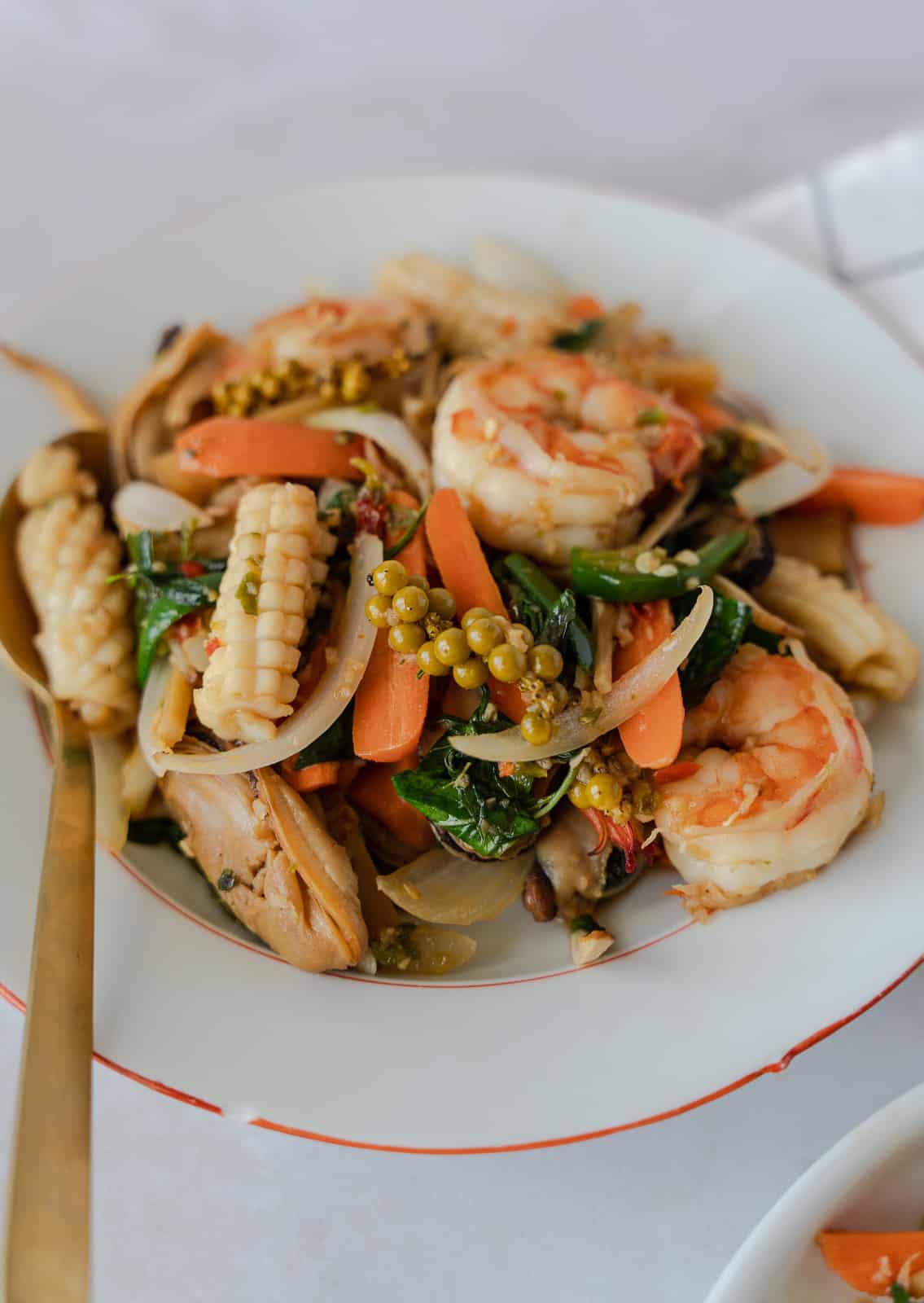 If you love seafood and spice, then this dish of Pad Cha Talay is for you. 'Pad Cha' translates to stir fry finger root, or 'Grachai'. It's in the same family of ginger, but much smaller like a finger. And 'Talay' translates to seafood.
Jump to:
Ingredients
There are quite a few ingredients for Pad Cha Talay, and some may be hard to find. I was able to get everything from my local Asian market, but I will also link some of the hard to find ingredients below.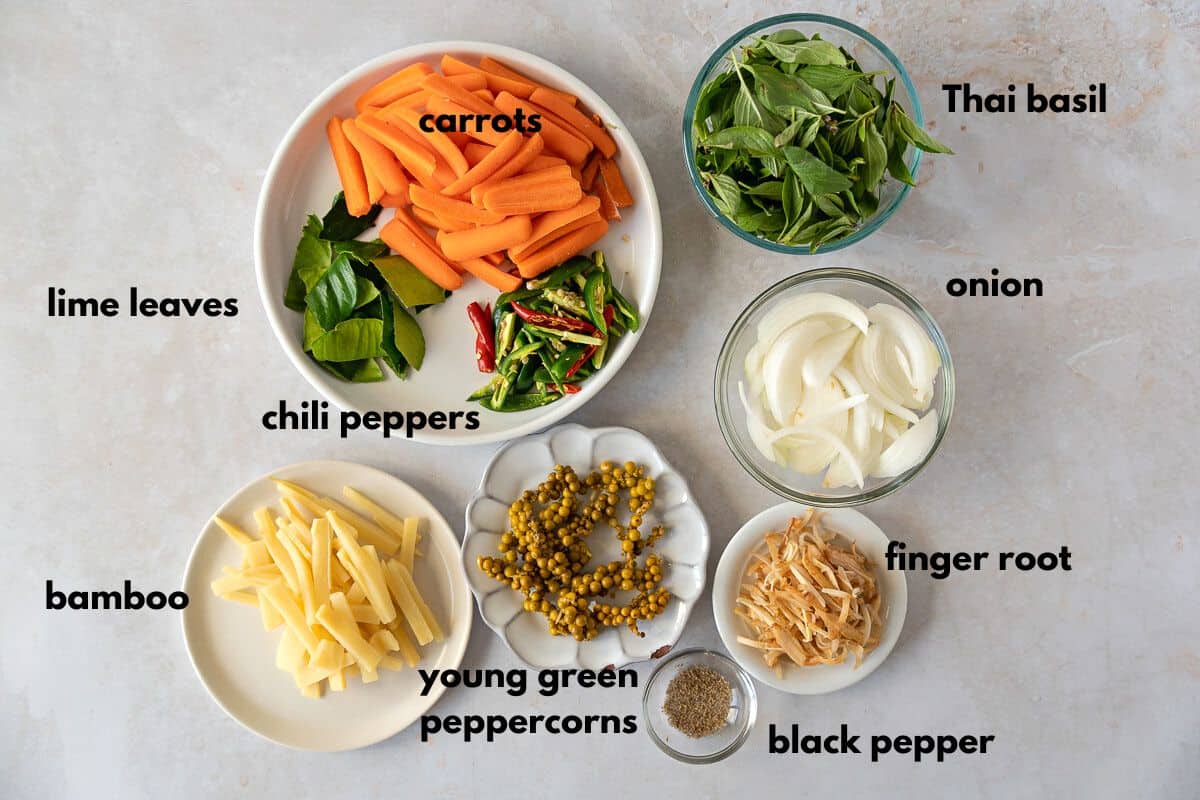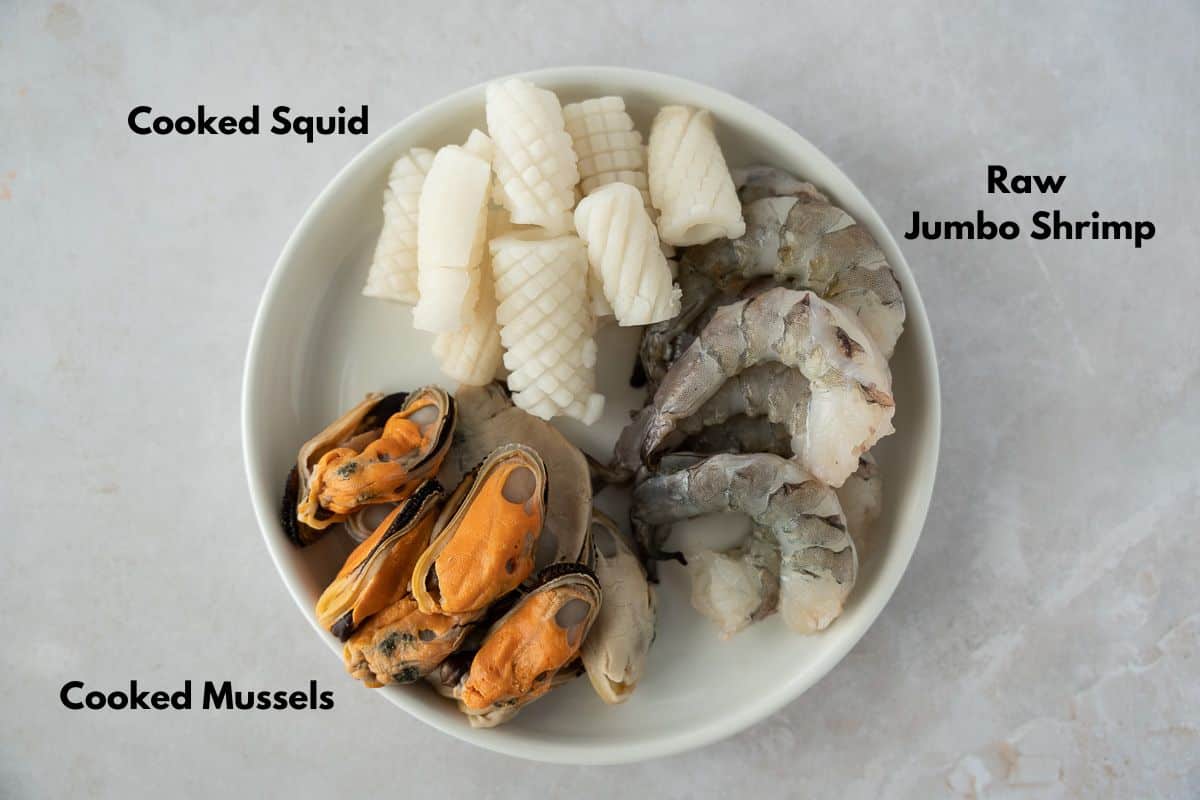 For the seafood, I'm using carved squid, shelled mussels, and shrimp. The squid and the mussels were already cooked and I bought them from an Asian market.
All the seafood was frozen and I thawed it according to their package directions. Feel free to use any type of seafood you like, clams, scallops, or a firm white fish.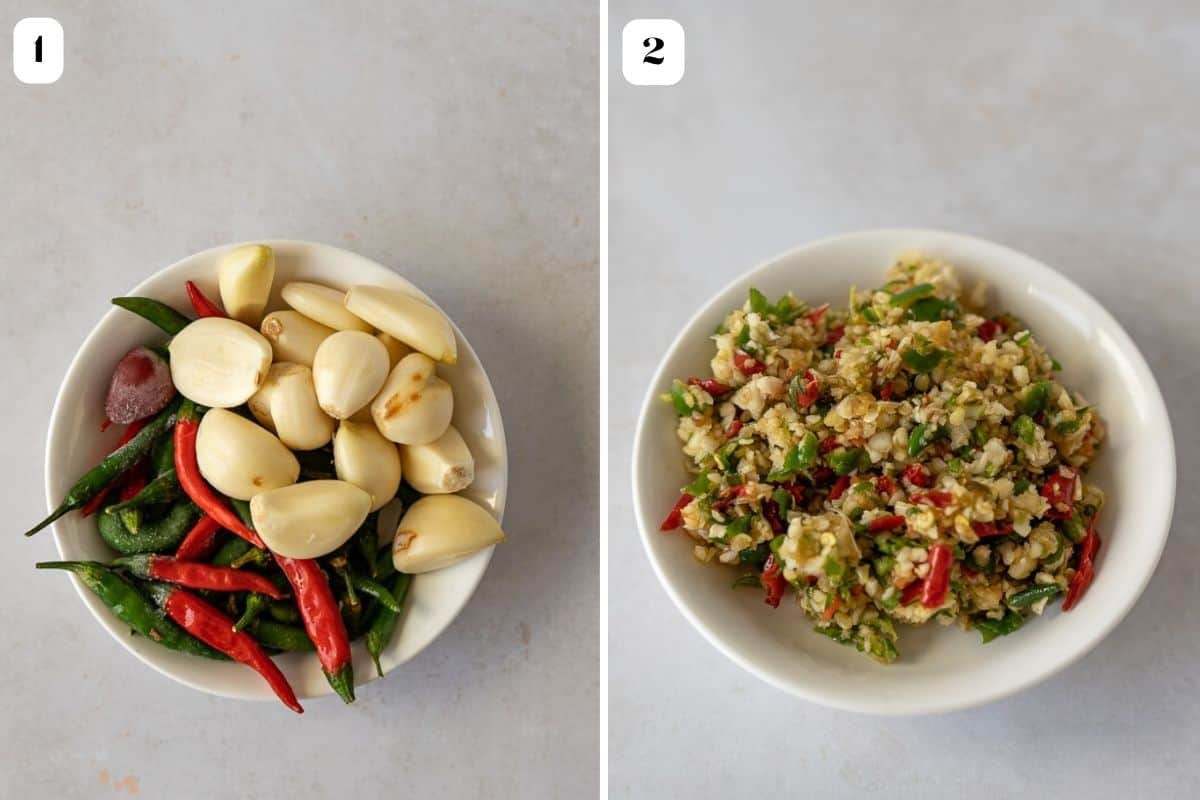 This dish is typically served very spicy, you can adjust the heat based on your preference.
Here I have about 12 cloves of garlic and 15 Thai bird's eye chili peppers. Place them into a food chopper or mortar and pestle to grind.
Stir Fry Sauce
The stir-fry sauce is salty with a slight sweetness and umami. Here's what you'll need:
How To Make
Like most stir fry's, once you have all your ingredients prep, the cooking part comes together quickly. Use a large skillet or wok and make sure you have some good ventilation!
Pan fry the crushed garlic and Thai chilis in oil for about a minute. Then add the shrimp and flip each piece over once to cook both sides. Add the squid, mussels, and the stir fry sauce.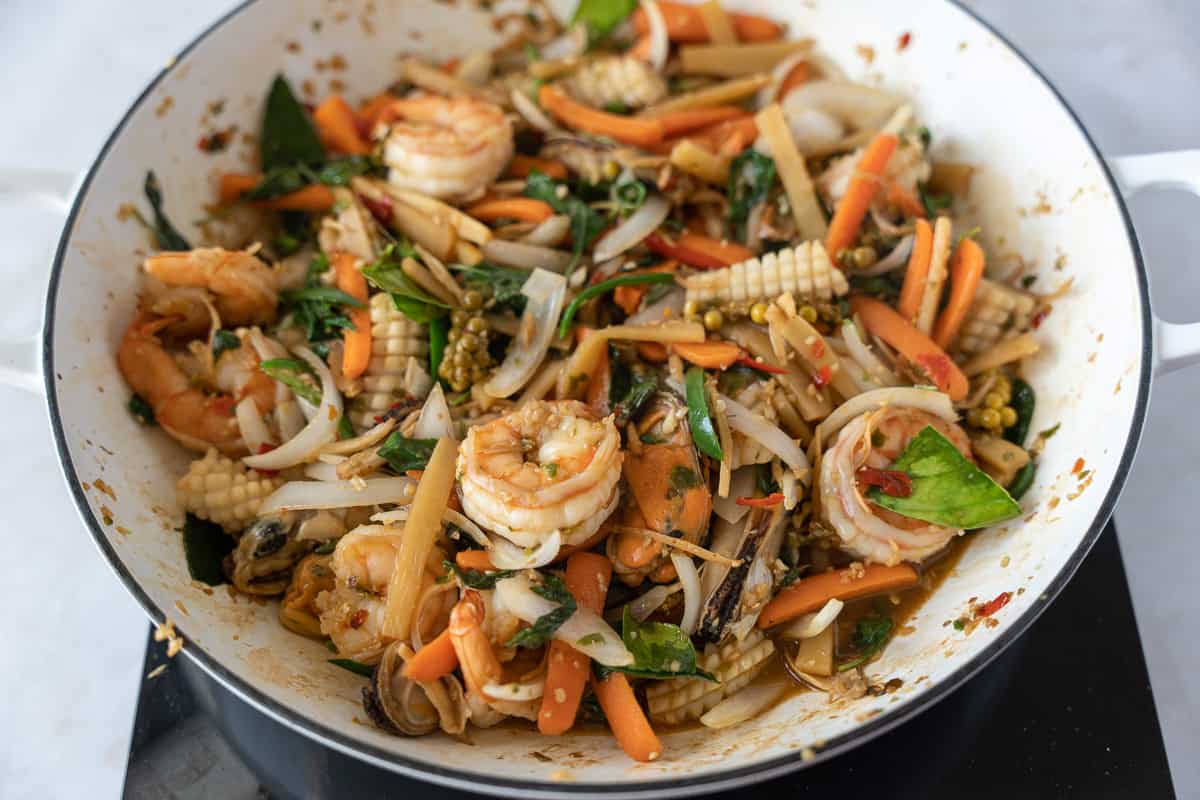 Then all the remaining ingredients get added except for the Thai basil leaves, save those for the very end.
At this point, taste to see if any additional seasoning is needed. Turn the heat off and add the basil leaves then toss to combine.
How to Serve and Store
Serve the Pad Cha Talay with a side of steamed Jasmine rice. If it's too spicy you can add a Thai Omlet to help bring down the heat.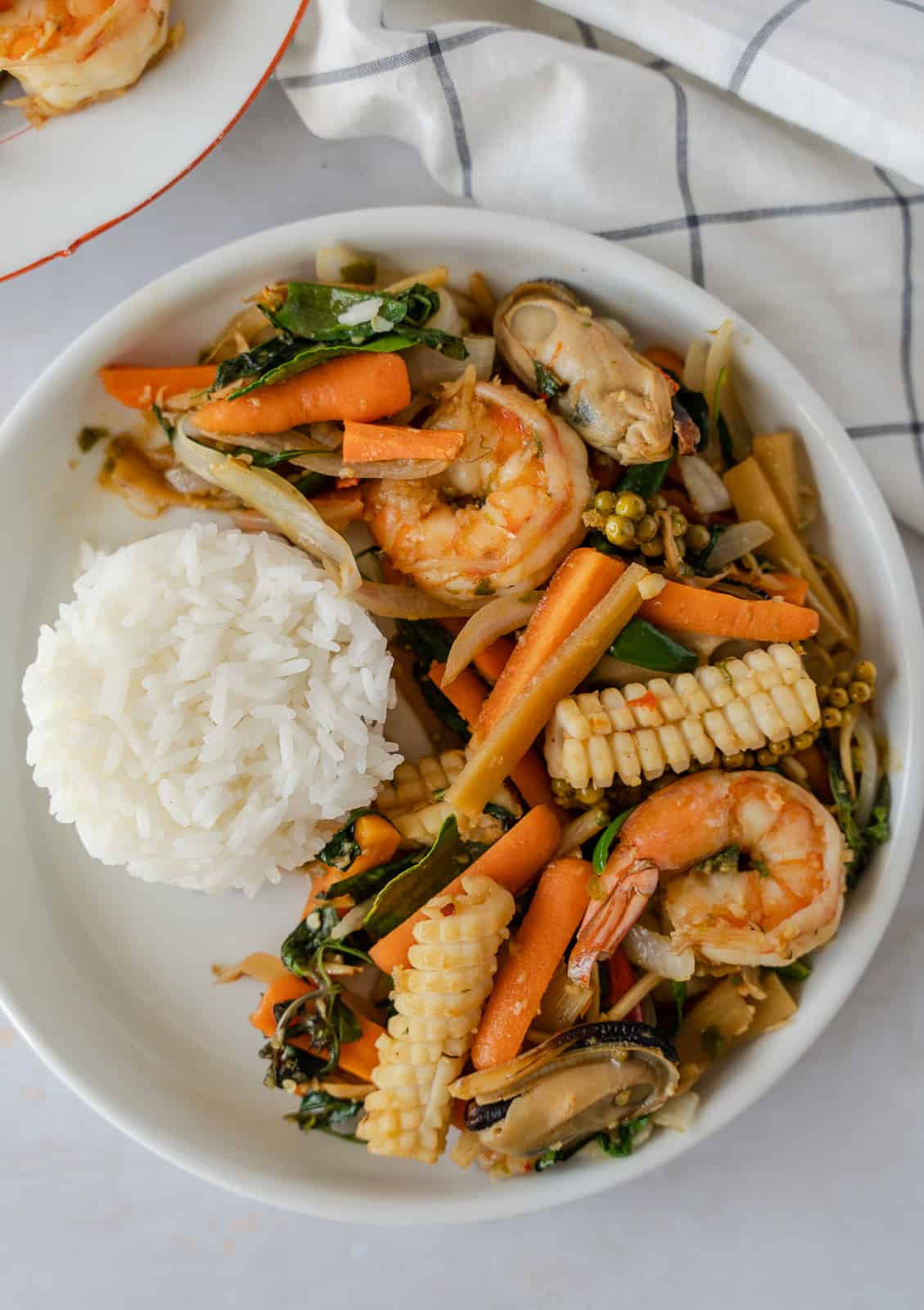 If you have leftovers you can store the Pad Cha Talay in the refrigerator for up to 2 days. I typically don't like to reheat seafood, because it can get rubbery. So this dish is best eaten right after cooking.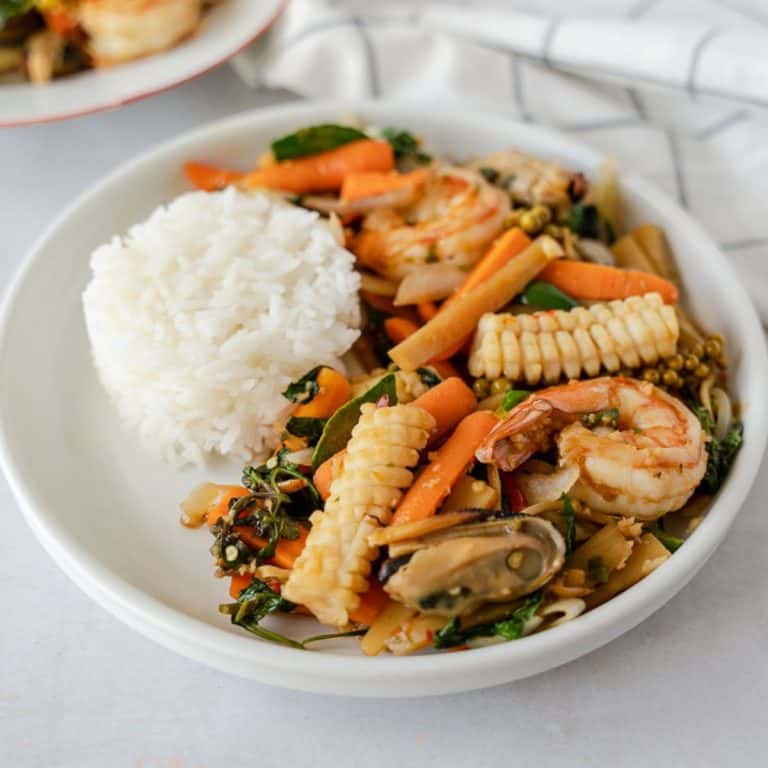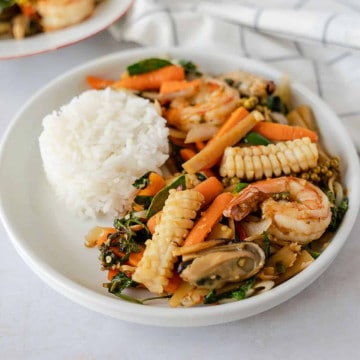 Pad Cha Talay Recipe
Pad Cha Talay is a Spicy Thai Stir Fry with Seafood. It has aromatics like Thai basil, lime leaves, green peppercorns, and finger root.
Instructions
If the seafood is frozen, thaw it according to the package directions.

Mix all the the stir-fry sauce ingredients together in a bowl and set aside.

Remove the stems from the Thai peppers and peel the garlic. Place in a food chopper or processor and pulse until everything is ground up. You can also use a mortar and pestle.

Prep the remaining ingredients: slice carrots, onion, jalapenos, and red chilis. Remove the Thai basil leaves from the stem. Rinse the finger root and slice into smaller pieces. Remove the green pepercorns from the brine and set aside.

Heat a large skillet over medium heat with oil. Add the ground garlic and Thai chili peppers. Stir for one minute in the oil. (make sure you have the vent on)

Add the shrimp and cook until it is pink. Then add the squid and mussels, bring heat up to medium high.

Pour in all of the stir fry sauce and water. Toss to combine for 2 minutes.

Add bamboo, carrots, sliced jalapenos, sliced chilis, torn lime leaves, green pepercorns, and the finger root. Toss to combine for 2 minutes.

Add the sliced onion, black pepper, and Thai Basil leaves. Toss to combine, turn off the heat and taste for seasoning. Serve warm with Jasmine rice.
Notes
You can substitute any of the seafood for a firm white fish, scallops, or clams.
This dish is best eaten right after making it, however leftovers can be stored in the refrigerator for up to 2 days.
Pad Kee Mao
Spicy Seafood Sauce
Nutrition
Calories:
210
kcal
Carbohydrates:
21
g
Protein:
7
g
Fat:
11
g
Saturated Fat:
1
g
Polyunsaturated Fat:
3
g
Monounsaturated Fat:
7
g
Trans Fat:
0.04
g
Cholesterol:
12
mg
Sodium:
1921
mg
Potassium:
433
mg
Fiber:
3
g
Sugar:
8
g
Vitamin A:
9420
IU
Vitamin C:
48
mg
Calcium:
71
mg
Iron:
2
mg
Nutritional information is provided as an estimate only and depends on ingredients and amounts used. Thai Caliente makes no guarantees to the accuracy of this information.