Gai Pad Khing is a simple Thai stir-fry of sliced chicken, ginger, garlic, and onions in a sweet and salty stir fry sauce.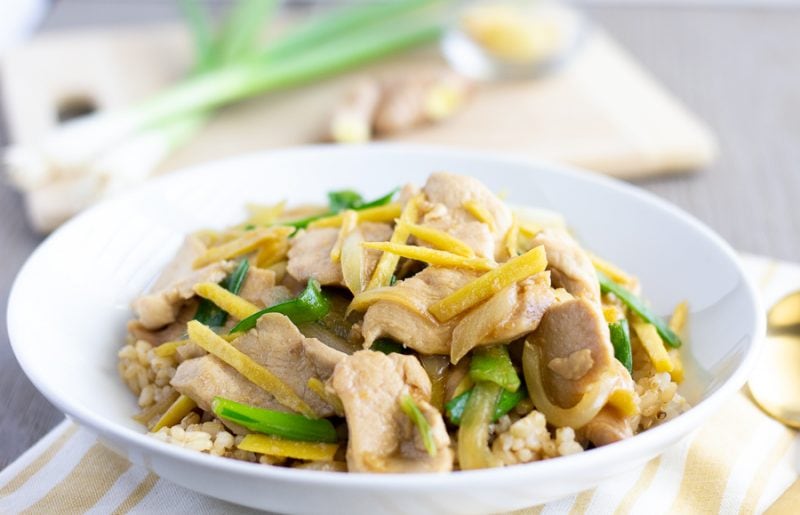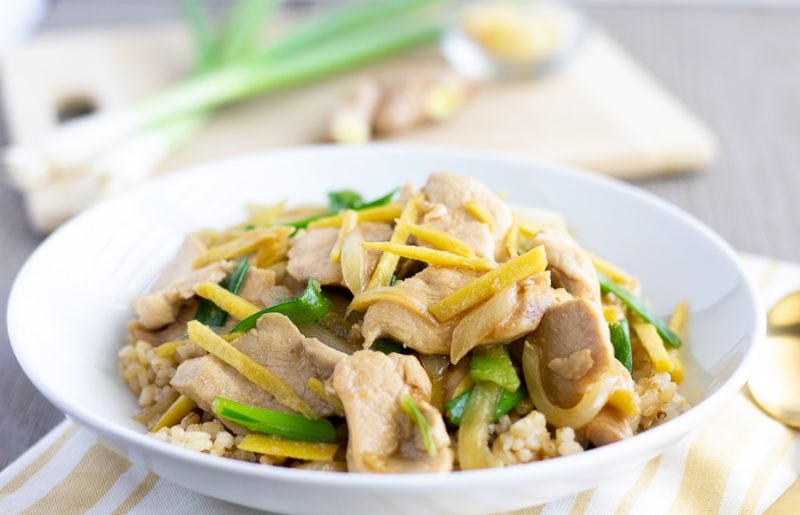 The ingredients are few, but the flavors are bold and boost great health benefits. Ginger delivers heat and flavor without any peppers. Instead you get a flavorful, fragrant dish that's healthy and quick to make. Serve it with Brow Rice, as pictured here, or cauliflower rice for a low carb meal.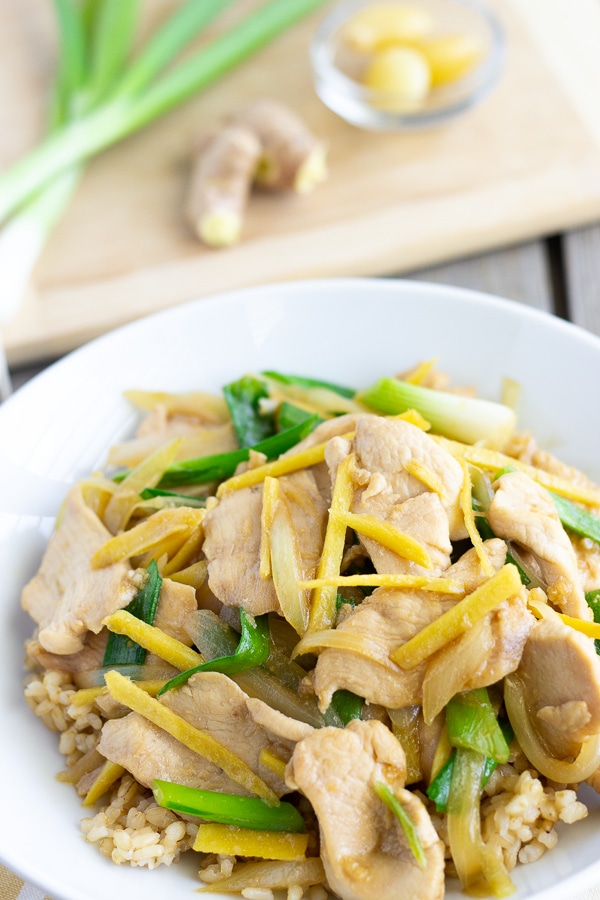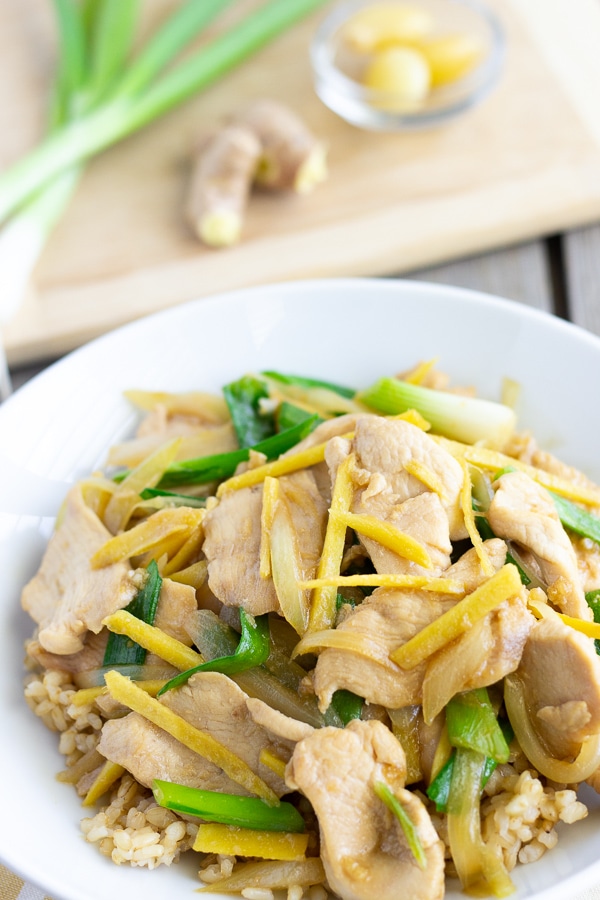 Traditional Gai Pad Khing, uses quite a bit of soy sauce and oyster sauce. This gives it a dark color and salty taste. In an effort to make this dish healthier while still embracing it's authenticity, I replaced the soy sauce with Coconut Aminos, and used just enough Mushroom Sauce and fish sauce to give it the salty umami flavor. The best part is that you can find all these ingredients at your local grocery store. If you can't find the mushroom sauce, then you can use oyster sauce, which is more common. I just prefer the taste of the mushroom sauce. Also if you are watching your sodium intake or sensitive to soy, then Coconut Aminos are the perfect substitute for soy sauce. It has up to 75% less of the sodium than regular soy sauce, and still delivers great flavor.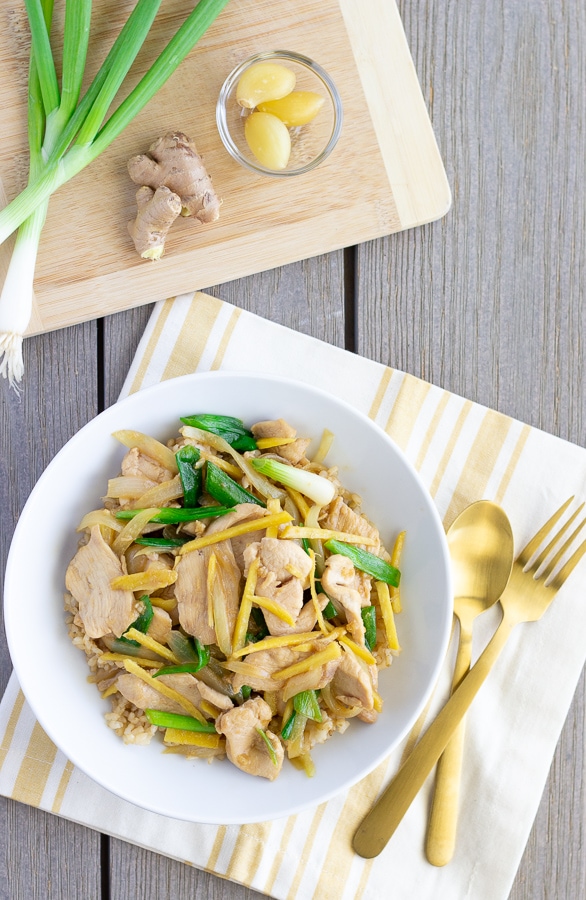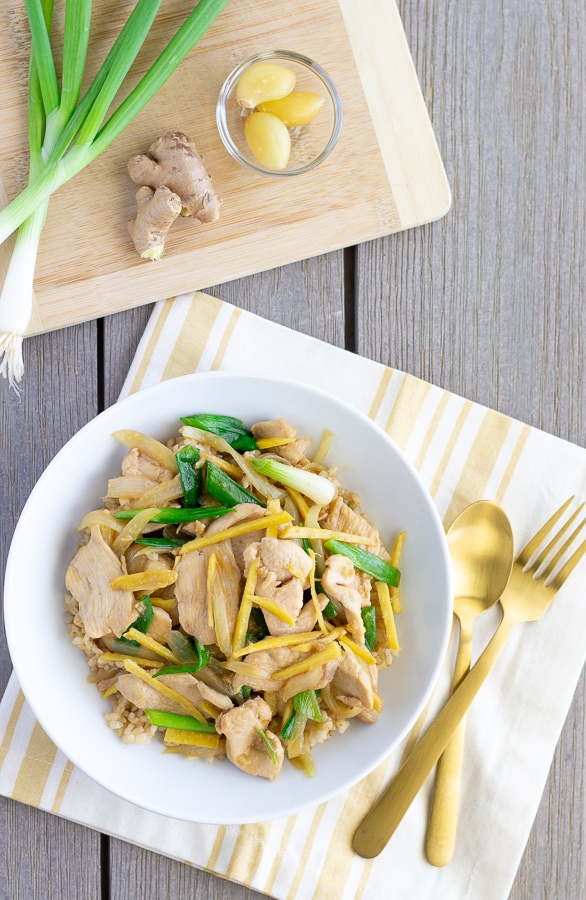 As with any stir-fry, have all the ingredients prepped and the sauce combined before you start cooking. There's less than 10 minutes of actually cooking time, so you need to have everything ready and set to the side for quick access. If you prefer more veggies, you can definitely customize the dish to your liking. I've seen Gai Pad Khing with mushrooms, bell peppers, green beans, or whatever you have in the fridge will work.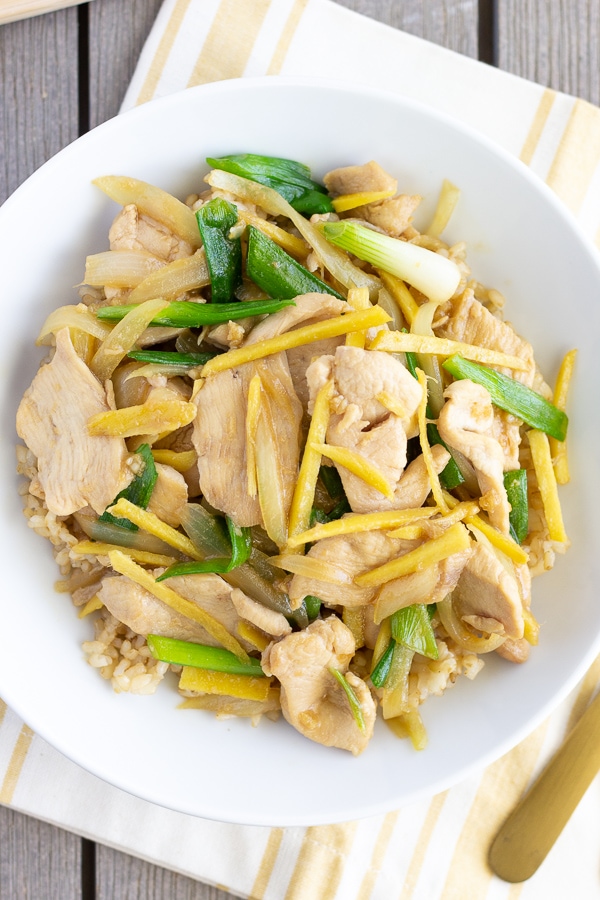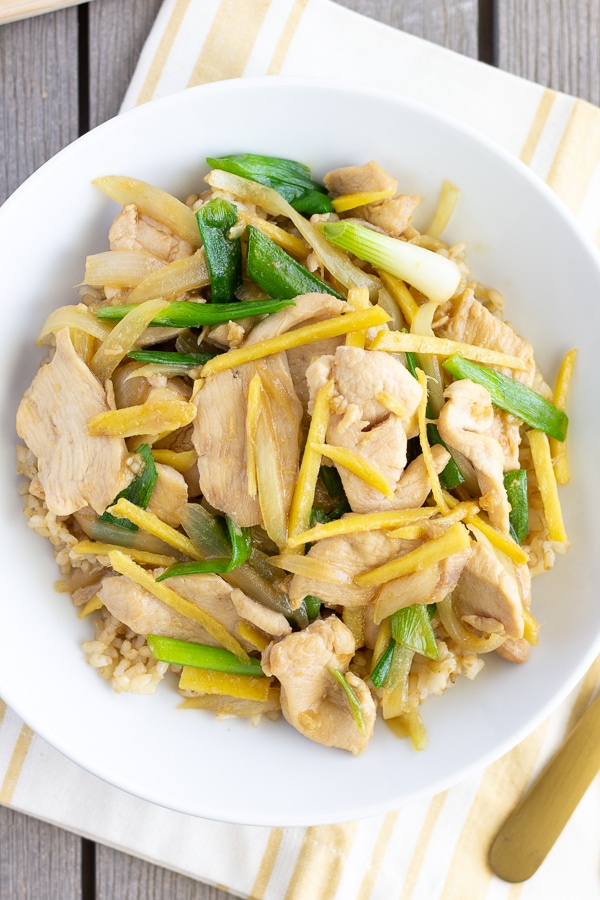 Be sure to tag me on IG @ThaiCaliente if you make any of my recipes and follow me on Pinterest to save them to your boards.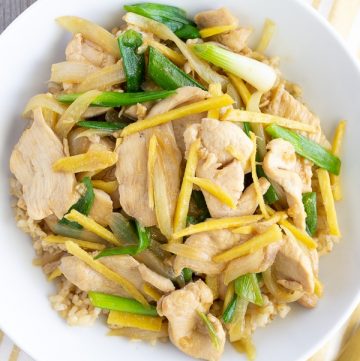 Gai Pad Khing- Thai Chicken with Ginger
Gai Pad Khing is a simple Thai stir-fry of sliced chicken, ginger, garlic, and onions.
Ingredients
1

Tbsp

Oil

1

lb

Chicken Breast

Thinly sliced and mixed with 1 Tbsp of Coconut amino

Ginger Root

about a 4 in piece, peeled and sliced into matchsticks

3

Garlic Cloves

minced

½

Yellow Onion

sliced

2

Stalks Green Onion

sliced into 2 in pieces, including white parts.

Rice or Cauliflower rice for serving
Sauce:
1

Tbsp

Mushroom Stir Fry Sauce

1

Tbsp

Coconut Aminos

2

Tsp

Fish Sauce
Instructions
Slice chicken breast thin and mix with 1 Tbsp of Coconut Amino in a bowl and set aside. Prep remaining ingredients and have sauce and rice ready before starting the stir-fry.

Peel ginger with a spoon or peeler, then cut into matchsticks. Cut yellow onion, green onion, and mince the garlic cloves.

Mix the condiments to form the sauce and set aside in a small bowl.

Heat a wok or large pan with oil over medium high heat. Once hot, add chicken and cook to almost done, about 3 minutes.

Then add garlic, ginger, yellow onions, and white part of green onions. Pour sauce in and coat all the ingredients. Allow ginger and onions to cook and soften for a couple minutes.

Serve with Rice or Cauliflower rice.