Gai Pad Khing is a simple Thai stir-fry of sliced chicken, ginger, garlic, and onions in a sweet and salty stir fry sauce.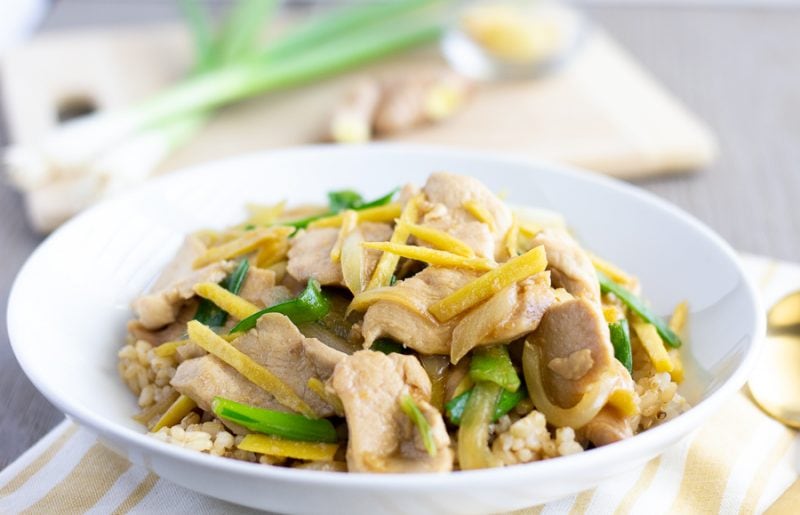 Ginger delivers heat and flavor without any chili peppers. Instead you get a flavorful, fragrant dish that's healthy and quick to make.
The benefits of ginger are also great for anti-inflammatory properties and it boosts your immune system.
Ingredients for Gai Pad Khing
Chicken, Ginger, Garlic, Onion, Green Onion, and Stir Fry Sauce.
Chicken- I'm using Chicken Breast and slicing it thin. You can also substitute chicken thighs, pork, beef, shrimp, or even cubed tofu.
Ginger- The star of this dish and what gives this stir fry a unique flavor. Wash and peel the ginger and slice into small thin pieces.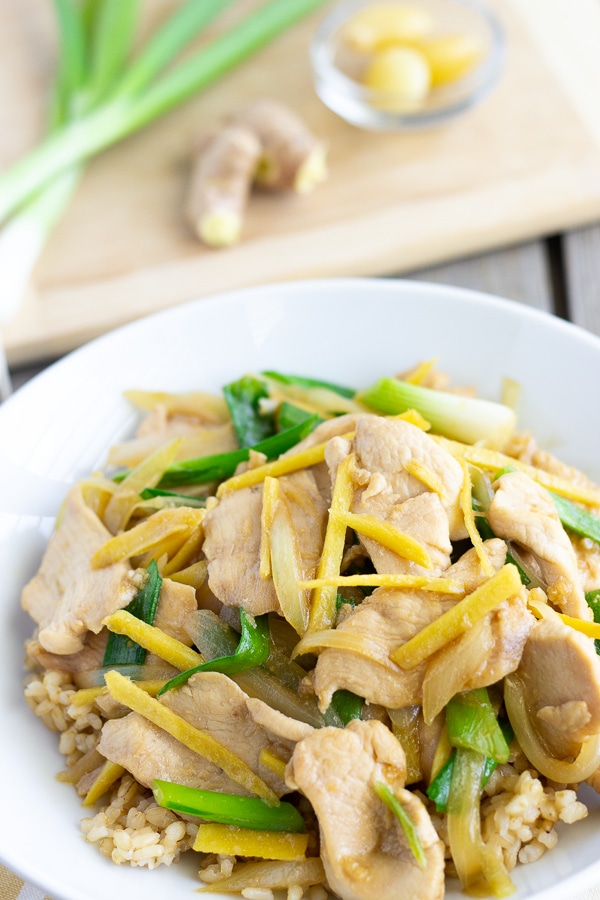 Onions- I'm using a combination of sliced yellow onions for sweetness and green onions for some color.
Stir Fry Sauce
Traditional Gai Pad Khing, uses quite a bit of soy sauce and oyster sauce. This gives it a dark color and salty taste.
In an effort to make this dish lower in sodium, while still embracing it's authenticity, I replaced the soy sauce with Coconut Aminos, and used just enough Mushroom Sauce and Fish sauce to give it the salty umami flavor.
If you can't find the mushroom sauce, then you can use oyster sauce, which is more common. I just prefer the taste of the mushroom sauce.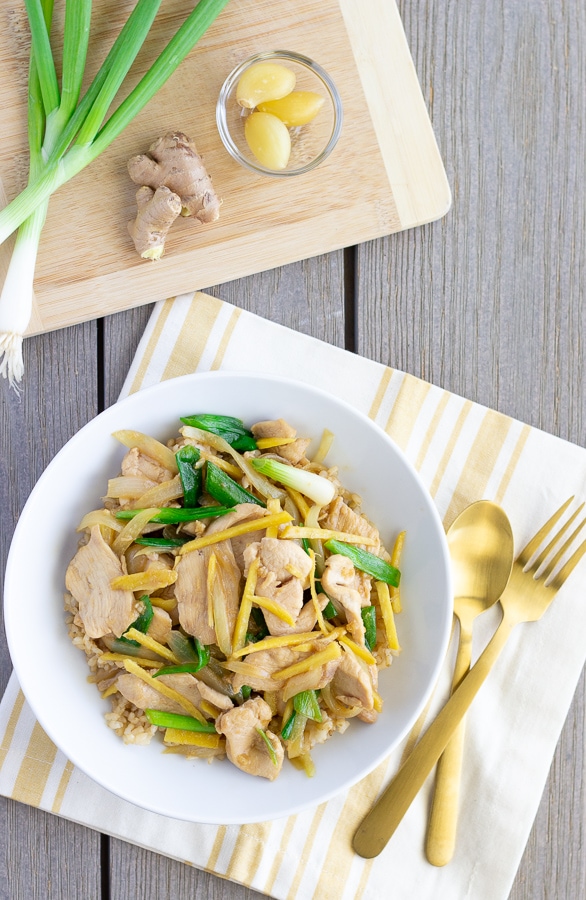 How to Make and Serve Gai Pad Khing
Stir fry's are fast, so have all the ingredients prepped and the sauce combined before you start cooking.
Start by slicing your chicken or protein, add to a bowl, mix it with some coconut aminos or soy sauce to add some flavor.
Then prep the ginger, garlic, and onions. If you prefer more veggies, you can definitely customize the dish to your liking. I've seen Gai Pad Khing with mushrooms, bell peppers, or green beans.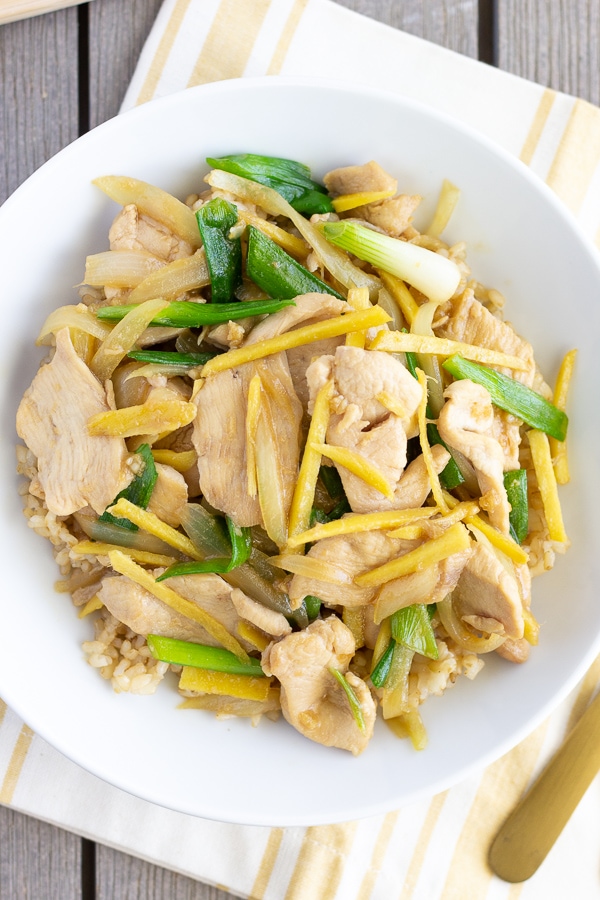 Usa a wok or large pan over medium high heat and cook the chicken.
Then add garlic, ginger, yellow onions, and the white part of green onions. Add the sauce and cook for a couple minutes.
Taste and see if more seasoning is needed. Turn off heat, add the green parts of the scallions, and plate.
Serve Gai Pad Khing with Jasmine rice, brown rice, or cauliflower rice. Leftovers can be stored in the fridge for a couple days and this recipe is great for meal prep.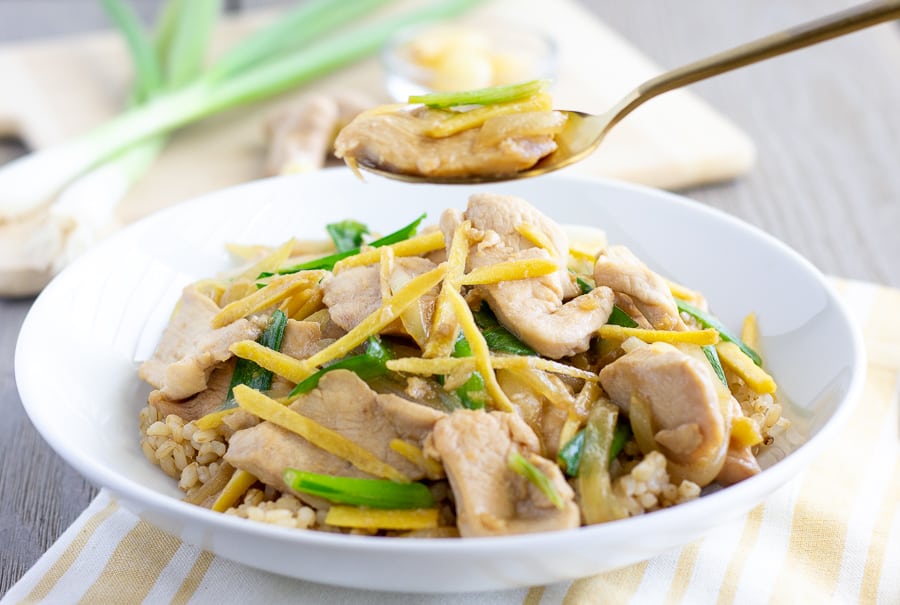 Try these other tasty Thai stir-fry's: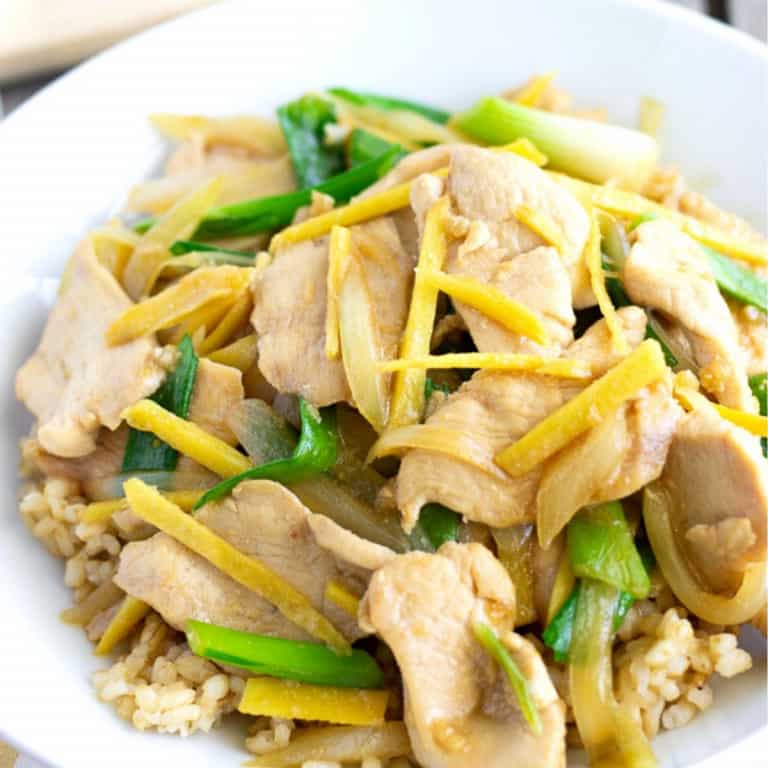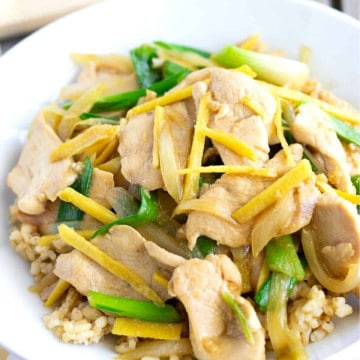 Gai Pad Khing- Thai Chicken with Ginger
Gai Pad Khing is a simple Thai stir-fry of sliced chicken, ginger, garlic, and onions.
Ingredients
1

tablespoon

Oil

1

lb

Chicken Breast

Thinly sliced and mixed with 1 tablespoon of Coconut amino

Ginger Root

about a 4 in piece, peeled and sliced into matchsticks

3

Garlic Cloves

minced

½

Yellow Onion

sliced

2

Stalks Green Onion

sliced into 2 in pieces, including white parts.

Rice or Cauliflower rice for serving
Sauce:
1

tablespoon

Mushroom Stir Fry Sauce

Can substitute Oyster Sauce

1

tablespoon

Coconut Aminos

Can Substitute Soy Sauce

2

teaspoon

Fish Sauce
Instructions
Slice chicken breast thin and mix with 1 tablespoon of Coconut Amino in a bowl and set aside.

Peel ginger with a spoon or peeler, then cut into matchsticks. Slice yellow onion, green onions, and mince the garlic cloves.

Mix the condiments to form the sauce and set aside in a small bowl.

Heat a wok or large pan with oil over medium high heat. Once hot, add chicken and cook to almost done, about 3 minutes.

Then add garlic, ginger, yellow onions, and white part of green onions. Pour sauce in and coat all the ingredients. Allow ginger and onions to cook and soften for a couple minutes.

Turn off heat, taste and see if additional seasoning is needed. Add the green part of the onion and plate. Serve with rice or cauliflower rice.
Want to Save this Recipe? Click on the Pinterest button below to Pin It!