Shrimp Ceviche bursting with citrus flavors from Cara Cara and Blood oranges for a refreshing no-cook meal.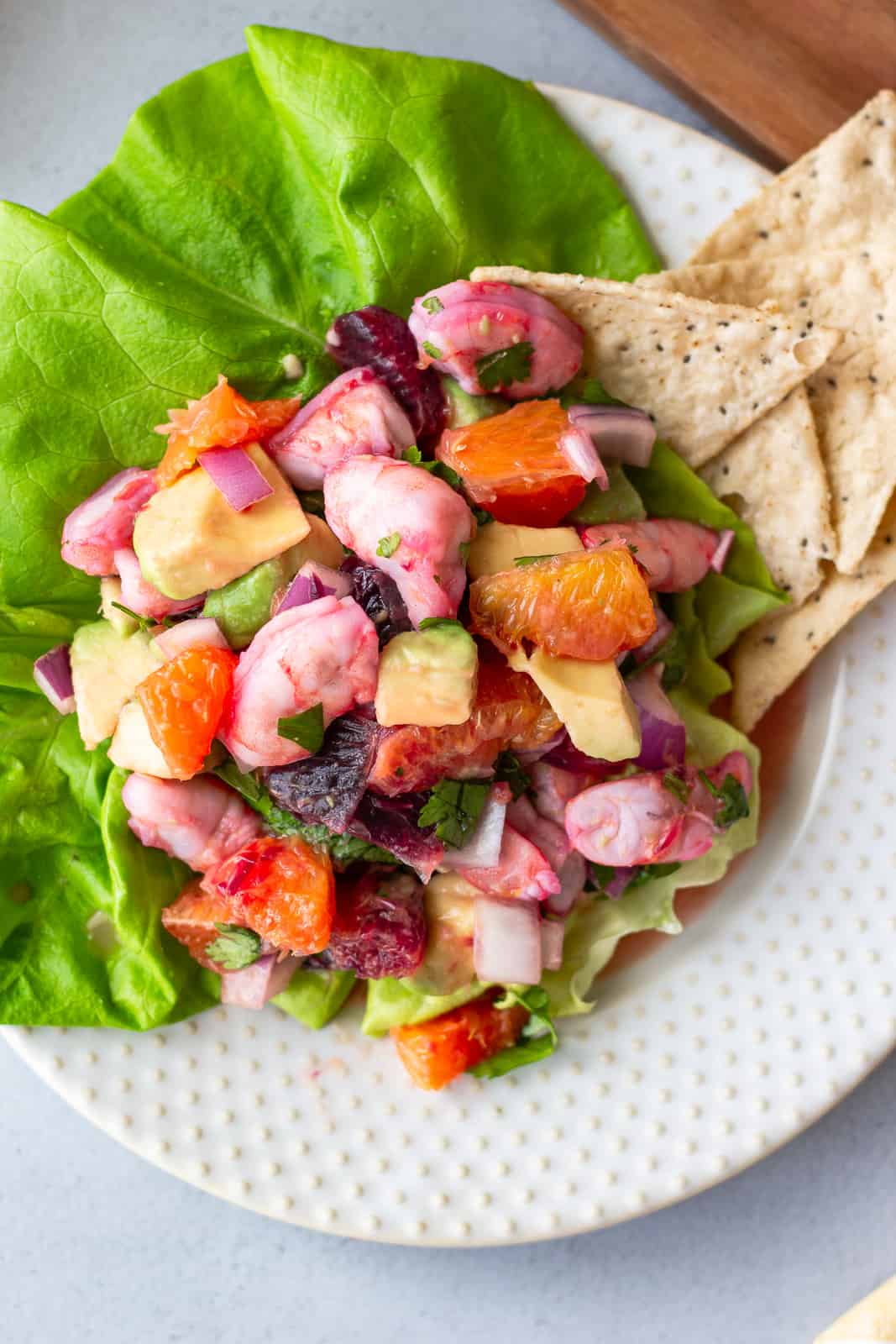 This recipe isn't a traditional Mexican Shrimp Ceviche, and instead it's made with seasonal blood oranges and cara cara oranges for a fresh citrus twist on ceviche.
Ceviche is perfect to eat during the warmer months, especially where I live in Arizona where the last thing you want to do is be cooking over a hot stove in the Summertime.
Jump to:
What is Ceviche?
Ceviche is when a seafood, usually fish or shrimp, is 'cooked' in lime juice. The seafood reacts with the acidity of the lime juice and gets cured.
Once the seafood is cooked, you can discard the lime juice and add fresh lime or citrus juice before adding the other ingredients.
Does the Shrimp Have to be Raw?
Traditional shrimp ceviche is made with raw shrimp, typically diced into smaller pieces then covered in lime juice to cook.
It's important that all the shrimp is covered in lime juice. I also recommend using a glass or ceramic bowl since a metal bowl can give a metallic taste from the lime juice.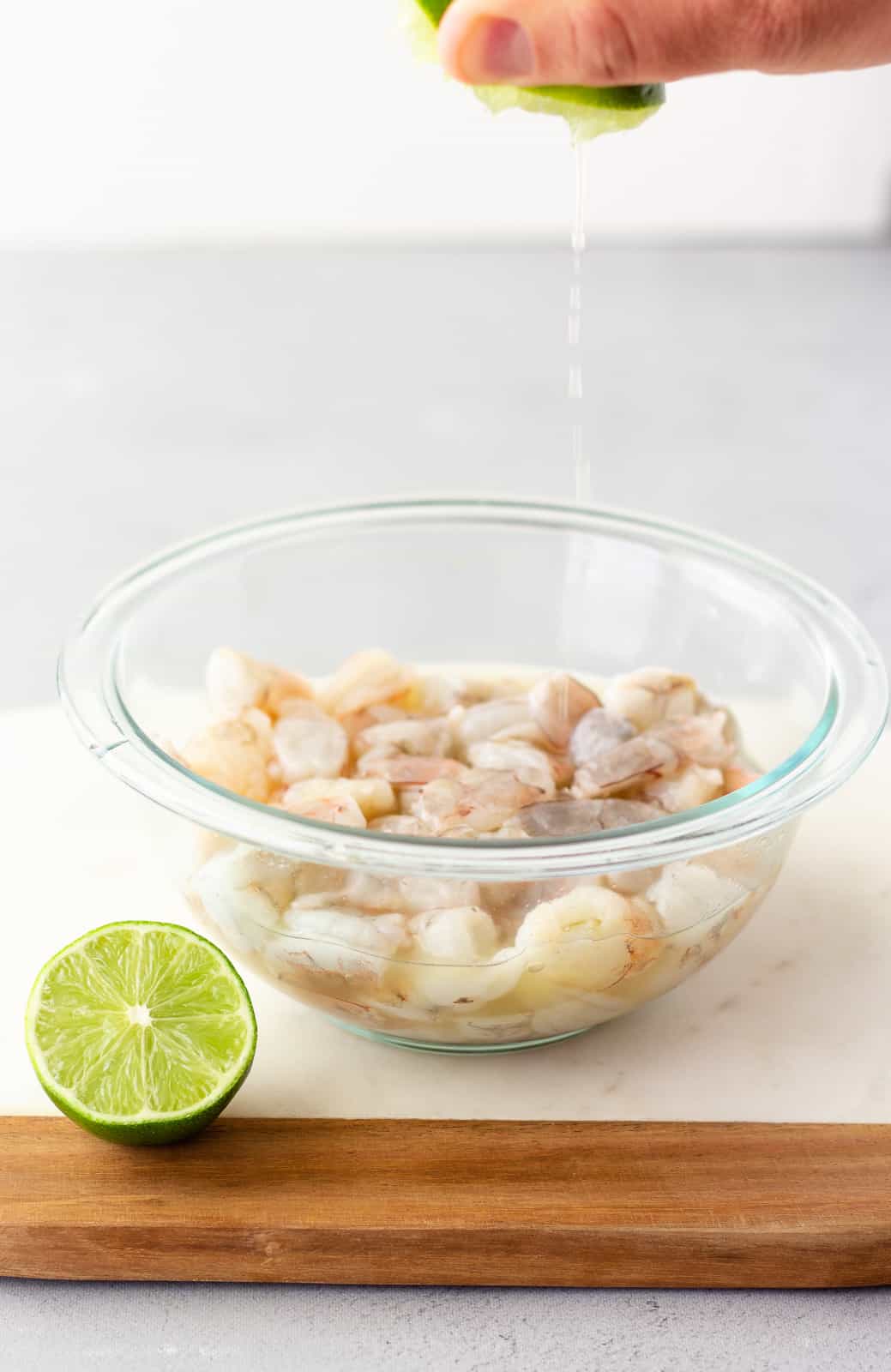 However if you are pregnant or don't feel comfortable eating raw shrimp, you can blanch the shrimp in boiling water, just for a minute or 2, then remove and place shrimp into an ice bath to stop cooking.
Once the shrimp cools you can remove it and cut it into smaller pieces. Then begin making the ceviche.
How to Make Citrus Shrimp Ceviche
Since citrus is the focus in this shrimp ceviche, we are going to use both the juice and flesh of Cara Cara and Blood Oranges.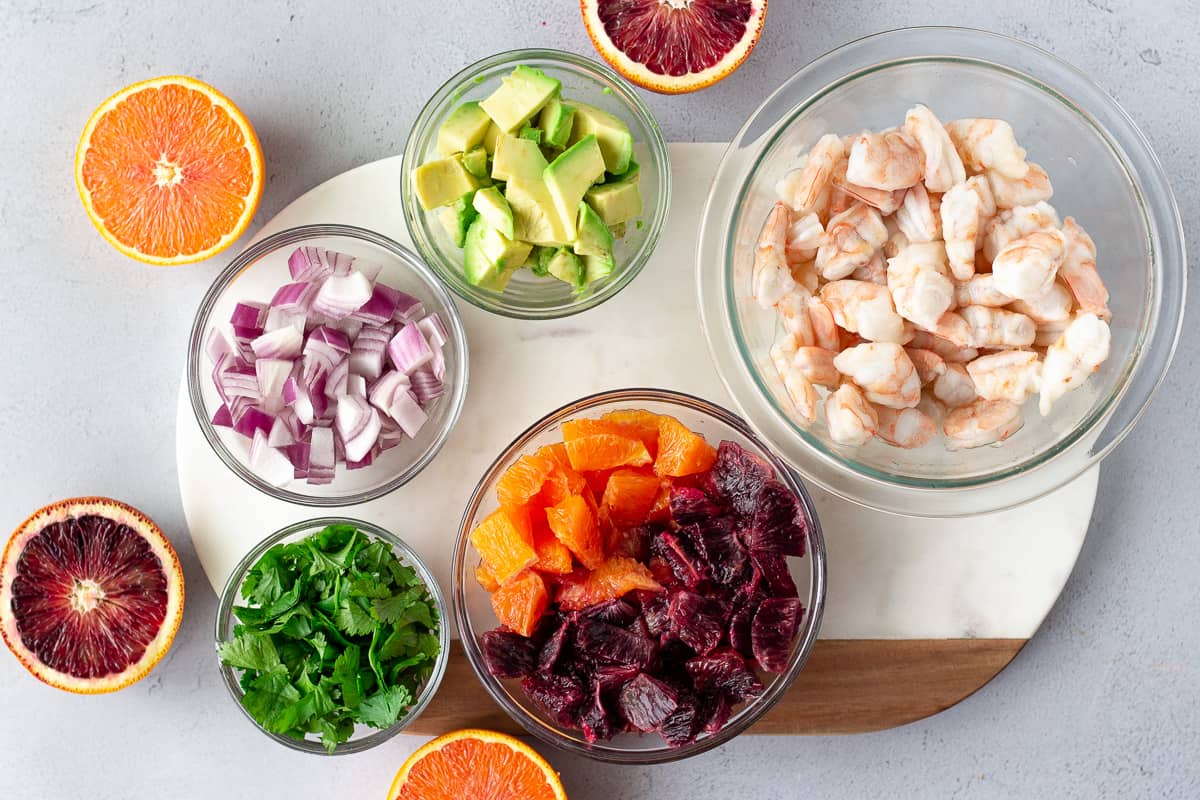 You'll also need more lime juice, diced red onion, cilantro, and diced avocado. I didn't make this ceviche spicy since my son was eating it, but you can also add a diced jalapeno or serrano to spice it up.
How to Supreme an Orange
Since the shrimp has to sit in the lime juice for 20 minutes, use that time to make the ceviche 'fancy' by supreming the oranges.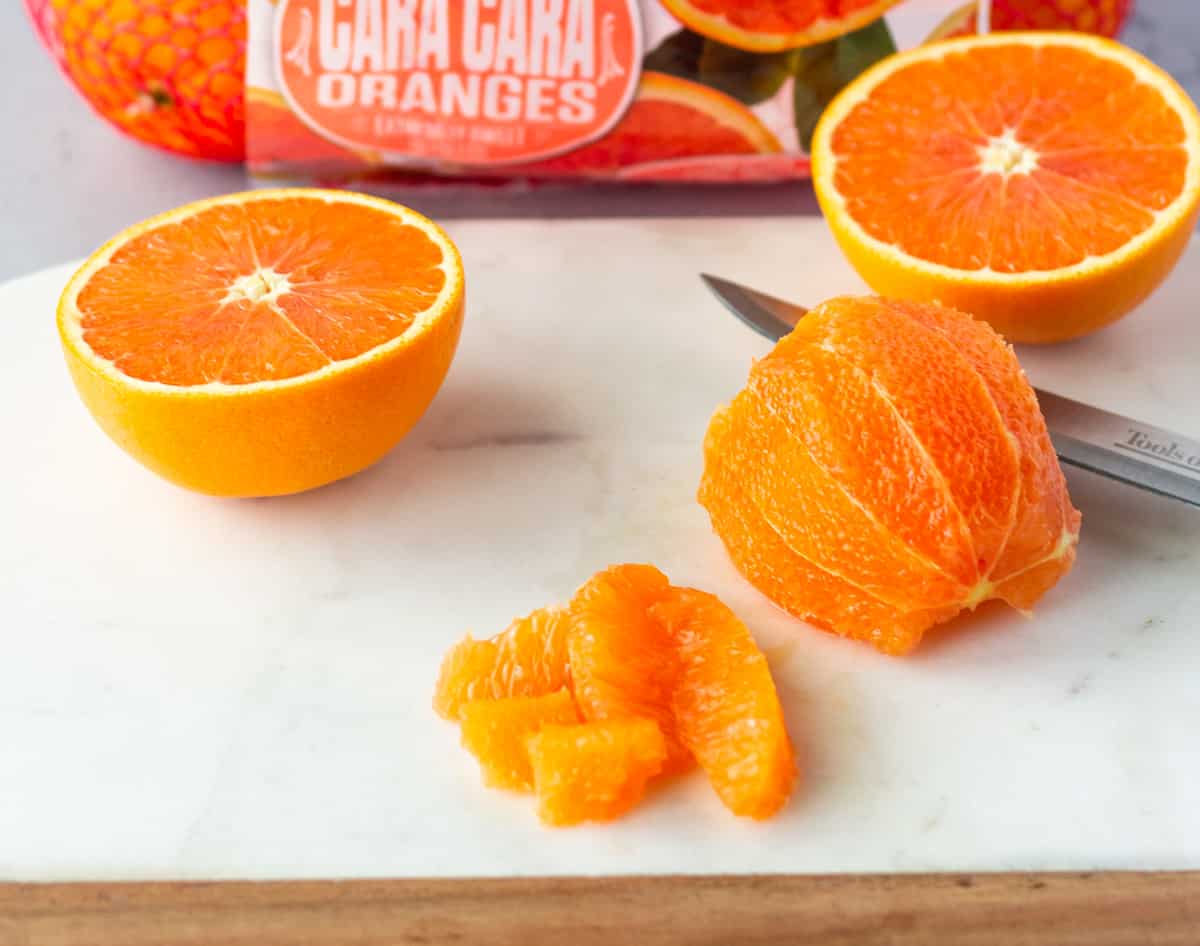 Start by peeling the sides and bottom of the orange with a knife, remove all the peel and white pith. Then go in with a sharp paring knife in between each membrane, cutting out just the flesh of the orange.
You're then left with pretty orange slices. Do this for 1 Cara Cara Orange and 1 Blood Orange.
After 20 minutes of the shrimp curing, drain out the lime juice. Now add the juice from 1 cara cara and blood orange, along with 1 fresh lime.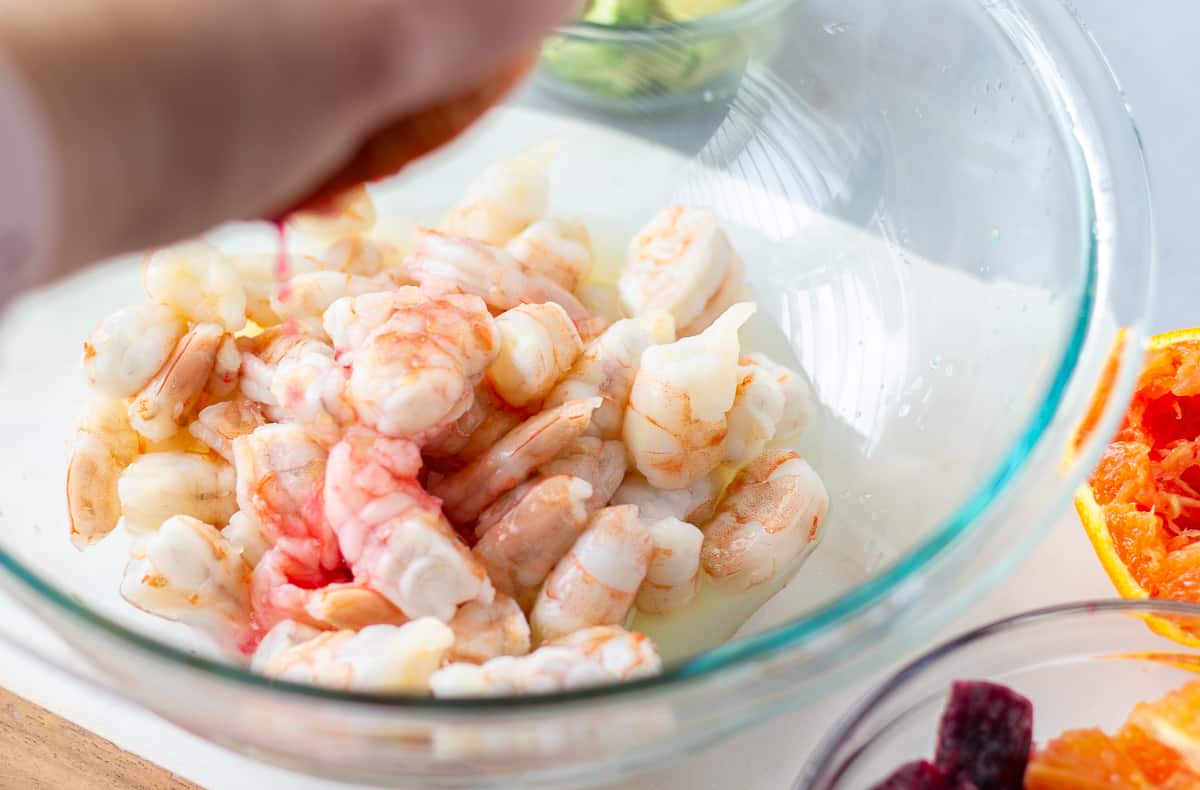 I love how the blood orange adds a pretty pink hue to the shrimp.
Then add all the remaining ingredients to the shrimp. Supreme and diced oranges, diced red onion, diced avocado, chopped cilantro, and some salt.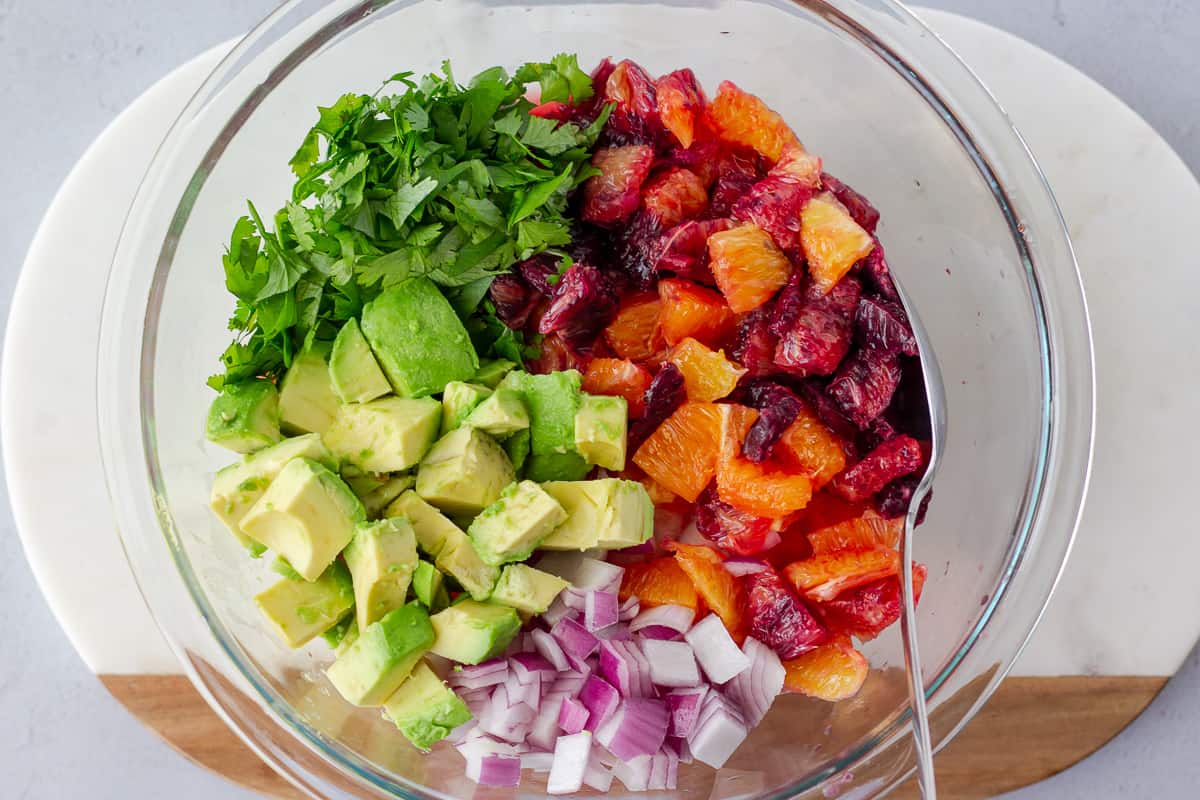 Combine everything well and taste for seasoning. You want a slightly tart, sweet, and salty taste to this ceviche. Add additional salt, lime, or orange juice if needed.
The Citrus Shrimp Ceviche is ready to serve at this point. You can keep it stored in the fridge, but it's best eaten within an hour of making it.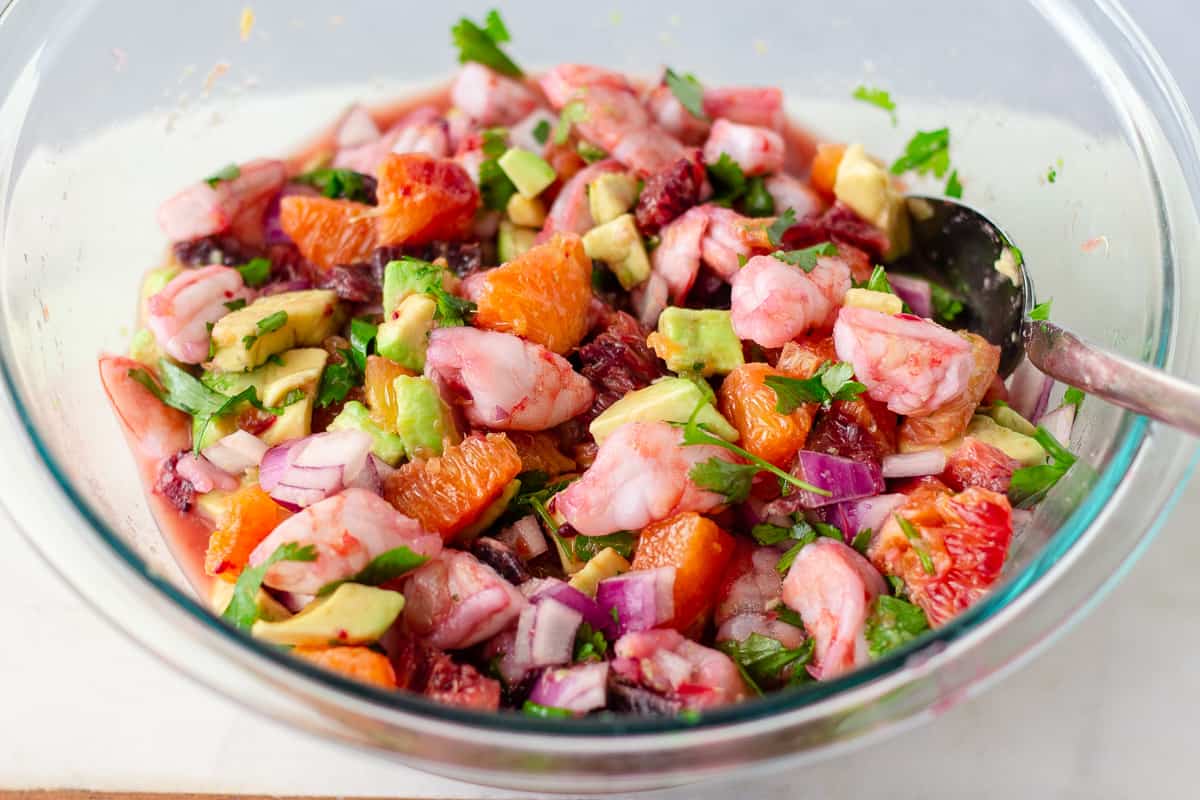 Having the shrimp sit in the lime juice too long can make it taste rubbery, and the avocado will start getting mushy.
How to Serve Shrimp Ceviche
Ceviche can be eaten on its own or served with tortilla chips, tostadas, crackers, or lettuce leaves. It's commonly served as a meal, but also make a great appetizer to accompany a meal.
We also like to add a few dashes of hot sauce while eating it.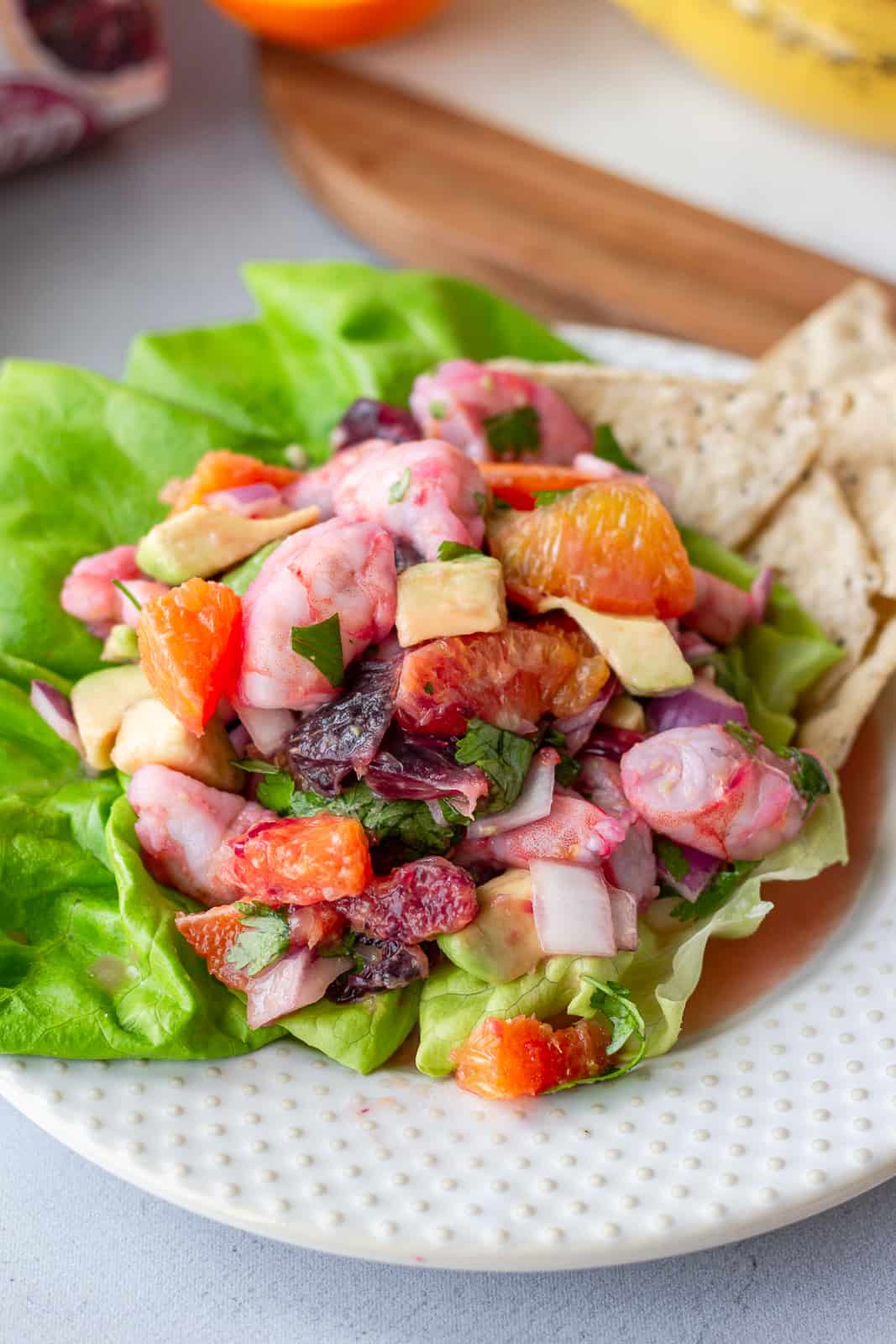 I just love the bright color of this citrus shrimp ceviche, I know it's going to be a staple this season!
If you want to try a more traditional Mexican ceviche, try my Ceviche de Pescado.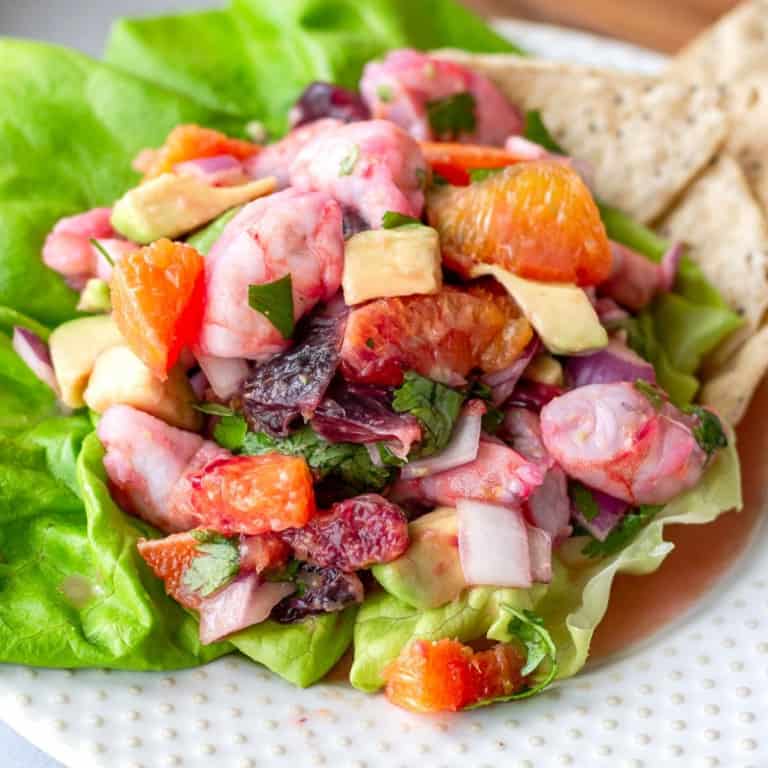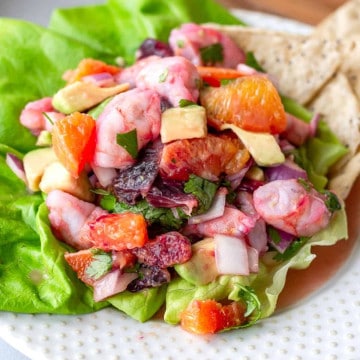 Citrus Shrimp Ceviche Recipe
Shrimp Ceviche bursting with citrus flavors from Cara Cara and Blood oranges for a refreshing no-cook meal.
Ingredients
1

pound

Raw Shrimp

Cut into smaller chunks

5-7

Limes

Enough Fresh Lime Juice to cover the shrimp in a glass or ceramic bowl. (Don't use metal) Plus extra lime for after the curing.

2

Cara Cara Oranges

1 Juiced and 1 Peeled/Supremed

2

Blood Oranges

1 Juiced and 1 Peeled/Supremed

1

Avocado

Diced

¼

Cup

Chopped Red Onion

¼

Cup

Chopped Cilantro

1

Jalapeno or Serrano

For spice or omit for no spice

Salt to taste

Tortillas Chips, Tostadas, and Lettuce leaves for serving.
Instructions
Curing the Shrimp: Dice shrimp into smaller chunks and place raw shrimp in a glass or ceramic bowl. Add enough fresh lime juice to cover the shrimp. Mix it well and place in the refrigerator for 20 minutes to cure. Shrimp should be a pale pink afterwards, then drain out the lime juice.

If you prefer to boil the shrimp, then bring a small pot of water to boiling, add whole raw shrimp, and turn off the heat once added. Stir shrimp around for a minute or 2, remove shrimp and place in cold water to stop cooking. Then cut shrimp into smaller pieces.

Juice 1 Cara Cara and 1 Blood Orange. Then peel each orange with a knife to remove all the skin and white pith. Then with a paring knife, go in and remove the segments. Cut each segment in half.

In a clean bowl, add cured or cooked diced shrimp, the orange juices, 1 squeezed lime, segmented orange pieces, diced red onion, chopped cilantro, diced avocado, and chopped jalapeno. Add some salt, I used about ½ tsp. Combine everything well and taste for seasoning.

Serve with Tortilla chips, tostadas, or lettuce leaves. Store in refrigerator if not serving immediately.
Nutrition
Calories:
225
kcal
Carbohydrates:
24
g
Protein:
18
g
Fat:
9
g
Saturated Fat:
1
g
Polyunsaturated Fat:
1
g
Monounsaturated Fat:
5
g
Trans Fat:
1
g
Cholesterol:
143
mg
Sodium:
648
mg
Potassium:
616
mg
Fiber:
8
g
Sugar:
9
g
Vitamin A:
587
IU
Vitamin C:
73
mg
Calcium:
127
mg
Iron:
1
mg
Nutritional information is provided as an estimate only and depends on ingredients and amounts used. Thai Caliente makes no guarantees to the accuracy of this information.
Want to Save this Recipe? Click on the Pinterest button below to Pin It!