Ceviche de Pescado is fish cooked in lime juice, mixed with chopped tomatoes, cucumber, onion, and cilantro. Serve it chilled with tortilla chips for a fresh, no-cook meal or appetizer.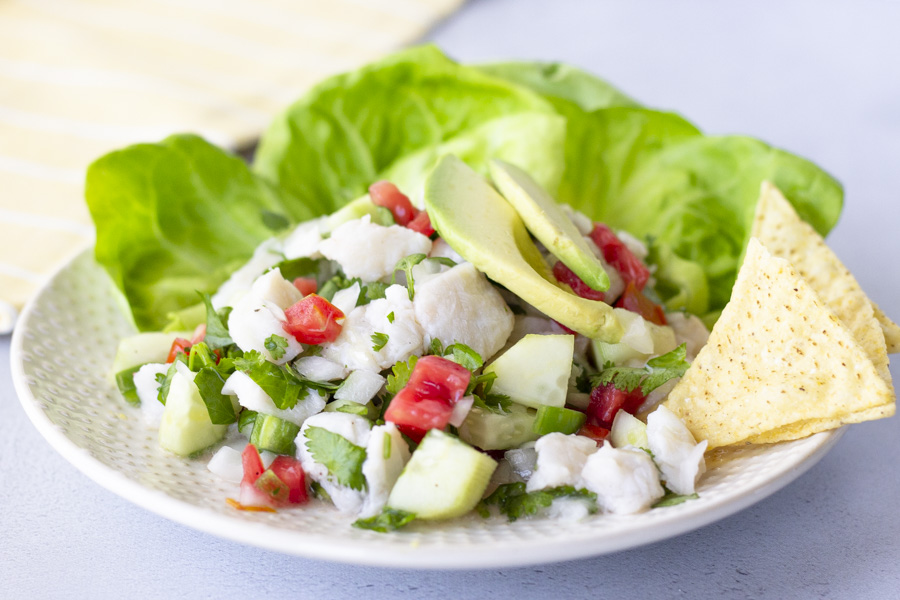 During the hot Arizona Summer, staying cool is a top priority. No cook meals are perfect to keep your house and body cool.
Hello chilled ceviche!
My husband introduced me to ceviche and my in-laws make it often in the Summer. There's different variations in Mexico and parts of South America, but this is our family recipe and the ingredients are simple.
Jump to:
What Kind of Fish to Use for Ceviche de Pescado
The most important takeaway is to use fresh fish (like you live near the ocean) or packaged frozen fish. Frozen is best if you are like me and don't live near an ocean.
For years I have been using frozen vacuum sealed fish, since it's commonly packaged/frozen right after it's caught.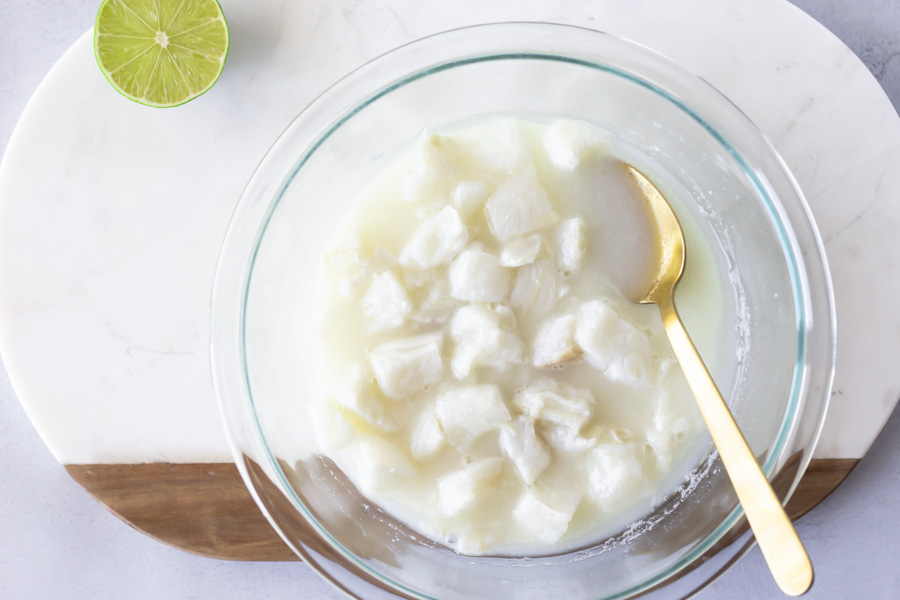 'Fresh' seafood at your grocery store counter is typically frozen fish thawed then put out on display. So if you are not using it right away, this decreases the freshness dramatically.
When making Ceviche Pescado, I recommend using frozen fish and thawing it partially in the fridge. The fish is easier to dice when it is partially frozen.
I made this Ceviche using Cod, but my in-laws make it with Tilapia. Any type of firm or semi-firm white fish works:
Halibut

Mahi-Mahi

Sea Bass

Snapper

Flounder
Is the Fish Cooked in Ceviche?
The fish 'cooks' in the acid from the lime juice, and is refrigerated for 2 hours. You definitely want to use fresh limes for ceviche. I ended up using 4 limes to get ½ cup of lime juice.
Use a glass bowl for mixing and storing the ceviche since stainless can react with the lime juice. Cover the dish with a Tupperware lid or plastic wrap before placing in the refrigerator.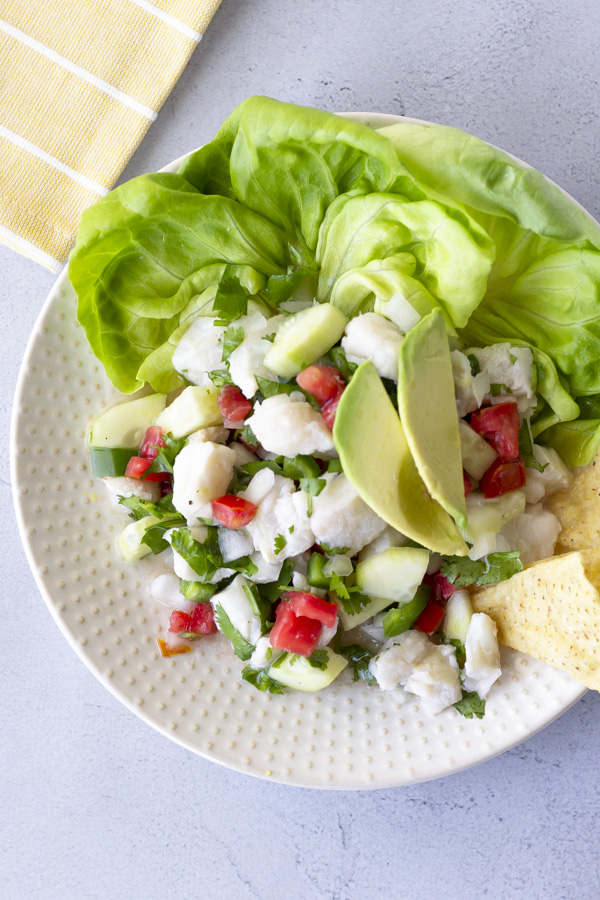 I prefer to drain out the 'cooking' lime juice before mixing in the other ingredients, because I think it's too watery. Sometimes if it needs more acidity I'll squeeze some fresh lime juice after everything is mixed.
When my in-laws make ceviche they do not drain the 'cooking' lime juice from the fish, and instead mix everything together. They also make a large batch and use fresh fish, so there is less liquid.
Try keeping the lime juice in first and see if you like it that way, otherwise you can always drain it.
What Gives the Ceviche Flavor?
The lime juice is going to give acidity, but the mix-ins and salt will add tons of flavor!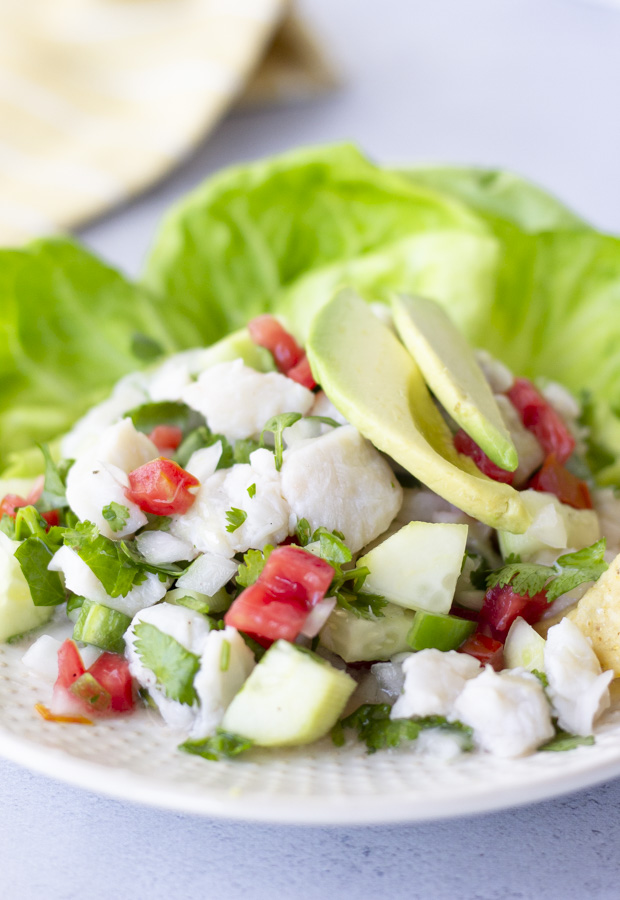 Fresh chopped tomatoes, onions, and cilantro will add crunch and flavor. Diced jalapeno will add spice for some heat. I left the seeds in, but you can remove them for less spice. Or you can add hot sauce on your individual portion.
Avocado is also a great add-in. I typically don't mix it in and instead add it on the top when eating.
How long does Ceviche keep for?
Ceviche Pescado is best eaten the day of. After the initial 2 hours, you can add the mix-ins, then store it back in the refrigerator. I would store it in the fridge for a max of 2 days.
Since ceviche requires some preparation, I recommend making it in the morning and enjoying it for lunch or dinner that same day.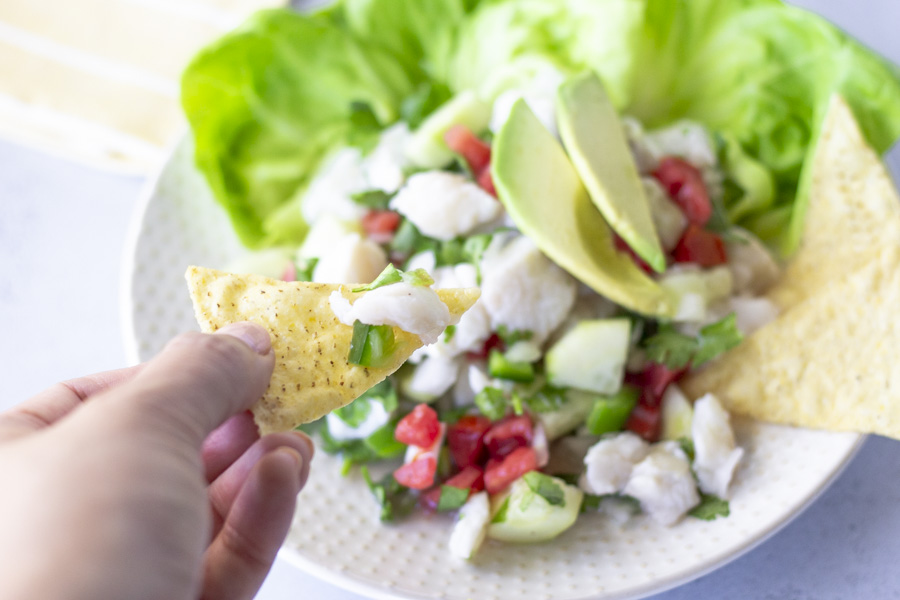 Here on some options on serving the Ceviche: Tortilla Chips, Tostadas, Plantain Chips, Lettuce Leaves, Cucumber Slices, or just eat it with a fork 🙂
Want to try a Thai chilled salad?
Papaya Salad is also served cold and requires no cooking!
Want more Ceviche? Try this Citrus Shrimp Ceviche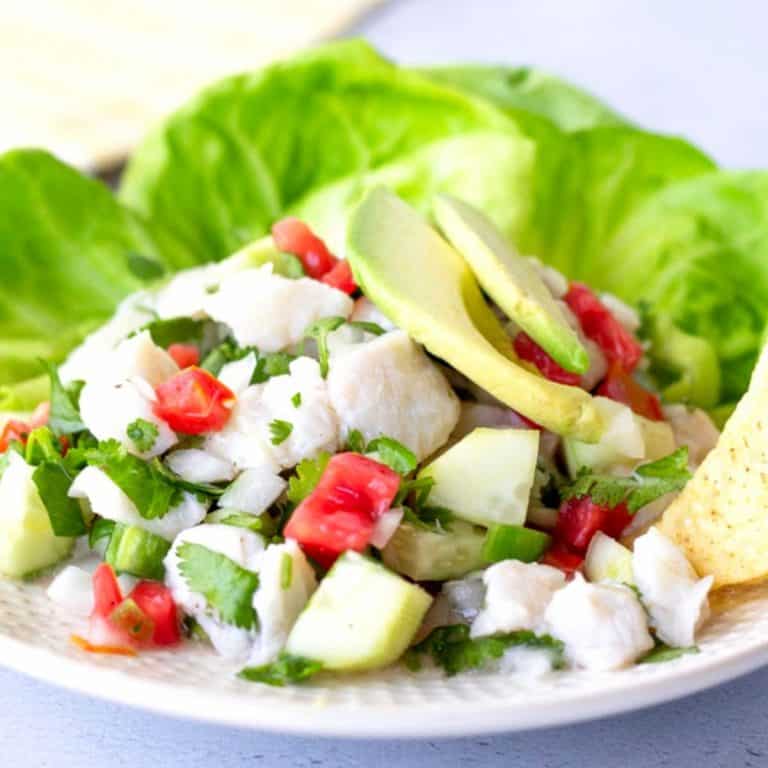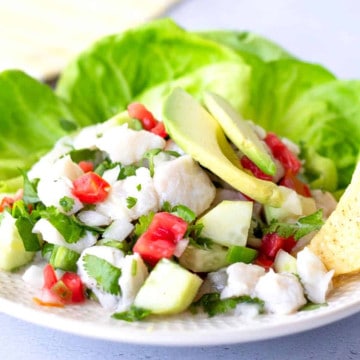 Ceviche de Pescado- Mexican Fish Ceviche Recipe
Ceviche de Pescado is fish cooked in lime juice, mixed with chopped tomatoes, cucumber, onion, and cilantro.
Ingredients
1

pound

Cod

or Tilapia, Sea Bass, or Halibut work too

½

Cup

Lime Juice

fresh squeezed

2

Roma tomatoes

diced small

1

Cucumber

diced small

¼

White onion

finely chopped

2

tablespoon

Cilantro

rough chopped

1

Jalapeno

diced small and seeds removed for less spice

¼

teaspoon

Salt

taste and add more if needed

Avocado, hot sauce, tortilla chips, or tostadas for serving.
Instructions
Remove fish from refrigerator and cut into even chunks. There should be no bones or skin on the fish.

Place fish in a glass dish with lime juice, cover, and refrigerate for at least 2 hours. The fish will cook in the lime juice and turn white.

While the fish is cooking, chop tomatoes, cucumber, onion, cilantro, and jalapeno into even small pieces.

Remove fish and drain the lime juice, or some prefer to keep it in there for more liquid. Add remaining ingredients, combine well, add salt. Taste and see if more salt or lime juice is needed. Serve chilled with lettuce, chips, tostadas, and sliced avocado.

If not eating immediately store in the refrigerator. Ceviche will last 1 day in the refrigerator, but best eaten the first day.
Notes
It's easier to dice the fish if it is slightly frozen. I prefer to your frozen fish and defrost it slightly.
Make sure all the fish is covered with lime juice. You can stir it halfway to ensure it gets cooked evenly.
Recipe for: Citrus Shrimp Ceviche
Thai Red Curry Cod
Nutrition
Calories:
119
kcal
Carbohydrates:
6
g
Protein:
21
g
Fat:
1
g
Saturated Fat:
1
g
Polyunsaturated Fat:
1
g
Monounsaturated Fat:
1
g
Cholesterol:
49
mg
Sodium:
211
mg
Potassium:
699
mg
Fiber:
1
g
Sugar:
3
g
Vitamin A:
424
IU
Vitamin C:
22
mg
Calcium:
38
mg
Iron:
1
mg
Nutritional information is provided as an estimate only and depends on ingredients and amounts used. Thai Caliente makes no guarantees to the accuracy of this information.