Green Curry with Shrimp is an easy weeknight dish that's ready in 20 minutes. Add your favorite veggies and serve with Jasmine rice for an authentic Thai meal.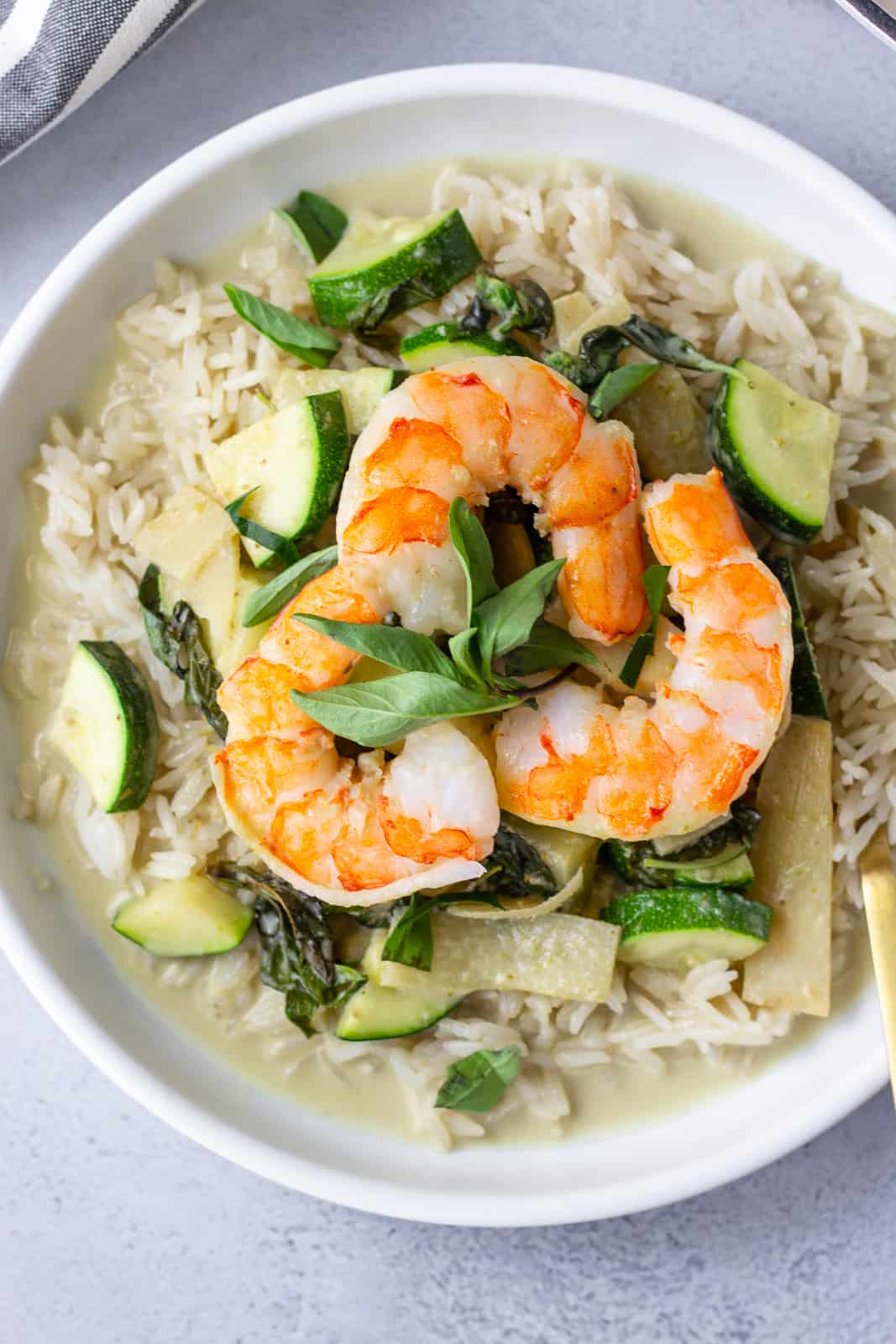 Thai Curries are one of my favorite weeknight dishes to whip together when I'm craving a fast comforting meal. The secret is to use a high quality curry paste to get those authentic flavors in a quick meal.
Jump to:
Types of Curry Paste
Ingredients for Shrimp Curry
The main ingredients for this Green Curry Shrimp are pretty simple, however I also added Thai Basil Leaves and Markrut Lime Leaves. These 2 ingredients are not widely available, however I have both of these in my garden, so I like to use them in curries.
I've made this curry without basil and lime leaves, and it still tastes delicious, so just omit if you don't have them available.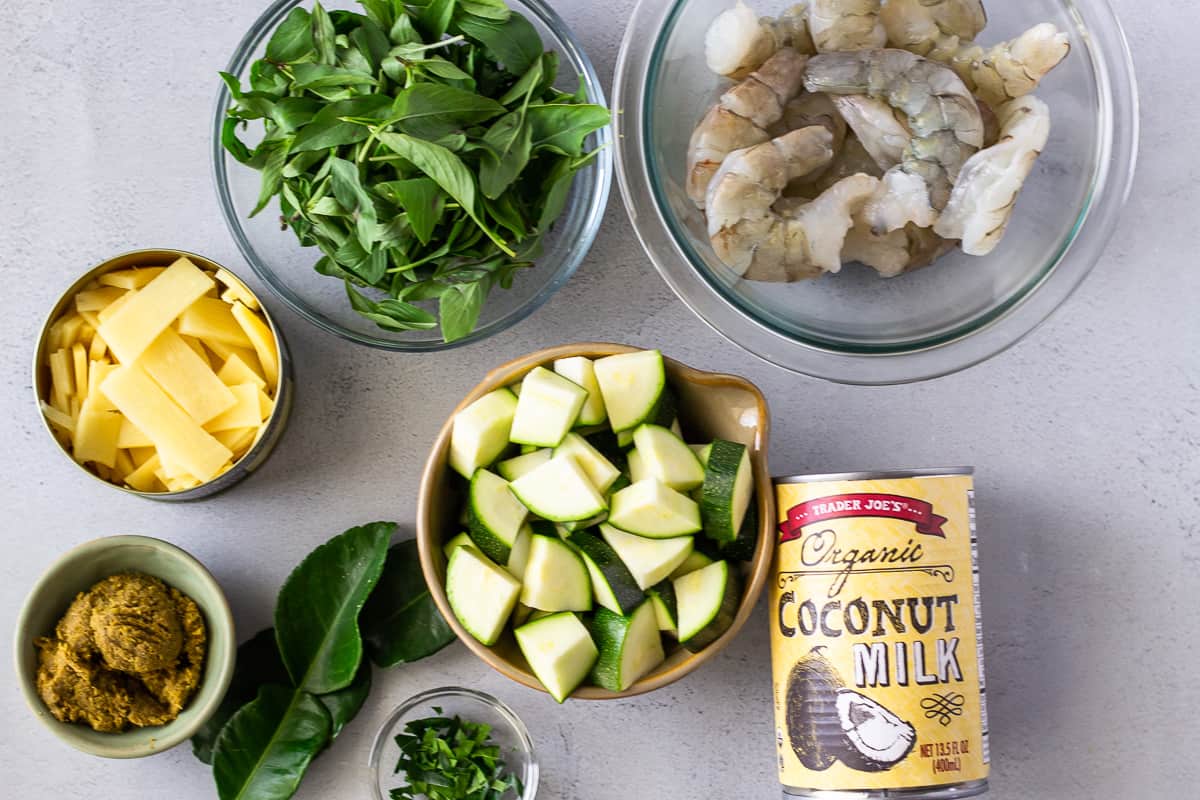 Shrimp- I'm using 1 pound of Jumbo shrimp. You can use a smaller size if you like, I just love the way the large shrimps look in the curry. The shrimp needs to be peeled and deveined.
Try this Green Curry with Chicken.
Zucchini- In Thailand, Green Curry is commonly made with small green eggplants. I personally do not like eggplant, so I'm using diced zucchini instead.
Sliced Bamboo- I love the taste of bamboo in curry, but feel free to add or omit depending on your preference.
Coconut Milk- Personally, I think any curry tastes best with full fat coconut milk. I love the creamy taste and texture.
Feel free to add other vegetables that you like. Broccoli, asparagus, carrots, and spinach all make great additions!
How to Cook The Shrimp
For the best tasting shrimp, we are going to cook the shirmp first, then add it back to the curry at the very end. This ensures the shrimp does not overcook in the curry.
When using a protein like chicken, pork, or beef, it gets cooked in the curry. However with shrimp or Fish Curry, we don't want to do that.
Instead bring some water to boil in your skillet and gently cook the shrimp for about 30 seconds on each side or until pink. Then remove the shrimp and rinse under cold water to stop the cooking process.
Once the curry is done, add the shrimp back on top and allow it to heat up for a couple minutes.
Serving and Storing the Curry
Always taste the curry before finishing the dish. If it needs more spice and flavor, add more curry paste while it's still hot.
If it needs salt, add some salt or fish sauce. If it needs sweetness, add sugar or coconut sugar. Customize the curry to your taste preference.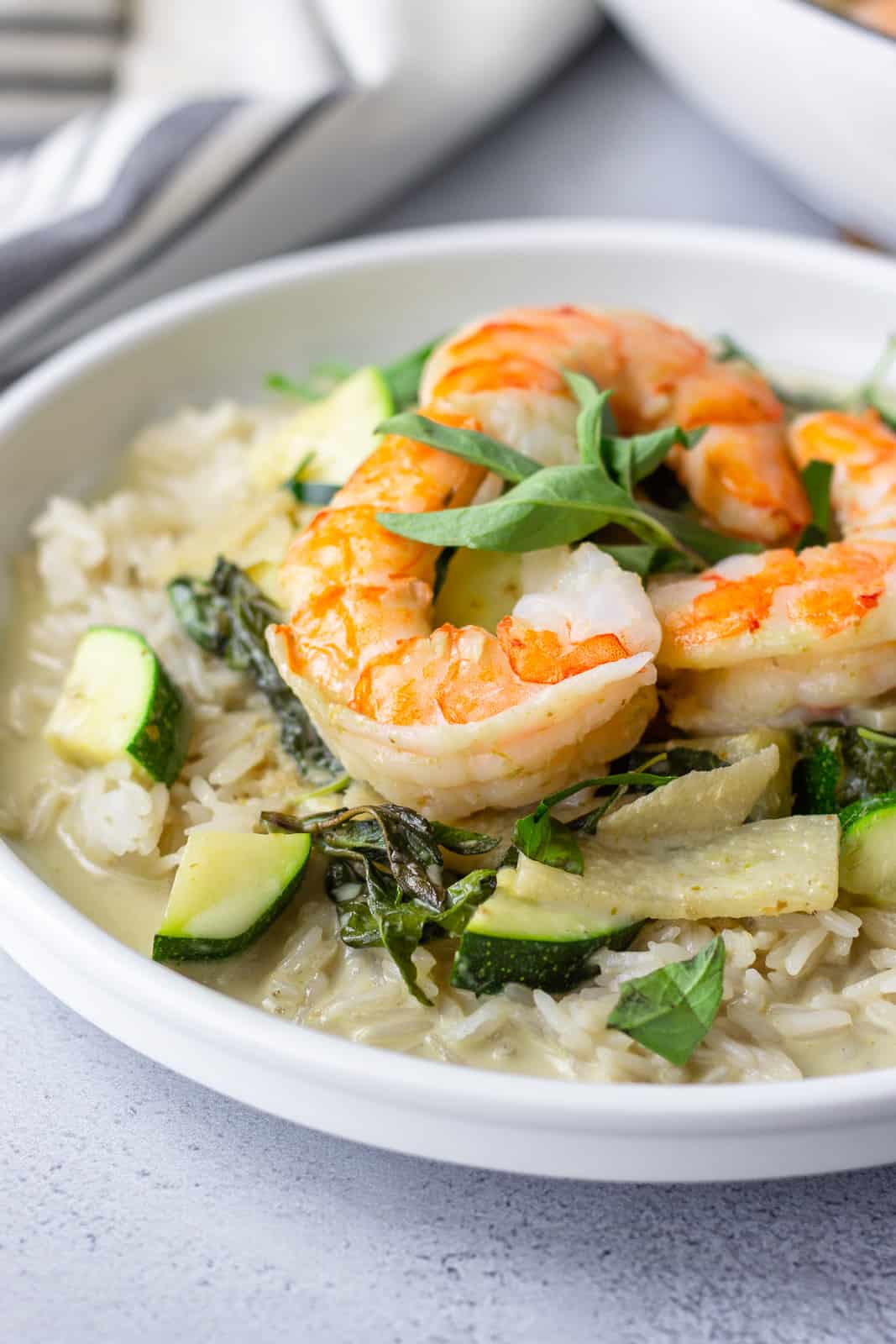 Serve the Green Curry Shrimp immediately with warm Jasmine rice for an Authentic Thai meal. If you need a low carb option, cauliflower rice is a great substitute.
Leftover green curry makes a great meal prep option and can be stored up to 5 days, however with shrimp I recommend keeping it 2-3 days. I'm not a big fan of keeping seafood leftovers too long.
Check out these other Thai Curry Dishes: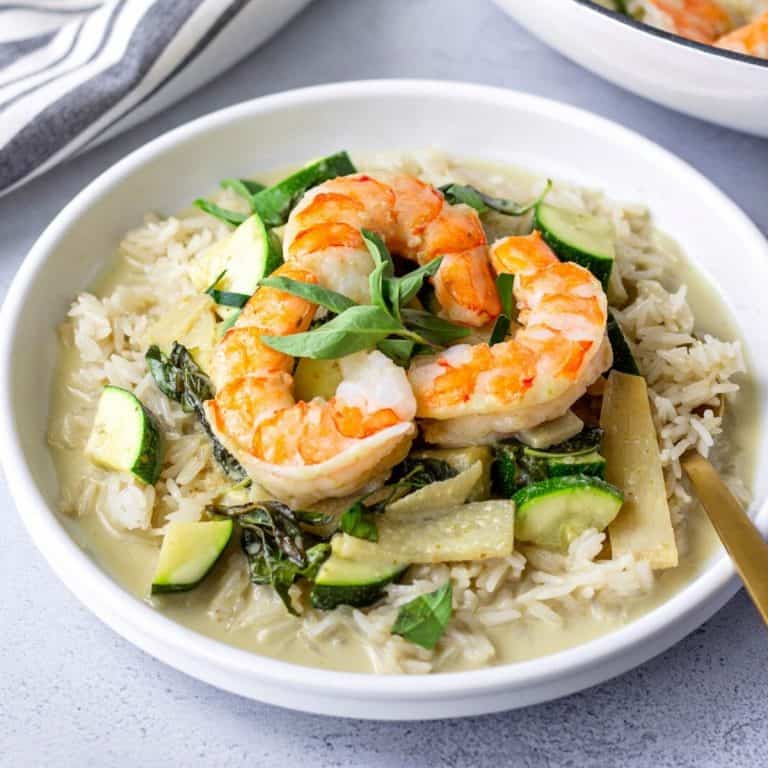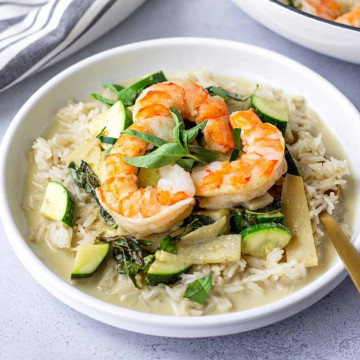 Green Curry Shrimp Recipe
Green Curry with Shrimp is an easy weeknight dish that's ready in 20 minutes. Add your favorite veggies and serve with Jasmine rice for an authentic Thai meal.
Instructions
Peel and Devein Shrimp. Add water to a large skillet enough to cover the bottom of the pan to about half an inch. Bring water to a simmer and add shrimp. Cook for 30 seconds on each side or until shrimp is a light pink. Remove shrimp and run under cold water to stop cooking process. Set aside.

In the same skillet, remove the water and wipe pan with a paper towel. Set heat to medium low and add a little bit of coconut milk. Just enough to cover the bottom of the pan. Add green curry paste and break apart until it dissolves into the coconut milk.

Then add diced Zucchini and Bamboo shoots, the remaining of the coconut milk, and coconut or regular sugar. If you are adding Thai Basil and Lime Leaves, add them now.

Bring curry to a simmer and taste for seasoning. You can add salt, fish sauce, or more sugar if needed.

Place shrimp back into the curry, turn off the heat, and place the lid on to heat shrimp through for a couple of minutes, while you plate your rice.

Serve curry hot with Thai Jasmine Rice, or use cauliflower rice for a low carb option.
Nutrition
Serving:
1
g
Calories:
290
kcal
Carbohydrates:
12
g
Protein:
5
g
Fat:
28
g
Saturated Fat:
24
g
Polyunsaturated Fat:
1
g
Monounsaturated Fat:
1
g
Sodium:
35
mg
Potassium:
512
mg
Fiber:
2
g
Sugar:
6
g
Vitamin A:
140
IU
Vitamin C:
14
mg
Calcium:
39
mg
Iron:
5
mg
Nutritional information is provided as an estimate only and depends on ingredients and amounts used. Thai Caliente makes no guarantees to the accuracy of this information.