Gang Jued Woon Sen is a Thai glass or bean thread noodle soup with mini meatballs and cubed tofu.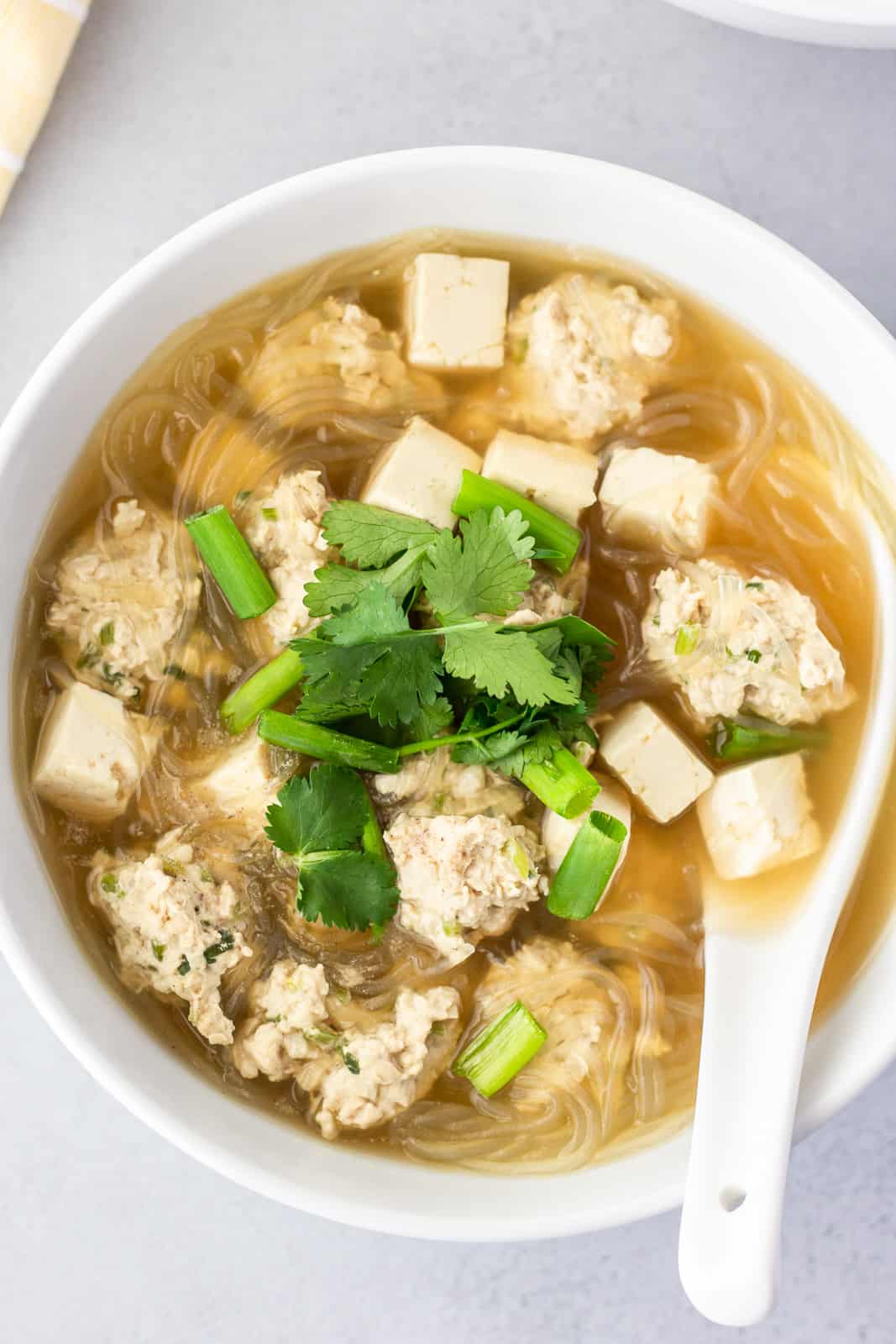 There are different variations of Gang Jued Woon Sen, but this is how my mom made it growing up. This soup is typically served with a spicy dish, since it has a very mild flavor, acting as a palate cleanse from the spice.
Some variations add mushrooms, vegetables, or cabbage, and omit the meat for a vegetarian option.
What you'll need to make Gang Jued Woon Sen
Noodles- The clear or glass noodles go by various names such as Bean Thread or Vermicelli. These noodles can be found at an Asian grocery store, and even some local stores have them in the Asian section.
Be sure to soak the noodles in water to soften them prior to adding them to the soup. Also cut the noodles so they are not too long.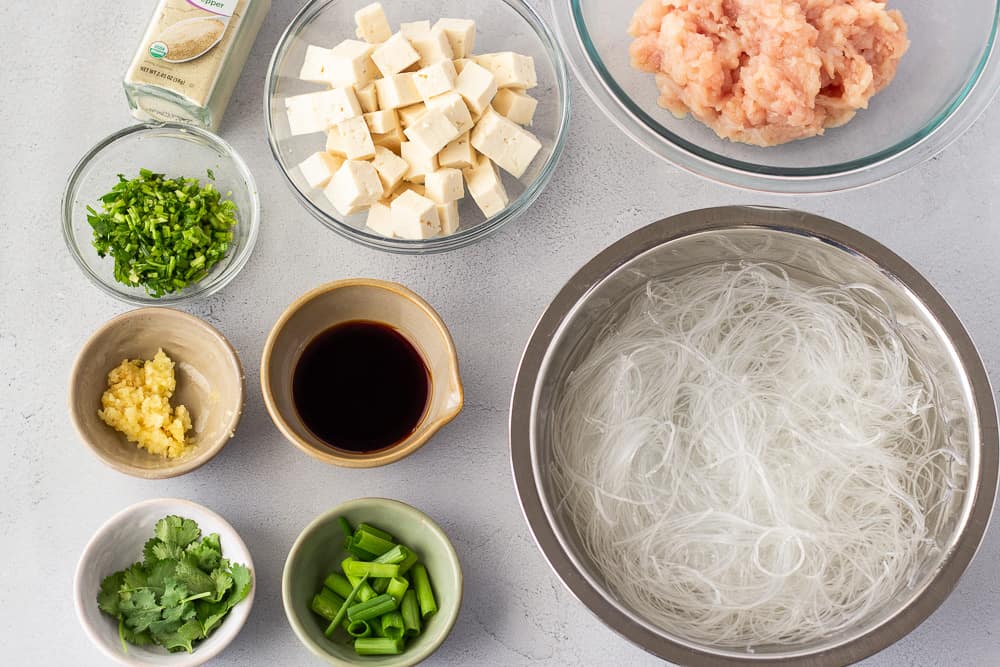 Ground Meat- I've made this soup with both ground pork and ground chicken. I prefer using ground pork since there is more flavor.
However if you use chicken, try to use ground dark and white meat for more flavor. Ground chicken breast will be more dry.
Tofu- I used half a block of soft tofu. Firm tofu works too, it will just be a bit more dense. Tofu is widely available at most stores now.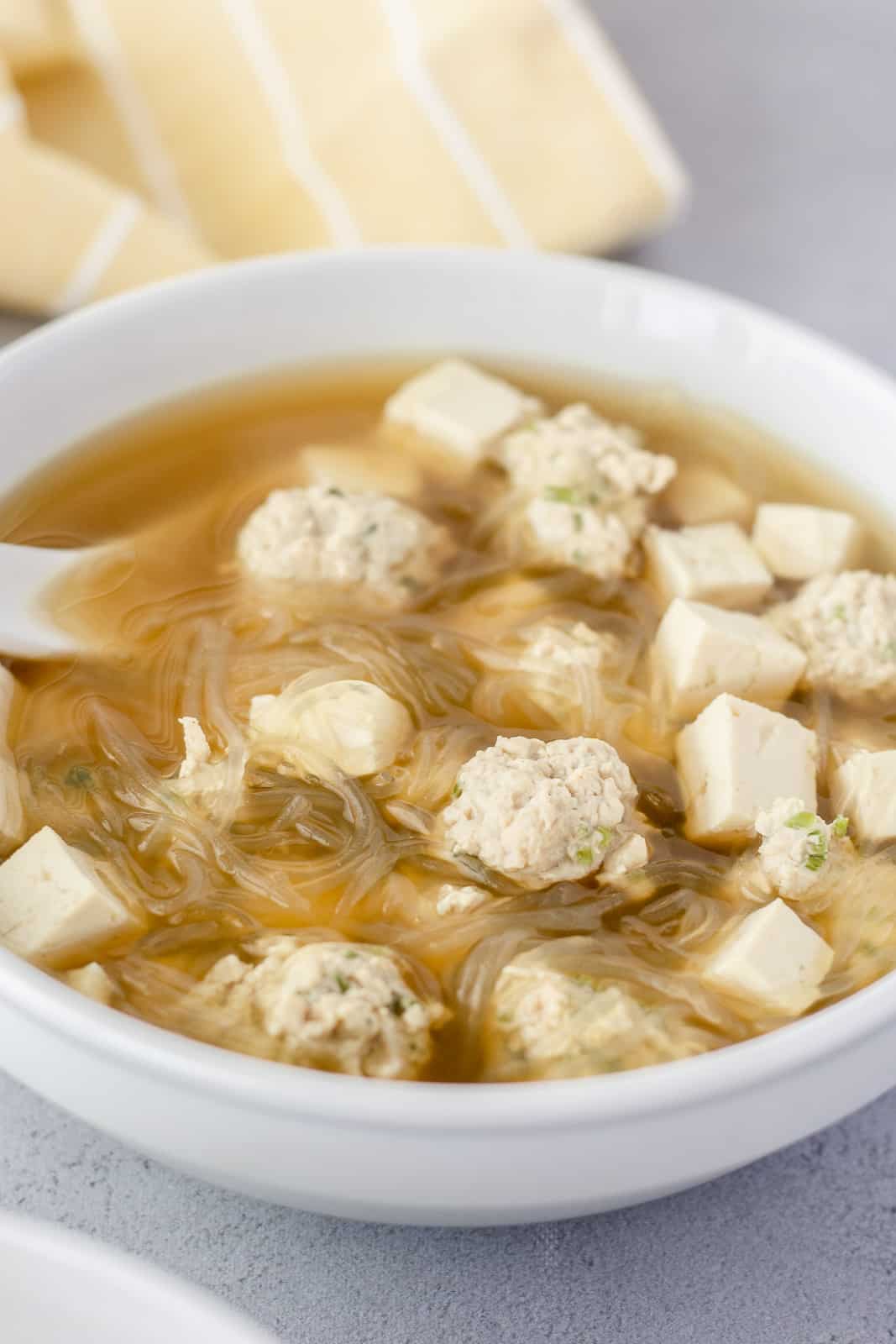 Soy Sauce or Fish Sauce- This is another personal preference on which one you want to use. In this recipe I'm using soy sauce, however if you use fish sauce, start with Half of the measurement since fish sauce is saltier.
The Broth- Traditionally Gang Jued is made with just using water and seasoned with soy sauce or fish sauce. This last time I used ground chicken instead of pork, and felt the broth needed more flavor so I added a tablespoon of chicken bouillon along with the soy sauce.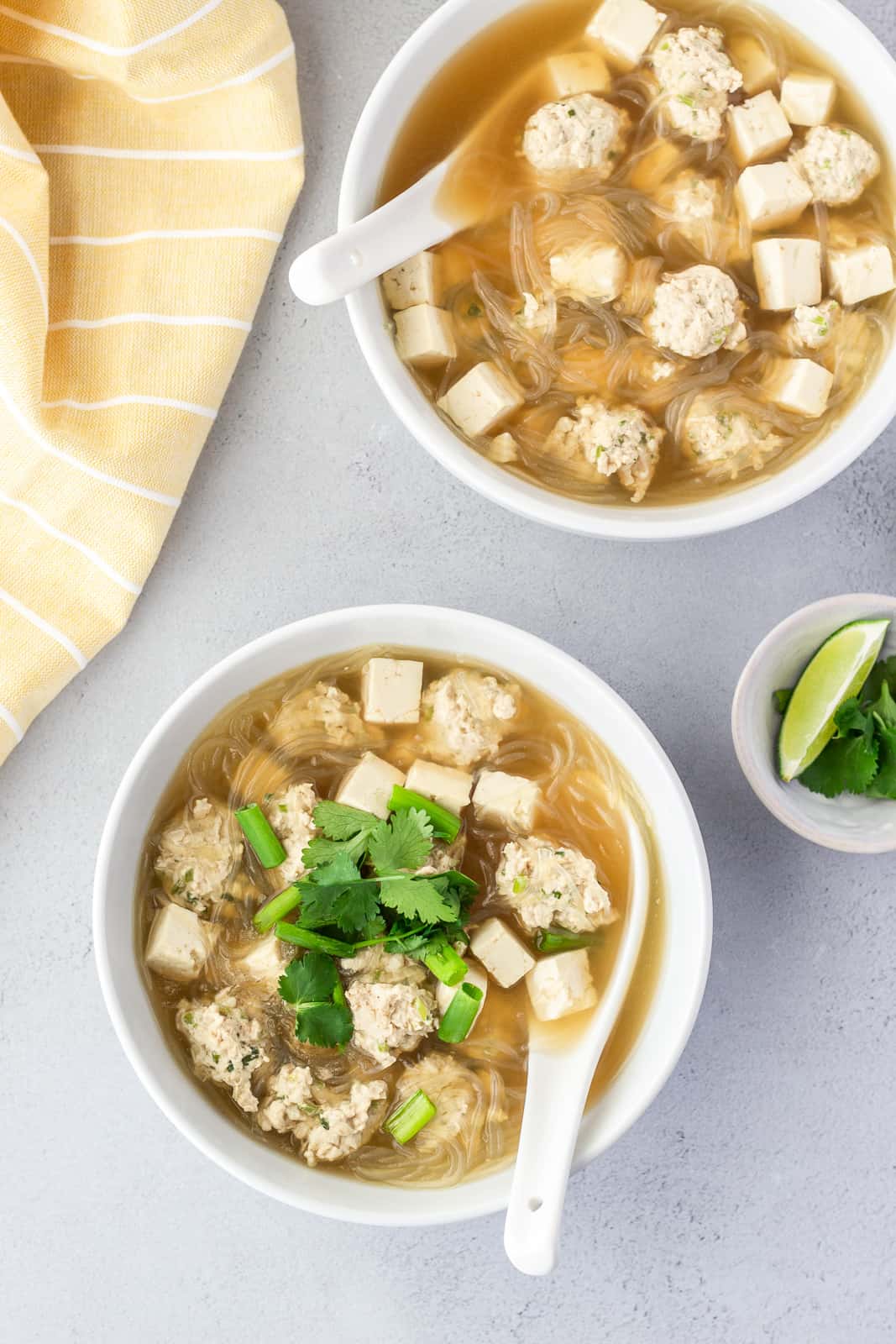 Try the broth after the meat is cooked and see if you need to add additional soy sauce, fish sauce, salt, or bouillon.
How to Serve and Store Gang Jued Woon Sen
This Thai glass noodle soup is best eaten right away, since the noodles will absorb more liquid the longer it's kept.
When serving Gang Jued Woon Sen, squeeze some lime and garnish with cilantro leaves and green onions. You can also garnish with fried garlic too.
I enjoyed this soup as a light meal, however in Thailand its common to have this as a side or accompaniment to a spicy meal.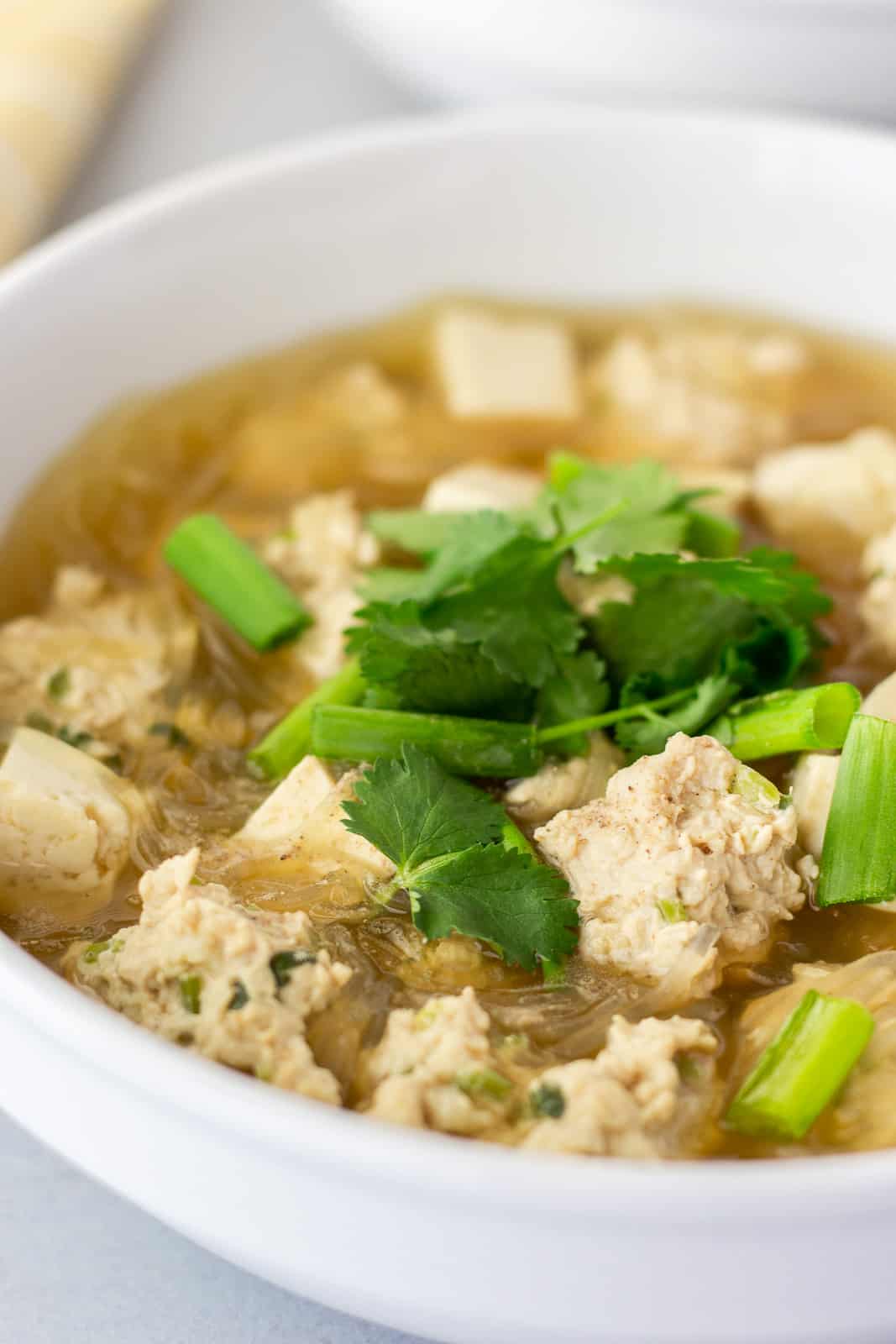 If you have leftovers, I would recommend storing this soup in the refrigerator for a day. The other option is to make the soup with just the broth and meatballs, then add the tofu and glass noodles when you plan on eating it.
Check out these other glass noddle recipes: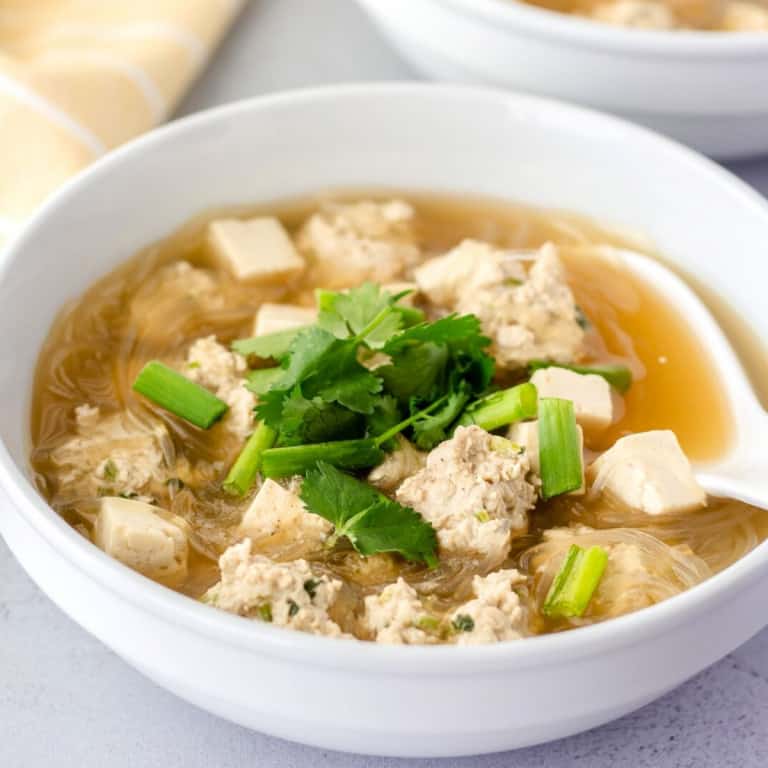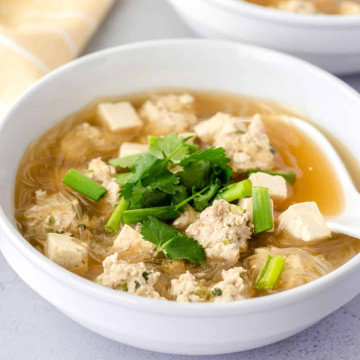 Gang Jued Woon Sen Recipe
Gang Jued Woon Sen is a Thai glass or bean thread noodle soup with mini meatballs and cubed tofu.
Ingredients
1

lb

Ground Chicken or Pork

For chicken using both dark and white meat for more flavor.

2

tablespoon

Finely chopped cilantro stems

3

Cloves

Garlic

minced

2

tablespoon

Golden Mountain Soy Sauce or Coconut Aminos

¼

teaspoon

Ground White Pepper

6

Cups

Water

or use chicken broth or bouillon

½

Package of soft tofu

cubed

4

oz

Bean Thread Noodles

Also known as glass, mung bean or vermicelli. Soaked in water for 15 min to soften

Additional soy sauce, salt, fish sauce, or coconut aminos if broth needs flavor.

Green Onions, Cilantro leaves, lime wedges, and fried garlic for serving.
Instructions
Soak glass noodles in water until for about 15 minutes to soften. Cut noodles with scissors to make them shorter.

Finely chop cilantro stems and garlic, then add white pepper, and soy sauce to the ground chicken or pork. Mix together until incorporated and refrigerate while prepping the soup.

Bring water to boil. Once water is boiling, take a pinch of the ground meat mixture and place it in the boiling water. Once all the meat is added, continue to boil for a few minutes until the meatballs reach the top.

Drain noodles from water and set aside. Cube tofu, and chop cilantro and green onions for garnish.

Add cubed tofu, drained noodles, and soy sauce to soup pot. Cook on a low boil for about 2 minutes then remove from heat. If broth needs more flavor you can add salt, fish sauce, or more soy sauce.

Serve into bowls and garnish with green onions, cilantro, squeeze of lime, a dash of white pepper and fried garlic if you have it.
Notes
The glass noodles will expand in the soup. Leftovers can be stored up to a day, just keep in mind, more broth may be needed. This soup is best served the same day. Add extra veggies like cabbage or broccoli.
More Glass Noodle Recipes:
Yum Woon Sen
Pad Woon Sen
Nutrition
Calories:
271
kcal
Carbohydrates:
17
g
Protein:
14
g
Fat:
16
g
Saturated Fat:
6
g
Polyunsaturated Fat:
1
g
Monounsaturated Fat:
7
g
Cholesterol:
54
mg
Sodium:
392
mg
Potassium:
238
mg
Fiber:
1
g
Sugar:
1
g
Vitamin A:
14
IU
Vitamin C:
1
mg
Calcium:
27
mg
Iron:
1
mg
Nutritional information is provided as an estimate only and depends on ingredients and amounts used. Thai Caliente makes no guarantees to the accuracy of this information.