Authentic Red Enchilada Sauce is perfect to make your favorite Enchiladas Rojas. There's no tomato sauce in this recipe and instead the red color comes from dried Mexican chiles, for an authentic Mexican flavor.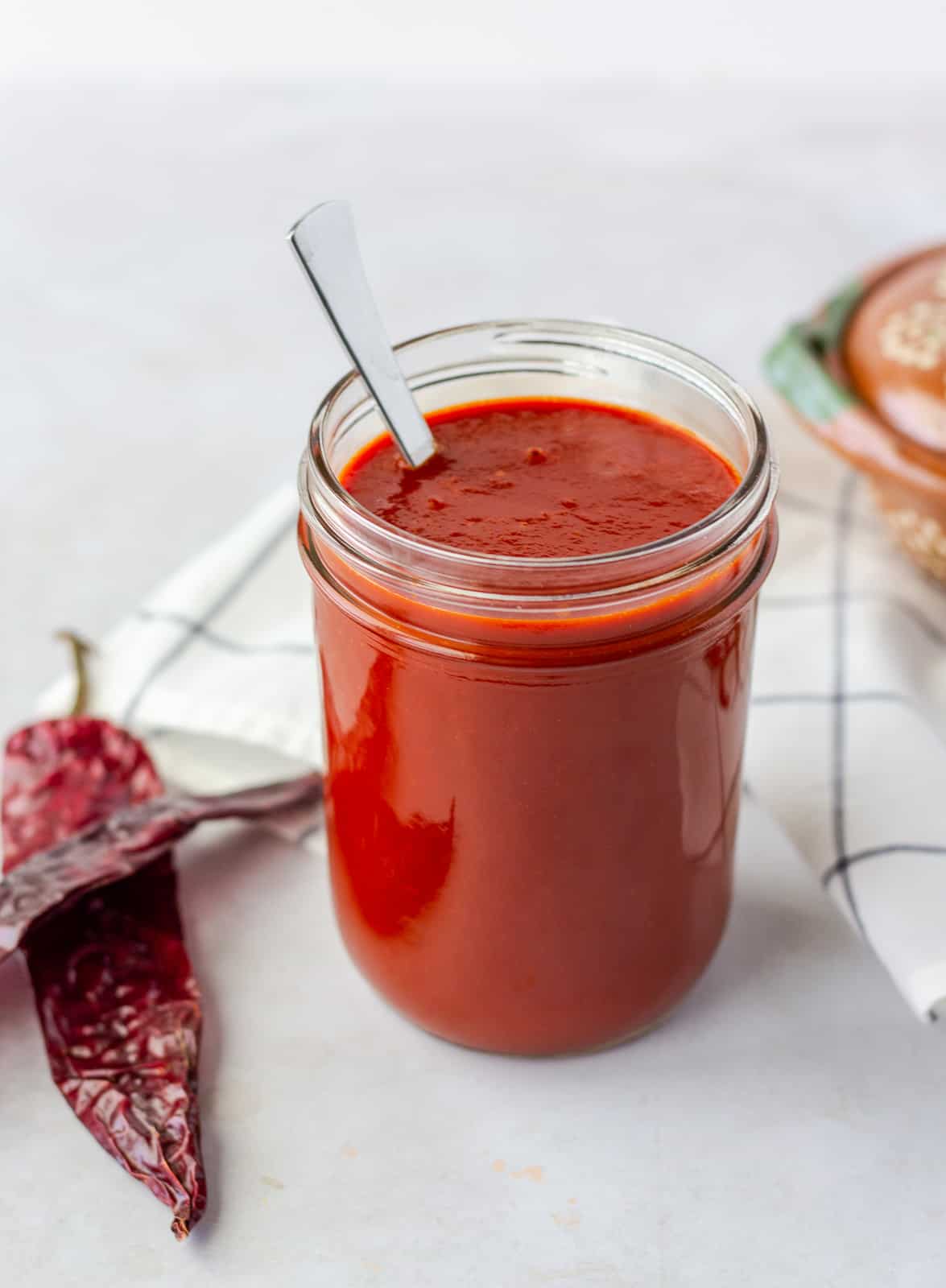 This is my favorite enchilada sauce and tastes better than the canned stuff.
I will admit that buying enchilada sauce is a nice convenience, and easy when you need dinner on the table fast, like my family's favorite Taco Pasta.
However, once you try making a homemade sauce you'll be surprised how easy it is, and the flavor can be adjusted to your liking. Read through my step by step instructions below or watch the video.
Jump to:
Ingredients for Red Enchilada Sauce
There's only a few ingredients, Dried Chile Peppers, Garlic, Salt, and Water.
I'm using a combination of guajillo and ancho chiles. You can find dried peppers at a Mexican market, on Amazon, or a local grocery store may have them.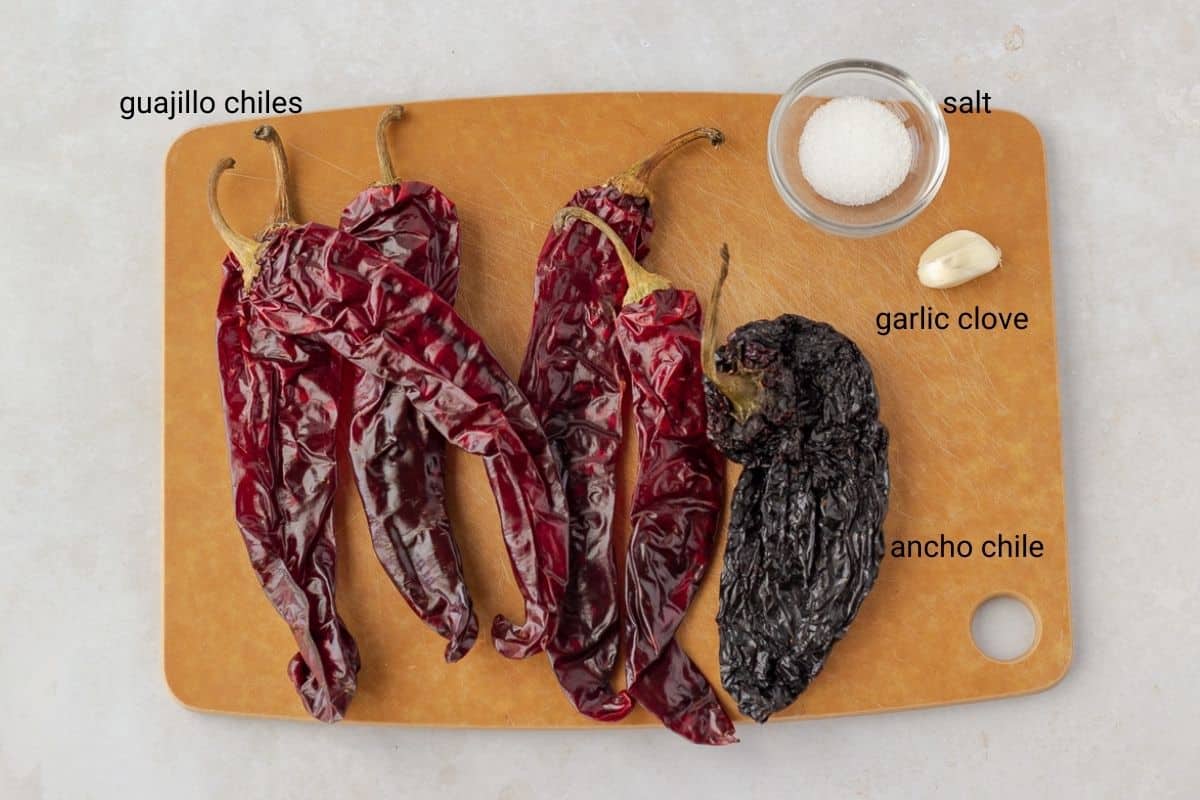 Guajillo Chiles are not spicy and instead provide a bright red color when pureed. The taste and color are similar to New Mexico or California chiles.
Ancho Chilies are darker and thicker in texture, but still not spicy. They provide a rich smoky flavor to the enchilada sauce. Feel free to use more or less of these depending on your preference.
If you prefer a spicy enchilada sauce, add a few dried chile de arbol. Or serve with a spicy salsa so everyone can adjust to their spice preference.
How to Rehydrate the Dried Chiles
Start by removing the stems for the dried chiles and cut or break them open. Shake out most of the seeds and place in a colander or strainer.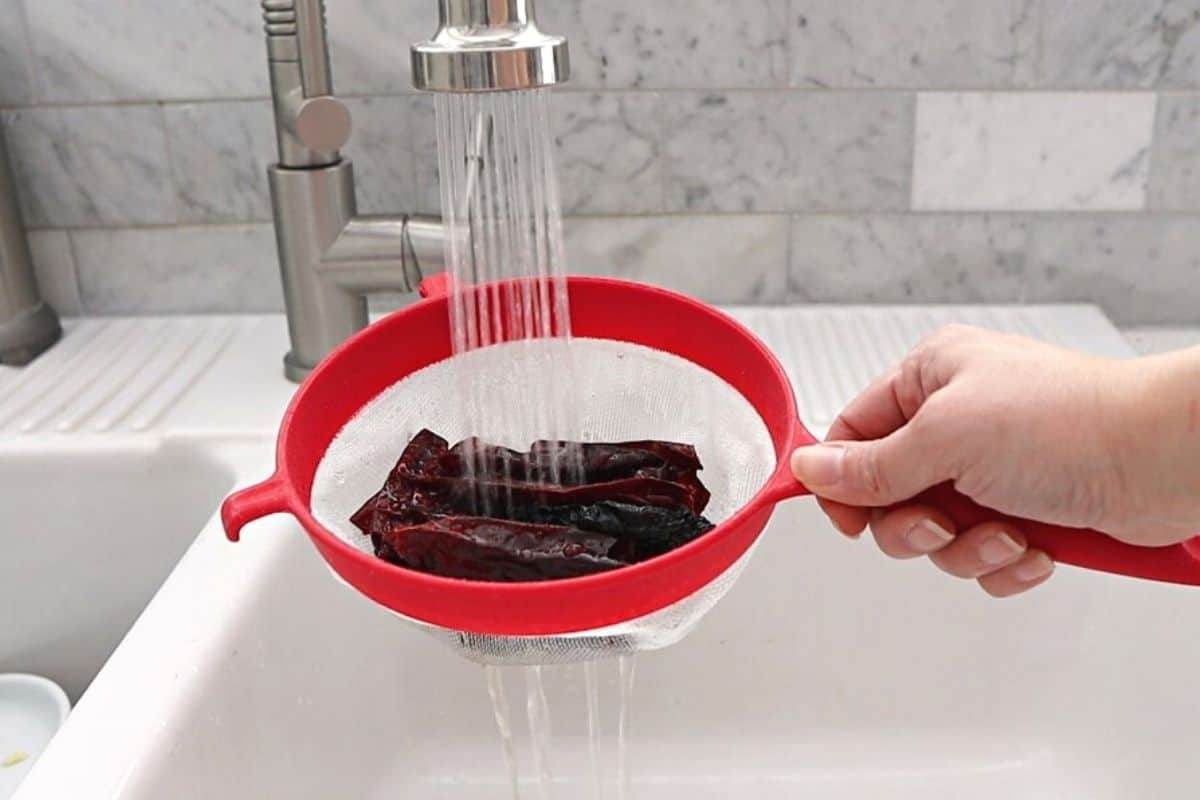 Rinse under cool water to remove any dust from the chiles. Place them in a small pot with water and bring to a boil.
Simmer for 10 minutes then turn off the heat and leave them with the lid on for another 5 minutes.
How to Blend and Strain the Enchilada Sauce
Once the chiles are softened, place them in a blender without the cooking liquid. You can use the cooking liquid, as it has more flavor, however sometimes the water can be bitter from the chiles.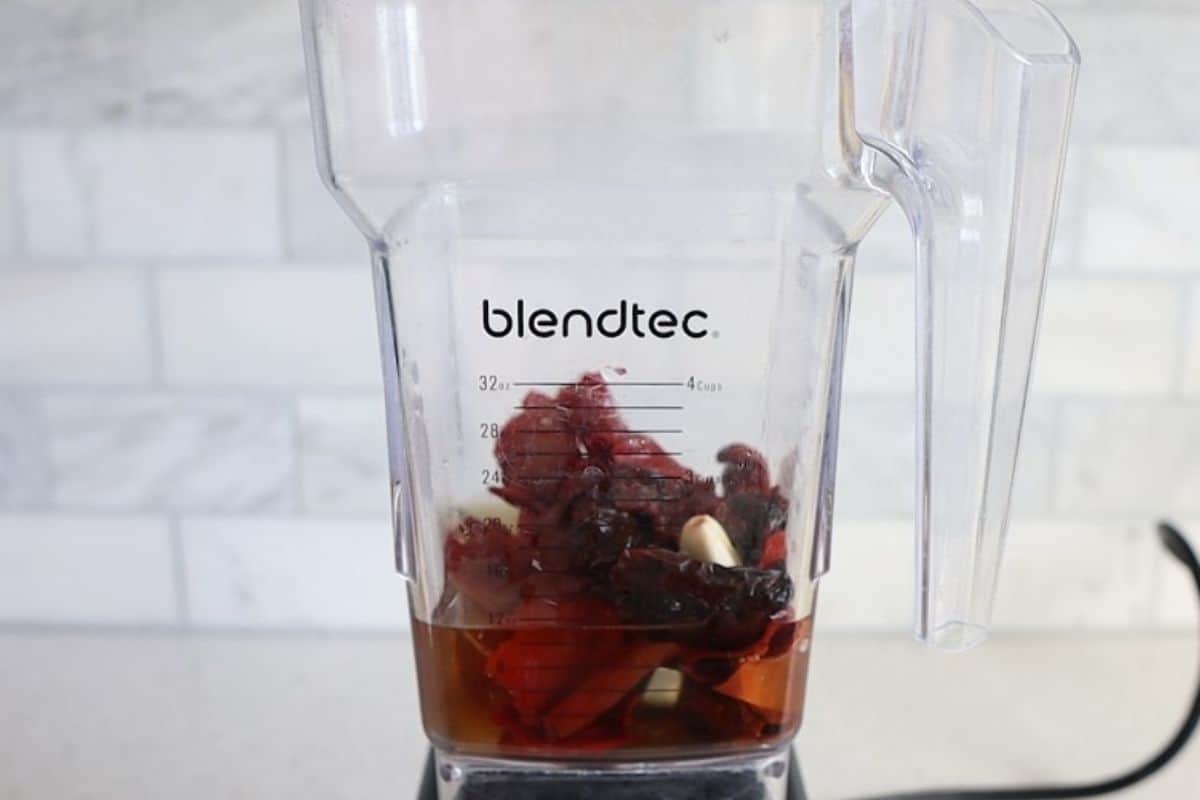 It's your preference, but I added fresh water to the blender along with garlic, salt, and chicken bouillon. The chicken bouillon is optional as well, and I've made this enchilada sauce without it and it's still delicious. You may just need some extra salt.
Using a high speed blender will get you a smoother sauce with less straining needed. I've had my blendtec for years now.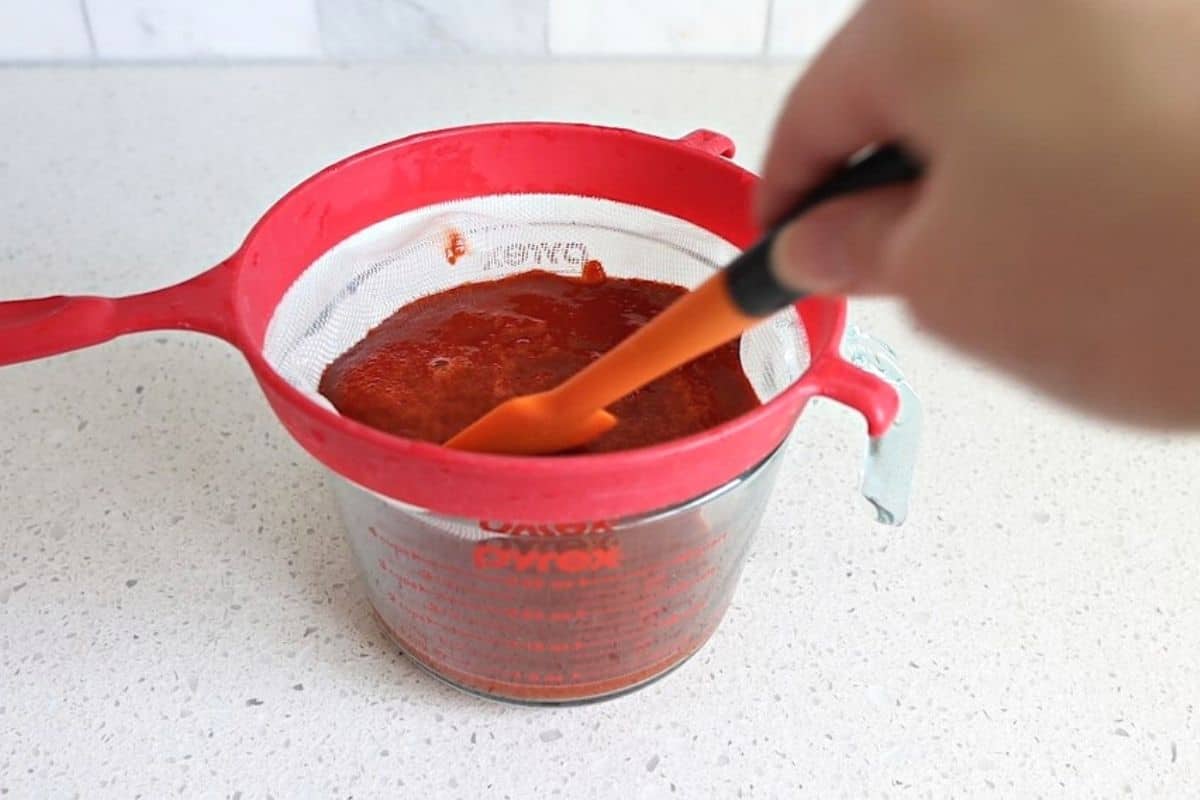 Use a fine mesh strainer and with a rubber spatula or spoon to press the sauce down into a bowl until just the pulp and seeds are left.
Discard those and what's left is your enchilada sauce. This sauce and process is similar to the sauce for my Carne con Papas recipe.
Frequently Asked Questions
Is Enchilada Sauce Gluten Free?
Yes, this enchilada sauce is gluten free. This recipe does not add any flour to the sauce. Just be sure to use gluten free corn tortillas when making enchiladas.
Is Enchilada Sauce Vegan?
Yes, it can be! Just omit the chicken bouillon and use salt or the 'no-chicken' bouillon.
How long does Enchilada Sauce Last in the Fridge?
The enchilada sauce will last 5 days in the refrigerator in a sealed container. Another option is to place it in a freezer safe bag and freeze it for up to 3 months.
I personally think the enchilada sauce tastes better the next day once the flavors develop more. Try making it a day before, and then making enchiladas will be even quicker.
If saving for another day, reheat the enchilada sauce on the stove over medium heat until it is warmed through, then make your enchiladas.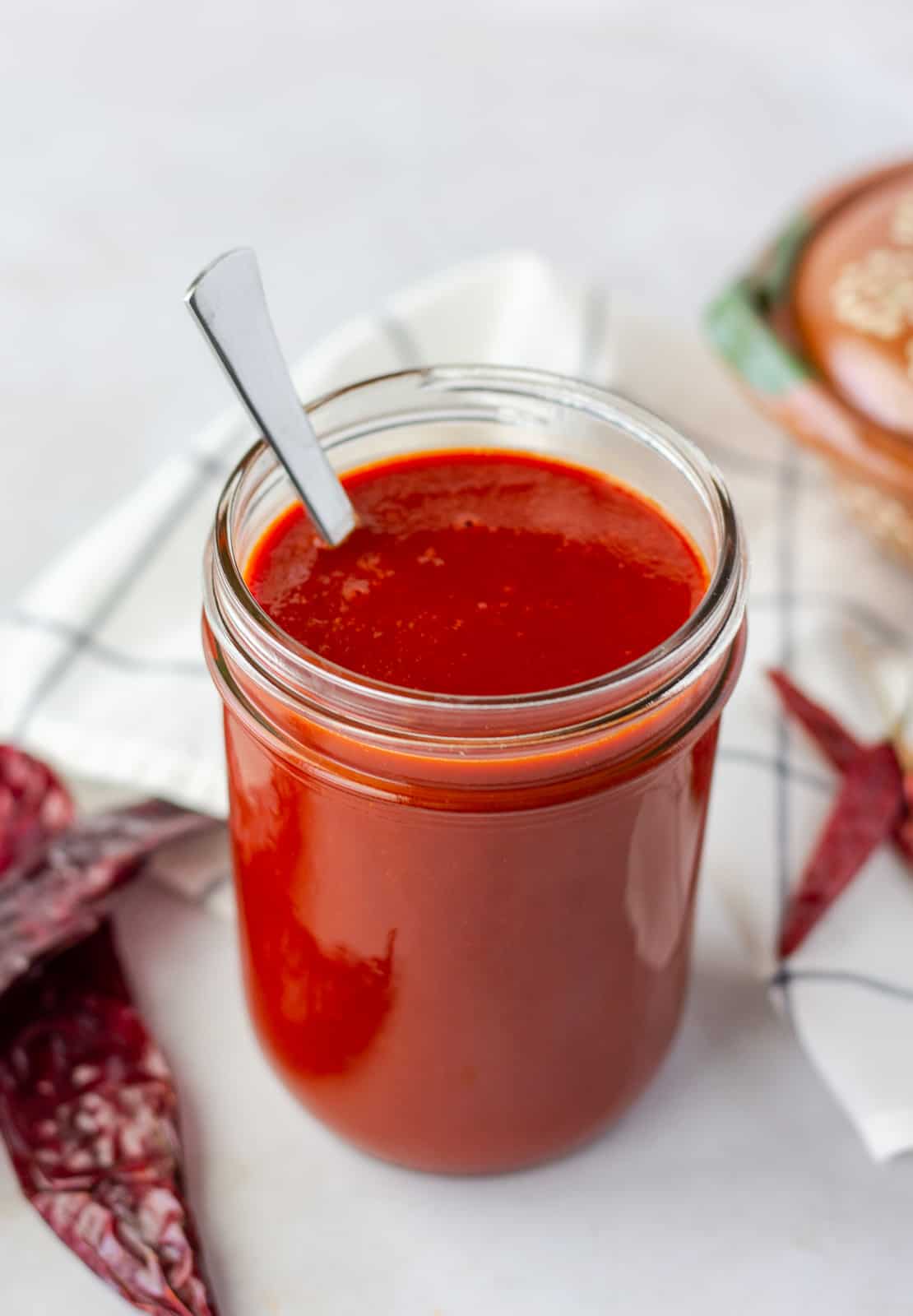 Here are some of my favorite recipes to use the enchilada sauce for:
Chicken Enchiladas, Chilaquiles, and Chicken Tortilla Soup.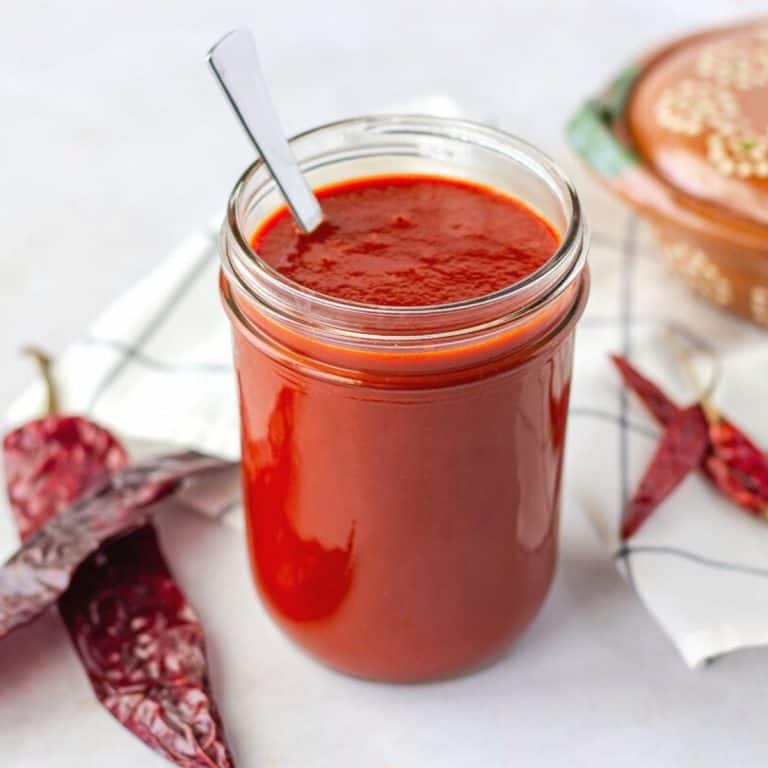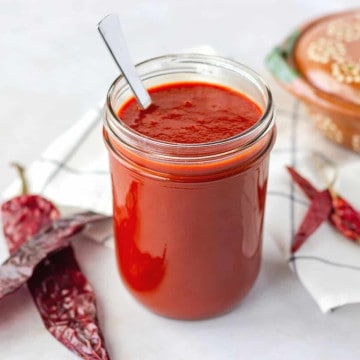 Authentic Red Enchilada Sauce Recipe
Authentic Red Enchilada Sauce is perfect for your favorite Enchiladas Rojas. This sauce is made with dried chile peppers and no tomato sauce.
Instructions
Remove stems from dried chilis and shake the seeds out. Place in a colander and rinse with cool water.

Add rinsed chiles to a small pot and fill with water. Bring to a boil and simmer for 10 minutes. Turn off the heat and place lid on and let sit for 5 minutes or until chiles are soft.

Place softened chilis in a blender with garlic clove, salt, bouillon if using, and start with 1 cup of water. Blend until a smooth sauce forms. Taste to see if additional salt is needed. If sauce is too thick add more water. I did ½ cup more.

Pour blended sauce into a fine mesh strainer over a bowl. Use a spatula or spoon to press sauce down and remove any leftover seeds or skin.

Use enchilada sauce immediately for enchiladas or store sauce in a airtight container in the fridge up to a week, or freeze for a couple months.
Nutrition
Serving:
16
oz
Calories:
11
kcal
Carbohydrates:
2
g
Protein:
1
g
Fat:
1
g
Saturated Fat:
1
g
Polyunsaturated Fat:
1
g
Monounsaturated Fat:
1
g
Sodium:
78
mg
Potassium:
63
mg
Fiber:
1
g
Sugar:
1
g
Vitamin A:
877
IU
Vitamin C:
1
mg
Calcium:
2
mg
Iron:
1
mg
Nutritional information is provided as an estimate only and depends on ingredients and amounts used. Thai Caliente makes no guarantees to the accuracy of this information.